Adrian admits to mistakes, stands behind decision to reverse earlier guilty verdict in Clinton sexual assault case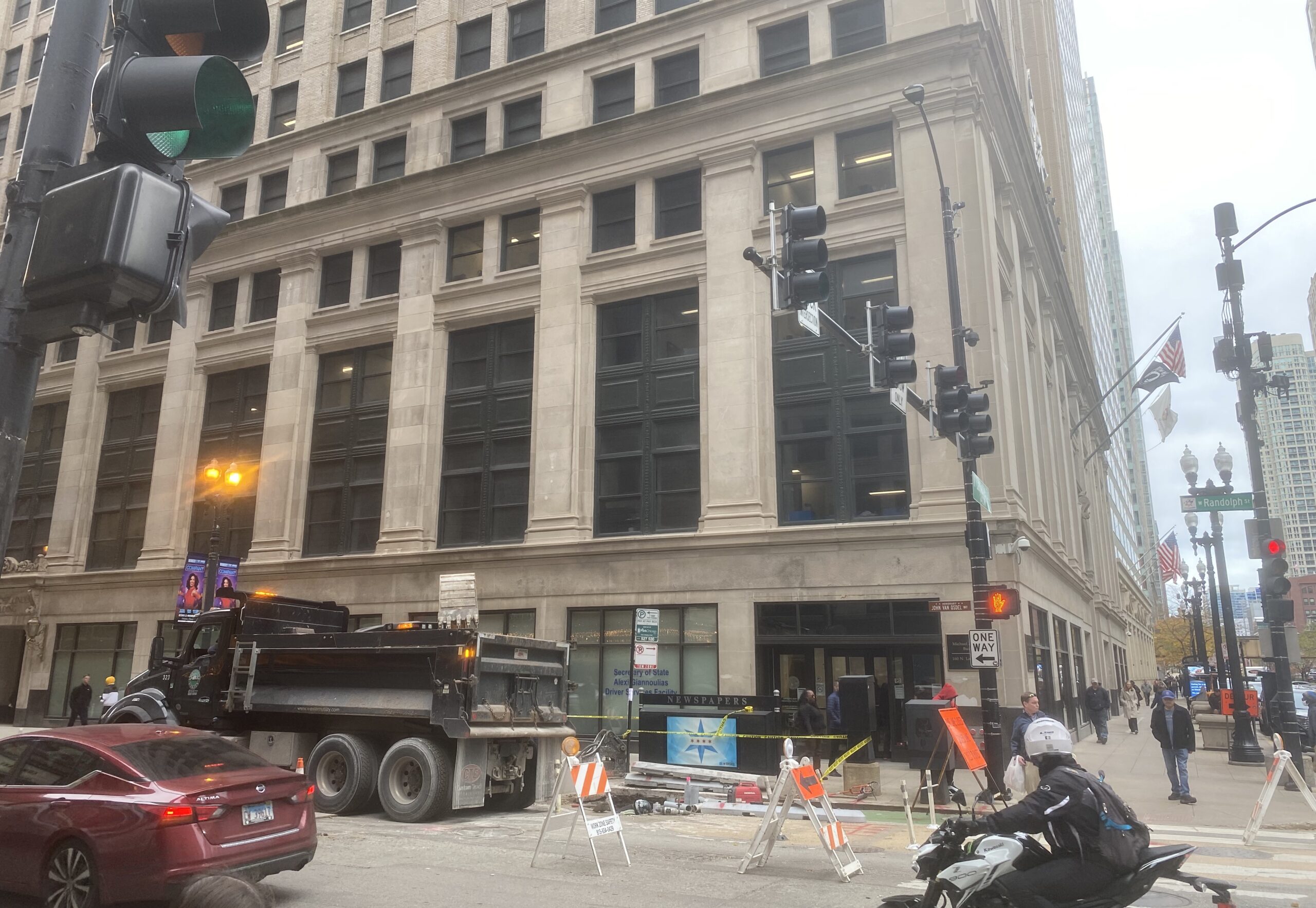 CHICAGO — Eighth Circuit Judge Robert Adrian said he made a "rookie mistake" when he found Drew Clinton guilty in a sexual assault case, then repeatedly admitted he made errors when he reversed his decision during a sentencing hearing on Jan. 3, 2022.
"It's hard to admit you make a mistake in a lot of situations," Adrian said in a response to a question from his attorney, Daniel Konicek, during Tuesday's hearing before the Illinois Courts Commission in the Michael A. Bilandic Building. "But yes, they're my mistakes."
However, Adrian remained steadfast in his belief that he reversed the Clinton decision because of the evidence, not to circumvent the law to keep him out of a mandatory sentence in the Illinois Department of Corrections.
He also said he did not violate any of the three canons the Judicial Inquiry Board claims he did in the June 17, 2022 complaint it filed.
When Konicek asked him if he failed to uphold integrity and independence of the judiciary, Adrian replied, "I did not."
When Konicek asked if he failed to conduct himself in a manner that promotes the public confidence in the integrity and impartiality of the judiciary, Adrian replied, "I did not."
When Konicek asked he was swayed by partisan interests, public clamor or fear of criticism, Adrian replied, "I did not take that into account."
"If you had the foresight to see the uproar that was going to occur, would you have ruled differently?" Konicek asked. Adrian replied no.
Testimony is scheduled to continue Wednesday. The hearing originally was scheduled to last three days, but both Konicek and Mike Deno, representing the Judicial Inquiry Board, thought they could wrap up testimony and closing arguments on Wednesday.
All but about 15 minutes of testimony during Tuesday's hearing came from Adrian. The only other person to testify was Adams County State's Attorney Gary Farha. Most of his testimony centered on a meeting he had with Adrian in the late afternoon hours of Oct. 18 — three days after Adrian originally had found Clinton guilty of one count of criminal sexual assault and not guilty on two other counts.
Farha told attorney Mary McMahon, representing the Judicial Inquiry Board, he was approached earlier on Oct. 18 in his office by Drew Schnack, Clinton's attorney. He said Schnack told him Adrian wanted to talk with him about the Clinton case. Farha then said he went to meet with Adrian in his chambers.
"He indicated that he was wondering if I could amend the charges to something that would be subject to probation," Farha testified.
Farha said he could not do that.
"I would not do that because of Anita (Rodriguez, Assistant State's Attorney who prosecuted the Clinton case)," he said. "During the course of my time in the State's Attorney's Office, my predecessors treated Anita very poorly in my estimation. I didn't think it was good for her. She had earned by my complete trust and her exercising her proper discretion. It would have been devastating to her."
Under cross-examination, Farha told Daniel Konicek, Adrian's attorney, it would have been easy to change Clinton's charge from criminal sexual assault to aggravated criminal sexual abuse, a Class 2 felony that would have been eligible for a sentence of probation.
"That is something that can routinely be done," Farha said. "But Anita invested a lot of time in this case, and I knew what previous state's attorneys had done to her. I was going to trust her judgement and trust her independent thoughts on this. It's for the good of my office for my assistants know that."
McMahon asked Farha if Adrian had said he didn't want to send Clinton to prison.
"I don't recall the exact words he said … but it was evident to me that was the purpose of him being there," Farha replied.
Mike Deno, another attorney representing the Judicial Inquiry Board, spent much of morning dissecting comments made by Adrian during the Jan. 3, 2022, sentencing hearing.
Adrian said he made a "rookie mistake" in making his initial "guilty" ruling that Clinton had used his finger to penetrate the victim's vagina. He said he immediately started reviewing the case in his mind after he made the guilty verdict. Adrian admitted he let his emotions overrule the facts of the case.
"I started thinking about it right afterwards, like I do in all my cases," he said.
Deno asked Adrian if he had already made up his mind to reverse the decision when Clinton was in court for sentencing on Jan. 3, 2022. Adrian said when he came into the courtroom he was "subject to changing my mind." He said he wanted to hear arguments in post-trial motions by Schnack and Rodriguez before issuing his final decision.
However, Deno said transcripts show that when Adrian testified before the Judicial Inquiry Board on April 8, 2022, he was asked, "You knew what you were going to do when you walked into the courtroom that day? Right?" Deno said Adrian then answered, "Yes."
Deno also asked why Adrian made comments during his Jan. 3 reversal about why Drew Clinton didn't deserve a DOC sentence. Deno pointed out that the DOC sentence was no longer relevant because Adrian was ruling him not guilty,
"You never said a single word (on Jan. 3) about the analysis you made in determining Clinton was not guilty," Deno said. "There wasn't one word about the total failure of the prosecution to prove that the victim was unable to give proper consent. … In fact, your entire discussion … was about the sentence that you would be required to post if you didn't reverse yourself."
Deno later asked Adrian why he didn't use notes or have anything written when he made his Jan. 3 ruling.
"I like to answer the motions and use information that was argued so people knew I was listening." Adrian said. "It's called keeping an open mind."
Deno asked if Adrian believed he could reverse the decision "sua sponte" — on his own behalf — rather than wait for Schnack to file motions.
"That would have really caused an uproar," Adrian said. "I wouldn't even have considered that if the motion wasn't filed, but I knew Mr. Schnack was a better attorney. I knew he would file the motions that needed to be filed."
"You needed a motion to reverse yourself?" Deno asked.
"I think so, yes," Adrian said.
"You would have kept a man in jail, who you believe was not guilty of the charge, and you would have sent him into the penitentiary if a motion hadn't been filed?" Deno asked. "Is that what you're saying?"
"That's speculation on what I would do or not do," Adrian said. "The fact is, the motions were filed, and I granted the motion. I don't know for sure what I would have done. I doubt if I would have done it."
Deno also asked Adrian if he wanted to "embarrass" the victim when he made comments about the inappropriate choice by minors to swim in a pool at a graduation party in their underwear.
"I didn't consider the victim's feelings," Adrian said. "There were several underage kids there. When you provide liquor to underage kids … they do stupid things."
Adrian admitted during the sentencing hearing he "said things poorly" and "I admit I didn't say (things) well."
Adrian addressed on Jan. 3 what he believed was the unconstitutionality of the statute that called for him to impose a minimum four-year sentence to Clinton, saying "that is not going to solve the problem."
When asked what the "problem" was, Adrian said, "I had found him guilty. That's what the problem was."
When Adrian was asked why "the court can't do that" (sentence Clinton to the DOC), he replied, "I can't just sentence him to jail and let him go … I shouldn't have commented on that. It wasn't a proper statement to make."
Konicek asked if Adrian has become a better judge and a better person by admitting his mistakes. Adrian said he had. Adrian also admitted he should have reviewed his notes and written down what he wanted to say during Clinton sentencing.
Konicek asked Adrian if he took time to reflect after he heard post-trial motions at the Clinton sentencing. "I did not," Adrian said. "I should have reviewed my notes and reflected on the case. That's poor procedure on my part."
EDITOR'S NOTE: Mary McMahon was misidentified in an earlier version of this story.
Miss Clipping Out Stories to Save for Later?
Click the Purchase Story button below to order a print of this story. We will print it for you on matte photo paper to keep forever.