Adrian considers media motion to unseal documents but will take more than a week to decide
QUINCY — Legal counsel for three Quincy media outlets appeared before Adams County Circuit Judge Robert K. Adrian to request he unseal court documents related to the first-degree murder case of Timothy Bliefnick.
Adrian told the parties he would take the motion under advisement. He gave them seven days to submit briefs. He said he would then issue a written ruling after that time.
Bliefnick's trial is scheduled to begin May 22.
Don Craven and Joe Craven of Springfield are representing Muddy River News, WGEM and The Herald-Whig in the case. Adrian's order on March 16 sealed all motions in the case because of "extensive publicity." Members of the media have been prevented from attending most of the case's motion hearings. One was held Wednesday afternoon.
Craven said the order to seal all future pleadings in the Bliefnick case because of extensive media coverage wasn't filed by either the state or the defendant.
"There's been no assertion by either party that the constitutional statutory and common law presumptions of openness do or do not attempt to enter all those documents," Don Craven said. "The practice adopted by this court is simply backwards and stands the presumption of openness on its head."
More than 100 sealed documents are related to the Bliefnick case.
Assistant State's Attorney Josh Jones said while there were no written motions to seal the case, oral motions were agreed to by the prosecution and the defense and while the pre-trial is being closed. Once a jury is seated, the trial will be open to the public.
"(The motions) were being sealed because all of them to this point, contain evidentiary issues that are being decided by this court that are not ripe for the public at this point," Jones said. "Let's be clear. The trial will be opened up. It will absolutely be open to the public. It will absolutely be open to the media. But we're not dealing with a trial right now. We're dealing with pre-trial issues."
Adrian asked Jones a series of questions regarding change of venue problems for the state's attorney's office and rules of the Open Meetings Act and Freedom of Information Act, citing "when the public body is doing the public's business."
Casey Schnack, Bliefnick's attorney, said she did not want to see a change of venue for her client. She agrees with the prosecution to oppose the media's request.
"There were several motions and evidentiary matters that we took up on April 20, and part of those motions, there were highly sensitive and highly inflammatory materials that may not even be contained in police reports but wouldn't necessarily be disclosed either," Schnack said.
"I know I have certain reports that would normally and historically be impounded and not available for public consumption. … That was all in order to protect Tim. It was to protect Tim and Becky's children, and it was to protect the integrity of the process."
Craven brought up an affidavit filed by Muddy River News that it had never been the organization's experience that such an action had ever taken place. Adrian stopped Craven, saying he had taken the same action in the Steven Gavin case. (Gavin was found guilty in 2020 and received an 85-year sentence in prison.) He also said Judge Charles Burch had made similar rulings in Brown County, which also is in the Eighth Circuit.
However, Adrian did not take the same action to seal documents in another highly-publicized trial — Steson Crider's first-degree murder case in 2015.
When Adrian made his ruling to take the motion under advisement, Craven attempted to ask for expediency. Adrian shot down the idea, saying the case was under a strict timeline to begin by May 22.
Bliefnick, 39, is charged with two counts of murder in the Feb. 23 shooting death of his estranged wife, Rebecca Bliefnick. A family member discovered Rebecca Bliefnick dead in her home on Kentucky Road in Quincy. The couple had been going through a divorce for more than two years, but it never was finalized.
Bliefnick was arrested March 13 in the house where he allegedly shot and killed his wife. He pleaded not guilty on March 24 to two counts of first-degree murder and one count of home invasion. One of the murder counts is murder with intent to kill. The other count is murder with intent to cause bodily harm. Both are Class M felonies, which have a sentencing range from 45 to 85 years. Because a handgun allegedly was used in the crime, the sentence could become potentially life in prison.
Bliefnick is in the Adams County Jail on no bond. State law requires he go to trial within 90 days.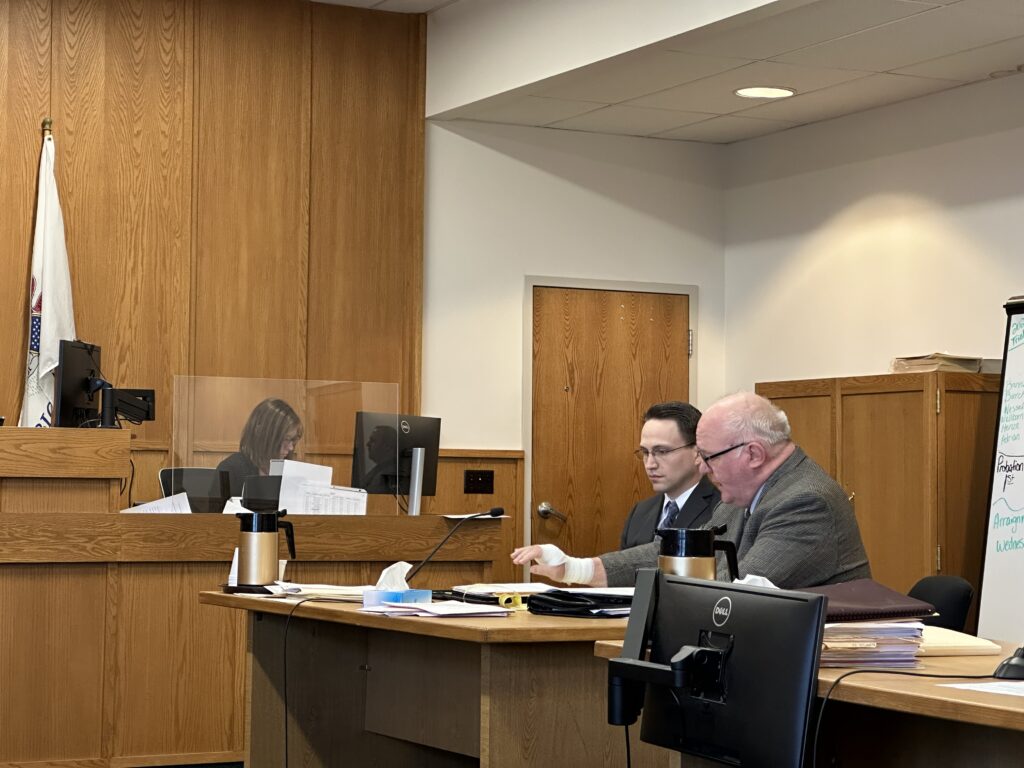 Miss Clipping Out Stories to Save for Later?
Click the Purchase Story button below to order a print of this story. We will print it for you on matte photo paper to keep forever.