Adrian denies bail for Bliefnick; grand jury to hear case next week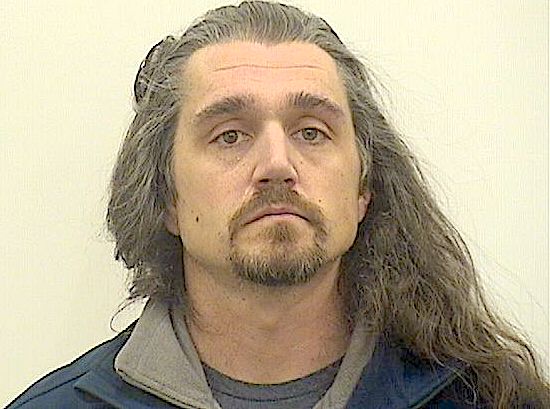 QUINCY — Tim Bliefnick will remain in the Adams County Jail until at least next week when a grand jury will hear the evidence against him to decide if he will be arraigned.
Bliefnick, 39, made his first appearance in Adams County Circuit Court Tuesday afternoon with attorney Casey Schnack in Courtroom 1A before Judge Robert K. Adrian. He faces two counts of first-degree murder and one count of home invasion in the Feb. 23 shooting death of his estranged wife, Rebecca Bliefnick, in the home she was living in at 2528 Kentucky Road.
The couple had been going through a divorce for more than two years, but it never was finalized. Bliefnick was arrested Monday morning in the house where he allegedly shot and killed his wife.
Bailiffs from the jail escorted Bliefnick into the courtroom. Extra corrections officers were in the courtroom as well. Bliefnick was wearing jeans and a Quincy Notre Dame T-shirt, along with the standard jail-issued orange crocs.
He was not wearing the jail's standard orange-striped jumpsuit, because a determination had not yet been made about his bond.
Adrian read the charges against Bliefnick — two counts of first-degree murder and one count of home invasion — from his computer on the bench very matter of factly. He explained Bliefnick is accused of discharging a firearm and causing the death of Rebecca Bliefnick.
One of the murder counts is murder with intent to kill. The other count is murder with intent to cause bodily harm. Both are Class M felonies, which have a sentencing range from 45 to 85 years. Because a handgun allegedly was used in the crime, the sentence could become potentially life in prison.
After the hearing, Assistant State's Attorney Josh Jones said 90 percent of the murder charges filed in Adams County are charged in multiple ways.
"There often will be three counts of first-degree murder or four counts of first-degree murder," he said. "We charge it that way because of how the murder statute is written. You can commit murder if your mental state was that you intended to kill, so we would charge it that way. You can charge first-degree murder with intent to cause great bodily harm. Even if you didn't intend to kill them, you intended to harm this person, and your acts resulted in death.
"(Two counts of murder) doesn't mean there's more than one victim. It just means that we have alternate ways of charging him."
The home invasion charge is a Class X felony, which has a sentencing range of 6 to 30 years. Since a handgun allegedly was used in the crime, the sentence also could be increased to life in prison.
Jones and Assistant State's Attorney Laura Keck represented the prosecution. Jones asked Adrian to clear the courtroom of the general public and media to seal the hearing so he could present evidence that could possible taint potential jurors before the case goes to the grand jury and, potentially, to a jury trial.
Schnack had no issue with Jones's request. Adrian granted the motion.
The judge, prosecution and defense took about 10 minutes to review the evidence before the public was allowed to return to the courtroom. Adrian then said sufficient evidence existed to deny Bliefnick's bail while continuing to lodge him in the Adams County Jail.
Adrian said Bliefnick was still presumed innocent until proven guilty. He said he made his ruling based on "the court's substantial experience with murder and crimes involving firearms."
An Adams County grand jury will hear the case on March 23. If the grand jury indicts Bliefnick, his arraignment will be held March 24.
At the beginning of the hearing, Adrian explained that Bliefnick's case ended in an even number (2023CF170), so he would handle the case — which is how judge selection is determined in the Eighth Circuit.
Adams County State's Attorney Gary Farha was asked if he was satisfied with Adrian's selection to handle the case. "Absolutely," he replied.
Adrian was the subject of national attention a year ago. On Jan. 3, 2022, Adrian reversed the conviction of Drew Clinton in a felony assault case, then followed on Jan. 12, 2022 by removing Jones from his courtroom. Adrian said he couldn't be fair with Jones after the judge's wife saw Jones had "liked" a comment on Facebook regarding the Clinton case.
Farha said Tuesday that Adrian later apologized to Jones about the outburst.
Pittsfield judge Frank McCartney, chief judge for the Eighth Judicial Circuit, signed an administrative order Jan. 13, 2022 removing Adrian from presiding over criminal cases. He assigned him preside over small claims, legal matters and probate dockets. McCartney then reinstated Adrian to the judicial felony docket on Jan. 1, 2023.
Adrian testified under oath in April about the Clinton case before Illinois' Judicial Inquiry Board, which filed a complaint on June 17, 2022 against Adrian. The JIB determines if a complaint made against an active Illinois court judge should be closed or investigated, and whether a reasonable basis exists to file a public complaint against a judge with the Illinois Courts Commission.
The Illinois Courts Commission is expected to meet later this year. A date for Adrian's public hearing is expected to be scheduled April 13. After a public hearing, the commission can reprimand, censure, suspend without pay or remove the judge from office or take no action.
Miss Clipping Out Stories to Save for Later?
Click the Purchase Story button below to order a print of this story. We will print it for you on matte photo paper to keep forever.