After 20 years, Gengenbachers sell shaved ice business to Liberty family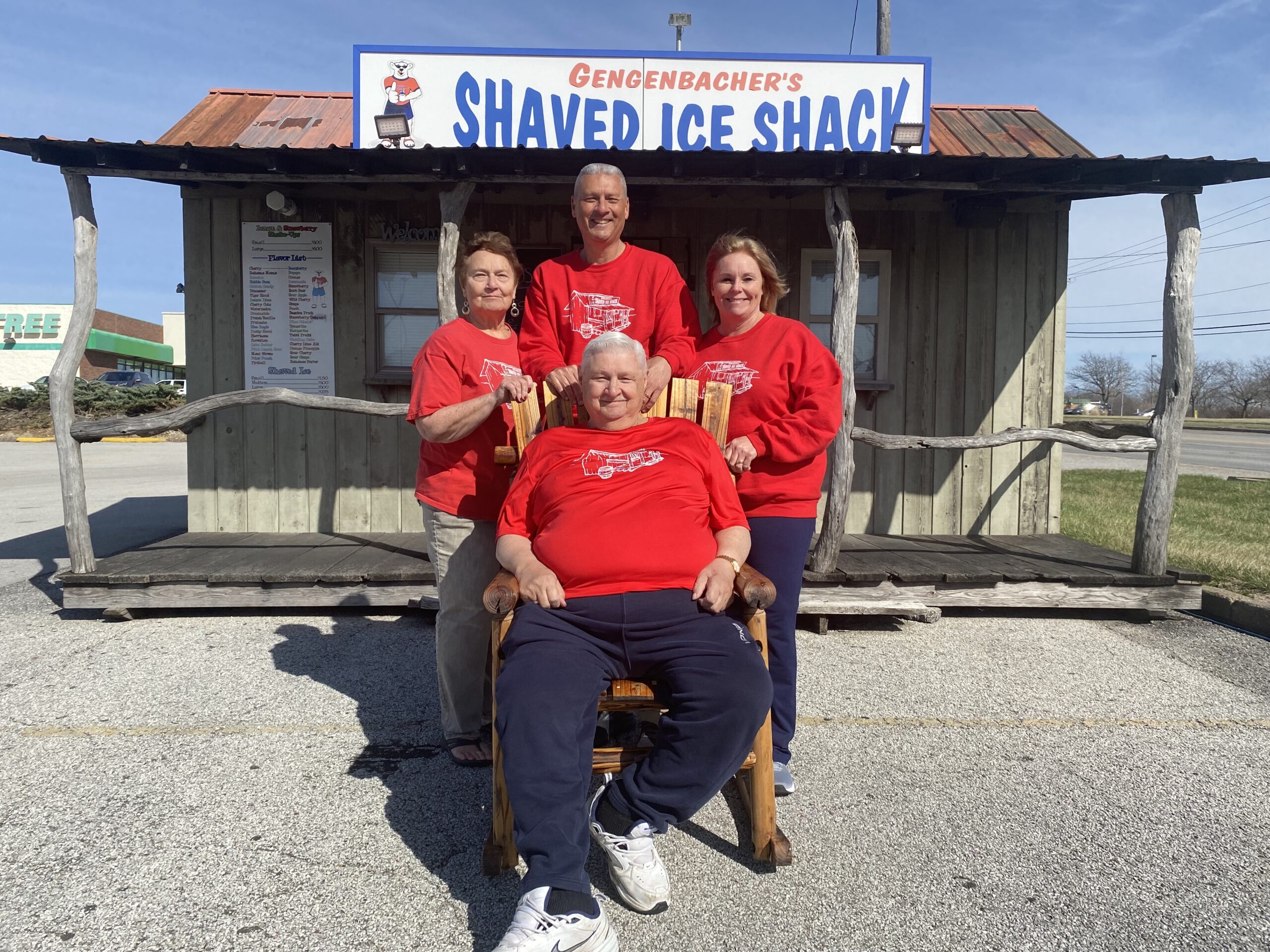 QUINCY — Rick and Becky Gengenbacher came up with the idea to go into business with Rick's parents, Dick and Mary Lou Gengenbacher, to sell shaved ice and help put their four daughters through Quincy's private Catholic schools.
Twenty years later, the proceeds from Gengenbacher's Shaved Ice Shack also helped pay for college expenses and three weddings. A fourth wedding is scheduled for this weekend.
Now the Gengenbachers have sold the business to Joe and Jenna Knuffman, a Liberty family with six kids.
"They're the same age as we were when we started," Becky said.
The Knuffmans renamed the business Tri State Sno Biz. They will continue to sell shaved ice, with 50 flavors available, out of the wooden shack on the southeast corner of the parking lot at the former Kmart building on Broadway. They plan to open for the summer season around Memorial Day.
The Ice Shack trailer, which has been a fixture at many community events and fairs throughout the area, also will be available in Camp Point on Tuesdays, Liberty on Wednesdays and Payson on Thursdays and Fridays. Jenna has scheduled a soft opening for 11 a.m. to 7 p.m. in Liberty on April 13.
"I am just so excited to serve the small little communities," Jenna said. "This is going to be super exciting in the spring and the summer with all the ball teams. It's something for families to come and visit, even if it's just once a week. I'm just completely thrilled, and my whole family is too."
Jenna said she was on a family vacation in Branson, Mo. last summer when her stepdaughter asked her to take a bite of her shaved ice.
"At first, I didn't want any, and Paige said, 'No, you really need to try this,'" Jenna said. "And I thought it was amazing. So I thought. I want to do this, and I researched it all the way home.
"I'd recently bought a trailer and was ready to take it to have some electrical work done on it in Bowling Green, but I had a wild hair one night and called Rick to ask him. You know, some people just get to where they're like, 'I'm done. It's served a purpose.' So I called, and I couldn't believe it. I just got goosebumps. I thought, 'Oh my gosh, maybe this is my time.'"
Rick said the family planned to start the family's 21st year in the business this spring.
"Then (Jenna) contacted me, and I said I'd consider it," he said. "I was busy officiating basketball, so it took me a couple of weeks to get back with her. We all met a couple of weeks ago and talked it over. I know it's a bittersweet moment. It would have been tough to do it much longer, because it's a lot of work if you're going to do it right."
Rick took care of the business side of the ice shack, and his father handled the maintenance. Thirteen of Dick and Mary Lou's grandchildren worked for the family business, as well as the children of many family friends.
"We're so blessed," Rick said. "To do this with my mom, my dad, my wife, my daughters and all of my nieces and nephews, several of my brothers and sisters … it was a perfect fit for the family. The secret to our business was to hire kids whose parents you know, because they're going to show up and do a good job for you. They had to learn how to deal with customers, how to handle money, work hard and show up on time.
"Now my kids are all grown and out of the house, and we have grandkids who we have to travel to go see. It would be a big commitment to (continue the business) all year. It's a good time. Twenty years, that sounds good."
Miss Clipping Out Stories to Save for Later?
Click the Purchase Story button below to order a print of this story. We will print it for you on matte photo paper to keep forever.