After trying to represent himself, Yohn agrees to hearing on ineffective assistance of counsel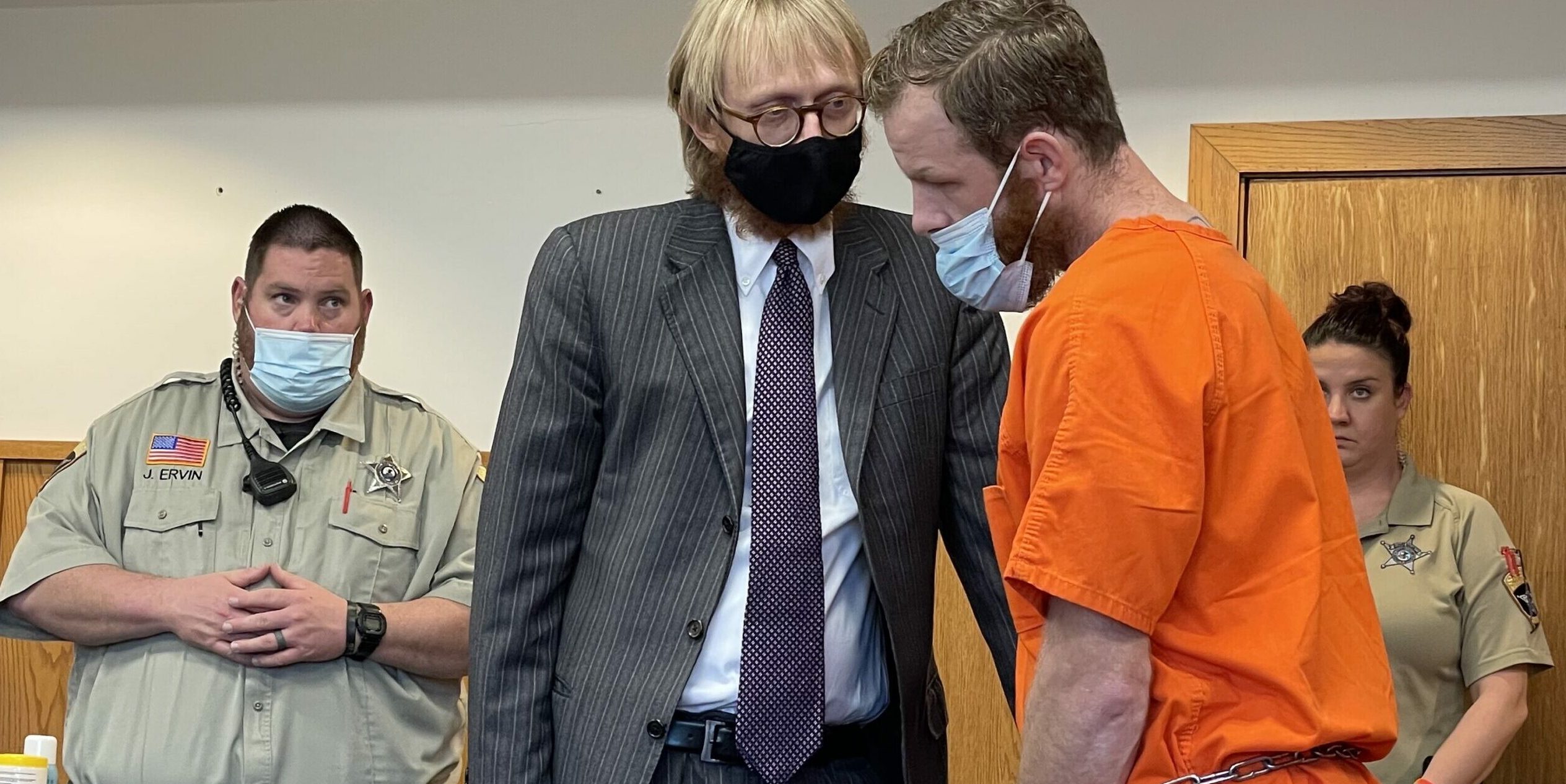 QUINCY — Charged in a November 2021 carjacking and home invasion in Adams County, Bradley Yohn entered Courtroom 2B in the Adams County Courthouse Tuesday afternoon determined to have John Citro removed as his counsel and represent himself.
Instead, Yohn will return to court May 11 for a hearing on ineffective assistance of counsel.
Yohn, 35, of Springfield, has complained about Citro since he was found fit to stand trial last month. He told Citro, a public defender, he was "fired" as he was led from the courtroom on March 22. He then told Judge Amy Lannerd he wanted to dismiss Citro as his counsel on April 19, and he asked Judge Michael Atterberry to hire him a lawyer during a pre-trial hearing last Friday.
Yohn has been charged with two counts of home invasion, and one count each of aggravated kidnapping (allegedly using a knife) and aggravated vehicular hijacking— all Class X felonies punishable for between six to 30 years in prison — for his involvement in a November incident in Adams County. He also was charged with residential burglary, a Class 1 felony punishable for between four and 15 years in prison.
He also was charged with aggravated criminal sexual assault for knowingly committing the act of sexual penetration through the use of force — a Class X felony punishable for between 16 and 40 years in prison.
Yohn faces four counts in connection with an incident on Oct. 15 at 828 1/2 York. He has been charged with one count of residential burglary, a Class 1 felony punishable for between four and 15 years in prison; two counts of theft or unauthorized control of property over $500 but under $10,000, a Class 3 felony punishable for between two and 10 years in prison; and one count of criminal sexual abuse, a Class 4 felony punishable for between one and three years in prison.
The case was on the May jury trial docket. It was removed last Friday, however, after Citro asked for an expert to review DNA evidence.
Yohn then filed on Tuesday a motion for withdrawal of counsel in Adams County Circuit Court. He wrote Citro:
Has been "ineffective" as counsel;
Has told Yohn "a few things" in passing but never shows the proof;
Never returns calls to set up a time to "get my alibi's statement";
Never has met with Yohn to present defendant discovery.
Yohn also wrote he believes he can be more effective in defending his own innocence. He wants his trial to proceed and to represent himself Pro Se — which, in Latin, means "for himself."
After the motion was filed Tuesday, a hearing was scheduled in the afternoon.
Lannerd asked Yohn several times during the hearing if he wanted to address ineffective assistance of counsel — and possibly receive a different public defender — or if he wanted to make a request to represent himself.
At one point, Yohn said, "I'll go Pro Se, your honor."
Later during the hearing, Lannerd again explained the options and suggested Yohn speak with Citro.
"Do you have any desire that you want to speak with (Citro) in that regard in any way on those two topics?" she asked.
Yohn simply replied, "No."
"Having heard that, do you need time to decide which avenue you would like to take?" Lannerd asked.
After Yohn said "No," Lannerd asked, "How are you wishing to proceed on this matter?"
Yohn said, "Pro Se."
He then said he would have been "completely happy" if Citro had some to see him in the Adams County Jail.
"I would have been happy if (Citro) would have granted me a fast and speedy 120-day trial," Yohn said. "He's completely denied that himself, saying that his caseload is too full, saying he has other people to deal with before me. Well, obviously, if your caseload is too full, you don't need to have this job."
Yohn claimed Citro has never visited him in the Adams County Jail.
"I have never sat down with this man and never went over things and said, 'Hey, well, here's this and here's that,' " Yohn said.
Lannerd reminded Yohn frequently that his complaints could only be explored during a hearing. She asked again if he would like to have another attorney appointed or if he wanted to proceed Pro Se.
"Your honor, I feel as if all the attorneys under the system are going to operate the same, so I'd like to go ahead and go Pro Se," Yohn said.
After another give-and-take about what the requirements would be of a lawyer representing Yohn, Lannerd asked him one more time.
"Are you wanting me to set a hearing date so that you can tell me about what you're claiming are the deficiencies in Mr. Citro's representation?" she said. "Or are you wanting me to set this for a hearing as to whether you can represent yourself?"
"Let's set it for a hearing about his inefficiencies," Yohn said. "Quickly as possible, please."
Lannerd wanted to set aside a two-hour window for Yohn's hearing. Citro said he only had a 90-minute window on May 11.
"I'm sure it wouldn't take that long," Yohn said. "And maybe in between time, if Mr. Citro were to come and see me and bring my full discovery, I could sit down with you and go over for maybe possibly that amount of time. We might be able to come to a conclusion."
Lannerd closed the hearing by saying, "At this moment, Mr. Citro still remains your counsel."
As bailiffs led Yohn out of the courtroom, he said, "Would you please come see me Mr. Citro before this happens?"
Miss Clipping Out Stories to Save for Later?
Click the Purchase Story button below to order a print of this story. We will print it for you on matte photo paper to keep forever.