After two car wrecks, a two-state chase and four-hour standoff, Quincy woman arrested Wednesday afternoon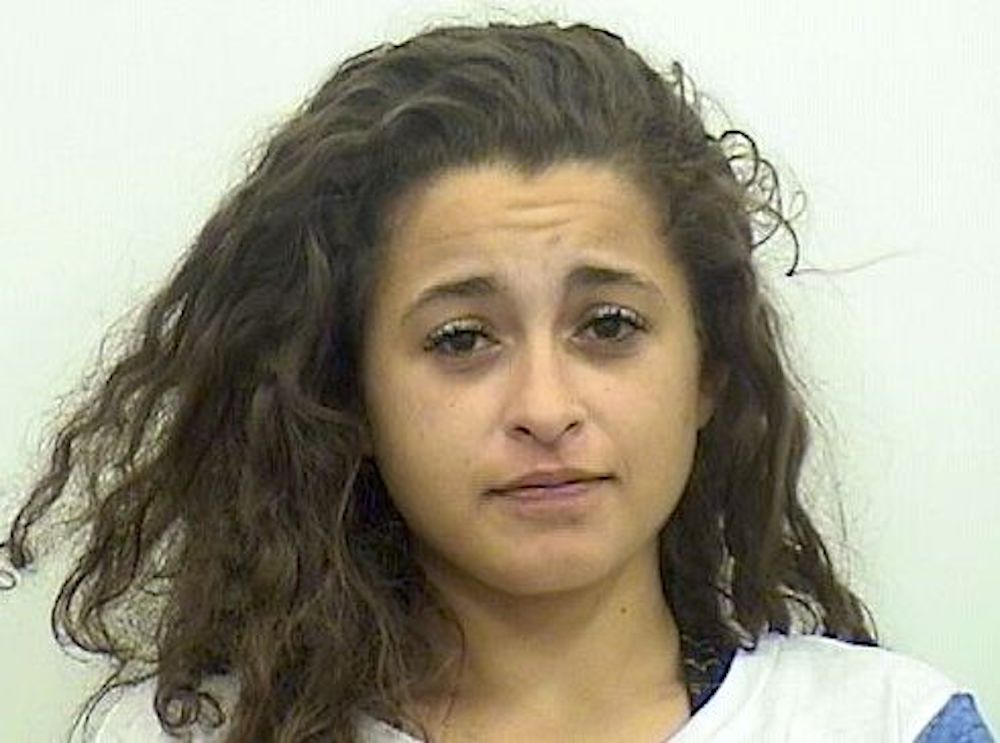 QUINCY, Ill. — A Quincy woman involved in the theft of three trucks in the early morning hours Wednesday, as well as a Quincy Police squad car later in the day, was arrested Wednesday afternoon following a four-hour standoff with members of the Quincy Police Department and the Adams County Sheriff's Department.
The Adams County Sheriff's Department responded at 3:40 a.m. Wednesday to a report of the theft of three trucks in the 2000 block of U.S. 61 in Houston Township, Adams County. Deputies found one of the stolen trucks abandoned — though still running — in Camp Point at approximately 7 a.m. While the deputies were in Camp Point, they received an additional report of a stolen blue Hyundai car from a resident in Camp Point.
Deputies located the stolen Hyundai traveling east on U.S. 61 near Illinois Route 336 at approximately 8:30 a.m. An attempt was made conduct a traffic stop on the Hyundai, however the vehicle did not pull over and fled from the attempted stop at a high rate of speed. Deputies maintained visual contact with the Hyundai as it drove toward the Quincy city limits. Officers with the Quincy Police Department then were notified of the situation.
The Hyundai was observed traveling west onto the Bayview Bridge. Missouri law enforcement was notified, and a short time later, the vehicle was located in West Quincy, Mo. The Hyundai then fled from Missouri authorities and drove across the Memorial Bridge back into Illinois. Deputies with the Adams County Sheriff's Department and officers with the Quincy Police Department then saw the vehicle driving erratically at a high rate of speed as it entered the Quincy city limits.
Adams County Sheriff Rich Wagner said one of his deputies pursued the Hyundai as it drive south on Third Street — a one-way northbound street.
The Hyundai eventually struck a parked truck at the intersection of Fourth and Spring, disabling the vehicle. The parked truck was pushed into another parked vehicle.
"Our deputies were behind (the police officer) with that first accident," Wagner said. "Someone would chase her, then stop, then someone else would try. We tried to stop her numerous times, but we didn't want to push her into a bad accident."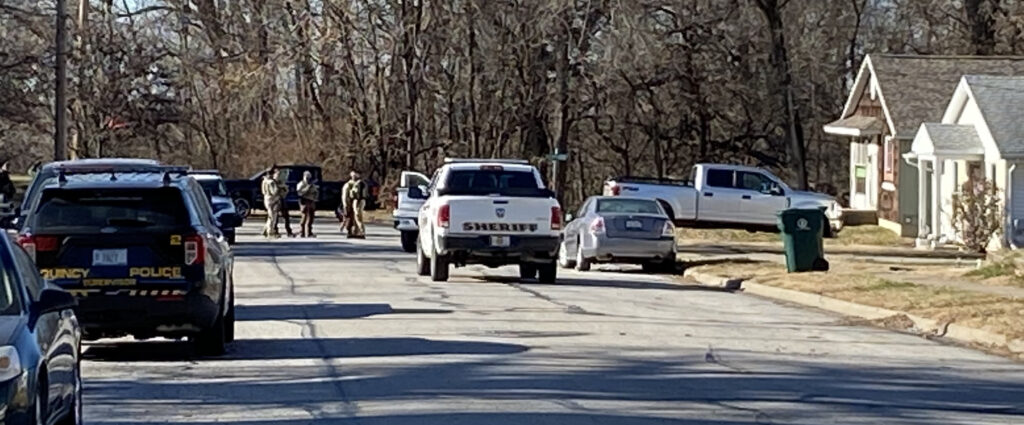 A police officer left a squad car to attend to people at the scene, and the driver of the Hyundai, later identified as Mercedes N. Patterson, 25, entered the squad car through the passenger door. Patterson then fled from the scene at a high rate of speed in the squad car.
Officers quickly learned the squad car was wrecked and abandoned near the area of Third and Maple. After further investigation, law enforcement authorities learned Patterson fled on foot from the crashed squad car to a residence at 209 Maple.
Sheriff's deputies and Quincy police officers established a perimeter at the residence. An Adams County Sheriff's Department vehicle blocked off Maple at Third Street at approximately 10:15 a.m. As the deputies and officers waited for a search warrant to arrive, multiple efforts were made to contact Patterson inside the residence.
"We set up a perimeter and had to make sure we had Patterson positively identified, but she wasn't leaving that house," Wagner said. "We also had to track down the homeowner."
A search of the Adams County GIS maps show Teheran and Shanise Lilly are the owners of 209 Maple. However, Wagner said neither of the Lillys were at home at the time of the standoff.
Wagner said a silver Ford truck, parked on the driveway at 209 Maple, was owned by a Hannibal man who is not involved in the case.
During the standoff, an elderly woman parked her car along Third Street and walked toward the residence at 209 Maple. She then used a bullhorn to ask for someone to come outside. As she walked back to her car, the woman was asked if she knew someone inside. She said yes. Asked who it was, she said, "No names," got in the car and left.
Wagner said the elderly woman was a family member.
"We thought she might able to help get (Patterson) out," he said.
Deputies then executed the search at 209 Maple at 2:15 p.m. Patterson and two other males were removed from the home. Wagner said two males in the home during the standoff "are not involved in the case at this time. They are acquaintances (of Patterson), and that's a home she's been known to frequent."
Wagner said Patterson was found with the help of doorbell camera videos from neighbors in the Second and Maple area. Another potential suspect also was discovered on camera, though that suspect has not yet been apprehended.
"Those videos helped up put a good case together," Wagner said. "Even in the area where the (stolen) truck was located, we had deputies canvass the area and found the female suspect on two cameras. I would encourage anyone in that area to review their home cameras for information we might use."
Wagner said deputies are still searching for two male subjects in connection with the stolen trucks. One truck that was stolen Wednesday morning was found parked on Sycamore, a block away from the standoff. Wagner said a third stolen truck has not yet been found.
Patterson, who previously lived at 1010 Lind in Quincy, recently was in Logan Correctional Center in Lincoln, Ill., serving a three-year sentence after pleading guilty to a Class 3 felony theft charge in 2019. She was released Dec. 18 on parole. Patterson now is lodged in the Adams County Jail with no bond. Additional charges and arrests are pending. The Quincy Police Department has charged her with:
Theft over $10,000-government property/vehicle
Possession of stolen vehicle
Improper lane usage — traveling wrong way on one-way street
Improper lane usage
Leaving the scene of an accident — vehicle damage
Leaving the scene of a property damage accident
Reckless driving
Speeding (35 mph or more over a posted 30 mph limit)
The Adams County Sheriff's Office has charged Patterson with:
Burglary to motor vehicle
Aggravated fleeing or attempt to elude a peace officer
Theft over $10,000/under $100,000
Violation of parole from the Illinois Department of Corrections
Assistance was provided by the Adams County Ambulance Service, along with numerous tips and information from the community.
Miss Clipping Out Stories to Save for Later?
Click the Purchase Story button below to order a print of this story. We will print it for you on matte photo paper to keep forever.