Aldermen, employees grill consultant during two-hour meeting about city insurance issues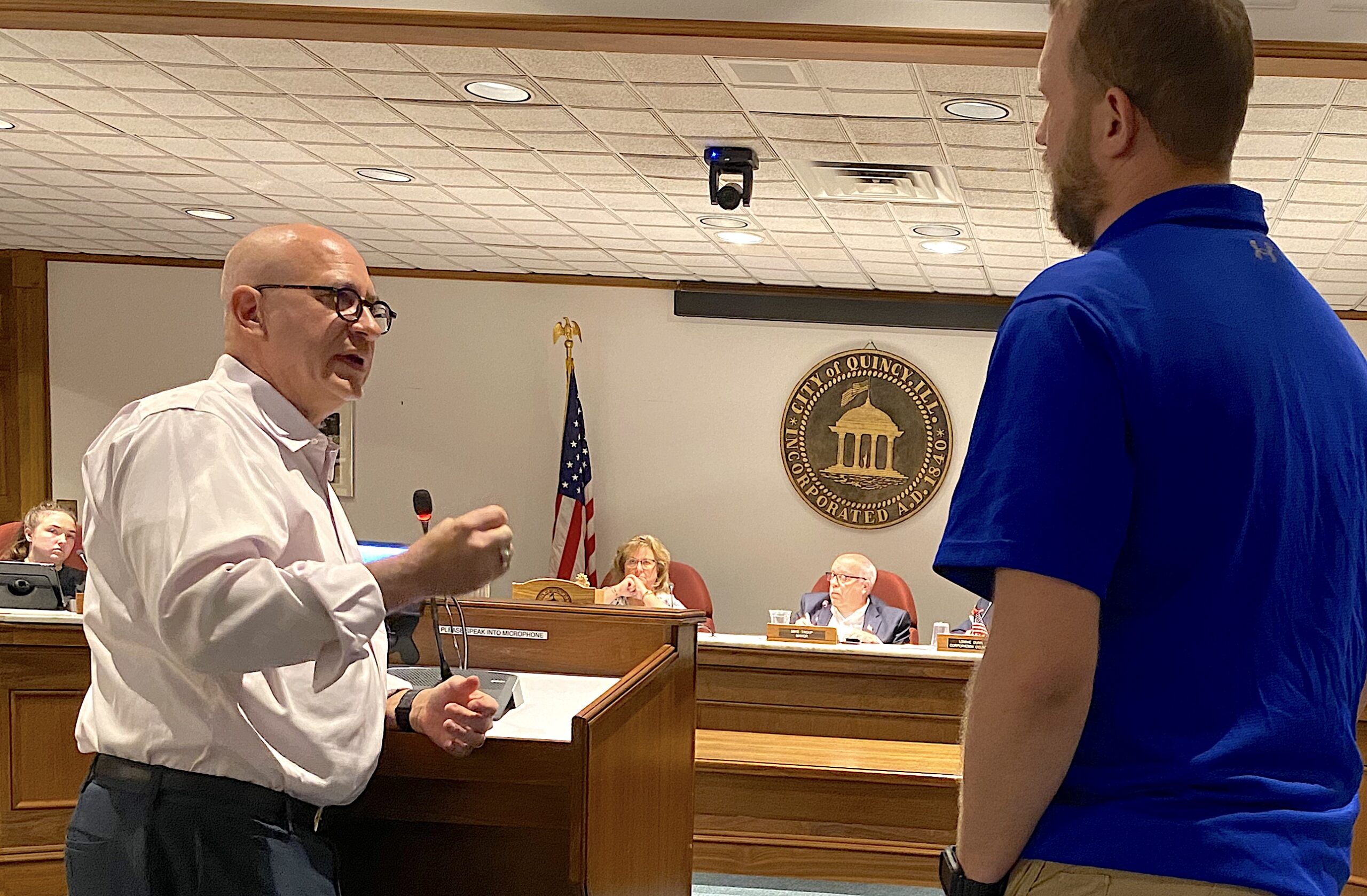 QUINCY — After a two-hour meeting Wednesday night about city insurance issues, Quincy Mayor Mike Troup says he plans to recommend to the Quincy City Council at its Sept. 11 meeting that it buy a new six-month policy from a Mississippi-based insurance provider — about a month after a similar policy with the same provider was canceled.
The Quincy City Council Meeting of the Whole was called to present findings on the city's healthcare relations with Coalition Health, a health reimbursement arrangement (HRA). Many questions were asked by aldermen and city employees in attendance, and many of them were for Jim Baxter with Coalition Health. Jeff Mays, director of administrative services, and comptroller Sheri Ray gave a presentation about the city's self-insurance plan and subsequent transition into the current fully-insured plan.
Corporation Counsel Bruce Alford gave a presentation about an investigation by himself and Corporation Counsel Lonnie Dunn about the Aug. 3 cancellation of the city's secondary insurance policy with American Public Life, based out of Flowood, Miss. (City employees still have Blue Cross Blue Shield of Illinois for primary insurance.)
APL policy was to have same benefits as previous plan
Alford explained the city bought the APL insurance policy in January 2022 so employees would still have the same benefits they had under the previous self-insurance plan.
"The way the APL policy was supposed to be written … was the city would pay for that excess deductible, those excess costs, so the employees didn't see any change," Alford explained. "At the end of the policy, APL would pay back that excess claim money to the city.
"We were paying the premiums for that and that was going along. Then sometime in June or July of this year, APL determined they wouldn't do that or they couldn't do that for some reason. That's when they started speaking with our consultant, Mr. Baxter."
Baxter explained the language in the contract did not match a verbal agreement made between APL and the city. He said one of the resolutions offered by APL was for it to return all the premiums and cancel the policy. APL reported $343,000 in claims had been approved for reimbursement, and $675,000 in premiums had been paid. The remaining $332,000 was profit from APL.
"From (APL's) standpoint, they were doing city a nice thing," Alford said. "They're giving back the profit to us."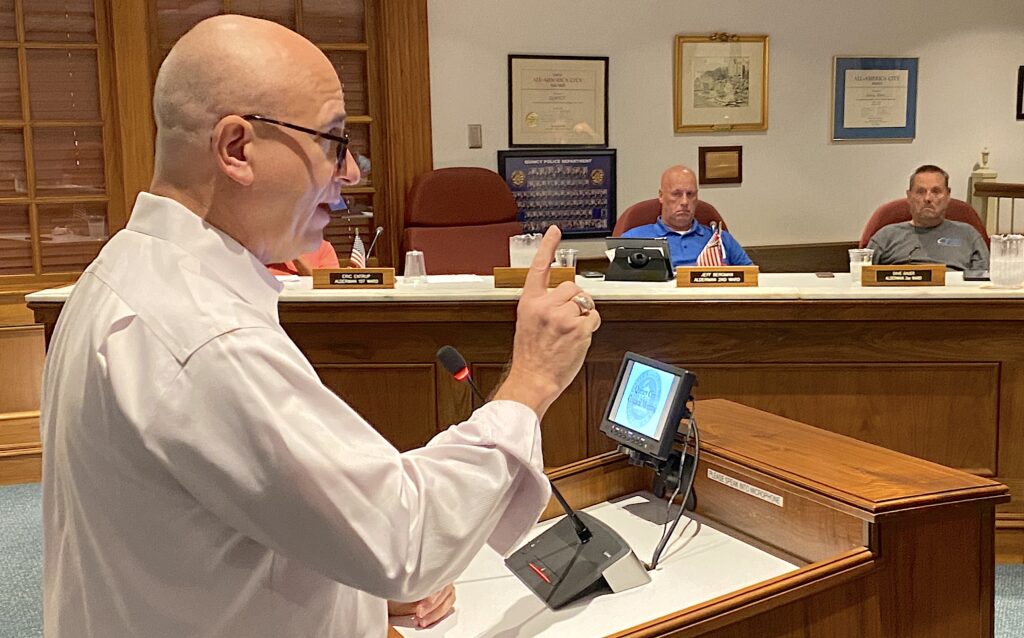 Reimbursement check to city had Elmhurst address on it
While negotiating with APL, Baxter said he wrote to the company asking for a cancellation of the policy.
"Frankly, I didn't quite understand or appreciate that at the end of the day, the choice is actually (made by) the folks in this room, not the people I was speaking to," Baxter said. "I just fired a directive to APL to say, 'I think we want the cancellation.' What they did was take that in the most rapidly deployed missile I've ever seen and fired a $675,000 check to the city of Quincy, and it was deposited.
"This was never requested by the city in any formal or official way. … And that's what happened in the room."
The check, made out to the city of Quincy, had an Elmhurst address written on it. However, Alford confirmed the city has deposited the check.
Alford said APL considers the policy cancelled, but the company is willing to work with the city on the issue. A resolution to the issue needs to be determined by no later than Sept. 30.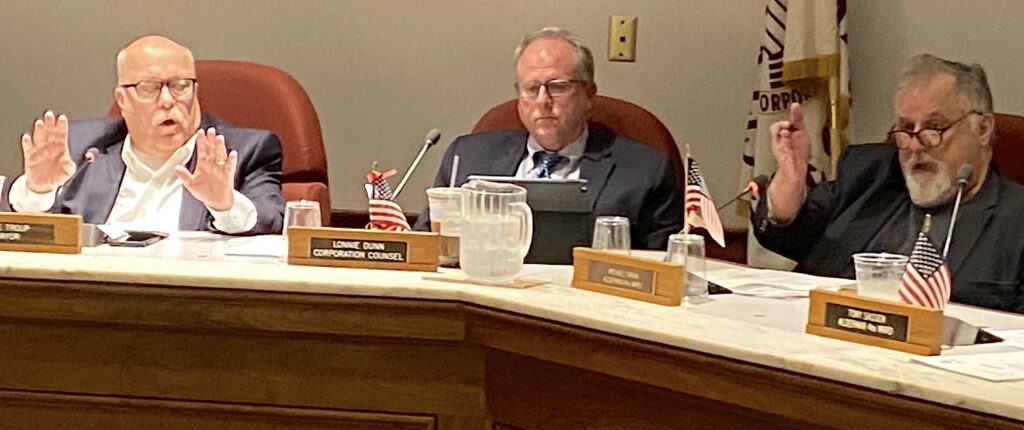 Alford gives city three options moving forward
Alford explained in a memo to aldermen three options the city could take going forward.
The city could keep the money returned by APL and self-insure with no stop gap insurance from July 1 to Dec. 31. The city would keep the $343,000 it already advanced for employees, and the remaining $332,000 would be divided between the city and employees based on the amounts paid toward insurance premiums to API.
The city would keep the money returned by APL and re-insure with APL from July 1 to Dec. 31. APL would reimburse in the future to either the medical provider or the employee. The city would keep the $343,000 it already advanced for employees, and the remaining $332,000 would be divided between the city and employees based on the amounts paid toward insurance premiums to APL.
The city would return all the $677,000 to API and backdate to Jan. 1, 2022, for a new policy. As some money already has been paid to the city, the city would have to collect that money back from employees or providers.
The third option was not "functionally a feasible alternative," Alford said. He said the city administration recommended the second option.
Baxter said he believes he already had saved the city between $750,000 and $1 million through prior negotiations with APL. He said choosing the third option would be taking $332,000 and "flushing it down the toilet."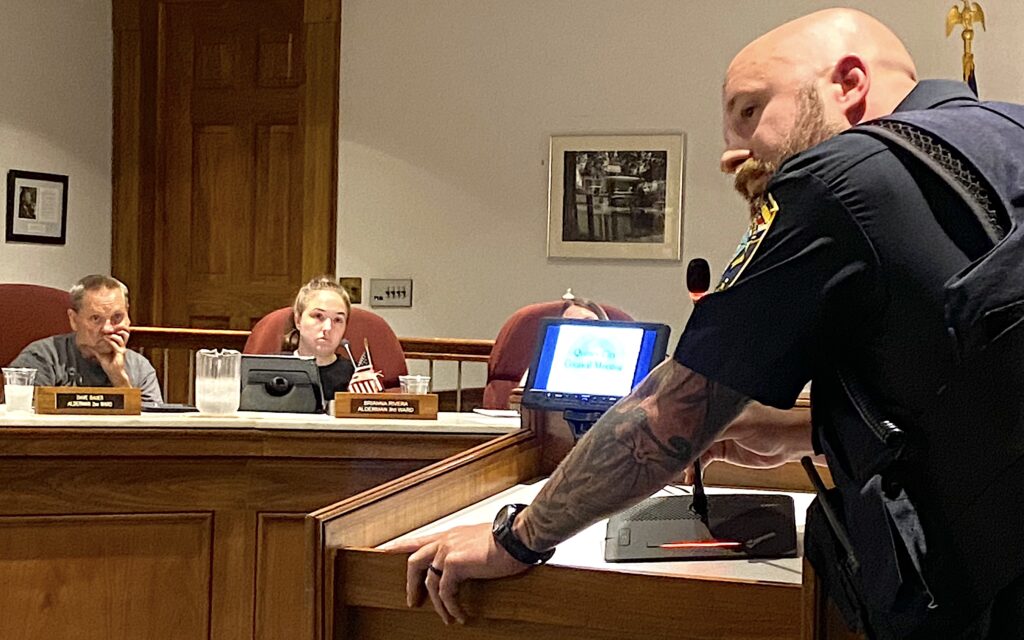 Police union president tells Baxter, 'We want you to leave'
"I'm a bird dog bringing you a gift," Baxter said. "I have negotiated a $332,000 return of excess profit from your (insurance) carrier. It is your choice if you want it. It was my mistake to declare what I thought was so patently obvious. I will certainly let this council make their own decision. Do you want it, or do you want to send it back? The choices are all on the field for you to make."
Baxter later said, "If everybody wants to … basically make this to be kind of 'The Devil Wears …" What? Blue pants and a pink shirt? I don't know what to make of it. All I know is that this is so solvable. It's so ridiculously solvable."
A "fourth" option was suggested by Robert Megee, president of the Police Benevolent and Protective Association Labor Unit 12. When he had a chance to speak to aldermen, Megee instead turned the microphone around and glared at Baxter in the audience.
"I was elected by the police department to represent them," Megee said. "As a person who has the support of several unions within the city of Quincy that represent the vast majority of employees at the city of Quincy, we don't want your program. We don't want you in the city of Quincy. And we want to know if you stand by your word or if you're a liar, because I'm telling you right now, we want you to leave."

Baxter: 'I'm excellent at what I do. I'm horrible at communication'
"I do not have the authority to terminate American Public Life. I do have the authority to terminate my role as your consultant," Baxter replied. "There's a point where the damage is so retractable that it would make a difference what you've accomplished. If there's a lack of courage on finding a way for the best parts to be salvaged and the worst parts to be repaired, I don't want the job. I resign."
However, Baxter stayed for the entire meeting. He also met with city employees in a private room afterward to answer their insurance questions.
"What I will assure you is the ability for me to pull up an answer if I'm asked a question (about insurance) with meat on the bone," he said. "That's how good I am at what I do. I'm excellent at what I do. I'm horrible at communication."
Troup said he decided to make the city's insurance fund fully funded because it ran at a deficit for seven consecutive fiscal years, starting with 2016 through 2023. The largest deficit was $675,230 in 2017. The fund was at $1,855,488 for 2016 and was down to $22,752 by the end of 2010. The city loaned the fund $840,000 in 2021.
Ray told aldermen she also had to ask the City Council three times for unplanned "sweep funds" — $285,424 in fiscal year 2020, $1.324 million in fiscal year 2021 and $130,421 in fiscal year 2023 — to make the self-insurance fund solvent so she could pay claims.
Holtschlag says insurance 'went south' in 2015
"I think when this whole thing went south is 2015 when we got rid of our consultant that we had handling our insurance," Alderman Jack Holtschlag, D-7, said. "I brought it up to prior administrations attention back then, and they're like, 'Gee manently, that was costing us this much money.' It's not near of what the years have cost us and now the turmoil that it has caused the city. It's unreal.
"I think we should go back to 2015 and hire whoever the hell we had hired. Let's get this straightened out."
Despite a few moments when discussions got a little heated, Mike Farha, R-4, believed the meeting was beneficial.
"The public knows, everybody knows we're talking," he said afterward. "I think it's good. Any time that everybody has a chance to speak is good. Not everybody's going to agree."
Baxter said afterward that anything wrong with the city insurance plan seemed to be attributed to his HRA.
"There's never been a problem that wasn't actually able to be diagnosed to be unrelated to what seems to be the epicenter of all pain, being the HRA," he said. "If we could ever get a neutral third party (to investigate) … I want the police to nominate their own ombudsman to basically be a fair assessor. I am not convinced that enough people who took the mic today have done their homework."
Troup wants to propose six-month contract with APL
After the meeting, Troup said he was going to propose a resolution at the Sept. 12 City Council meeting to choose the second option Alford presented.
"Under option two, I think we can give a return of dollars to the employees in September," he said. "I'm never going say the employees aren't correct that there's a problem here. Not all the problems were created either by the city or by Coalition Health. When you have other people and other organizations doing billing, there's room for error … and we had our above normal experience of problems.
"Tonight was an opportunity for us to get the facts out, give everybody the total picture. We really haven't had that opportunity."
Miss Clipping Out Stories to Save for Later?
Click the Purchase Story button below to order a print of this story. We will print it for you on matte photo paper to keep forever.