Aldermen question relevance of civility pledge, which gets tabled indefinitely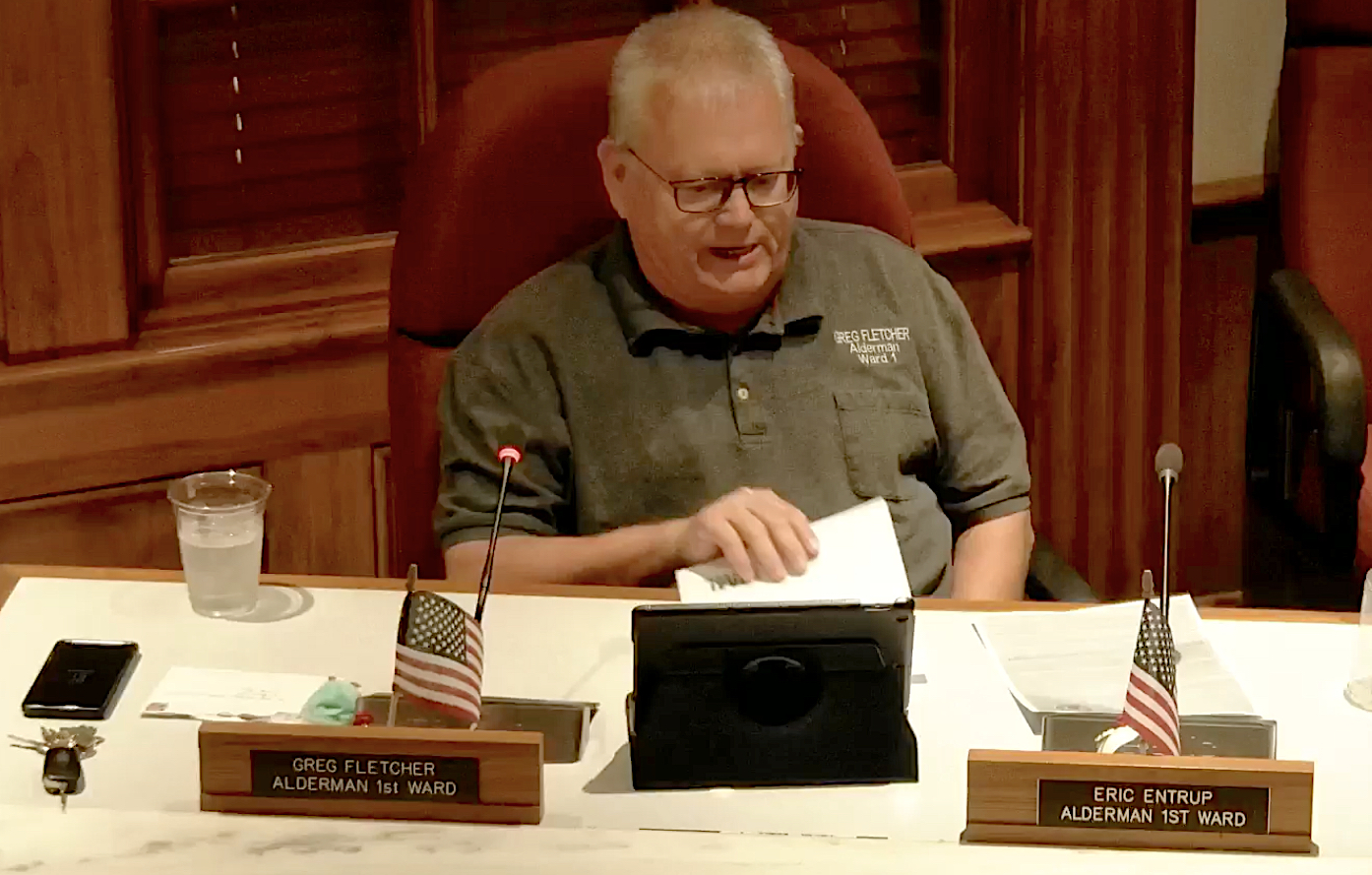 QUINCY — A resolution for the city to adopt a pledge of civility was tabled indefinitely during Monday night's Quincy City Council meeting after three of the 10 aldermen in attendance said they couldn't support it.
The resolution put forth said the Illinois Municipal League has adopted a civility pledge which states, "In the interest of civility, I pledge to promote civility by listening, being respectful of others, acknowledging that we are all striving to support and improve our community and understanding that we each may have different ideas for achieving that objective."
The resolution went on to say, "In order to publicly declare a commitment to civil discourse and to express concern for the common good and well-being of all residents of the city, the mayor and the City Council have determined it to be in the best interests of the city to adopt this resolution."
Alderman Greg Fletcher, R-1, was the first to question the resolution.
"What does civility mean? You yell too much or talk too loud?" he said.
"Whatever the resolution would have in it," Corporation Counsel Lonnie Dunn replied.
"What would be the penalty if you violate that?" Fletcher asked. Dunn said there is no penalty.
"So you can't get kicked out?" Fletcher asked. Dunn said no, according to the resolution.
"So why even fool with it?" Fletcher asked. "I guess I don't understand this. I think as a body, if we get into a heated discussion over something, I call that democracy. I'm not going to sit here and just hold my hands, talk low and bob my head up and down. Sometimes we have it out. So I can't support that."
Quincy Mayor Mike Troup said the intention of the pledge was aimed at city employees who have dealt with customers who have cussed them out after their water or utilities were shut off.
"They're there to collect the money, and they get really mistreated," Troup said. "The civility pledge is just a level of expectation to be respectful. Do we have to agree with everything? No, but there's a way to properly raise your objections."
Mike Farha, R-4, said the citizens and people doing the yelling aren't the ones signing the pledge.
"That doesn't really make any sense to me," he said. "The citizens who are yelling, I mean, I'm not defending it. I'm just saying they are the owners of the city. You really can't tell them to settle down or anything else. I think we're putting employees in a bad position. I don't think that the explanation you're giving would make the situation any better, I think would escalate the situation. So I can't support this."
Troup reminded Farha that he previously wanted public speakers who were "cussing and or doing whatever else" to be cut off.
"That has nothing to do with this," Farha replied. "That individual had very foul language and actually referred to you and killing you. That's what some of the objection was. So no, I don't think you're correct."
Glen Ebbing, R-5, called the resolution "a guideline that will keep everybody on the right path." Jeff Mays, director of administrative services, said the resolution was "not a big deal."
"This should be a calling," he said. "This should be a way of life for a governance body as far as I'm concerned."
However, Jeff Bergman, R-2, said he's been doing all of the duties listed on the civility pledge for the past eight and a half years.
"I don't need to sign off on this. This is the way I operate," he said. "I work with everybody on this council. I work with everybody in the administration. I work with every department head. I don't agree with everybody, but at the end of the day, there's a black and white and a lot of grey in the middle. My goal is to find what is best for the majority of my people in the 2nd Ward and do what's best for them.
"Even though I don't agree with everybody on this horseshoe, currently or in the past, professionally or personally, at the end of the day, I do what's right for the people who voted for me to sit in this seat. I'm not here to make friends. I'm here to get stuff done. I'm here to help my neighbors. I'll work with everybody as I have in the past and in the future to make sure that I accomplish that. At the end of the day, this is an unnecessary step. This is fluff."
Ben Uzelac, D-7, said aldermen spent more time talking about the pledge than all the housing issues that had been brought before them earlier in the evening.
"None of us say anything to these speakers when they come up with an issue," he said. "But when it comes about a piece of paper that literally means nothing to sign, suddenly we've got 40 minutes worth of thoughts."
Uzelac then asked for the issue to be tabled indefinitely. His proposal was seconded and then approved unanimously.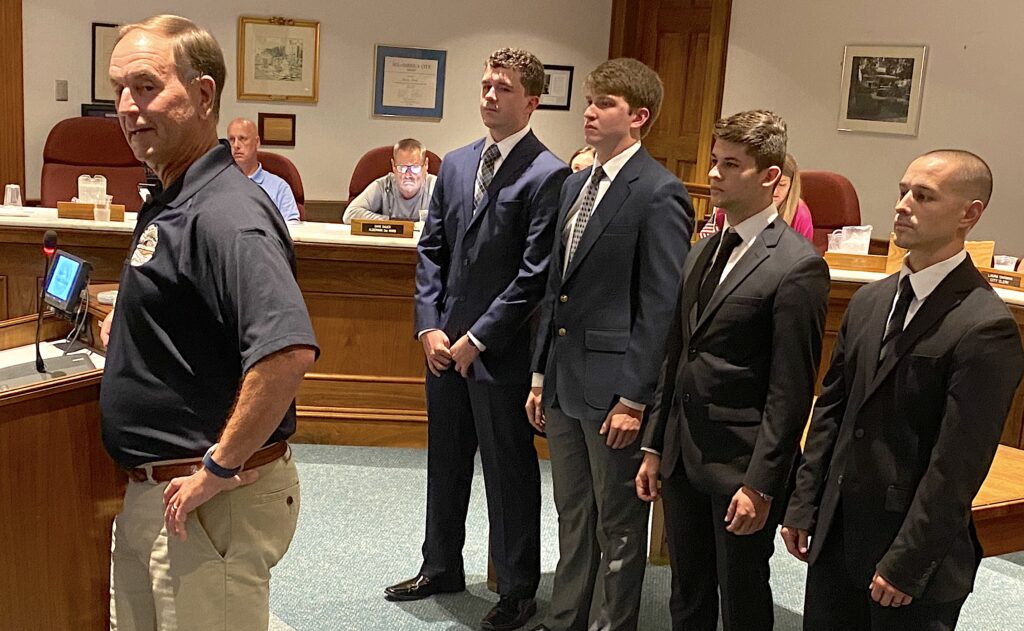 Four Quincy natives were sworn in as new officers with the Quincy Police Department at the beginning of Monday's meeting before a full City Council chambers.
Dylan Young, Levi Dowling and Jayden Rice are all 2020 graduates of Quincy High School, and both Rice and Young previously worked as a corrections officer for the Adams County Sheriff's Department. All three will attend the Police Technical Institute in Champaign for the next 16 weeks. Aaron Howe, a Quincy Notre Dame graduate, will be attending the Macon County Police Academy.
In other action, aldermen approved special event applications from:
Uncle Bob's Bar, 1301 N. 12th, to hold a 20-year anniversary party on Sept. 16.
Joy Berhorst to hold the annual Pink Pass It On fundraiser walk benefiting the Blessing Hospital Breast Center on Oct. 21 in Washington Park.
Good Samaritan Home Foundation to hold the United Hearts Family Fest fundraising event on Sept. 9 at Trinity Church, 2020 S. 24th.
Kelly Weiman on behalf of the Quincy Public Schools to hold the Quincy FFA Barnyard Fun Run and 5K on Sept. 16, starting at Quincy High School, 3322 Maine.
Quincy University to close 20th Street between Spruce and Sycamore to accommodate special game day parking for home football games on Aug. 31, Sept. 9, Sept. 16, Sept. 23, Sept. 30, Oct. 7, Oct. 21, Oct. 28 and Nov. 4.
Aldermen also approved revocable permit applications for encroachment of city right-of-way by:
John Schemerhorn to install a balcony above right-of-way at 110 S. 11th.
John Schemerhorn to install a sign above the right-of-way at 122 S. 11th.
Waylon Rhoads to place a portable A-frame sign in front of property at 1205 Vermont.
First Union Congregational Church, 105 N. 12th, to close the sidewalk on the west side of North 12th from Maine north to the alley to allow for exterior painting. The sidewalk will be closed for 30 days starting Sept. 1.
Aldermen also approved:
A special permit from Full Service Roofing, LLC, to allow for the operation of an automobile detailing business at 106 S. 11th.
A quote from Brown Equipment Company of Evansville, Ind., for $19,818.48 to buy sewer cleaning accessories.
A quote from Core and Main of Washington, Ill., for $9,510 to buy water main and pipe fittings to be used to repair and maintain failed water main and water service lines.
An ordinance amending city code to delete a six-year term limitation for at-large Plan Commission members.
A resolution — following a closed session Monday night — approving two collective bargaining agreements between the city and Patrol Officers Chapter of Policemen's Benevolent Association Labor Committee Local Unit 12 beginning May 1, 2021, and ending April 30, 2025.
Miss Clipping Out Stories to Save for Later?
Click the Purchase Story button below to order a print of this story. We will print it for you on matte photo paper to keep forever.