Ask MRN: What is that sign in West Quincy about the Hannibal Regional Port Authority all about?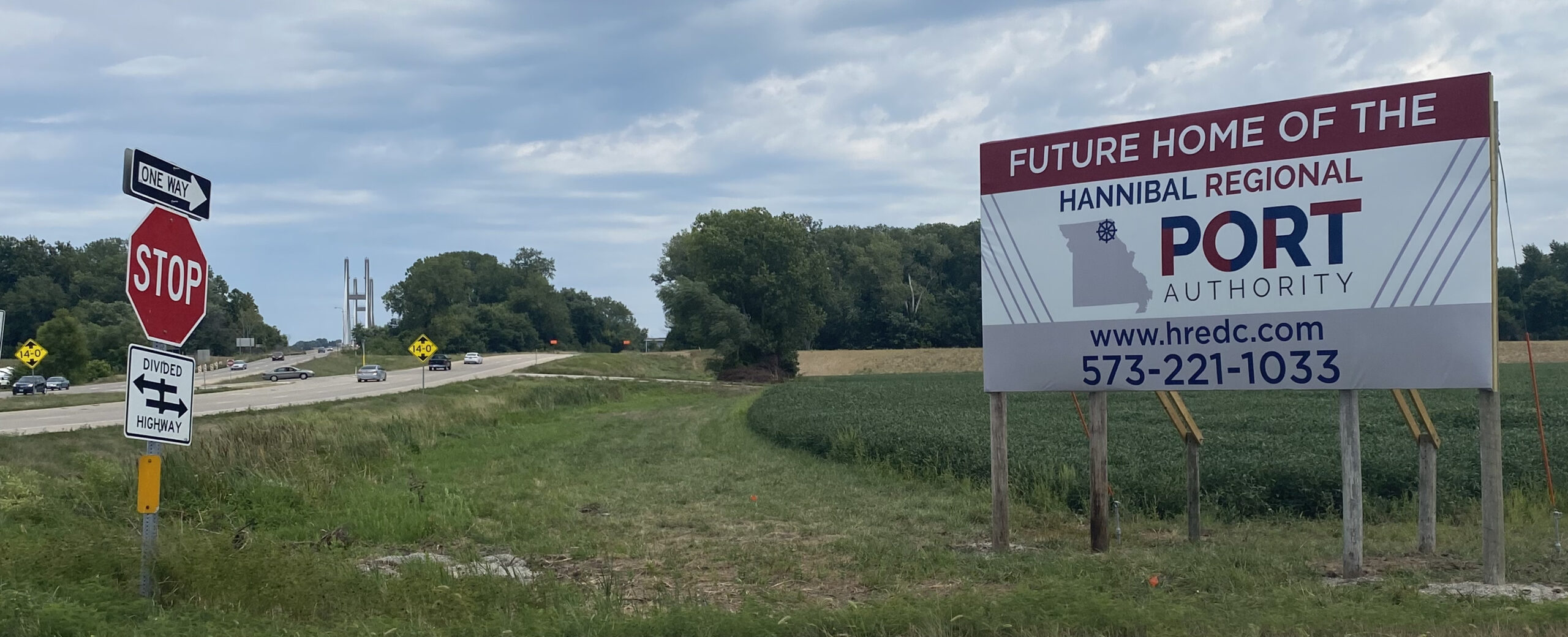 Dear Muddy River News,
There's a new sign in West Quincy about a Port of Hannibal installation that will be built right near the old bridge. We wonder if you might do a story about what that is.
The Missouri Department of Transportation approved funding in April for the Marion/Ralls Regional Port Authority, also doing business as the Hannibal Regional Port Authority, to buy land in Taylor, Mo., for a new public port development. It would be the only public port from St. Louis to the Quad Cities to offer truck, barge and rail services.
Corey Mehaffy, executive director of the Hannibal Regional Economic Development Council, confirmed that his office received confirmation in June of up to $1,670,545 of Missouri Port Capital Improvement Program funding available to buy property for the new port site. Mehaffy said in release these state funds required a minimum 20 percent match and had to be spent by June 21.
Klingner & Associates, an engineering firm based in Quincy, estimates the development cost for the proposed port will be more than $17 million. Mark Bross, branch manager of Klingner's Hannibal office, said in a press release the firm studied multiple locations in Marion and Ralls counties.
Mehaffy said his office submitted applications earlier this year for the 2022 Rebuilding American Infrastructure with Sustainability and Equity grant program and the 2022 Port Infrastructure Development Program grant program. HREDC since has learned it did not receive the RAISE grant, which would have covered the entire cost. It is still waiting to hear back on the PIDP grant, which is port-specific. It would be capped at $11.25 million.
"We'll continue to work with MoDOT at the state level on CIP funding, which is how we got the money to buy the property in the first place," Mehaffy said. "The state has done special funding for industrial parks through their ARPA (American Rescue Plan Act) funds, so we've applied for that. There's also two or three other smaller grant opportunities that we're applying for just to build the roads and infrastructure into the park."
Mehaffy said he visited earlier this month at the port site with Missouri Rural Electric, Liberty Utility, Adams Fiber and the Marion County Rural Water District about how the utilities will serve the site. Discussions also were held with MoDOT and Burlington Northern Santa Fe Railroad.
Mehaffy said the Marion/Ralls Regional Port Authority is a public port and will allow users to have multimodal services there.
"We'll have truck, rail, river and barge services available for people, whether it's raw materials and goods being brought in or whether it's finished goods being shipped out," he said. "Farmers could potentially be shipping grain, fertilizers, all those kinds of things. We could potentially have companies locate there. We have plans for distribution centers and warehousing and storage logistics.
"I've made a comment that I'm not a fan of spending taxpayer dollars without knowing there's demand and potential sustainability. That was what the feasibility studies (done in 2020 and 2021) were for. We found significant demand from companies in about a 100-mile radius for the use of port and barge services. Once we had that, we put this conceptual drawing together, started looking at some sites and got the funding to buy the site."
Mehaffy says the next step is to hire an engineering firm.
"We haven't done any design work yet, and that's largely due to the fact we don't really know how the things are going to develop yet," he said. "It kind of depends on who the tenants might be, what companies might come, how much space they need, how much land they need, those kinds of things.
"We do already have a couple of folks who have indicated interest in looking at the site, but the design process will take time. If we were building the facilities for ourselves, that would be one thing. We're trying to build facilities to accommodate what the employers in the area would need."
The MRRPA bought the property from the Nancy J. Dawe Living Trust and the Ann Baker Family Trust. Family members had mentioned they held this property over the years looking for a project like this "that would be helpful for the region and help us from an economic development perspective," Mehaffy said.
Miss Clipping Out Stories to Save for Later?
Click the Purchase Story button below to order a print of this story. We will print it for you on matte photo paper to keep forever.