Ask MRN: What was that string of lights in sky last week? How does someone change colored lights on Bayview Bridge?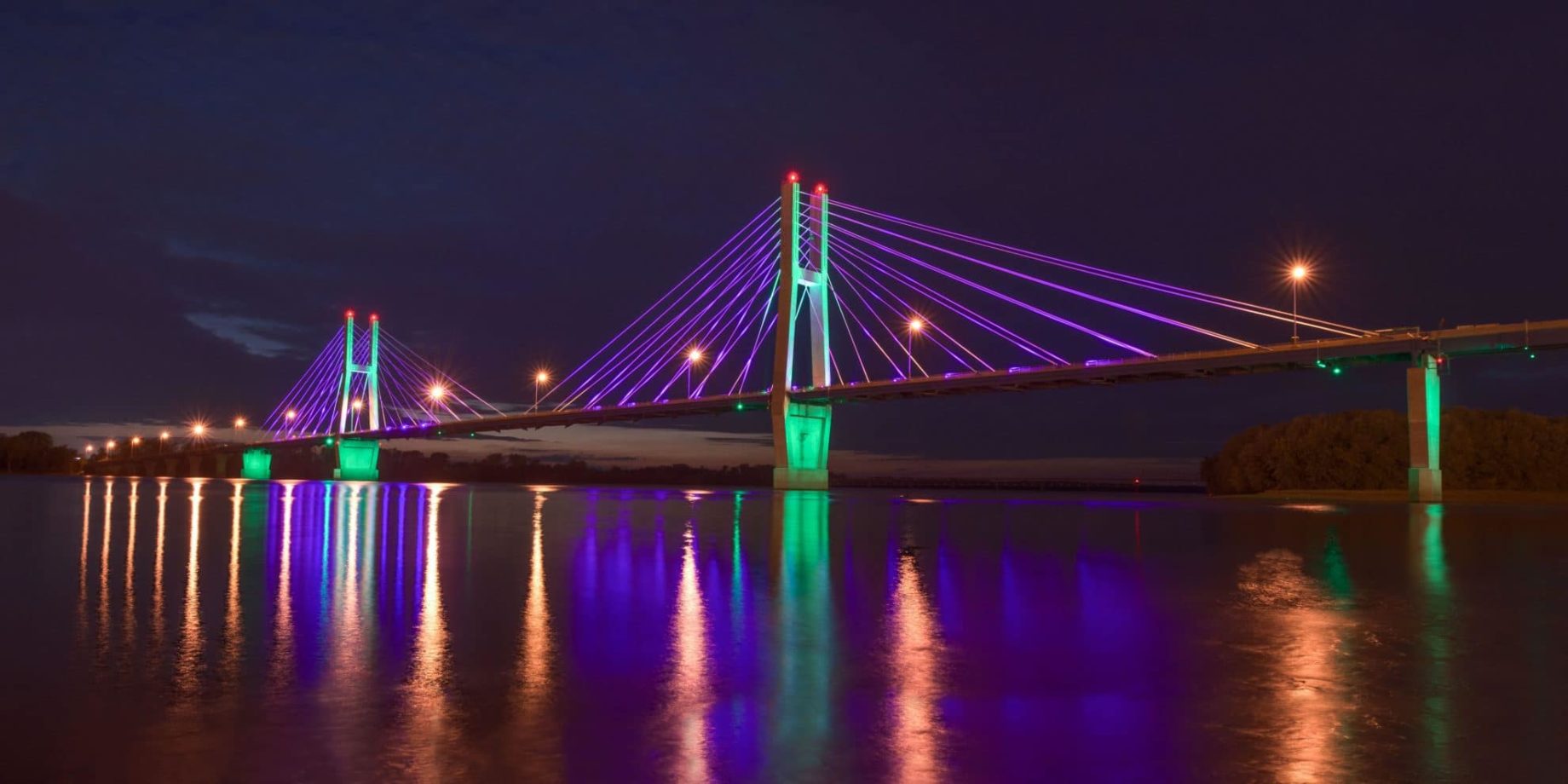 Dear MRN:
On Tuesday, Aug. 15 at 9:30 p.m. while viewing the Perseid meteor shower, we observed a long chain of white lights — about 30 to 40 —moving from the northwest to the southeast. The light chain moved slowly in a "jerky" forward movement, staying in a line but moving in "jumps." We watched for approximately a minute before the lights disappeared into the darkness. We live north of Lewistown, Mo., out in the country. What did we just see?
Bob Weirather with the Quincy Astronomy Club believes Elon Musk is the reason for what you saw in the sky.
"Our good friend who owns Space X has a contract with companies to launch Starlink satellites," Weirather said. "He has that spaceship that handles something like 50 satellites. Our old history was when we launched one rocket, we had one satellite on it, but the sucker was big. It covered a large area, but it had its limitations. It could only cover a certain area.
"What Musk has done is develop a scheme by which he ejects close to like 50 satellites out the back of the rocket. Each one of those satellites has a little engine on it. It's an ion pump. It isn't much, but it pushes each one of them into a position in the sky about 300 miles or so up. (Musk) doesn't tell everybody who's using these satellites, but they're for Internet and communications sorts of schemes."
Weirather says the string of satellites are reflecting light and will look like stars.
"We've all seen one satellite going across the sky," he said. "But what in the world are 20 or 30 or 50 of these little dots moving across the sky? Well, they're just reflecting light of the sun off the satellite. After a while, after they go around the earth a few times, they string out and you don't see the string anymore. They're just little specks up in the sky, and you probably won't even hardly notice them."
The Perseid meteor shower (also known as the Perseids) is active every year from mid-July to late August. The shower peaked this year around the night of Aug. 12 and before dawn on Aug. 13, according to the science site Royal Museums Greenwich. Perseids are still visible until the end of the month.
The Perseids are caused by Earth passing through debris — bits of ice and rock — left behind by Comet Swift-Tuttle, which last passed close to Earth in 1992. The Perseids typically peak when Earth passes through the densest and dustiest area on Aug. 11-12.
"As the Earth is going around the sun, it runs into a cloud of particles," Weirather said of the Perseids. "Well, they're bigger than a particle. They might be three feet around. They might be really big, or they might be small, but we run into that cloud every year. As Earth runs into that, some of those rocks come flying through our air, and they're flying thousands of miles an hour, and they burn up. They become comets, and you see the streaks in the air."
What do you have to do to get the colors of the Bayview Bridge changed?
Call the mayor's office and ask for Audrey Rees, executive assistant for Quincy Mayor Mike Troup.
"We need to know the dates, what the cause is and why you want those specific colors," Troup said before a recent Quincy City Council meeting. "Some would like a few days. Some would like the whole month. The longer you want, the harder it is. If there's a specific day, we try to meet that."
Troup says the bridge lighting requests are handled on a first-come, first-served basis. If a local sports team had a successful postseason run and earned a trophy, but another group already had asked for the bridge to be a different color at the time, Troup said he would call the first group to ask if it was OK to take a day or two away.
Troup said Rees has a master calendar for the changing of colors on the bridge.
"It's good. It's fun," he said.
The bridge-lighting project was funded by a $500,000 federal transportation grant the city received in 2005. The city also raised $175,000 from local organizations, businesses and private donors to cover construction and operational expenses.
At first, the project was estimated to cost more than $1 million. However, LED technology and reflective white cable sheathing installed on the bridge in 2005 helped lower the costs. Quincy-based Brown Electric Construction Co. completed the $531,620 project. Klingner and Associates was hired in October 2012 to complete the $55,000 engineering work.
The first official Bayview Bridge lighting took place on Aug. 21, 2015.
Wondering about something in your community? Ask Muddy River News. We will talk with community leaders, business leaders, historians, educators … anybody who might provide an answer to what you want to know. Submit questions (and maybe even a photo) to news@muddyrivernews.com. Please provide a name and phone number. Questions about personal or legal disputes are not accepted.
Miss Clipping Out Stories to Save for Later?
Click the Purchase Story button below to order a print of this story. We will print it for you on matte photo paper to keep forever.