Attempted murder charge dropped, plea deal accepted by Quincy man who rammed car full of people in McDonald's parking lot
QUINCY — A Quincy man facing attempted murder charges for driving his car into a parked vehicle with several occupants in the parking lot of a local restaurant received a 15-year sentence in the Illinois Department of Corrections.
Dailean Millner-Williams, 21, was in Adams County Circuit Court before Judge Robert Adrian on Monday afternoon with attorney Drew Schnack.
As part of a plea negotiation with the Adams County State's Attorney's Office, Miller-Williams pled guilty to:
One count of vehicular invasion, a Class 1 felony punishable for between 4 to 15 years in the Illinois Department of Corrections;
One count of leaving the scene of a personal injury accident, a Class 2 felony punishable for between 3 to 7 years in the Illinois Department of Corrections;
One count of aggravated battery, a Class 3 felony punishable for between 2 to 5 years in the Illinois Department of Corrections.
Millner-Williams received 15 years on the vehicular invasion charge, seven years on the leaving the scene charge and five years for the aggravated battery charge. The sentences will be served concurrently, and Millner-Williams will receive day-for-day credit, meaning he will spend 7½ years in prison.
One count of attempted first-degree murder, one count of aggravated battery, one count of aggravated reckless driving and one count of criminal damage to property were dropped as part of the negotiations.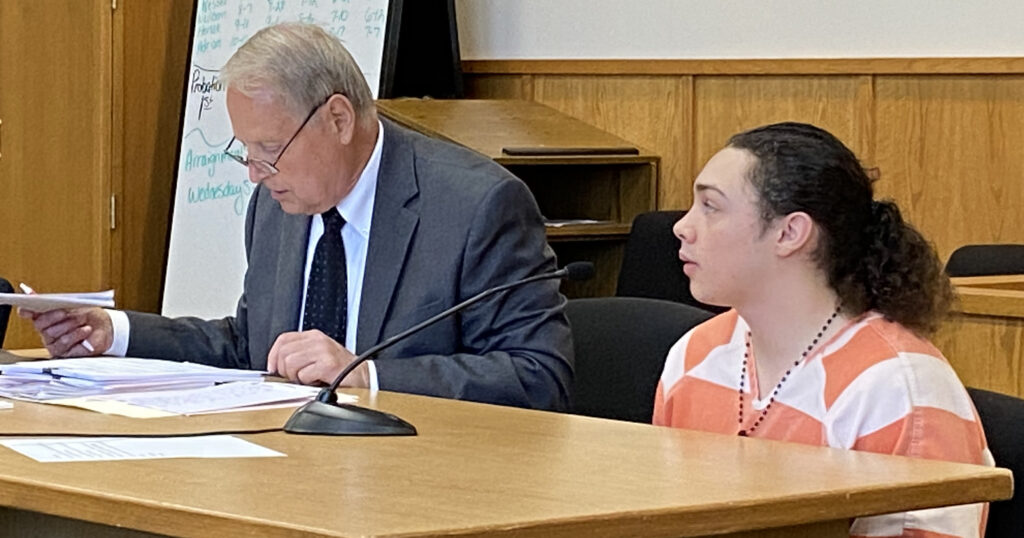 Assistant State's Attorney Todd Eyler said officers from the Quincy Police Department were dispatched to McDonald's at 1301 Broadway on Nov. 22, 2022. Upon arrival, officers saw a white Mercury vehicle with severe damage on the passenger side, and that car was pushed up against another vehicle that had suffered damage as well. 
After speaking with occupants of the Mercury, as well as McDonald's employees, officers learned Christopher Pratt had exited McDonald's and was walking toward the Mercury. As he was getting in the backseat on passenger side of the car, another car came driving in a high rate of speed from the north in the parking lot. The car hit him and the white Mercury vehicle, essentially throwing Pratt into the vehicle. Pratt suffered a broken right fibula.
Millner-Williams got out of his vehicle and walked over to the Mercury, reaching in and striking Pratt in the backseat. Misty Little, the driver of the Mercury attempted to confront Millner-Williams, but he slapped her in the face, pushed her to the ground, got back into his car and drove away. The front bumper and the license plate of his car fell off as he left the scene.
Employees of McDonald's identified Millner-Williams as the driver because he had previously been an employee at the restaurant, and he had a child with a current employee. Surveillance video from the restaurant also captured the incident.
Schnack told Adrian that Millner-Williams was intoxicated at the time of the incident and was "suffering from great emotion distress due to the loss of a loved one."
Schnack then read a letter Millner-Williams wrote for Pratt.
"I've had a lot of time to think about what happened that night," he wrote. "I've had sleepless nights wishing things had gone differently, and that I would have stayed home. I hurt more than just you and hurt my son's development. I was in the wrong for allowing alcohol and my feelings to get the best of me. I wish we could have met on better terms. We might have gotten along, but my selfishness has made sure we didn't.
"I know you have a grudge against me and I don't blame you, but I still ask for your forgiveness. I hope you can find a way to forgive me and my mistakes. Do it for yourself. … I hope you have healed well and are finding yourself more every day as I am. Stay blessed."
When Schnack finished reading, Millner-Williams wiped tears from his eyes.
At the end of the sentencing, Eyler noted the person who broke his leg in the incident has the same last name as a member of an attorney in the Adams County Public Defender's Office.
"I don't want anybody thinking an offer or negotiation one way or the other was made because of some connection to a county employee," he said.
Millner-Williams was given credit for 168 days served in the Adams County Jail.
Miss Clipping Out Stories to Save for Later?
Click the Purchase Story button below to order a print of this story. We will print it for you on matte photo paper to keep forever.