Attorney for three families files motion for temporary restraining order, preliminary injunction against Quincy School District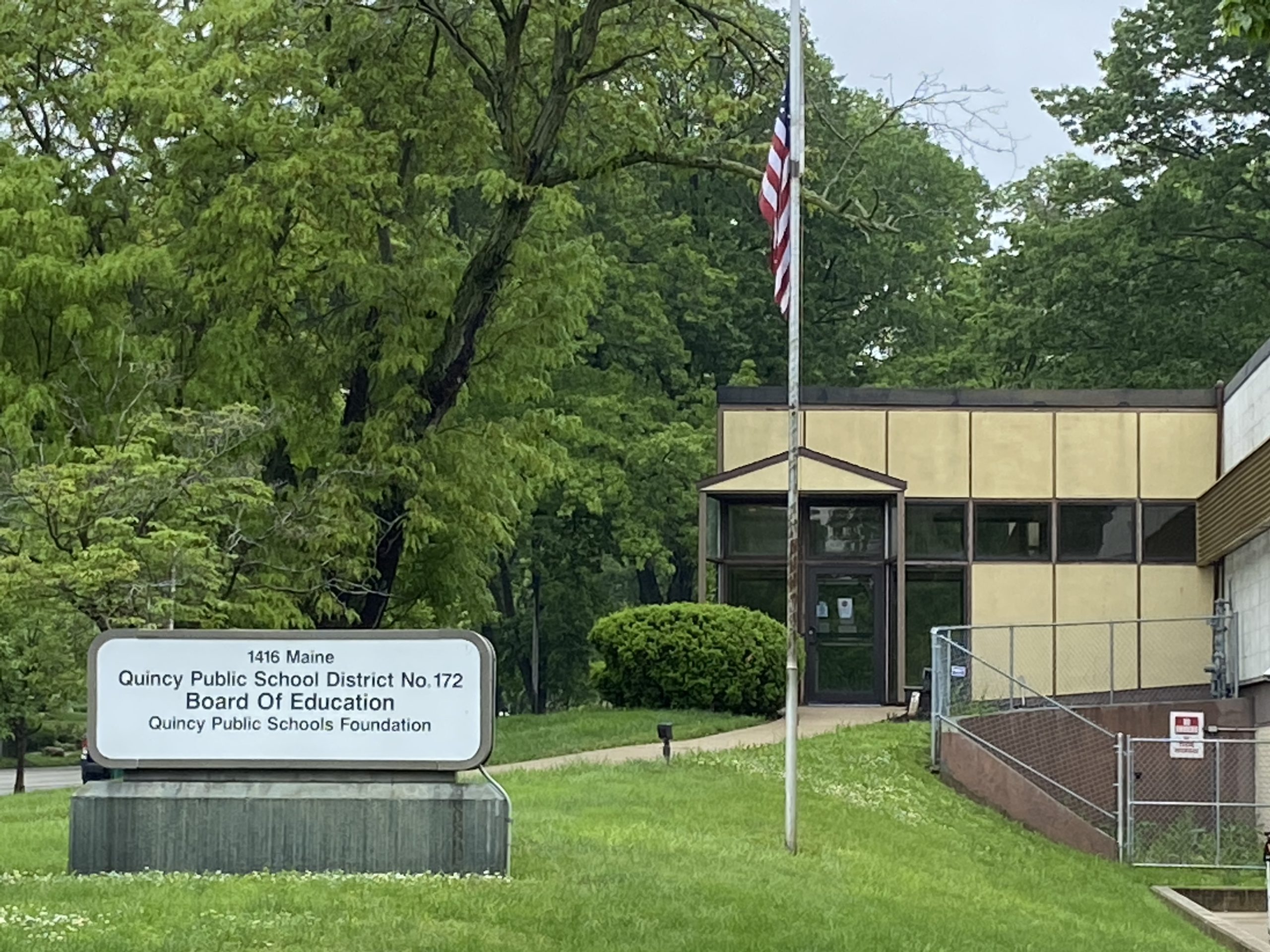 QUINCY — Motions for a temporary restraining order and a preliminary injunction against the Quincy School District and superintendent Roy Webb were filed at the Adams County Courthouse late Monday afternoon by an attorney representing three Quincy families.
The motions were filed by Thomas DeVore, a Sorento, Ill., attorney with Silver Lake Group, Ltd., in Greenville, on behalf of Scott and Jamie Hamby and their child, Christina Terwelp and her child, and Travis and Ashley Oshner and their child.
The case has been assigned to Judge Debra Wellborn, who will hear the case at 1 p.m. Thursday.
The motion for the temporary restraining order asks to allow the children of the three families to "continue their in-person education upon the premises of the district until such time as an order of quarantine might issue against the children." The motion for the preliminary injunction would allow the children of the plaintiffs to immediately "resume their in-person education unless the (Adams) County Health Department or the Illinois Department of Health has provided defendants with a lawful order of quarantine."
Webb met with families Monday at Denman Elementary
The plaintiffs allege the the Adams County Health Department contacted the Hamby family and the Terwelp family on Aug. 26 and issued a 48-hour emergency order of quarantine against their children. The Oshner family received a similar order against their child on Aug. 27. Those orders expired over the weekend, DeVore said. None of the children were allowed to return to school Monday. None of the children have tested positive for COVID-19, and none of them are exhibiting symptoms, the suit alleges.
"(The Quincy School District) never contacted the state's attorney, and yet the kids were denied entry (Monday)," Scott Hamby wrote in a short interview through Facebook Messenger. "The school claims that if the kids are let in, ISBE (Illinois State Board of Education) can pull funding, but the school has already received its funding for the next couple years."
"The ISBE resolution and the law are consistent with that resolution that (says) you can't exclude a kid out of the school and restrict their right to an education unless they are declared to be a public health risk," DeVore said by phone Tuesday morning.
Webb said Tuesday afternoon he met the families and their children at Denman Elementary School on Monday.
"(The meeting with the parents) was respectful," Webb said. "They explained to me why (the quarantine) was such a hardship and that they would be talking to their lawyers. I told them that's the best way to handle this, not to come there with their kids trying to force them into the building while they're yelling and screaming. I appreciate that they did not do that."
Clinton County judge grants temporary injunction in Carlyle
Webb said the children could not return until their quarantine was complete on Sept. 5. The Revised Public Health Guidance for Schools from ISBE and the Illinois Department of Health gives three options for a quarantine:
Quarantine at home for 14 days
Quarantine for 10 days after the close contact's last exposure to a COVID-19 case
Quarantine for seven days after the last exposure if no symptoms developed during daily monitoring. The person also must have a negative test.
As part of his motion, DeVore referred to Page 17 of the Revised Public Health Guidance for Schools, which says "Local health departments are the final authority on identifying close contacts (in COVID-related cases)" and "Local health departments will make the final determination on who is to be quarantined and for how long."
A judge in Clinton County Court ruled Monday the Carlyle Community School District No. 1 does not have the authority to quarantine students. As a result, a temporary injunction was issued in favor of two Carlyle Unit School District parents whose children were quarantined. DeVore, the attorney for the parents, told WJBD Radio in Salem the law clearly says only a county health department can quarantine a student and tell them when they can return to class.
Capitol Fax reported Tuesday morning the judge's temporary restraining order included this sentence: "Nothing in this order shall be construed to prohibit the District from implementing a school-wide, or district-wide, remote learning program."
Capitol Fax also reported the Carlyle district sent all of its students home for remote learning on Friday.
DeVore: 'I don't know what kind of game (Webb is) trying to play'
DeVore said when a person is quarantined, "you're not allowed to go a lot of places, including into a school. The health department chose expressly not to pursue further an order of the court, which is required by law to extend that (quarantine) beyond the 48 hours. (The health department) let them lapse, so there is no order against any of these children right now.
"But yet Mr. Webb in the school district is saying, 'We don't care about that. We're still not going to let you be educated in the school. We're telling you you can't come, even though there's no order from the health department saying these children are a health risk.' For that reason, the court needs to enter an order like the one in Clinton County that says you can't do that. Only the health department can restrict these children's movement."
DeVore also referred to a similar case in Adams County when a student in Community Unit School District No. 3 in Camp Point recently was told she had to quarantined. Assistant state's attorney Josh Jones told Muddy River News on Tuesday the student was allowed to go to school after the county stopped its pursuit of a court order in that case.
"Mr. Webb, for some reason, I don't know what kind of game he's trying to play, told his parents and told others that he's not going to the health department. He's not going to pursue an order of quarantine, and he's not worried about that," Devore said. "He knows he's going to be challenged in court. He was almost, like, antagonizing people to take him to court, and so some parents did.
"It's absolutely improper. It's unfortunate."
Webb did not believe he was being antagonistic. Instead, he says he's only following the instructions given as part of Gov. JB Pritzker's executive order.
"(Going to court) is the option the parents had," he said. "They did what they had to do. It was a good conversation. I guess you'd have to ask (the parents) if they felt they were antagonized."
Hamby: 'Remote learning is an option, but it is not the same'
Scott Hamby said the plaintiffs simply want their kids back in school.
"The kids are the ones being hurt by not being in school," he said. "Remote learning is an option, but it is not the same. (Tuesday) is the seventh day since exposure and still no symptoms. We also want to know how just two kids got picked to be quarantined when there were multiple kids in the same area."
Scott Hamby declined to answer other questions. He directed any other questions to DeVore, as did Terwelp and Travis Oshner.
Oshner wrote on his Facebook page that "QHS kicked (his son) out of lunch for his mesh mask" on Aug. 20.
Both Webb and school attorney David Penn said Tuesday afternoon they had not yet been officially served copies of the temporary restraining order and preliminary injunction. However, Webb said he had been given copies of the documents by other people.
DeVore is scheduled to appear at a public forum scheduled for 6 o'clock tonight at the Holiday Inn, 4821 Oak. The event, as described on Facebook, will "provide further insight to all things Mask Mandates and Local Control from the perspective of respected attorneys as well as elected officials."
EDITOR'S NOTE: A previous version of this story incorrectly listed the day the Carlyle students were sent home for remote learning, and it also incorrectly listed one of the parent's names and incorrectly listed the school where Webb met with the parents of the quarantined students. We regret the errors.
Miss Clipping Out Stories to Save for Later?
Click the Purchase Story button below to order a print of this story. We will print it for you on matte photo paper to keep forever.