Banta sentenced to 20 years in connection with inmate death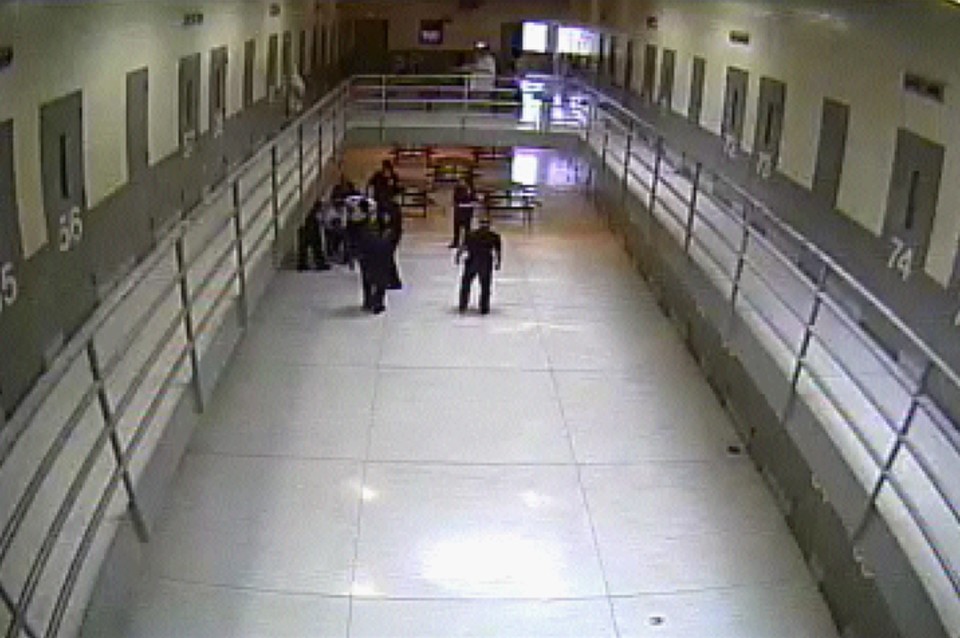 SPRINGFIELD, Ill. — Alex Banta, 31, of Quincy, a former correctional officer at the Western Illinois Correctional Center in Mt. Sterling, was sentenced Thursday to 20 years' imprisonment, to be followed by five years of supervised release, for civil rights deprivation resulting in bodily injury and death and obstruction of justice in connection with the death of Larry Earvin, an inmate at the facility,
At the sentencing hearing in front of Senior U.S. District Judge Sue E. Myerscough, the government summarized the evidence from Banta's 2022 trial.
During the trial, the government presented evidence that Banta and co-defendants Todd Sheffler, 54, a lieutenant at the correctional center, and Willie Hedden, 43, a sergeant, participated in the May 17, 2018, assault of Earvin, 65. They forcibly escorted Earvin from the residential housing unit of the prison to the segregation housing unit while he was restrained and handcuffed behind his back and while he posed no physical threat to the defendants or other correctional officers.
The assault resulted in serious bodily injury to Earvin, including multiple broken ribs, a punctured mesentery and other serious internal injuries. Earvin died in June 2018. After the assault, all three defendants falsified incident reports that they filed with prison officials and lied to the Illinois State Police by denying any knowledge of or participation in the assault.
Also at the sentencing, the government stated Banta had inflicted the most serious blows leading to Earvin's death, including jumping in the air and landing on Earvin with both knees. Hedden testified about a prior incident in which Banta assaulted an inmate. The government also presented statements and testimony from three of Earvin's family members: his son, brother, and aunt.
WBEZ Radio in Chicago reported Banta was on the witness stand at his sentencing hearing. He told the judge he took the job when he was 23 to support his girlfriend and child and had "no idea how this job was going to change me."
He said he was trained by superiors that there would be things that happened inside that he should ignore and that he should not put anything about fellow guards into reports. Banta said he learned that "if you don't personally give payback to these guys, you keep your mouth shut about it."
In handing down the sentence, Myerscough acknowledged the culture of violence at the facility but also said the evidence showed the guards beat Earvin while he was handcuffed and posed no threat in an area without video cameras. Myerscough said Banta repeatedly lied about the incident and he delivered the most serious blow, "jumping up in the air and landing with both knees" on Earvin.
Banta's sentence consisted of concurrent 15-year terms of imprisonment on two of the five counts of the indictment: conspiracy to deprive civil rights and deprivation of civil rights under color of law resulting in bodily injury and death.
He also received five-year terms of imprisonment on the remaining three counts:
conspiracy to engage in misleading conduct;
obstruction – falsification of a document;
and obstruction – misleading conduct.
Those terms will run concurrent to each other and consecutive to the 15-year terms.
A federal grand jury previously returned indictments against Sheffler, Hedden and Banta in December 2019.
Banta was convicted of all five charges in the indictment at the April 2022 trial. The jury in that joint trial did not reach verdicts as to Sheffler, resulting in a retrial in August 2022 at which he was convicted of the same charges. Myerscough ordered both Banta and Sheffler to be detained pending their sentencings.
Hedden pleaded guilty in March 2022 to both civil rights charges and to conspiracy to engage in misleading conduct.
Sheffler's sentencing is scheduled for Monday, March 20 at 10 a.m. Hedden's sentencing is set for Wednesday, March 22 at 10 a.m. Both are set to take place at the federal courthouse in Springfield, Illinois.
"We hope that the convictions of Todd Sheffler, Alex Banta, and Willie Hedden and today's sentence for Alex Banta provide a measure of justice for Larry Earvin and his family," U.S. Attorney Gregory K. Harris said in a press release.
"We also hope it serves as a warning to all those who would abuse governmental power that they will be held accountable under the law. Although the vicious and brutal beating of Mr. Earvin cost him his life, and that is a loss that can never be remedied, all of those persons whom the evidence established violated Mr. Earvin's constitutional rights and caused his death have been and are being held accountable. Our prosecution of this case demonstrates our continued commitment to equal justice under the law and to protecting society's vulnerable, including those in our prisons."
Harris added that his office also wanted to express its appreciation to the Federal Bureau of Investigation's Springfield Office. He highlighted the complete cooperation of the Illinois State Police and the Illinois Department of Corrections for their investigation of this civil rights matter.
Harris recognized and thanked the efforts of FBI Special Agents Angela Bray and Price McCarty for their efforts. Harris noted the important testimony of IDOC witnesses who initially participated in the cover up of these offenses but ultimately came forward and told the truth about the events surrounding Earvin's death. Holding the defendants accountable for their murder of Earvin would not have been possible without their testimony.
"While the conduct of Alex Banta is not characteristic of the vast majority of those working in law enforcement, it unfortunately undermines the efforts of officers who serve with integrity and who bear the responsibility to respect and defend the rights of those under their watch," FBI Springfield Special Agent in Charge David Nanz said.
"Banta's actions tarnished the reputation and badge worn proudly by the many hard-working and upstanding officers who abide by their oath. The FBI is unyielding in our commitment to zealously protect the rights of all Americans and to hold accountable anyone charged with safeguarding those rights."
"ISP thoroughly investigates civil rights violations to hold those who break the law accountable," Illinois State Police Director Brendan F. Kelly said. "This type of conduct is unacceptable and cannot be tolerated."
The statutory penalties for each of the civil rights resulting in death charges are up to life imprisonment. The statutory penalties for each of the obstruction of justice charges are up to 20 years of imprisonment.
The case was the result of a joint investigation by the U.S. Attorney's Office for the Central District of Illinois, the FBI-Springfield Field Office, and the Illinois State Police Division of Internal Investigation with the cooperation of the Illinois Department of Corrections.
Miss Clipping Out Stories to Save for Later?
Click the Purchase Story button below to order a print of this story. We will print it for you on matte photo paper to keep forever.