Bath & Body Works moving, Sidell's Bakery plans to close and Pappo's may reopen; property manager at Town Center optimistic about future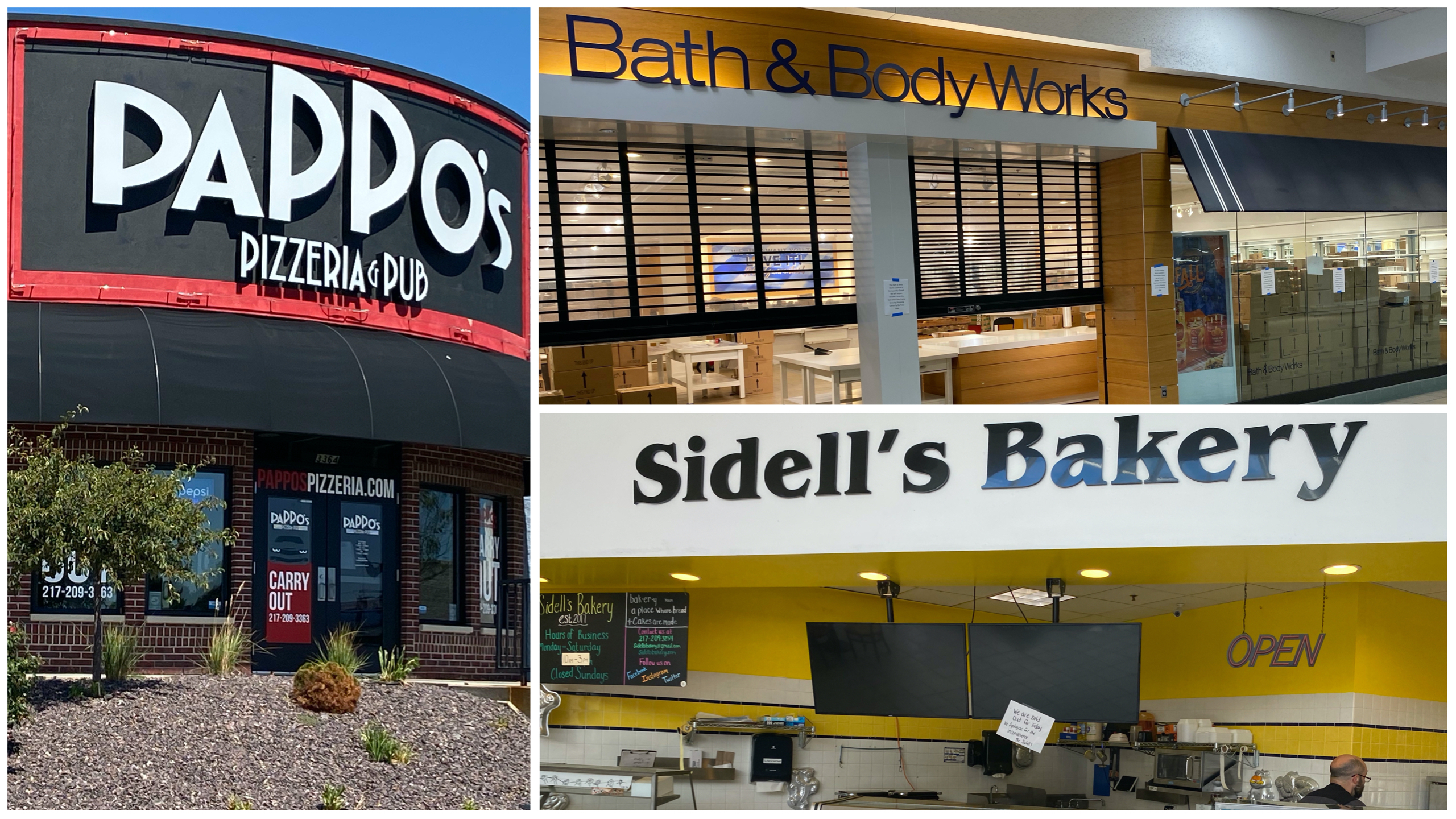 EDITOR'S NOTE: Jim May, franchise owner of Pappo's Pizzeria and Pub, told Muddy River News Wednesday morning that he plans to reopen the restaurant at 4 p.m. Thursday, Sept. 29.
QUINCY — A store that has been in the Quincy Town Center for nearly 25 years has closed.
A restaurant that has been there since 2017 won't be back in 2023.
Another restaurant that recently closed in the Town Center may reopen — or relocate.
However, Mike Jenkins, property manager of the Quincy Town Center, remains positive about the future of the facility on Quincy's east end, calling it "the gold standard of commercial real estate in Quincy."
The gates in front of Bath & Body Works closed for the last time on Sunday. The store's Facebook page shows the store is permanently closed. Signs posted in front of the store say the business will move to the Prairie Crossing Shopping Center in Quincy next to Buff City Soap. The first day of business in the new location is Oct. 7.
Attempts to reach the media relations department at Bath & Body Works, Inc., on Tuesday were unsuccessful.
Bath & Body Works has been in the Quincy Town Center, formerly known as the Quincy Mall, since 1998. The retail store chain, which sells soaps, lotions, fragrances and candles, was founded in 1990 in New Albany, Ohio.
Petco, a retail store that sells food, products and services for pets and certain types of small live animals, also made the move from the Quincy Town Center to Prairie Crossing in June.
Closing of bakery 'just the natural course of our business'
Sidell's Bakery, near the Slumberland entrance, announced on its website its last day in the Town Center will be Dec. 23. Nicole and Jonathan Sidell opened the restaurant, which specializes in gourmet paninis and baked treats, during the summer of 2017.
"It's just the natural course of our business," Jon Sidell said in a phone interview. "Our lease is up, and we're not interested in renewing."
Pappo's Pizzeria and Pub announced last month it would not reopen its store in the Town Center. Franchise owner Jim May told Muddy River News at the time that the inability to renegotiate its lease, along with difficulty in finding kitchen staff, led to the decision.
However, the restaurant provided an update on Sunday on its Facebook page. "Stay tuned for some exciting news about our Quincy location," the post read.
Another post on the Facebook page said, "Pappo's is hiring! We are paying big money for rockstar team members. All shifts, all positions."
In a text conversation on Tuesday night with Muddy River News, May said he's trying to reopen Pappo's in the Town Center "for the time being until we relocate." He did not provide a timeline.
"I decided to reopen at the mall for the time being because of the huge outpouring of positive support at Pappo's in Quincy," May wrote. "The mall has been very difficult to work with. They have a new head of leasing who lives in North Carolina who has no idea how much empty retail space there is in Quincy and how long it takes to develop. Eventually, we would like to relocate because of the reduced occupancy in the mall."
Approximately 25 storefronts empty on Quincy Town Center property
Jenkins said 72 percent of the square footage of Quincy Town Center property, owned by Cullinan Property, Ltd., is occupied. That figure includes a strip of businesses to the southwest of the former Quincy Mall.
A walk through the Town Center and a glance at the Town Center's website shows approximately 50 businesses are operating, while approximately 25 storefronts are empty.
Jenkins said Tuesday he is "absolutely optimistic" the 28 percent of unoccupied Town Center space can be filled soon. However, a dispute about building a small format hospital on site must be resolved first.
The Illinois Health Facilities and Services Review Board approved Quincy Medical Group's certificate of need applications for both the QMG Hospital and QMG Birth Center during its April 26 meeting. The decision allowed Quincy Medical Group to establish a small format hospital on the Town Center property. The cost of the project is $61,142,058, and the completion date was expected to be Sept. 30, 2025. However, Blessing Health System is appealing the decision.
The Quincy Town Center already is home to the QMG Surgery Center and Cancer Institute.
"We started going full speed ahead (after the certificate of need was approved), but Blessing kind of threw a little monkey wrench in there by protesting the whole decision," Jenkins said. "It's still working its way through the court system. We're all optimistic that things are going to fall the way that we want them to fall.
"However, as a result, we've kind of had to tap the brakes on all the advancement and redevelopment that we've got planned. We're just kind of treading water a little bit until (a decision) happens."
Potential redevelopment of Town Center property 'impressive'
Cullinan Properties created a 20-page PDF last fall showing a proposed Hilton Garden Inn being built in the northeast corner of the Town Center property. A.T. Toroyan, Cullinan's vice president of real estate and director of real estate, said in October 2021 they developed the piece as part of ongoing discussions with major hotel brands.
Jenkins called the overall plans for redevelopment of the Town Center property "impressive."
"It looks and feels like a 21st century Town Center as opposed to a 1980s mall," he said. "Cullinan Properties has become a foremost authority on this concept of mixed-use retail, which has some brick-and-mortar retail in it but then also incorporates more internet-proof things like entertainment and dining and experiential-type things that you still need to go seek out. Mayor (Mike) Troup has been optimistic about us maybe locating a hotel here at some particular point. We recognize the need for multifamily in this town.
"I have never been more optimistic, to be honest with you, about our property than I am right now. We've got a lot of forward-thinking people in the company. We've got a lot of great ideas. Our company is pretty much on the cutting edge of that concept of mixed use."
Miss Clipping Out Stories to Save for Later?
Click the Purchase Story button below to order a print of this story. We will print it for you on matte photo paper to keep forever.