'Being treated like I am in this county is not innocence': Yohn pleads not guilty to having thumb drives in jail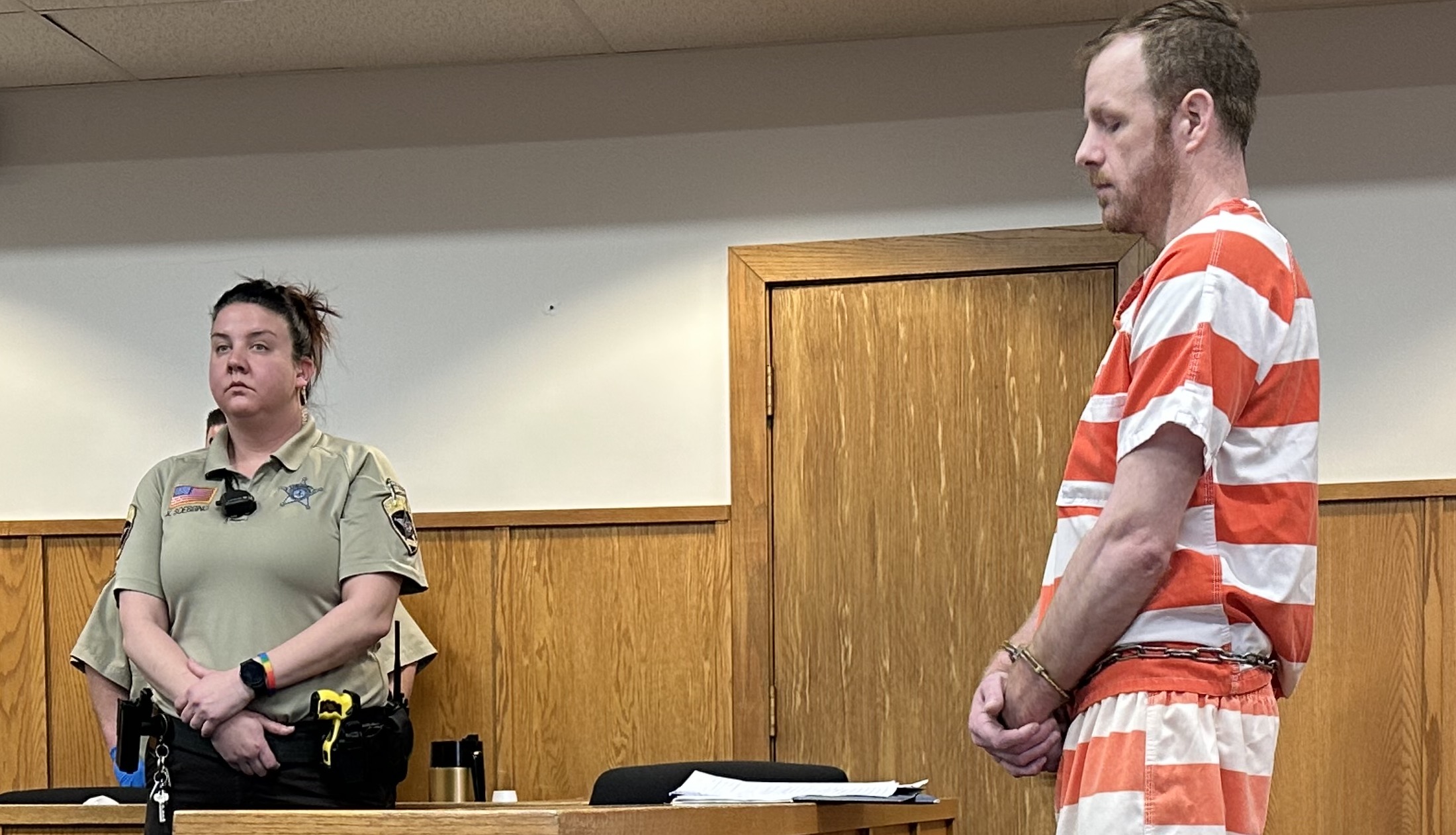 QUINCY — A Springfield man who allegedly kept thumb drives inside the Adams County jail pled not guilty Tuesday afternoon.
Not surprisingly, Bradley Yohn offered other thoughts during his 10-minute arraignment in Adams County Circuit Court by Judge Tad Brenner.
Yohn, 35, appeared with his attorney, Public Defender Todd Nelson. The case is on the March 13 jury docket in front of Judge Michael Atterberry.
Yohn was charged Nov. 15 in Adams County Circuit Court with three counts of possessing contraband in a penal institution, a Class 1 felony. If he's found guilty, he faces between four and 15 years in the Illinois Department of Corrections.
Yohn also has been charged with communicating with a witness, a Class 3 felony. If he's found guilty, he faces between two and five years in the Illinois Department of Corrections. Charging documents show he communicated false information to Karen Blackledge with the intent of preventing her from testifying "freely, fully and truthfully."
Brenner read each charge to Yohn, then asked Yohn if he understood "the nature of the counts" and the possible penalties.
"I understand the nature of these felonies and the penalties, your honor," Yohn said. "I do not understand why I was charged."
Brenner then read Yohn his right to a speedy trial, the right to present his own defense and the right to remain silent. He asked Yohn if he understood each right.
"I fully understand them, your honor," Yohn said. "However, I'm not getting them."
He later said, "I understand I am entitled to them under the Constitution. I also understand I have not gotten specifically the rights you just named off, at all, by any means."
Brenner then started to ask Yohn if he was guilty of each count. After the first count, Yohn replied, "Not guilty on all counts, your honor, unless having my discovery, my defense notes, my defense strategy and my defense presentation is illegal."
Yohn was referring to three cases in which he is charged with five Class X felonies, as well as six other felonies, in connection with a Nov. 9, 2021 sexual assault case in Adams County. Yohn is defending himself in each of those cases. A motion hearing in that case is set for Feb. 1.
Brenner then read information about showing up for a trial, then asked Yohn if he understood. Yohn said he did, then asked if he could speak. Brenner suggested he speak through his attorney.
"I've tried that, your honor. That's why I'm asking to address the court," Yohn said.
Brenner sighed and said, "All right. What is your issue?"
Yohn then went on a rant.
"You stated that I have a right to innocence until proven guilty. Being treated like I am in this county is not innocence," he said. "Responding to how people repeatedly and repetitively treat me ill is not being treated innocently. Being assaulted by deputies when I tried to address the court a week ago. I have bruises all over. I've been denied making a formal complaint with officers of the law. I was literally on camera, outside (the courtroom) door, my head banging off the wall with hands wrapped around my throat.
"You say I have the right to present a defense through the subpoena power of court. I have tried that. I wrote my own motion to place an order so I could have a defense, and that order was denied. It's been three months strong now that I've been seeking footage which shows the wrongs (that have) been done to me by the specific officer in this case … "
Brenner cut Yohn off, saying he was addressing issues that do not affect the cases for which Yohn was arraigned Tuesday. He suggested Yohn speak to Nelson.
"That's what I'm trying to do, but (Nelson) does not communicate," Yohn said. "These issues do relate to this. They are a defense mechanism for me to prove I'm not guilty."
Brenner asked Nelson if he had anything else to address, but Yohn chimed in again as he was led from the courtroom.
"I'd like to speak to the media," Yohn said. "Anybody who wants to do an interview, I'm tired of this stuff. I was assaulted right in front of everybody's eyes last week."
Yohn has been arraigned and pleaded not guilty to another felony charge he picked up Oct. 14 for allegedly threatening to kill a correctional officer in the Adams County Jail.
He remains in the Adams County Jail on $15 million bond.
Miss Clipping Out Stories to Save for Later?
Click the Purchase Story button below to order a print of this story. We will print it for you on matte photo paper to keep forever.