Blackledge writes that counsel was 'less than efficient' and asks for sentence to be vacated … then tells judge otherwise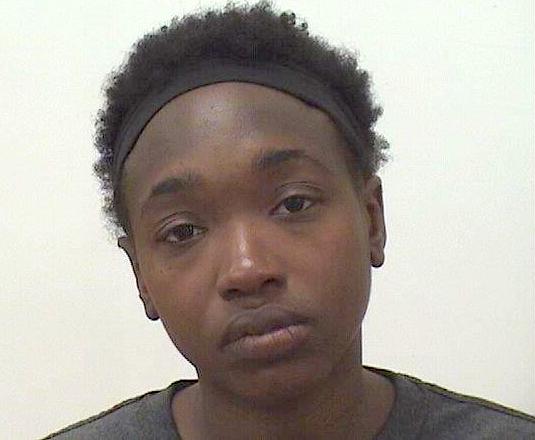 QUINCY — Karen Blackledge sent a letter to the Adams County Circuit Clerk on July 27, saying her legal representation was "less than efficient and effective" and led her to agree May 5 to two 20-year sentences to the Illinois Department of Corrections.
However, when Judge Amy Lannerd asked Friday during a motion hearing in Adams County Circuit Court if public defender Babs Brennan was less than efficient in her defense, Blackledge replied, "No, ma'am."
In the same July 27 letter, Blackledge wrote she's never seen discovery, videos or evidence in her case and that she was "pressured" to accept her plea. She pled guilty on April 1 to one count of home invasion and one count of aggravated sexual assault, both Class X felonies. Blackledge acknowledged in court she illegally entered a home on Quincy's North Bottom Road on Nov. 9. While in the home, she used a weapon to penetrate Christine "Tina" Schmitt, who died on Dec. 12.
Brennan also filed a motion on July 27 to vacate the court's sentence on May 5 and allow Blackledge to withdraw her guilty plea.
However, when Lannerd asked Friday if she wanted her case to be continued to allow time for discovery to be reviewed, Blackledge replied, "I don't want to review it. I don't think it would be necessary."
Lannerd then declined to allow Blackledge to withdraw her guilty plea — a decision that Blackledge immediately said afterward she would appeal.
Asked if Brennan was ineffective, Blackledge said, 'Um, kind of yeah and no'
Lannerd spent much of Friday's hearing trying to elicit a straightforward answer from Blackledge about her claim of "less than efficient and ineffective" counsel. Public defender Chris Pratt represented her during the criminal trial, and Blackledge's claim of ineffective assistance of counsel by Pratt was denied two days before she was sentenced.
Brennan, who had represented Blackledge in a juvenile matter, was appointed as counsel on June 7.
The first time Lannerd asked if Brennan was "less than efficient," Blackledge replied, "No, ma'am. I've been asking to go over motions and discovery. I want to be able to read it all from front to back."
Lannerd repeated the question, explaining the first answer had nothing to do with Brennan's effectiveness. Blackledge replied, "Um, kind of yeah and no. She was my lawyer for my child's case, but it's irrelevant."
Lannerd asked Blackledge if she understood what the question meant. Blackledge hesitated and said, "No."
Lannerd eventually asked again if Brennan was less than efficient and ineffective. Blackledge replied, "I don't think I've had a fair say."
After a long pause, Lannerd tried once again. Blackledge replied, "I truly am sorry for what I've done. I didn't know the victim's family knew as many people as they did, which is why I asked for a change of venue (during her trial)."
Finally, when Lannerd asked for a fifth time if Brennan had been ineffective, Blackledge said, "No, ma'am."
Brennan: Blackledge didn't understand questions
Lannerd then suggested for Brennan to speak with Blackledge about possibly being given time review the discovery in the case. "It might be in her best interest to continue (the hearing)," the judge said.
After a brief conference, Brennan said Blackledge told her she didn't believe reviewing the case was necessary.
Lannerd then addressed the motion to vacate the judgment. Brennan had submitted a six-page motion supporting her belief that Blackledge didn't understand some of the questions previously asked.
Brennan wrote in the motion she filed that during a Feb. 25 pre-trial hearing, Judge Frank McCartney asked Blackledge, "(Your attorney) indicates your willingness to waive your right to a jury trial. Is that correct?" Blackledge replied, "Yeah, something like that."
McCartney also said, "So, Ms. Blackledge, if I understand that, there's going to be an agreement on the charges you're going to plead to. There's just not a full agreement on what potential … or what the sentence may be. Is that correct?"
Blackledge replied, "Yes, that's what I'm guessing."
"It didn't seem she understood the consequences of her actions," Brennan said Friday. "It sounded like she was trying to satisfy the person asking the questions, and it seems clear to me she did not understand what she was doing and that she was giving up her rights."
Jones: 'We are absolutely happy to go to trial in this case'
Assistant state's attorney Josh Jones said he could easily decide to put Blackledge on trial.
"We are absolutely happy to go to trial in this case," he said. "We can take the negotiations off the table. Part of me really wants to do that. But the people are frustrated with the game (Blackledge) is playing, and it's not fair to the victim's family. What we have is someone who regrets her decision (to accept the plea). She has buyer's remorse.
"The court took its time during the plea and sentencing to make sure she knew what she was doing. You can't just take one or two statements. You have to look at the entirety of the proceedings. She knew the consequences. She just wishes her life was different. Sorry, it's not. She's going to prison."
Lannerd said Blackledge's understanding of her case has been addressed "numerous times," and sometimes she has "seemed less than interested in going over discovery."
"I don't feel there's been a clear misunderstanding of the facts," she said in her ruling.
Blackledge and Bradley S. Yohn were arrested Nov. 10 in Springfield in connection with the Nov. 9 incident. Yohn allegedly used force or threatened to use force to carjack a vehicle and kidnap Schmitt, then allegedly forced himself into the woman's home and assaulted her. He also allegedly had a knife.
Yohn remains lodged in the Adams County Jail. He has a status hearing scheduled for Oct. 12, and his jury trial is set to start Nov. 7.
Miss Clipping Out Stories to Save for Later?
Click the Purchase Story button below to order a print of this story. We will print it for you on matte photo paper to keep forever.