Boat dock grant proposal at Clat Adams gets Park Board support — but no commitment for funding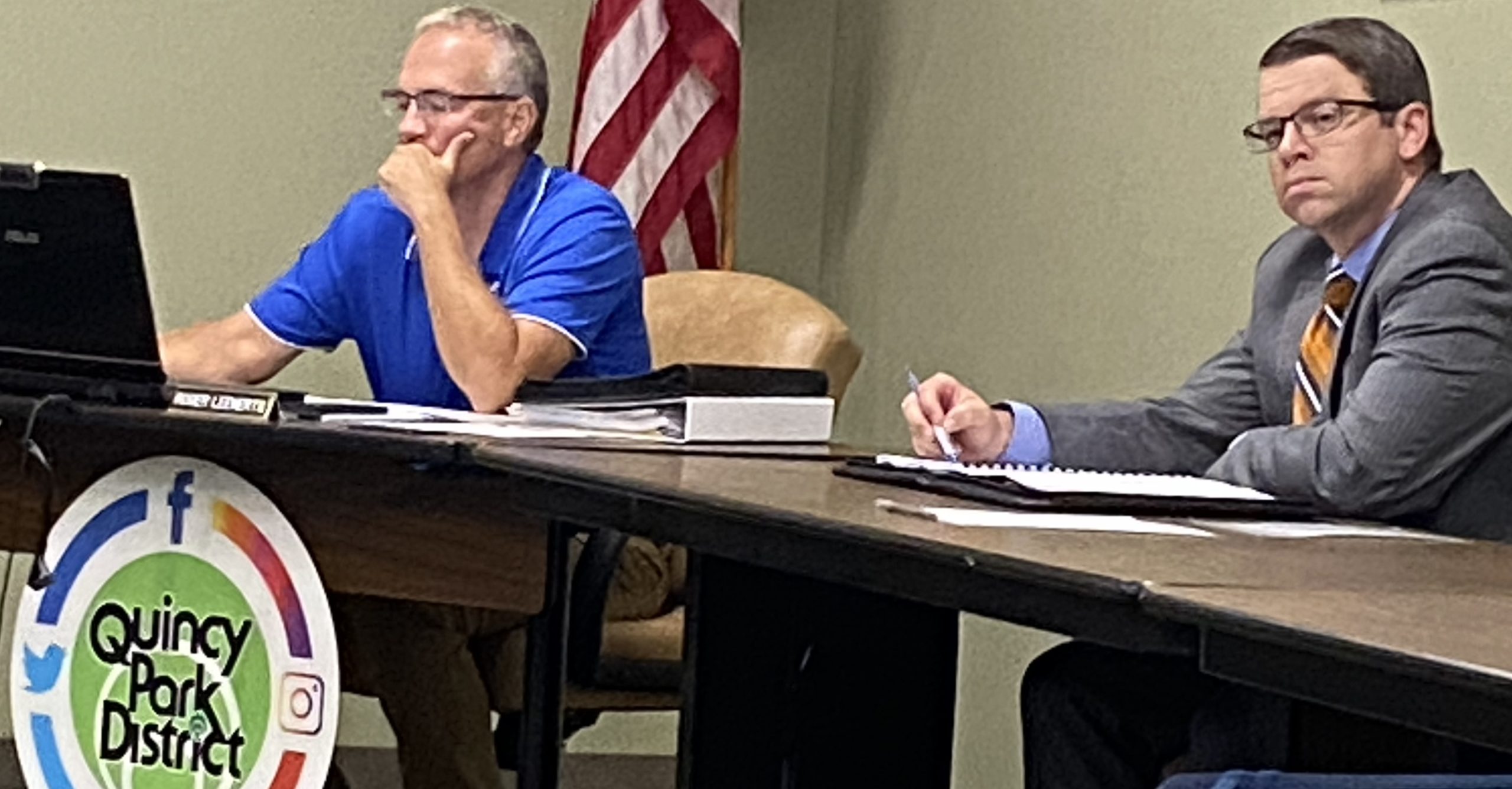 QUINCY — The Quincy Park District's Board of Commissioners endorsed the City of Quincy's pursuit of a $200,000 grant from the Illinois Department of Natural Resources for a transient boat dock to be built at Clat Adams Park.
Just don't be surprised if the Park Board chooses not to give the city any money.
Commissioners voted 4-2 on Wednesday in favor of a resolution supporting the city's application for the Illinois Boat Access Area Development Program grant. John Frankenhoff and David Gilbert voted against the resolution. Patty McGlothlin was absent.
Chuck Bevelheimer, director of planning for the city of Quincy, brought the boat dock proposal to the Park Board. It was discussed Aug. 5 during a one-day planning session. A proposal from Klingner and Associates for a "Quincy Riverfront Courtesy Dock" estimated the project cost to be $945,076. Roger Leenerts, president of the Board of Commissioners, said last week he didn't know how the balance of the project would be paid if the city receives the grant.
"My understanding from the meeting last week is that the resolution was to include that we were not going to fund the shortfall or the gap," Frankenhoff said during Wednesday's meeting. "Then I would just point out that, to me, it makes no sense for us to contribute to this. With the (Art Keller) Marina struggling and such, we should take care of our existing facility before building something new. And I still question how much this dock would be used."
After Gilbert also expressed his concerns, Jeff Steinkamp said the project had "a lot of unanswered questions."
"This group is definitely going to have a lot of input as this goes forward if there is other funding," Steinkamp said. "It's on our property basically. I think we're going to have a lot of say one way or the other. If we can't be persuaded or justified, we will be the first to say, 'No, it doesn't make sense for us.'"
Leenerts was asked after the meeting if it was true that while the Park Board supports the city's application for the grant, the Park Board wouldn't "give a nickel" to help pay for the project.
"That's a fair statement," he replied. "Yeah, unless something changes down the road. But right now, that's our stance. I'm not sure what would cause it to change. If anything's possible down the road, there could be other grants and funding coming from the government. If the community is really in favor of some something down there, then we're going to do what the community wants."
Leenerts noted boaters who come to Quincy would need to go to the marina to get fuel. He noted the Quincy Boat Club, 401 Bonansinga Drive (the former Pier restaurant building), installed a transient boat dock last month.
"They are encouraging and inviting boaters to dock their boat, then go eat at a restaurant in Quincy," he sad. "So there's already one here that's available for transient boaters."
In other action, commissioners voted to:
Approve a $1 increase in charges for the Pepsi Little People's Golf Tournament at Westview Golf Course on June 19-22, 2022. The LPGC will be charged $30 for players in the Applebee's Parent-Child event, $75 for players who play 18-hole rounds and $51 for players who play 9-hole rounds.
Approve the demolition, design and engineering work for the shelter at Madison Park. Park District staff identified four shelters needing to be replaced. The shelter at Madison received the worst rating. Design and engineering costs are $11,950. Demolition costs are projected to be $4,300. The bidding process begins in December 2021. The project could be completed by May 2022. An additional $100,000 for the project is proposed in the bond project list for 2022.
Approve spending an additional $9,691 to build two basketball courts at Berrian Park. The 2021 operating budget called for $36,740 to be spent on the project. However, the cost of materials and construction costs were higher than expected. The court was moved three feet after a manhole was discovered three feet below the edge of the playing surface. The total project cost is now $46,431.
Approve a $6,800 quote from Fessler Construction for storm drain repair in Ben Bumbry Riverview Park and a $2,500 quote from Derhake Bros. Excavating and Plumbing for replacing the south road curb for a total project cost of $9,300. Heavy rains during the last month have led to drainage problems.
Approve a $6,800 quote from Derhake Bros. Excavating and Plumbing to replace the sidewalk bordering the Madison Park playground. Work will be completed during the shelter demolition in the fall.
Approve a $6,995 quote from Peters Heating and Air conditioning to replace a HVAC unit for the pro shop at Westview Golf Course.
Work at Madison Park, Riverview Park, Berrian Park and Westview Golf Course will be paid with excess uncommitted general obligation bond funds from 2021.
"Funds were left over because projects were controlled financially and brought in under budget," Leenerts said. "So we were able to use those funds to get these … projects wrapped up and done."
The board also learned:
An average of 169 people a day have used Indian Mounds Pool this summer. The pool will close Sunday, and 10,474 people have used the pool through Wednesday. Mike Bruns, director of program services, said pool usage is at its highest since 2016. The pool was closed six days — one for low employee staffing and five for inclement weather. Admission was only $2.50 this summer. "Things went pretty well for not being open for two years," Bruns said.
Its youth soccer league will have 623 kids this fall. Bruns reported that the highest number of past program participants was 375.
The Terry Anastas Ultimate Bike Ride raised $17,000 despite inclement weather forcing the ride along the riverfront to be canceled on July 10.
Miss Clipping Out Stories to Save for Later?
Click the Purchase Story button below to order a print of this story. We will print it for you on matte photo paper to keep forever.