Car show at Barry Apple Festival gets out of hand; Pike County sheriff expects to file charges against 'awful lot of people'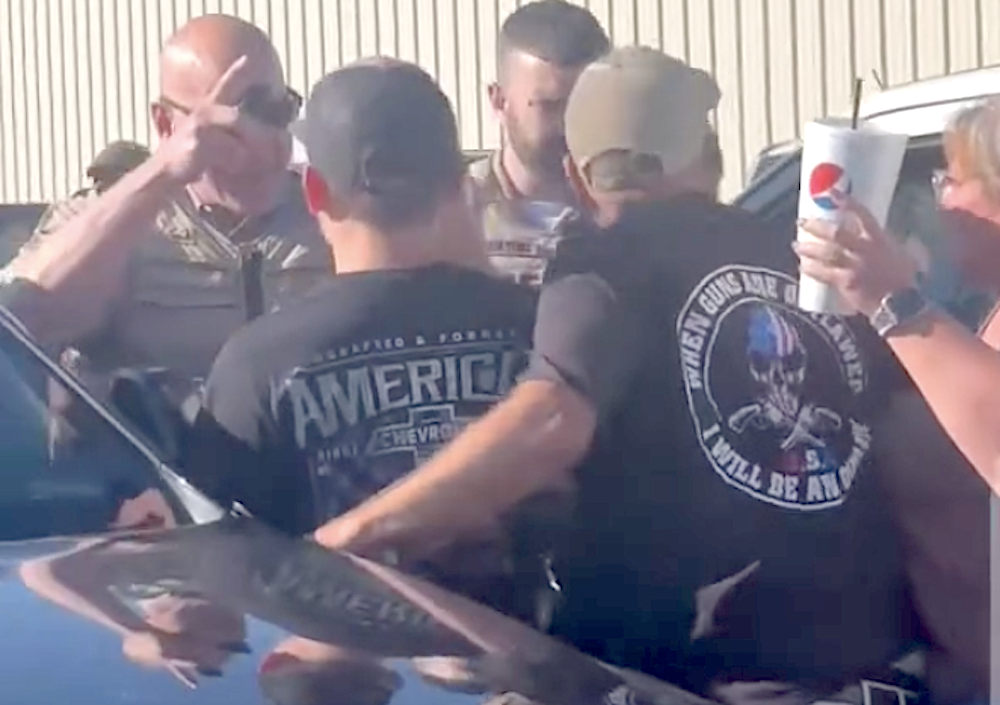 BARRY, Ill. — The Pike County Sheriff's Department is reviewing video taken during an incident at a car show at the Barry Apple Festival on Sunday, and Pike County Sheriff David Greenwood says he expects to file charges against several people.
Greenwood said in a press release issued Monday afternoon that criminal charges for damaging patrol cars, obstructing justice, mob action and aggravated battery of a peace officer will be presented to the state's attorney's office, with a request to file charges. He said a deputy with his department got out of his vehicle to use pepper spray so he could leave the area.
"There are an awful lot of people who can expect charges," Greenwood wrote.
The incident happened as vehicles were leaving the car show Sunday afternoon. Greenwood said his department received complaints regarding the safety of people sitting along County Road 4 and Illinois 106 in Barry. He said vehicles leaving the car show often spin their tires at this intersection while onlookers encourage and cheer them on.
"The last couple years, at least one vehicle lost control and almost hit an onlooker on the side of the road," Greenwood wrote. "Another lost control and almost caused a head-on collision with a vehicle traveling southbound that came off the interstate. The complaints (said), 'It is just a matter of time before something bad happens.'"
Barry Mayor Shawn Rennecker said the "burnouts" by cars have been going on for several years.
"It's just grown to the point to where it's just really, really large," he said. "(People) just enjoy being able to do that as the car show closes."
Rennecker said he spoke with Greenwood last week about how to address the issue this year.
"I said, 'Maybe we could have a presence there of an officer or something very small, just to kind of deter people," he said.
However, after the death of a Bowling Green, Mo., woman after a crash east of Barry on Illinois 106 late Saturday night, Greenwood told Rennecker his staff was going to be enforcing all traffic violations in Barry on Sunday.
"I'm sure it was a late night for the sheriff's department," Rennecker said. "Just in the interest of protecting public safety, we don't want another incident. So I got word out to the car show."
"We let the car show chairman (Amy Johnson) know about this," said Allen Flynn, chairman of the Barry Apple Festival. "They immediately announced it throughout the car show, letting people know do not do this. Unfortunately, the locals, they're the ones who, quite frankly, are the idiots."
"If someone gets seriously hurt, who do you think is going to get the blame for that? The law enforcement for not doing anything about it," Greenwood wrote. "It seems to be that the culture now is shifting blame to law enforcement for everything. We are damned if you do and damned if you don't."
As vehicles drove along Rodgers Street to the intersection, Greenwood said he would tell drivers if they spun their tires, they would be ticketed.
"All of the drivers from the car show indicated they want nothing to do with this event and thanked us for being there," Greenwood wrote. "Many people thanked us and said they were tired of this event. The problem does not lie with the drivers from the car show. It is mostly the onlookers."
Deputies had items thrown at them, Greenwood said. One of the department's patrol vehicles was damaged as it was surrounded by hundreds of people who Greenwood claimed were kicking it, denting it and scraping it.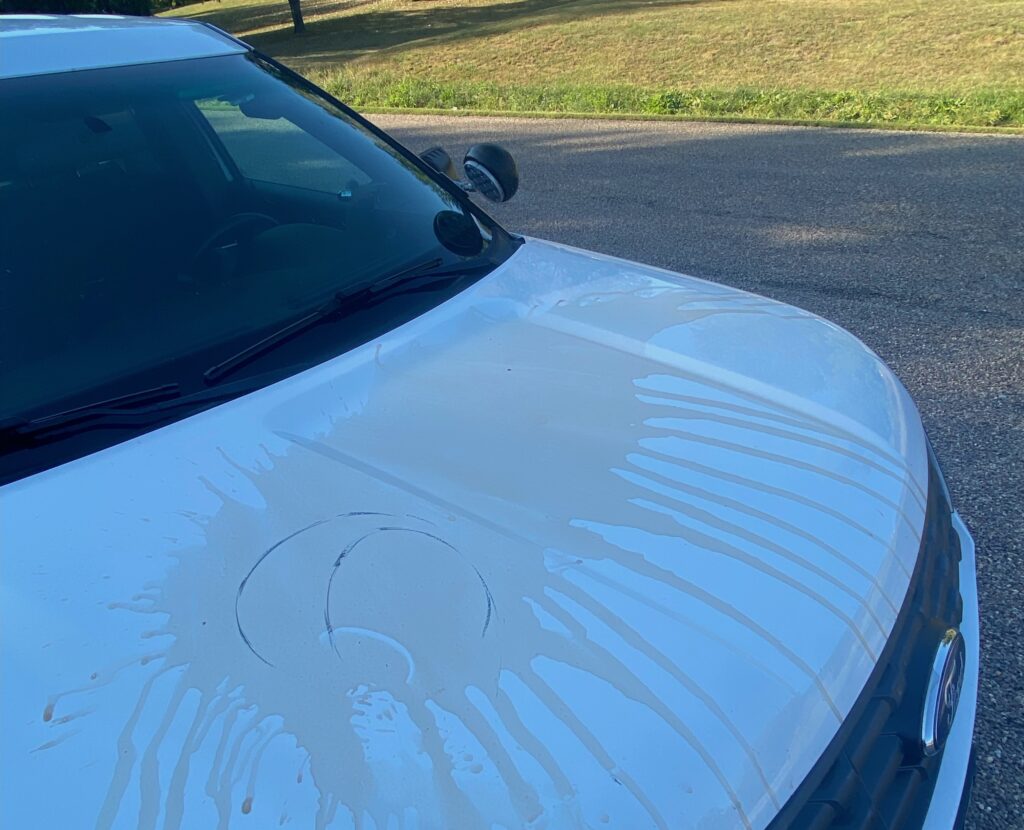 He also said liquids were thrown on a vehicle as a deputy, who had just taken someone into custody, was trying to leave the scene. After attempts to get people to move, the deputy got into his car. People continued to get back out in front of the car, preventing the deputy from leaving. Pepper spray eventually was deployed to clear the crowd so the deputy could leave.
Flynn was not at the incident, but he said he believes there were 800 to 1,000 people involved.
"What's happened is (the car show) has turned into this lawlessness," Flynn said. "The car show people, they don't want to do this. So local kids are getting out in their cars and they're trying to show off in front of their buddies."
Greenwood said only one person tried to assist law enforcement during the incident.
"No one else came to the assistance of myself or my deputies," he wrote. "People I have known for decades were yelling at law enforcement, calling them 'f**king assholes' or 'f**king pigs' or telling them to 'get the f**k out of here.' Children there with parents were allowed to do the same, flipping us off.
"My vehicle was repeatedly spit on at this event. It was completely shameful the way some of the citizens of Barry treated law enforcement. In over 24 years of being an officer here in Pike County, I have not observed such disrespect for law enforcement."
Flynn says the festival committee's official stance is that it does not condone nor to support any kind of burnout activities or any kind of illegal activities in or around Barry.
"Unfortunately, 99 percent of probably what happened up there with burnout issues was caused by the locals," Flynn said. "The locals have all taken it upon themselves to do this."
Greenwood said deputies with the sheriff's department issued citations for these violations several years ago. However, he said the citations were torn up, and the drivers were not charged. Greenwood said he didn't know why.
"This discouraged officers and deputies from taking part in the event and risking their safety, since there was no backing from the Barry officials," he wrote.
Rennecker said he doesn't know what happened during the incident Greenwood described. However, he noted the Barry City Council said during its monthly meeting Monday night it would support any decisions by Greenwood regarding Sunday's incident.
"It sounds like there's going to be a review of body camera footage, and there will be some tickets written for this," he said. "We're behind our law enforcement. They have a tough job."
Allen says the festival committee has come up with ideas as to how to curtail future incidents.
"People, especially in small towns, think they can get away with things," he said. "We're going to fight it, and we're going to fight as much as we can. We're going to do our best to prevent it completely going forward. We've always tried to say, 'Don't do it,' but how do you tell somebody not to do something? Then that just makes them want to do it more."
"I pray this is a low spot for the city of Barry, not a downward spiral," Greenwood wrote.
Miss Clipping Out Stories to Save for Later?
Click the Purchase Story button below to order a print of this story. We will print it for you on matte photo paper to keep forever.