City to begin legal action against 10 properties as part of fix-or-flatten program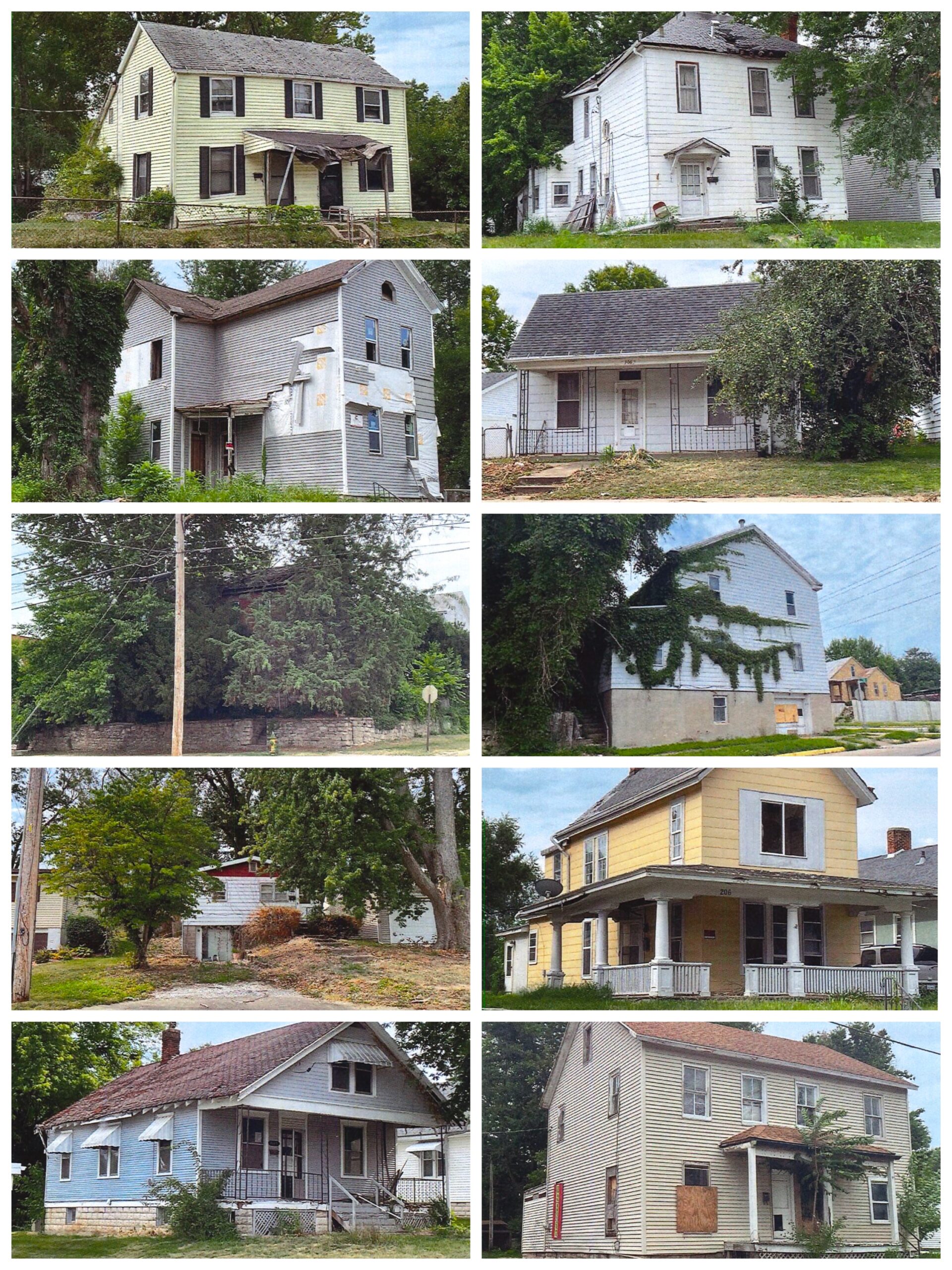 QUINCY — The Quincy City Council voted Monday night to authorize the firm of Schmiedeskamp, Robertson, Neu and Mitchell to begin legal action against 10 properties as part of the city's fix or flatten program.
A memo from Michael Seaver, director of inspection and enforcement, said the properties met the criteria in the Unsafe Property Act. They present a hazard to the public due to the degree to what they have been damaged or deteriorated, and they should be demolished in the interest of public health, safety and welfare.
The properties are:
306 Locust
206 Chestnut
712 Chestnut
848 S. Sixth
123-125 N. 14th
339 S. Seventh
1516 Van Buren
410 Lind
615 Maple
1415 Monroe
Aldermen also approved an agreement for management services of the city's vacant and foreclosed property registration program with HERA Property Management. The agreement also includes the services of Milberg Coleman Bryson Phillips Grossman PLLC, a law firm which handles collection efforts for non-compliant registrants.
The city had worked with Property Registration Champions, LLC, from 2019 until June 2023, when the company filed for bankruptcy. When the program ended, 57 active foreclosures were registered. The city collected between $6,000 and $8,000 in registration fees.
"What (the agreement) enables us to do is have real time data of who holds paper at any given time on foreclosure," Seaver told aldermen on Monday. "The ordinance also requires that the bank assign, more or less, a local property manager. We have a real in-person contact who we can send correspondences and notices to for issues like tall grass and open and unsecured structures. We know the entity that's being foreclosed against doesn't at some point have responsibility to perform those things any longer, so this allows us to address it with the bank and stay on top of those entities."
Seaver said a title search will be done on the 10 fix-or-flatten properties to find the owners or anyone with a lien on the property and serve them with a 15-day statutory notice.
"If that list is short and they're able to find those individuals, then it can move quickly," Seaver said. "But as you've seen, a lot of people can be difficult to find."
Seaver said it typically takes about a year from the passing of the resolution by aldermen to the demolition of the homes.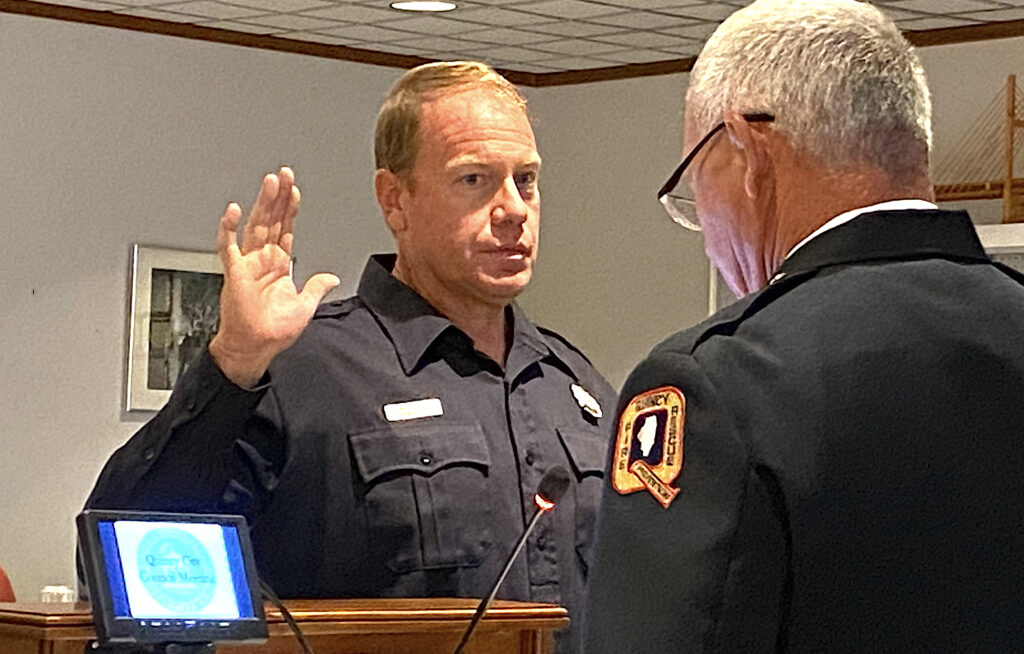 In other action, aldermen:
Saw Bernie Vahlkamp, chief of the Quincy Fire Department, present an officer badge Deon Baker for his promotion from sergeant to lieutenant.
Recognized Kerry Humphrey for his retirement after working for 20 years at Central Services.
Approved Machinists Local Lodge 822 to conduct a raffle beginning Aug. 15.
Approved a special event application from The District to hold "Feast in the Heart of Quincy" from 4 to 10 p.m. Sept. 17 on Jersey Street between Fourth and Fifth.
Approved a special event application from Bob Daly representing WGCA Radio requesting permission to hold the "Moonlight Ride for Hunger" 10-mile and 14-mile bicycle ride on Aug. 26 between 7 to 11 p.m. beginning and ending at Clat Adams Park.
Approved Mayor Mike Troup's appointment of Officer Richard Peat to serve on the Human Rights Commission for a three-year term.
Approved a resolution authorizing the city to enter into an intergovernmental cooperation agreement with the village of Golden as part of an application to the Illinois Department of Commerce & Economic Opportunity's Coronavirus Business Resiliency Grant Program. Eligible businesses that made qualifying purchases or rentals after March 20, 2020, related to the prevention, preparation and response to coronavirus can be reimbursed for up to $20,000.
The state accepts one application per county. The City's Department of Planning & Development is preparing the application for all of Adams County. Seven businesses will be included in the grant application: Adams Telephone Cooperative, Applebees, Dunnbelly's, For Home & Her, Thai D'Lish, The Yum Factory, & ZWash. They are seeking a combined $80,000 in reimbursements.
Approved spending $13,000 with Klingner & Associates for a topographic survey of College Avenue between Fifth and Eighth.
Approved spending $9,000 with Klingner & Associates for inspection services of bridge and culvert structures within the city.
Approved spending $118,959.33 with RNOW Inc. of West Allis, Wis., to buy a compact rear-loader garbage truck. Jeffrey Conte, director of public works, says the truck weights about half of the city's conventional trucks. It would be used to get garbage out of the alleys where the larger trucks either can't get to or damage the pavement in the alleys.
Approved resolutions allowing the Illinois Department of Transportation to temporarily close the left lane of westbound U.S. Route 24 from the west terminus of Illinois Route 104 to the Missouri state line, and allowing the Missouri Department of Transportation to temporarily close the left lane of eastbound U.S. Route 24 from the west end of Memorial Bridge in Marion County to the Illinois state line from 7-8 p.m. Aug. 26 for the "Moonlight Ride for Hunger Bicycle Ride."
Approved an ordinance changing zoning for 621 N. 36th from C3 (planned commercial) to C2 (commercial).
Approved an ordinance to add a four-way stop at the intersection of 23rd and Van Buren.
Allowed the sidewalk at 640 Maine to be shut down for one week.
Miss Clipping Out Stories to Save for Later?
Click the Purchase Story button below to order a print of this story. We will print it for you on matte photo paper to keep forever.