County Board provides little detail on courthouse mold; Bellis says 'questions will be answered' once copy of June 12 video meeting with Safestart is received
QUINCY — A special meeting of the Adams County Board with only one item on the agenda — a discussion about a recent report on mold in the courthouse — lasted 14 minutes Wednesday night. Most of those in attendance left with more questions than answers, especially concerning a video meeting with a county committee and Safestart Environmental.
What became clear, however, is the relationship between the Adams County Board and Safestart is becoming antagonistic.
Dave Bellis, chair of the Transportation, Building and Technology Committee, opened by telling the board the committee has "diligently worked" for the past 10 days to find an industrial hygienist to work with the county to create a plan to address mold found in the building.
The Occupational Safety and Health Administration says industrial hygienists are scientists and engineers who analyze, identify, and measure workplace hazards or stresses that can cause sickness, impaired health or significant discomfort in workers through chemical, physical, ergonomic or biological exposures.
Bellis said the county has selected an industrial hygienist to possibly work with, but he did not identify that person, only to say that person is "from out of town."
"I want to compliment Safestart for having that public forum (by Zoom on June 28)," Bellis said. "They did a great job. Maybe we can have our monthly meeting by Zoom. That's something to think about, but I'm not going to go there right now.
"They did answer a bunch of the public's questions. I kind of noticed that they didn't really answer any of ours. The night before that, we had a meeting with them. We had some questions for them, and they said they'd get back to us. There again, we haven't heard from them. I'm sure we will."

Late in the meeting, board member Bret Austin asked if a video and/or the minutes of a June 12 Zoom meeting between Safestart, the Adams County Sheriff's Department and members of the Transportation, Building and Technology Committee had been received.
Assistant State's Attorney Todd Eyler said he had made three requests for that information. He said he received a reply from Safestart Wednesday afternoon, saying it would provide what the county has asked for once the county provides the minutes and a recording from a June 13 meeting. Eyler said the minutes from the June 13 meeting are scheduled to be approved next week.
"So are we in a situation where the consultant is actually saying to us, 'If you show me yours, I'll show you mine?'" Austin said.
"That's exactly what I believe he was saying," Eyler said.
"We're going to get a fuller picture of what was said in that first meeting," Austin said. "So we would immediately release that to the public?"
"I don't know why we wouldn't," Eyler said.
"There'll be a lot of questions answered once that's released," Bellis said.
After the meeting, neither Bellis nor Board President Kent Snider would elaborate on the details of what was said in the June 12 meeting with Safestart, the committee and sheriff's personnel.
"If you get a copy (of the video), watch it first and then ask me questions," Bellis said after the meeting.
Bellis told the board he's been contacted by at least three contractors interested in performing mold remediation.
"It looks like we're going to have some good quality things happening, as soon as we can get our plan together," he said.
Board member Todd Duesterhaus asked if the county has asked the health department to be involved, and Bellis said no. Duesterhaus thought the department should be involved.
State's Attorney Gary Farha said Jerrod Welch, public health administrator at the Adams County Health Department, was one of the first persons he and Adams County Sheriff Tony Grootens talked with when they learned about the issue.
"(Welch) was not particularly concerned about that saying there's not a building in Quincy older than 50 years that doesn't have mold in it," Farha said.
"It's a public building. I think we should be concerned," Duesterhaus said.
"Our concern is with the health and safety of the public and our employees," Bellis said. "Don't even think different than that. We are diligently working on it. We want to get this resolved as soon as possible."
Bellis then said he instructed members of the building's maintenance staff to remove two ceiling tiles last week.
"I guess that blew up in our face," he said. "Somebody went out took and pictures of it in the dumpster. That bust is on me. We're still going to maintain this building. Don't think we're not."
He also said he's instructed the maintenance staff to install HEPA filters — which the Environmental Protection Association says can theoretically remove at least 99.97 percent of dust, pollen, mold, bacteria and any airborne particles — throughout the courthouse. Bellis said the HEPA filters "should better our air by 10 to 25 percent."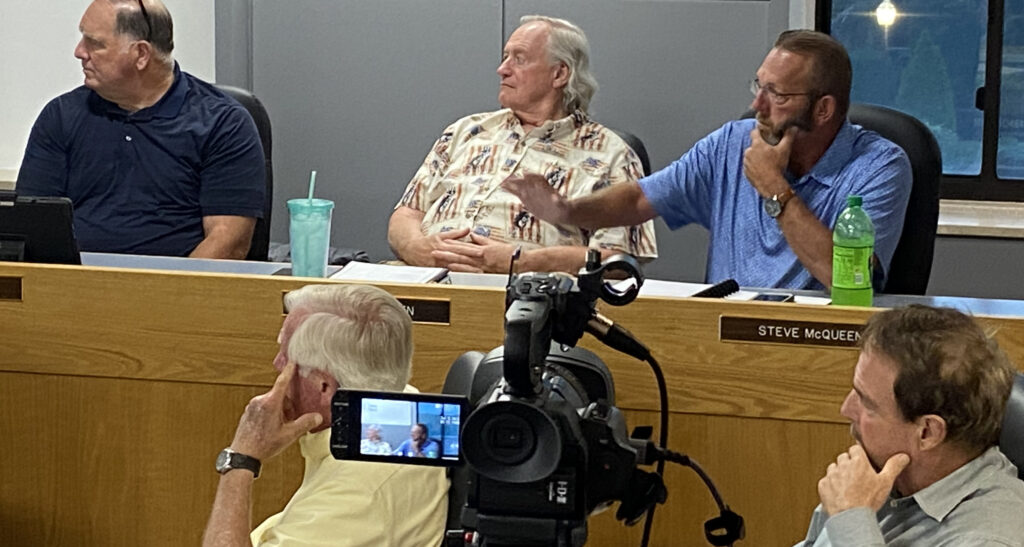 Board member Steve McQueen said he believes Safestart has "become more adversarial than they have been a consultant."
"I appreciate the compliment for what they did. I'm more worried about what they didn't do or what they did incorrectly," he said. "The question is: I assume we're going to look at other parties to help us get through this issue?"
Bellis said that's what the industrial hygienist will do.
"Would that put the industrial hygienist in charge of the project?" McQueen asked.
"Correct," Bellis said. "They will oversee it and give us instructions on how, where and when to do what we do."
"My concern there again is we're trying to solve an issue," McQueen said. "We've got a consultant company (Safetstart) …"
"They have completed their project with us, and that's all I've got to say about that," Bellis said.
Board member Bob Reich asked what the board should tell employees about what to do in the next few days.
"I just want to make sure our employees are safe," he said.
"That's why we're moving swiftly as we can," Bellis said.
After the meeting, Snider was asked what the county employees should do as they wait for the video from Safestart to arrive. He said only one office — the circuit clerk's office — has had multiple people missing work this week.
"Most employees in this building have been here every day," Snider said. "But if you have a pre-existing condition and you can't come here, then that's what you have to do."
McQueen told the board the "key problem" remains employee safety and addressing the building.
"Not that I don't agree that we need to follow up on what this company has done," he said. "I don't think they have handled it well."
As the meeting ended, Snider offered encouragement for the employees and the public.
"We take this very serious, but with the restrictions we have in government, we have to run this through the committee," Snider said. "It seems like it's taking forever, but we kind of got caught with our pants down. … Trust me, I went through this with the COVID thing. We took care of you during COVID, and we're going to take care of you again. We're not going to drop the ball. We didn't then and we aren't now, but you've got to take a deep breath and give us chance to do our job the way we legally have to do it.
"The wheel seems to be turning slowly, but we're pushing as fast as we can. Bear with us, and we are going to do something."
The next regularly scheduled County Board meeting is Tuesday, July 11. Snider said if the County Board hasn't received the video and/or minutes from Safestart by Tuesday, a special meeting will be called once they arrive.
Miss Clipping Out Stories to Save for Later?
Click the Purchase Story button below to order a print of this story. We will print it for you on matte photo paper to keep forever.