Death of WGEM-AM means Cubs have no Quincy-area radio affiliate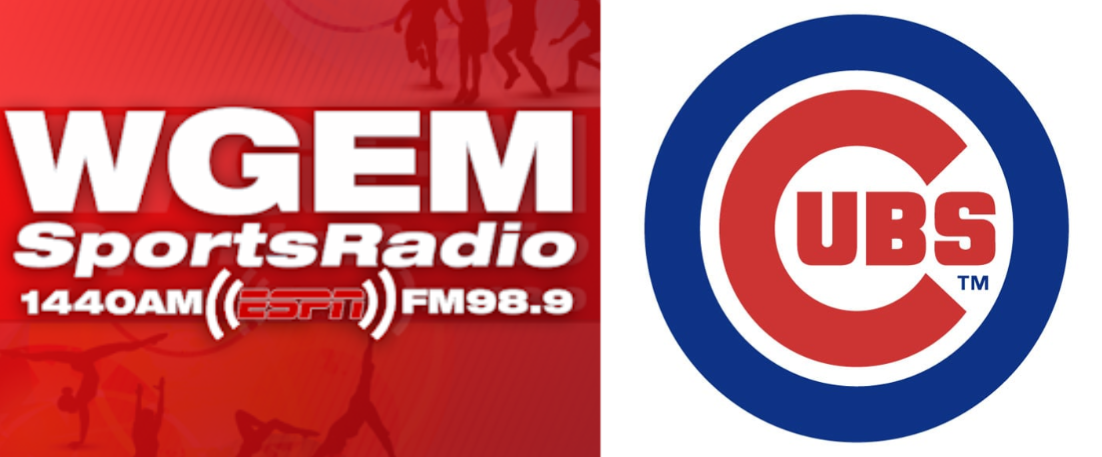 QUINCY — The station that brought you "Silly and Billy" weekday mornings and a few innings of Harry Carey during years of Cubs' broadcasts will be off the air for good on March 1.
Gray Television, owners of WGEM, has informed the Federal Communications Commission (FCC) that the company is pulling the plug on WGEM-AM, which debuted in 1948.
The station, 1440 on your AM dial, has actually been off the AM frequency since June 2022, while transmitting on the 98.9 FM frequency. In August 2022, WGEM Chief Engineer Brent Clingingsmith said WGEM-AM had lost both its main and backup transmitters.
Ben Van Ness, general manager of WGEM-TV and radio, made the announcement public last week, while touting that the AM station's all-sports format would shift to 105.1 FM and end the news/talk format the station has had since the 1990's after converting from GEM Country 105.
"We certainly aren't dropping news," Van Ness said. "The simulcast of our news on the radio broadcast will end. With going from two radio stations to one, some tough programming decisions had to happen… In addition to watching it on a traditional broadcast TV, you can now stream our news from your smart TV, you can download our app on your phone and stream it, you can watch our news from our website. With the way these technologies are also available while you are in your car, the routine of listening to local news while driving can still be an option for you.
"As for going all sports, again, we are going from two stations to one. Programming needed to become streamlined and consistent. Continuing our partnership with ESPN, local sports, Quincy University athletics, and St. Louis Cardinals baseball allows that to happen. We will still provide weather updates on FM 105 and if breaking news or weather were to occur, we would carry those types of news emergencies live on FM 105 as well."
The move also means the Chicago Cubs baseball team currently doesn't have a radio affiliate in Quincy. WGEM-AM has carried Cubs broadcasts since 1985, the year after they ended a long postseason drought by winning the National League's Eastern Division. WQCY-FM, then owned by Lee Enterprises, had carried Cubs baseball before WGEM.
Debbie Saul, with Cubs media relations, said the team is still hoping to find a station in Quincy to carry the games.
Van Ness said the decision to drop the Cubs wasn't easy.
"It was very difficult to lose the Cubs," he said. "We've been committed to both the Cardinals and the Cubs for a long time. With going from two radio stations to one, we couldn't commit to airing all the games for both teams. WGEM is continuing to help the Cubs find a new local radio affiliate as we want the local Cubs fans to have a place to listen to the games."
1180 WLDS-AM in Jacksonville and 1150 KCPS-AM in Burlington, Iowa are the radio stations closest to Quincy who carry Cubs baseball.
Steve Boll, program director for STARadio's WTAD-AM, said the station will not be a Cubs affiliate, but he did say WTAD would be adding The Dave Ramsey Show on Saturday's beginning March 4 and on weekdays starting May 1. He said a decision to pick up other news/talk related programming now available because of the WGEM radio format change has yet to be made.
WGEM-AM went live the year after WGEM-FM began airing in 1947 as WQDI-FM. It was Quincy's second radio after WTAD-AM powered up as the region's first station in 1925 and both became WGEM-AM-FM when WGEM-TV became the media market's first television station in 1953.
WTAD-FM went on the air on the 99.5 frequency in 1948 and eventually became WQCY-FM and is now WCOY-FM. WGEM-AM-FM ran as a simulcast until switching to a country music format in 1976. It had a news/talk, music and local sports format for years. Morning show host Bill Wegman and newsman Bob Turek began hosting mornings together in 1955 and were known by fans as "Silly and Billy" for their jocular banter, until Wegman died in 1989.
WGEM moved the news format from AM to FM, which included simulcasting most WGEM-TV newscasts, and shifted the AM to the all-sports format that ended up being its last in 2002.
In January, current WGEM-FM mornings host Greg Hartley announced he was leaving the market at the end of February, which may have foreshadowed last week's announcement.
Miss Clipping Out Stories to Save for Later?
Click the Purchase Story button below to order a print of this story. We will print it for you on matte photo paper to keep forever.