Detective reviews surveillance videos, Tim Bliefnick's electronic devices as final witness for prosecution
QUINCY — A detective with the Quincy Police Department explained Tuesday afternoon to the six-man, six-woman jury in the Tim Bliefnick trial the evidence recovered from home surveillance systems, as well as multiple electronic devices, links Tim to the murder of his estranged wife.
Tim Bliefnick is accused of shooting Becky Bliefnick multiple times at her Kentucky Road home on Feb. 23. Tim was arrested on March 13 and later charged with two counts of first-degree murder and one count of home invasion. He remains in the Adams County Jail without bond.
Det. Nick Eddy said he reviewed surveillance videos taken from the Quincy Public Schools' Bus Barn at 20th and Hampshire; a private residence on South 20th Street; and the home of Taylor Heimann, Becky's next-door neighbor on Kentucky Road.
"Did you see something unusual?" Assistant State's Attorney Josh Jones said asked Eddy, who replied yes.
"Explain to me, in a general sense, what you saw on Feb. 23 that was unusual to you," Jones said.
"There was a person on a bike riding in the direction of Becky's residence in the middle of night in February, which is odd," Eddy said.
"Most people don't do bike rides in the middle of the night," Jones said.
Jones and Eddy then reviewed videos showing a person on a bicycle at each location reviewed by Eddy.
Times, dates when surveillance videos showed someone on bicycle
| Date | headed south past Bus Barn, 20th and Hampshire | Knapheide Home, 224 S. 20th | Taylor Heimann home on Kentucky Road | headed north past Bus Barn, 20th and Hampshire |
| --- | --- | --- | --- | --- |
| Feb. 14 | 12:29 a.m. | 12:31 a.m. | 12:37 a.m. | 12:52 a.m. |
| Feb. 21 | 1 a.m. | 1:01 a.m. | no video | 1:17 a.m. |
| Feb. 21 | 1:41 a.m. | no video | no video | 1:56 a.m. |
| Feb. 22 | 12:57 a.m. | 12:59 a.m. | 1:05 a.m. | 1:10 a.m. |
| Feb. 22 | 1:46 a.m. | 1:48 a.m. | 1:53 a.m. | 2:08 a.m. |
| Feb. 23 | 12:55 a.m. | 12:57 a.m. | no video | 1:16 a.m. |
Jones showed a video of a re-enactment of QPD officer Zach Bemis riding a bike from 16th and Hampshire to Becky's house. Bemis testified earlier it took nearly 5 minutes. Eddy noted the reflectors on Bemis' bike were easy to see in the video, and the bike shown on the other surveillance videos didn't have reflectors.
Eddy said a review of phone calls records showed no phone calls were made from Tim's cellphone from:
7:38 p.m. Feb. 13 to 1:32 a.m. Feb. 14.
4:37 p.m. Feb. 21 to 9:49 a.m. Feb. 22.
12:32 p.m. Feb. 22 to 8:01 a.m. Feb. 23.
Another review of the phone showed the screen on Tim's phone was locked from:
12:44 a.m. Feb. 21 to 5:30 a.m. Feb. 21
12:50 a.m. Feb. 22 to 1:15 a.m. Feb. 22
1:39 a.m. Feb. 22 to 2:22 a.m. Feb. 22
12:38 a.m. Feb. 23 to 2:07 a.m. Feb. 23
Eddy said a review of computer activity showed no Internet activity was detected on Tim's laptop from:
2:02 p.m. Feb. 13 to 1:10 a.m. Feb. 14
8:27 p.m. Feb. 21 to 7:01 a.m. Feb. 22
8:15 p.m. Feb. 22 to 6:02 a.m. Feb. 23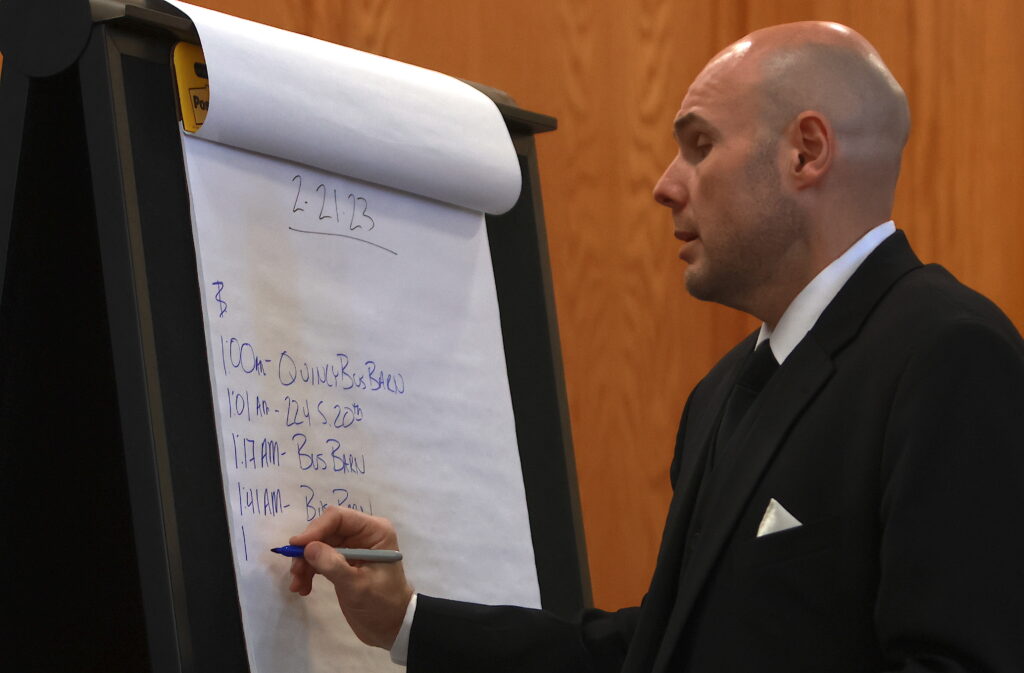 Eddy also reviewed Tim's WHOOP fitness tracker, which was paired by Bluetooth to his cellphone. Information is related from the tracker to the phone by the internet.
The report, from which Eddy said he received more than 1.474 million lines of data, showed the
WHOOP was not paired to the phone from:
Midnight Feb. 14 to 1:10 a.m. Feb. 14.
12:45 a.m. Feb. 21 to 2:11 a.m. Feb. 21.
12:42 a.m. Feb. 22 to 1:16 a.m. Feb. 22.
1:39 a.m. Feb. 22 to 2:19 a.m. Feb. 22.
12:36 a.m. Feb. 23 to 2:01 a.m. Feb. 23.
Eddy said he found no other significant gaps of time on the WHOOP on any other days he reviewed.
Schnack asked during cross examination if Eddy has received specialized training about how to interpret the WHOOP data or if he was ever employed by the company. He said no. She then asked about how the WHOOP is charged. Eddy said a battery pack is placed over the WHOOP strap so it can charge the device while still being worn.
Eddy said information will stay on the strap when it is removed from the wrist and then can be uploaded later to an app on a phone or a tablet.
"If there's no Bluetooth connection, the data can't sync?" Schnack asks. Eddy says yes.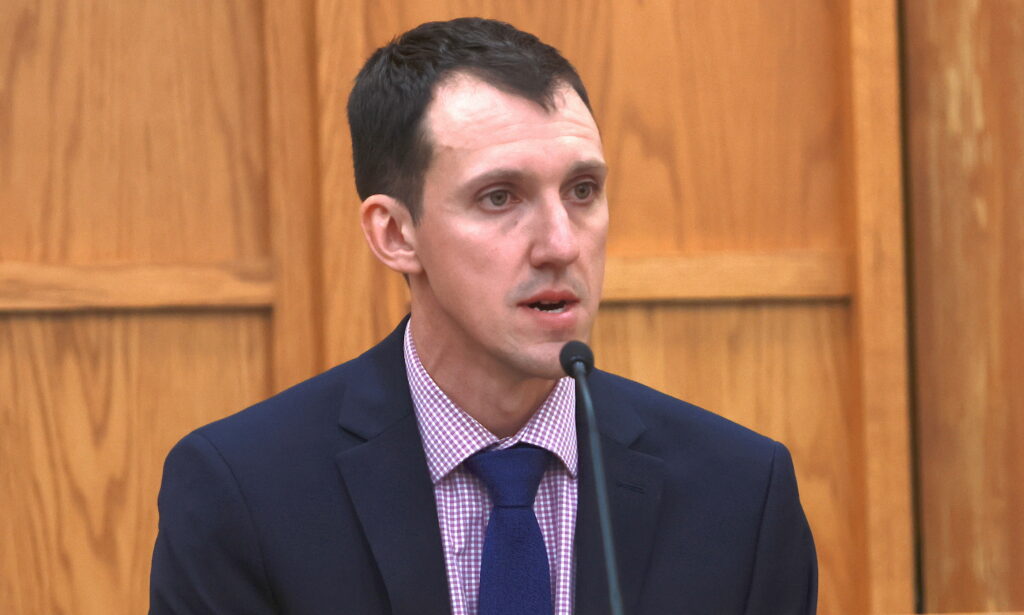 Schnack later said, "The only thing that you can say with any certainty during these time periods is that the WHOOP tracker was not connecting to the phone that it was attached to."
"If you're asking me for my opinion, I can tell you I don't know what exactly is happening," Eddy said. "But I can tell you what I believe is happening."
"Well, if you don't know what's happening, I don't want you to guess," Schnack replied.
"I don't know," Eddy said.
Schnack said a swab search for DNA inside Tim's vehicle was completed March 2. Three pairs of adult gloves were found in the vehicle. She then brought up the $13,000 in cash found by Ted Johnson in a bag of Becky's at his home.
Asked about the bicycle found about a block from Tim's home on Hampshire, Eddy said he didn't know where the bike was before QPD picked it up by QPD. He added it was found four days after Becky's death.
"You don't know where that bike was in the previous four days, correct?" Schnack asked. "You don't know if it was kept inside or outside, correct?" Eddy agreed to both statements.
Schnack then asked Eddy if he had searched for Bus Barn videos before Feb. 14. He said he asked, but the files had been purged.
"Just by looking at those videos, we can't say that's the same person in each video, correct?" Schnack asked. "We can't say where that person is coming from, correct? And we can't say where they're going? As far as the phone activity that you previously testified to, that just tells us what calls are coming in and coming out?"
Eddy answered "correct" to each question.
As to the lack of activity on the laptop, Schnack said, "It doesn't mean that there was no activity. It just means that there was no activity on Google at that time."
After Eddy said, "Online," Schnack replied, "That doesn't mean there wasn't activity someplace else."
Schnack said the Quincy Police Department also searched in March three waste lagoons and a pond within the Timber Ridge Mobile Home Park on East State. Twenty acres near the trailer park also were searched. Eddy said nothing was found. He also said police officers sifted through 800 tons of trash and found nothing.
Miss Clipping Out Stories to Save for Later?
Click the Purchase Story button below to order a print of this story. We will print it for you on matte photo paper to keep forever.