Drummer from Quincy to perform Tuesday on 'The Tonight Show Starring Jimmy Fallon' with up-and-coming band Blondshell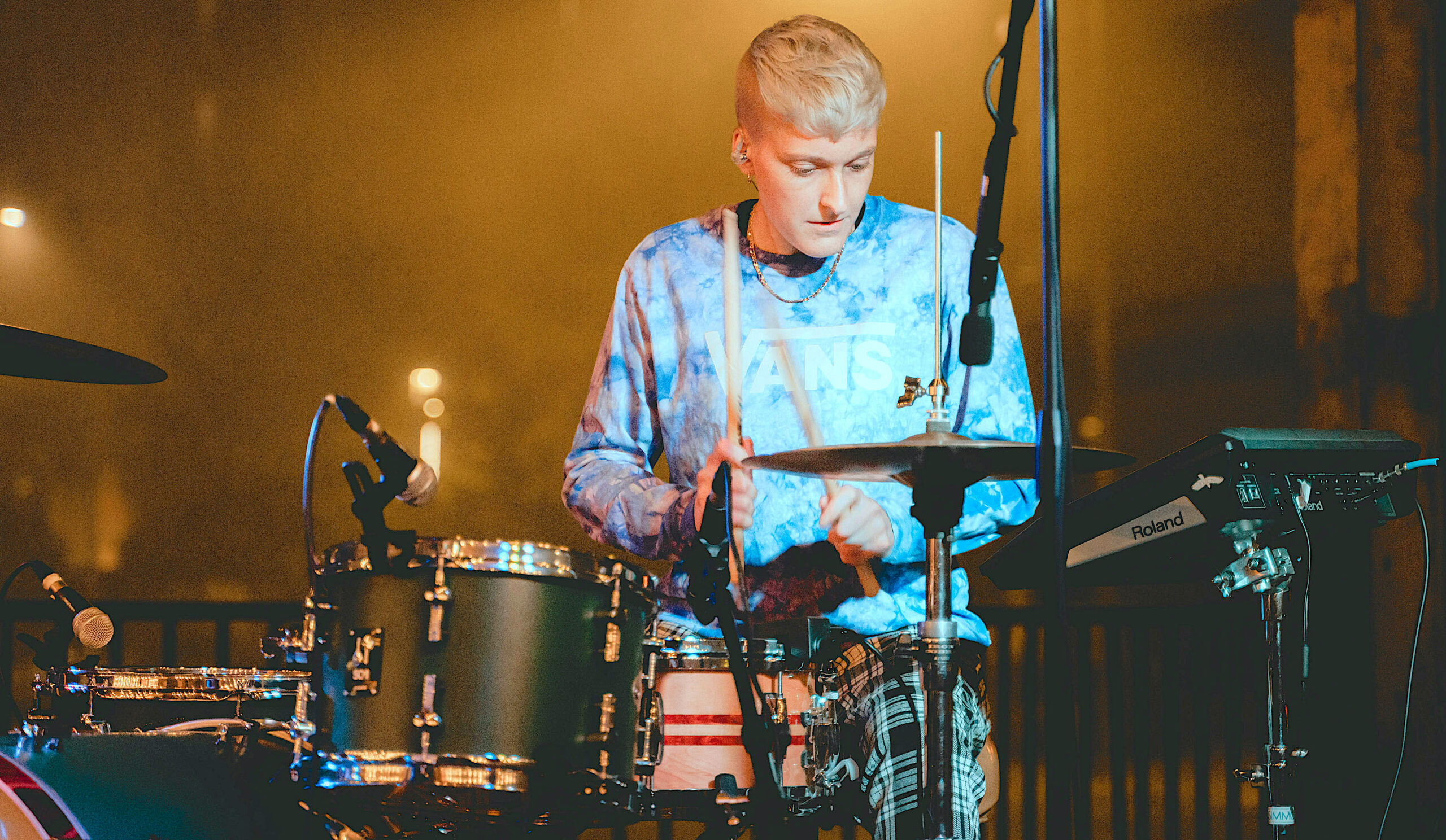 QUINCY — Anna Crane took off for Los Angeles when she was 19 years old to chase a career as a drummer, but when the pandemic hit, she briefly considered coming back to Quincy.
"I did actually have a moment of doubt," said Crane, a 2010 graduate of Quincy High School. "My main source of income is playing live shows, and I couldn't do much work. I did have a talk with my parents about maybe moving back to Illinois and looking into something like medical coding. I was just like, 'What am I going to do?' It didn't seem like it was going to end in any foreseeable future.
"I'm glad that I pushed past those feelings. After what I've done in the past two years, I've been more successful than I've ever been. I'm really glad I didn't give up."
That persistence will be rewarded Tuesday night. Crane, now 30 and living in West Hollywood, Calif., will to appear on "The Tonight Show Starring Jimmy Fallon" on NBC (WGEM Channel 10 in Quincy) as a member of Blondshell, an indie rock project by Sabrina Teitelbaum. The group has released five singles in the past year and is releasing its first album on Friday.
"This ranks pretty high on the list," Crane said of "The Tonight Show" appearance. "I've never played a late-night show before or any sort of live television performance. This is definitely a new experience. It's pretty thrilling."
As of a couple of weeks ago, Crane said Blondshell was preparing to be on the show in May or June. The group was in Los Angeles International Airport last month, returning from playing seven shows in three days at the South by Southwest festival in Austin, Texas, when they learned their plans were being sped up.
"Sabrina's managers texted and said, 'Hey, is everyone available April 4?'" Crane said. "We were like, 'Yeah, let's go for it.' We didn't expect it to be this soon."
The success of Blondshell has come rather quickly as well. Rolling Stone's March issue ("Get Ready for Blondshell to Be All the Rage This Year") featured Teitelbaum, and Los Angeles Times rock critic Mikael Wood called her upcoming album "the most impressive debut of 2023" ("Toxic sex, social anxiety, '90s guitars: How L.A.'s Blondshell pulled off the rock debut of 2023").
"Sabrina is a really incredible songwriter and musician, and I'm really happy and grateful that she's asked me to play with her," Crane said. "I've already been on a couple tours with her, and it's just been a blast. I'm really grateful she asked me to come along on this journey with her. Her music is amazing."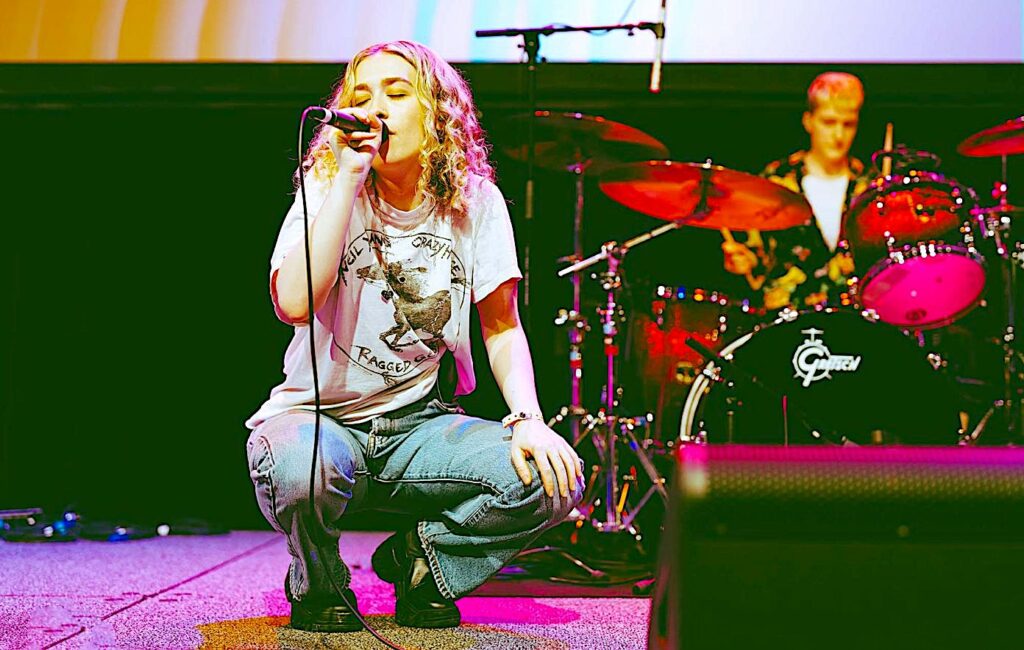 "I've already been on a couple tours with her, and it's just been a blast. I'm really grateful she asked me to come along on this journey with her. Her music is amazing."

Anna Crane (in background on drums), talking about her work with Sabrina Teitelbaum (singing) and Blondshell | Photo courtesy of Ismael Quintanilla
Crane, a daughter of Tony and Trish Crane of Quincy, has been with Blondshell since July 2022.
"I am a hired musician," she said. "So are the guitarist and bassist in the band. Sabrina wrote all these songs with a producer named Yves Rothmann in a studio, and we were involved in the recording process. We're hired to play the music live. It's not my band. It's not my music. As much as I love the music, I didn't have any part in writing it or recording it."
The recent success and attention for Teitelbaum and Blondshell hasn't surprised Crane.
"(Teitelbaum's) music is so good, and she's worked really hard," Crane said. "When I first got hired, I loved the music right away. I was really excited to be a part of it. I guess at that time, I had no idea how quick the trajectory would be. That said, I'm not surprised because the music is so good, and she's so talented and dedicated."
Crane's talent and dedication also are paying off. She's also working with Irish/American alternative artist Levi Evans, son of U2's The Edge, and singer Rebecca Black.
"I've kind of been slogging away at it. I wasn't making any money for several years," Crane said. "I had several different bands, but I kind of found that was … I don't want to say depressing, but I was working so hard and not reaping any benefit or any success. I've just found that this route I'm on now is way more fulfilling to me.
"Only in the last several years has it really started to pay off in a substantial way. (Evans) is really fun to work with. His music is great, and The Edge has come to a couple of our shows. He's super cool. I've had a lot of great opportunities to meet cool musicians and great people."
Blondshell's next tour starts May 10-13 at the Great Escape Festival in Brighton, England. The band then will perform in France, Germany, the Netherlands and Belgium, then return to London before closing out in Spain and Portugal in mid-June.
After a month off, Blondshell will start an American tour with Hello Mary, a three-piece rock band out of New York. The tour begins July 7 in Portland and, 19 dates later, ends Aug. 5-6 at Bleached Fest in San Diego. One stops on the tour will be July 12 in Chicago.
"It's been so fun," Crane said. "This has truly been one of my favorite professional experiences ever. I know we only have greater things to come with the tours this summer. The rest of my year is pretty much booked up, and I've also had to turn down a lot of things. That's a good problem.
"(Performing on 'The Tonight Show') is actually super cool. It's an institution. I don't think I will be nervous. I feel like maybe I'm just saying that so I can put it out into the universe, but really, it's another day on the job. I'm really grateful and really excited about it."
EDITOR'S NOTE: The date of Blondshell's performance on "The Tonight Show Starring Jimmy Fallon" was incorrect in an earlier version of this story.
Miss Clipping Out Stories to Save for Later?
Click the Purchase Story button below to order a print of this story. We will print it for you on matte photo paper to keep forever.