Durbin says he will 'take advantage' of friendship with Biden to get money secured for restoration of Quincy Bay
QUINCY — U.S. Sen. Dick Durbin (D-Ill.) says he's going to lean on an old friend to help pay for the restoration of Quincy Bay, one of the largest natural bays of the Upper Mississippi River.
"I happen to know this president, and I'm going to take advantage of it," Durbin said Friday afternoon as he stood outside the offices of the Quincy Park District while on the banks of the Mississippi River.
In July, Durbin secured several key Illinois priorities in the Senate-passed Water Resources Development Act, including an increase in the funding limit for the Upper Mississippi River Restoration program from $40 million to $75 million. The additional $35 million, if appropriated, would help ensure the full completion of UMRR projects like the restoration of Quincy Bay.
The U.S. Senate Appropriations Committee gave tentative approval in August 2021 to allocate $33 million to fully fund projects in the UMRR program. Durbin, the Senate majority whip, sits on the Senate Appropriations Committee.
Durbin discussed the restoration project when he visited briefly with former Quincy mayor Chuck Scholz; Quincy Park District executive director Rome Frericks; Jeff Steinkamp, president of the Quincy Riverfront Development Corporation; Chuck Bevelheimer, director of planning and development for the city of Quincy; and Glenn Sanders, president of the Mississippi Valley Hunters and Fishermen's Association and arguably West-Central Illinois' strongest advocate for wildlife resources.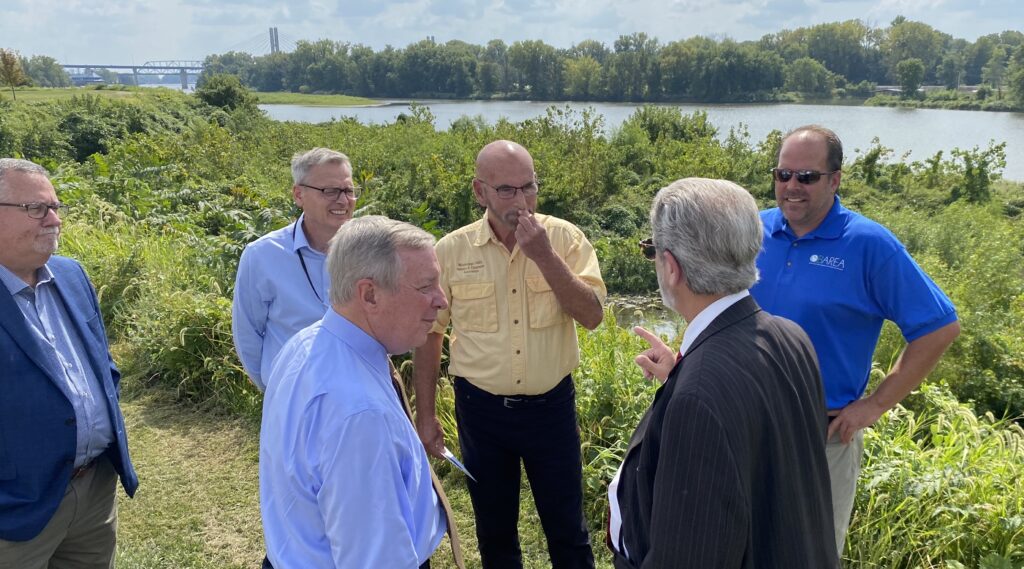 The project aims to reverse the impact of sedimentation and erosion at Quincy Bay to improve the quality and diversity of waterfowl, fish and wildlife populations, aquatic and forest habitat, water depth and wetlands. Durbin says he has pushed the U.S. Army Corps of Engineers to include the project as part of the UMRR program.
"I'm going to try to secure those funds, but equally important, I'm going to be appealing to the Army Corps of Engineers to do this in a timely fashion," Durbin said. "I was just here a little over a year ago, and I can see the deterioration. If we don't move quickly, the project becomes more challenging and more expensive. I'm going to try to appeal to the Biden administration to look at this in a more timely fashion."
Asked how he will get President Joe Biden to push the project forward, Durbin replied, "Let me tell you. President Biden was my colleague and friend in the Senate for years and years … 20 years. We are indeed good friends. I try not to ask for things that aren't critically important, and this is critically important."
Quincy Bay has experienced severe sedimentation and land erosion that is affecting the ecosystem, including a 70 percent loss in water volume during the past 80 years. Current depths on Quincy Bay have reached one to three feet.
If Congress passes the spending bills and President Biden signs them, Quincy Bay will be dredged to 10-foot depths. A rock dam will be built to prevent further erosion from river traffic. Topological improvements, such as island elevation and wildlife habitat restoration for fish and waterfowl, would be made.
"You need a unified effort, and they have it in Quincy and the different agencies on the local basis," Durbin said. "We have our state behind us through the Department of Natural Resources, and of course, we need the federal leadership when it comes to spending the massive sums of money necessary.
"To coordinate those three things is not easy sometimes. There may be a governor elected at some point who doesn't believe in a project. You may have local groups, some protesting for, some against. We're not facing that. I think everybody seems to understand that we're going to lose this thing, and if we do, we will regret it for generations to come."
Durbin said he will ask the U.S. Corps of Engineers, which he called "a highly respected group," to move as quickly as it can. He called this project his "highest priority" when he comes to work of the Corps.
Asked to provide a timeline for how quickly it can be done, he replied, "I don't know. I don't want to over-promise. That's one of the weaknesses of many politicians."
Asked what would happen if the project isn't funded, Durbin said with a smile, "You can be skeptical. That's your job. That's what you do for a living. I'm more hopeful, but I know I'm asking a lot. The Corps is good, but they're traditionally deliberate.
"How's that? Is that a good choice of words?"
Sanders said Durbin was shown a photo of what an island in the middle of the river, just north of the Bayview Bridge, looked like a year ago.
"Now you can stand out here, and there's four- and five-foot trees growing where there was water just a year ago," he said. "We've got another area north of the train bridge that has almost completely isolated the entire upper bay. About 80 percent of our base is going to be cut off from the river, and the time is just ticking faster and faster.
"Once you get the trees formed on a place like that, then when you get your floodwaters, the trees slow the water down, and all the silt drops out. It fills in even faster than before. We're like, 'Come on. We've got to move faster on this project, as fast as people can move."
However, Sanders is confident the bay restoration is going to happen. He wants to see it happen as inexpensively as possible.
"Every day that we go without the construction actually starting means the costs keep going up," he said. "The more material we've got out there to remove increases the costs. Not only are we losing the habitat out there, but we're reducing the amount of habitat we're going to be able to restore as time goes along."
Miss Clipping Out Stories to Save for Later?
Click the Purchase Story button below to order a print of this story. We will print it for you on matte photo paper to keep forever.