Executive director of Quincy Chamber of Commerce becomes first Black woman to serve on Quincy School Board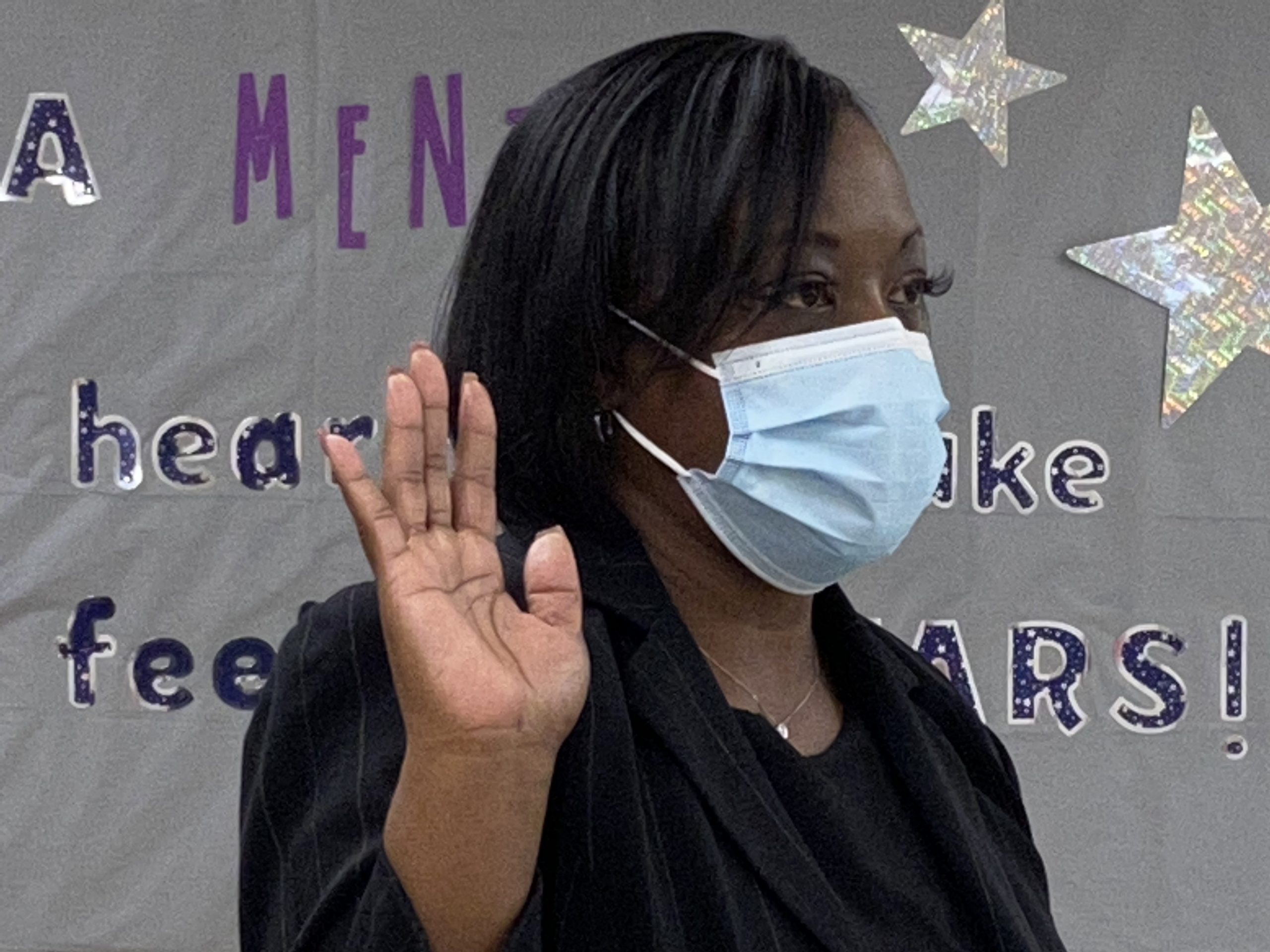 QUINCY — LaTonya Brock, executive director of the Quincy Chamber of Commerce since 2017, was sworn in Thursday morning to become a member of the Quincy School Board.
Brock will replace Mike Troup, who stepped down from the School Board after winning the mayoral election in April. She will complete the remainder of Troup's term, which expires in 2023. She is the first Black woman to serve on the School Board. Herb Jackson, elected to four-year terms in 1999 and 2003, and Eddie Fletcher, appointed to replace Randy Dickhut from July 2006 to April 2007, are the only Black men to have served on the Board.
"This has been in my heart for a while," Brock said. "I gave it a thought when I found out that there was a vacancy, and after talking to them and listening to their expectations, their needs and vision, I gave it some serious thought."
School Board president Sayeed Ali said seven people showed interest in replacing Troup. He reached out to Brock.
"To me, instead of just posting something and hoping that people apply, I've always tried to be a little bit more proactive," Ali said. "So when I said, 'Hey, Board members, start turning up names,' a number of them brought her name to me.
"When I called her, I said, 'This is kind of coming from left field, but would you have any interest?' She took about a week and said she'd like to hear more. So she came in and chatted with me, and here we are. I mean, we're pretty excited."
Brock worked in the financial industry for 22 years in Indianapolis before coming to Quincy. She worked closely with the Indianapolis Public Schools through her work with a teachers credit union, and she also worked on several school committees.
She believes her business background will serve her well in her new role.
"The desire has always been there to work with our students," Brock said. "It certainly is a bridge to my passion with the chamber and what I do for the business community. I think about our workforce development concerns. … I think about how the business community can really bridge that gap and build relationships with students. There's a lot of marketing strategies from the city level that are really focusing on bringing people here to Quincy and bringing people back to Quincy.
"I'd like to start educating students about career opportunities, whether it's a degree, whether it's a trade, whether it's technical. There are a lot of missed opportunities here, and we often wait until they're seniors to talk to students. It just feels like a natural fit. It's divine timing."
Brock has nearly completed a master's degree in counseling, with an emphasis in mental health, from Quincy University. Her knowledge of mental health and counseling will be a plus for the Board, Ali said. He believes Brock can help create paths for Quincy High School graduates to find success in many ways.
"Having a working relationship with her is big," he said. "She can let us know what businesses are dealing with or what their initiatives are. We want someone to kind of view our finances in a way that's really important to our town."
Making the School Board more diverse, Ali said, was an added benefit when members discussed her qualifications.
"This decision was not just about color but about more perspectives, just like anybody we can bring on," he said. "She brings a different perspective that is always going to strengthen our bench.
"When we made our decision, I don't think through all of our emails and our conversations did one person say, 'Oh, having a diverse candidate is going to be such a benefit.' This is big for our whole district. It's incredibly important. But I believe the Board treated (Brock's race) as secondary, because it didn't fall into the criteria we were looking for."
Miss Clipping Out Stories to Save for Later?
Click the Purchase Story button below to order a print of this story. We will print it for you on matte photo paper to keep forever.