Explanation of evidence gathering takes up most of Thursday's Bliefnick trial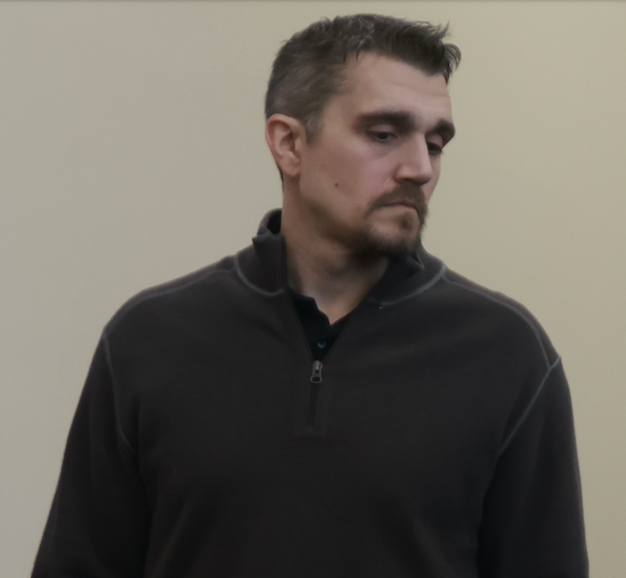 QUINCY — Three members of the Quincy Police Department explained the evidence-gathering process that led to the arrest of Tim Bliefnick, who is charged with the Feb. 23 murder of his estranged wife, Becky Bliefnick.
The fourth day of the murder trial was conducted in Adams County Circuit Court. The trial is scheduled to resume at 9 a.m. Friday.
As the crime scene investigator for the Quincy Police Department who responded to Becky Bliefnick's home on the night of her murder, Emily Pezzella began by confirming the photos presented as evidence were taken by her or another QPD officer.
Assistant State's Attorney Josh Jones displayed a layout of Becky's residence, showcasing photos of the crime scene. The images depicted a patio chair moved near a first-floor window and a broken and forced-open second-story window, raising questions about possible points of entry.
Jones then showcased pictures of the damaged window from the inside, revealing a shoe print on the floor below the window. Other images were a torn grocery bag, a broken door and shell casings scattered on the floor of another room. The focus shifted to the living room, featuring a purse on a wall, a laptop, checkbook and credit cards on a couch, as well as a book bag and textbooks.
The master bedroom photos showed a broken door, more shell casings and the entrance to the bathroom, where Becky's lifeless body was discovered. Emotion in the courtroom intensified as a photo displaying Becky's legs in the bathroom was shown, highlighting plastic bag remnants and bullet holes in a cabinet. A photo of Becky's body was presented, prompting grief-stricken reactions from her family members.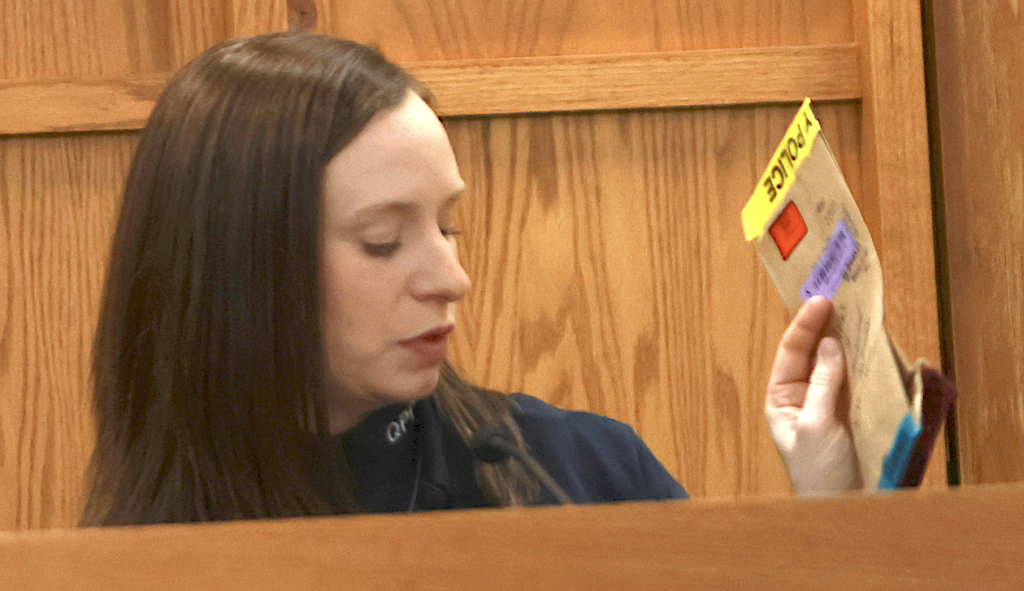 Jones showed photos of a bloodstained bath mat with bullet holes and fragments found on the floor. Pezzella confirmed she had swabbed the patio chair for DNA and collected fingerprints and tool marks from the broken window, which were sent to the state crime lab for analysis.
The court then turned its attention to the spent shell casings, which Pezzella identified as those found in Becky's house. The casings were sent to the state crime lab, with some tested for DNA and others for fingerprints. Pezzella explained the challenge of testing evidence due to limited surface availability, prompting choices between DNA and fingerprint analysis. Small pieces of grocery bags and bullet fragments, both sent to the lab, also were discussed.
cRegarding gunshot residue (GSR), Pezzella explained testing wasn't conducted on Becky's body due to the multiple gunshot wounds. She said GSR can be washed away with soap and water. Such testing is ideally done within six hours of the incident.
Under cross-examination by attorney Casey Schnack, Pezzella said she spent several hours at Becky's house and made multiple return trips over a few days to collect further evidence. Schnack inquired about tool mark testing and the evidence collection at Tim's residence on Hampshire Street, including the examination of a crowbar found in the basement.
Schnack then questioned Pezzella about the footprints discovered at Becky's house. Pezzella disclosed that multiple pairs of Tim's shoes were collected, with one sent to the crime lab alongside a section of carpet. When asked if anyone else's shoes were examined, Pezzella said no.
Addressing the issue of firearms, Schnack asked if guns were collected from Tim's gun safe and tested, as well as from Becky's parents' house. Pezzella said yes to both questions.
In a final exchange, Jones inquired whether any traces of guns or a gun safe were found at Becky's house. Pezzella said no.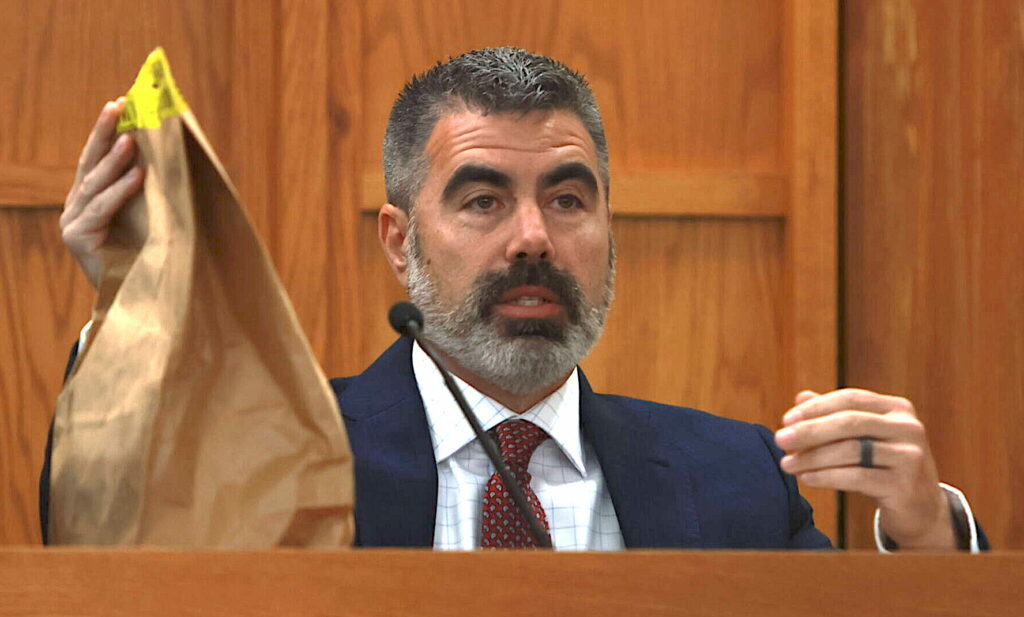 Bryan Dusch testimony
Sgt. Det. Bryan Dusch with the Quincy Police Department was the first witness after the lunch break. He led the search of Tim's house at 1641 Hampshire on March 1.
Jones showed pictures on the projector of a bike, multiple pairs of gloves, disposable gloves and shoes in Tim's garage, as well as a pair of gloves in a trash can in his house.
The gloves were not tested for gunshot residue. They were found more than a week after Becky's death. Jones has emphasized that GSR usually isn't found after six days.
Jones also presented multiple used Aldi bags found in Tim's garage. Dusch confirms they were found there along with various calibers of ammunition in the garage.
Dusch said one of the ammo boxes had unfired bullets and spent 9 millimeter shell casings. He added that the shell casings found by Becky's body also were 9 millimeter. All shell casings were sent to the crime lab. Fifty-four .38 special shell casings also were found at Tim's home, but they were not sent to the state crime lab.
Patrick Hollensteiner testimony
Quincy Police Department Officer Patrick Hollensteiner said he was assigned to look for a bicycle that might be connected to the case. He testified he found a blue Schwinn bike beside a garage off 18th Street, a block and a half from Tim's house. The bike had no reflectors. It had air in the tires, and Hollensteiner said it appeared to have just been recently dropped there.
Hollensteiner said he went door to door in the neighborhoods between Tim's house on Hampshire and Becky's house on Kentucky, searching for anyone who might have had security video of the night of Becky's murder.
Hollensteiner said he was tasked to reenact a climb to the roof of Becky's house to the window where entry was gained that night. He said it was challenging, but he said someone who is physically fit wouldn't have much trouble. Video shown of the climb didn't make it look like Hollensteiner had much trouble.
Schnack asked if QPD gets regular missing bicycle reports. Hollensteiner said it happens. She asks how many doors he knocked on looking for video. He said a lot of them. She asked if he found much video, and he said no. Hollensteiner said no one said they had heard anything.
Hollensteiner said the residents on York Street didn't hear or see anything that night. Schnack asked about the Bus Barn video, and Hollensteiner said he had checked houses for another two hours and found nothing. No one said they saw Tim during the night in question.
Schnack asked about other houses and videos in the area. Hollensteiner said no others had video. In total, a bicycle and three pieces of video were discovered and used in the investigation.
Gary Collins testimony
Gary Collins is a former co-worker of Tim's and an acquaintance of Becky's. Collins said he worked with Tim at Quincy Recycle/Quincy Farm Products. According to Collins, Becky confided in him about Tim hiding money, causing her concern. Collins said he didn't think Tim would harm her, but he advised her to obtain a protective order since Becky expressed fear of Tim's actions.
During cross-examination, Schnack questioned the closeness of Collins and Becky's relationship. Collins admits they hadn't been in recent contact. Schnack reiterated Collins' statement that Tim wouldn't engage in such behavior.
Jarrod Evans testimony
Jarrod Evans, Tim's supervisor at Quincy Farm Products, testified Tim was an employee who worked remotely and had his own designated work laptop. The prosecution presented Tim's work laptop as evidence, and Evans verified it belonged to Tim.
During cross-examination, Schnack inquired about Tim's work activities during the week Becky was killed. Evans said nothing seemed unusual or out of the ordinary in Tim's work performance during that time.
Mark Sheftick testimony
Mark Sheftick is an investigator with Illinois State Police Crime Lab, specializing in digital forensics. Jones presented Tim's laptop to Sheftick, who confirmed it was the device he analyzed. Sheftick also mentioned having an external hard drive where he transferred Tim's files.
During cross-examination, Schnack inquired if Sheftick received specific instructions on which data to extract from the laptop. Sheftick stated that all the data from the laptop was transferred to the hard drive, implying a comprehensive extraction.
Kip Baumann testimony
Jones presented an iPhone 13 and iPad to Baumann, a digital forensic examiner with the Illinois State Police. Baumann confirmed he unlocked both devices and retrieved all the data from them.
Jones provided Baumann with another phone that he examined and extracted data from.
During cross-examination, Schnack asked Baumann if he retrieved all the data without selectively choosing specific information. Baumann affirmed he indeed retrieved all the data and did not cherry-pick any specific content.
Michael Price testimony
Price, who works for United Systems of Quincy, said he installed surveillance systems for the company. He obtained video from a residence on South 20th Street during February 2023 at the request of QPD.
Lynn Breeden testimony
Assistant State's Attorney Laura Keck questioned Lynn Breeden, Quincy Public Schools Security Secretary, about the security cameras at the Bus Barn on 20th and Hampshire. The Quincy Police Department requested video footage from these cameras recorded on Feb. 22-23 and March 13, 2023.
During cross-examination, Schnack inquired whether any additional video footage was requested apart from the ones from February 13, February 22/23, and March 13. Breeden responds there was not.
Michael Blaesing testimony
Jones asked witness Michael Blaesing if he sold items on Facebook Marketplace. Blaesing said he sold a blue bike in Oct. 22, but he couldn't recall who he sold the bike too. Schnack asked him to confirm if the only thing he had to say was that he sold a blue bike to a man. Bliefnick said he did.
Jones brought up another QPD re-enactment, this time of QPD officer Zach Bemis and riding a bike from 20th and Hampshire to Becky's house. Bemis said it took nearly 5 minutes.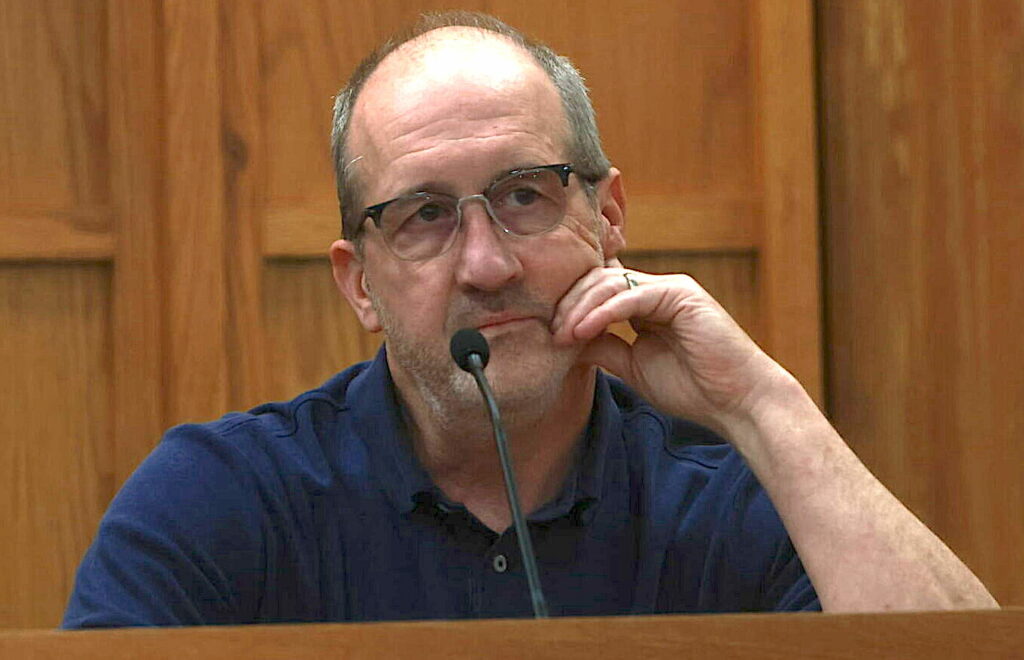 Brad Ehmen testimony
Brad Ehmen, a neighbor of Tim's on Hampshire, was the final witness of the day. Ehmen said Tim asked in January if Ehmen had any cameras that showed his backyard. Ehmen said he didn't. Schnack asked Ehmen about trespassers in the neighborhood, and he said he hadn't seen any, but another neighbor had.
Miss Clipping Out Stories to Save for Later?
Click the Purchase Story button below to order a print of this story. We will print it for you on matte photo paper to keep forever.