Extractions of Tim Bliefnick devices show searches for gunpowder residue, opening windows with crowbar, shotgun rounds
QUINCY — Google searches and website visits for identifying if shotgun shells are shot out of a specific gun, opening a window from the outside with a crowbar and cleaning gunpowder off your hands were among the many results discovered in extractions of Tim Bliefnick's computer and cellphone.
Those results dominated the second half of Friday morning's testimony in the Tim Bliefnick murder trial in Adams County Circuit Court. He is accused of shooting Becky Bliefnick multiple times at her Kentucky Road home on Feb. 23. Tim was arrested on March 13 and later charged with two counts of first-degree murder and one count of home invasion. He remains in the Adams County Jail without bond.
Judge Robert Adrian sent the jury home for the three-day holiday weekend. The trial will resume at 9 a.m. Tuesday, and the defense tentatively expects to finish its case that day.
Eric Cowick, a detective with the Quincy Police Department, was the last person to testify Friday. He reviewed an extraction by the Illinois State Police of AT&T phone records from Tim's cellphone and his laptop, as well as Becky's cellphone.
Cowick and Assistant State's Attorney Josh Jones did not discuss Becky's cellphone, found behind the door of her bedroom, for long. Cowick said her phone was connected to Facebook at 12:53 a.m. on Feb. 23. He also reviewed text messages between Becky and Ted Johnson, a man who she had a relationship with, earlier in the evening. None of the messages were threatening.
At 1:11 a.m. on Feb. 23, Cowick said the last outgoing activity on the phone was the dialing of 91126. He said the phone received text messages from other people later that morning.
Cowick then was asked by Jones about Tim's laptop. The extraction revealed thousands of pages. "There's a lot," he said.
Jones and Cowick reviewed a report of Google searches and websites visited by Tim on the early morning of Feb. 14 and the mid-morning of Feb. 15.
The first was a Google search for "Illinois license plate lookup." Also found were searches for title and registration, free vehicle history reports. VIN (Vehicle Identification Number) checks, Missouri license plate owners, Missouri state records, and vehicle history reports. One website visited on YouTube was for "How to Lookup Missouri License Plates and Report Bad Drivers."
Searches on the laptop also made for the license plate number and the VIN number for a 2021 Toyota Tundra driven by Johnson.
During the morning of Feb. 14, a call was made from the phone to the Missouri Department of Revenue, which handles vehicle registrations and license plates.
The report revealed more searches for finding vehicle owners by VIN number at multiple websites — Quora, AutoDetective, InfoTracer.com, the Missouri Department of Motor Vehicles, Legal Beagle, Driving' & Vibin' and Epic.com. The searches lasted for approximately 40-45 minutes on the morning of Feb. 14, with a few more on Feb. 15.
Cowick reviewed photos showing a Facebook page for "John Smith" that was connected to Tim's phone. Jones then asked Adrian to admit the records as evidence based on the foundation that they were on Tim's phone. Schnack asked to be heard.
"I would object to the entry of any replies or any other conversations from any other individual on those messages and in those conversations," she said.
"Based on hearsay," Adrian added. "You're not objecting to the foundation, correct?"
Schnack agreed.
"Those will be admitted," Adrian said. "If there are replies, though, to those messages, then we will take that up. Mr. Jones, are you try going to introduce?"
Jones said yes. When Adrian asked for the basis of the introduction, Jones said, "If there's any problem, it would be more appropriate that we talk about that outside the presence of the jury."
The meeting turned into a 30-minute break. Once Adrian and the jury returned to the courtroom, Adrian said he was overruling Schnack's objection. He did not elaborate, and Jones' questioning of Cowick continued.
The Cellbrite phone extraction showed a Facebook account for "John Smith." it showed Messages through Facebook Messenger. In one message, "John Smith" told someone he drives an orange Honda CRV. Cowick said Bliefnick was driving an orange Honda CRV in February 2023. "John Smith" also wrote on Messenger to another person he was meeting in Hannibal that he had long brown hair. Bliefnick's hair was shoulder length when he was arrested and since has cut it.
Another Messenger note indicated "John Smith" looking for a 26-inch Mongoose mountain bike on Oct. 12, 2022. "John Smith" arranged to meet with a woman so he could look at the bike. The next day, "John Smith" wrote to the woman, "Money is in the mailbox. Thank you."
Cowick is shown a photo found in Tim's garage of a 26-inch Mongoose mountain bike.
"To be fair, you don't know that it's the same mongoose mountain bike is being referred to in this message," Jones said to Cowick, who agreed.
More messages from Mike Blaesing showed he was offering a blue Schwinn mountain bike on Facebook Marketplace. Cowick said police found a blue Schwinn mountain bike about a half-mile from Tim's home on Feb. 27. A photo of the bike Blaesing sold was shown. Cowick said the front fork of the bicycle had a scratch mark, the end of the kickstand was broken off, and there was no reflector on either wheel.
Jones then showed Cowick comparison photos of the bike Blaesing sold and the bike found a half-block from Tim's home. The scratch, the kickstand and the lack of reflectors were the same in both photos.
During testimony given Thursday, Blaesing said he sold a blue bike on Oct. 22, but he couldn't recall who he sold the bike to.
Jones showed photos of each bike showing they were approximately 98 centimeters in height.
Jones handed Cowick photos of websites visited on Tim's phone. He says no dates are attached to the websites. Cowick agrees Jones cannot say when that cell phone was used to go to those websites. Jones points out the phone was factory reset on Oct. 15, 2021, and he said the phone was password protected.
However, Schnack objected before the jury saw the photos.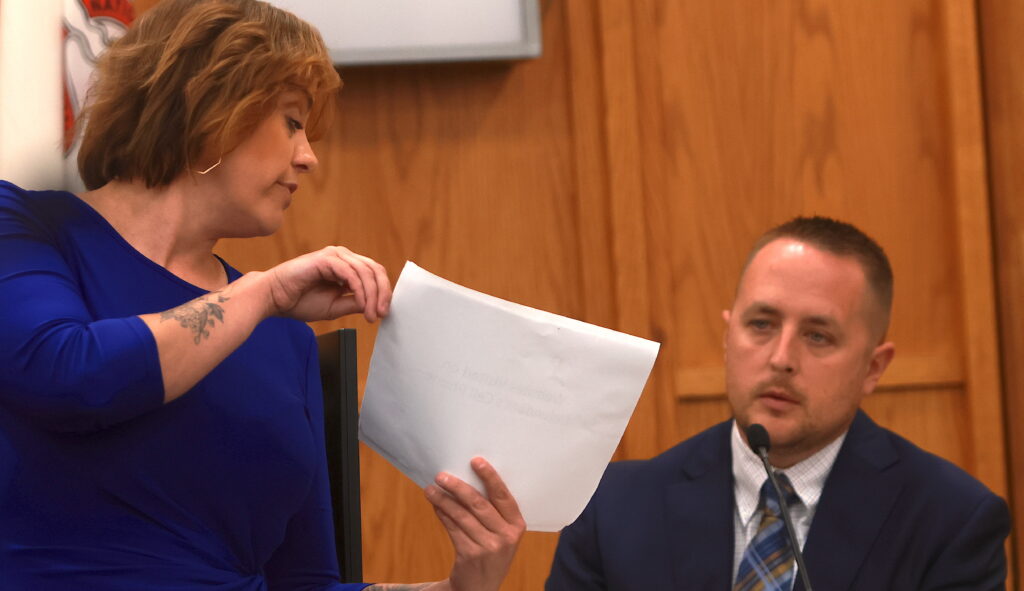 "There are no time or date stamps with respect to the searches being made," she said. "And if we do not know when these searches are made, we do not know if these searches are relevant, and if they are, what probative value that they have. Obviously, if these searches were made two years ago or five years ago or 10 years ago, that has a different effect. But if these searches were made in January or February 2023, it also has a different effect than if these searches were made in March 2023.
"In light of the fact that the people, with the exception of one of these searches, cannot tell us with any degree of certainty who made the searches or when they were made, the relevance of the searches cannot be determined. It only opens the door for speculation."
Adrian overruled Schnack's objection.
Jones then showed a page visited on Tim's phone, bevfitchett.us, to learn about PVC silencer tubes. A Google search was made for "Can you identify if a shotgun shell was shot out of a specific gun?" Other Google searches were for "how to open window from the outside" and "can I force my door open with a crowbar if I locked myself out."
Other pages viewed were homeemergency.wonderhowto.com for how to open almost any door with an easy lock-picking trick, and artoflockpicking.com for how to unlock a privacy lock.
The phone was used to visit support.whoop.com for "Whoop data activities, auto detection, automatic and manual activity detection" (Tim owned a Whoop fitness device and wore it on his wrist). Another visit was to Ohiocrimelaw.com for a story, "Gunshot residue not always a smoking gun." A Google search was done for "Can you just wash off gunpowder residue?"
A Quora search was done for "Can gunshot residue be washed off or wiped off?" A second Quora search was for "Are shotgun rounds traceable? If a shotgun can be matched, how is it done? If they can't be matched, why aren't they the choice guns of criminals?"
More searches are shown for:
how to open a door with a crowbar,
can I force open my door with a crowbar if I locked myself out,
how many cops are in Quincy,
how to make a homemade pistol silencer,
average Quincy Police Department response time
how to check if a gun is registered to me
can you just wash off gunpowder residue
does my whoop catch up when I'm not wearing it
does my whoop record while I'm not wearing it
does my whoop record the exact times I wear it
how to clean gunpowder off your hands
can you identify if a shotgun shell was shot out of a specific gun
During Cowick's cross-examination, Schnack said, "As far as the searches on the laptop are concerned, the only thing that shows is those searches were made from that particular device, correct? It does not mean that Tim was the one who did those searches. Correct?" Cowick agreed.
"That information does not show you or tell you who had possession of that laptop at the time those searches were made," Schnack asked. Cowick agreed again.
Schnack asked if searches can tell who had the phone when the searches were made, if the searches were made before or after Becky's murder, or if Cowick could tell the order the searches were made on the cellphone. Cowick said no to all three questions.
Schnack asks if Facebook Messenger shows "John Smith" actually bought the bicycles through Facebook Marketplace. Cowick says no. Asked about the bicycle found on 18th Street, Cowick said it was the first time he saw it.
The jury lost another elderly woman and is now down to two alternates. However, the jury makeup is still six men and six women.
Miss Clipping Out Stories to Save for Later?
Click the Purchase Story button below to order a print of this story. We will print it for you on matte photo paper to keep forever.