Farha calls city insurance issue a 'failure of leadership'; Troup says he has information to explain it all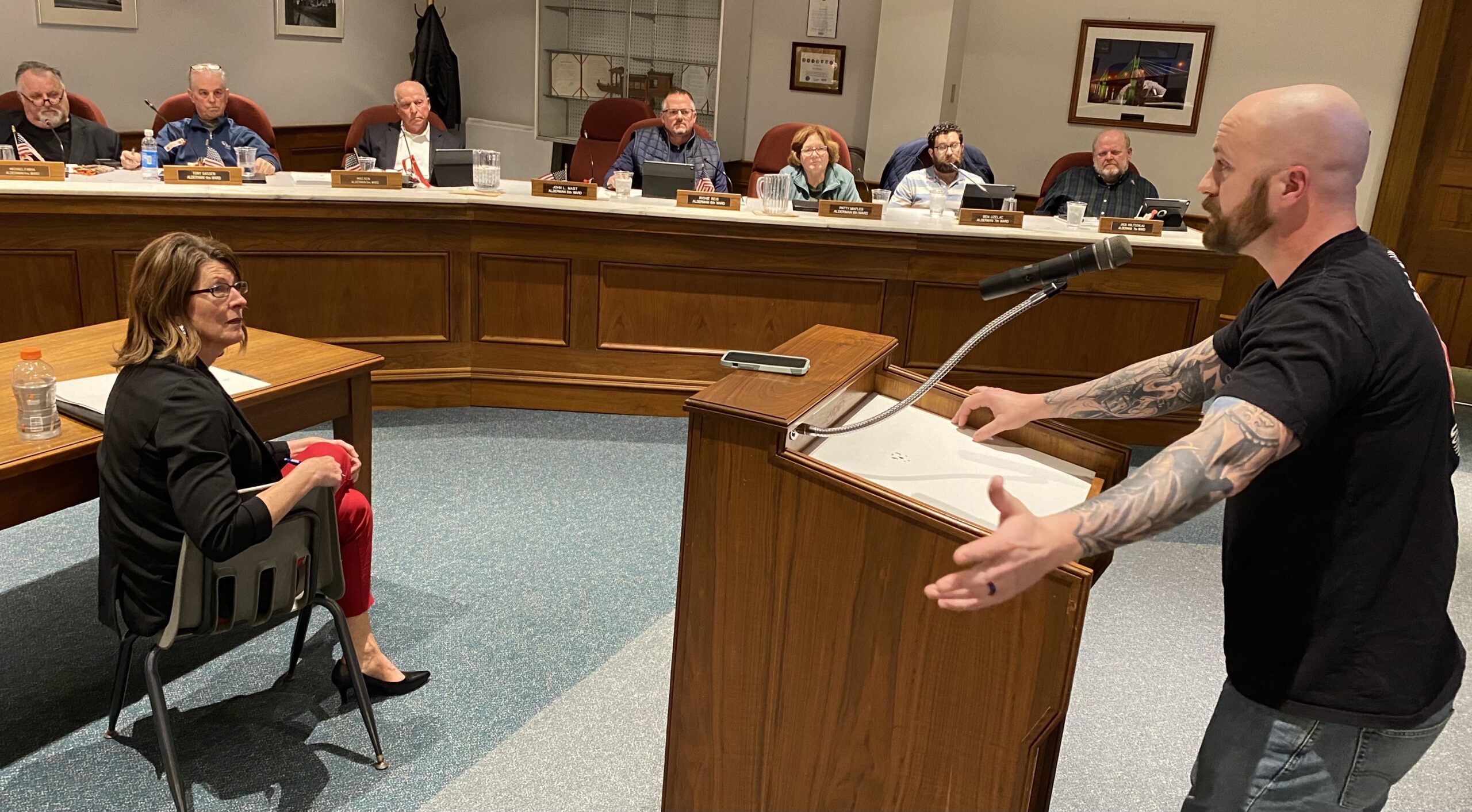 QUINCY — Alderman Mike Farha, chair of the city's Finance Committee, called the city's recent insurance issues with Blue Cross Blue Shield a "failure of leadership."
Robert Megee, an officer with the Quincy Police Department and president of the PB&PA Unit No. 12, the bargaining union that represents all city police officers, says he believes he knows where the problem lies.
Quincy Mayor Mike Troup says he believes he has information that would explain everything, but "I don't think it's appropriate to share in a public setting."
The city's Finance Committee met for about 45 minutes before Monday's meeting of the Quincy City Council. The agenda item drawing the most attention was the city's contract with Blue Cross Blue Shield.
Megee provided Muddy River News earlier this month several examples of problems police officers claimed they had with their insurance since Jan. 1. In each circumstance, they were told their primary insurance coverage does not exist.
"It's been an absolute nightmare," Megee said Jan. 10.
Megee says secondary coverage not available to employees' dependents
After the City Council meeting, Megee said it appears BCBS insurance now covers all officers.
"However, we're being told dependents don't have secondary coverage," he said. "It's hit or miss with certain individuals. Our big issue right now is billing and what's not being paid by Coalition (Health Analytics). It seems that we have people going back to Jan. 12, 2022, who have pending bills, at least at Quincy Medical Group. Those bills are supposed to be paid by Coalition. They've been processed by Blue Cross like Blue Cross always does. The hang-up seems to be with Coalition."
Troup said after Monday's City Council meeting that Quincy has two insurance companies — Blue Cross Blue Shield with the core plan and American Public Life with a stop-loss plan. Together, they have a $1,000 deductible health plan for the employees who can choose what medical provider they would like to go to.
"Every one of those medical providers has their own system for tracking charges for the patients, but those systems don't talk to one another," Troup said. "So they send whatever it is to Blue Cross. If Blue Cross made a mistake, and nobody else knows … OK, we found out there are some mistakes being made, and we would get with either one of the providers or whoever had the mistake and get it corrected.
"I've got to be careful, because healthcare is the largest single industry in Quincy. I really don't want to get into specifics about the insurance companies or any of the medical providers, but statistically, there's no way with all these players that the only one making mistakes is Coalition. There are too many other movable parts, and that's what we found out over the last six weeks."
Troup wants City Council to vote on health insurance renewal
Megee didn't sound convinced of Troup's theory.
"I don't think the problem lies with Blue Cross at all," he said. "I don't think the problem lies with Quincy Medical Group or Blessing Hospital. These are organizations that our insurance through the city has been through for years now, and there's never been these issues. If there's never been an issue with Blue Cross, there's never been an issue with Quincy Medical Group, there's never been an issue with Blessing Hospital, and then you throw Coalition in the mix, now we have problems. I think we figured out where the problem was."
Troup said aldermen typically don't vote on renewing the city's health insurance. However, Troup also said any contract that calls for an expenditure of $7,500 or more needs council approval.
"So when we got that bill last Wednesday or Thursday, I said, 'We need to get this on the agenda for either finance or personnel (committee),' and finance was scheduled for Monday," Troup said. "In years past, sometimes the mayor has just signed (the renewal). Sometimes even somebody in HR has signed it. When I asked Jeff (Mays, director of administrative services) what have to do, he said we need to get the City Council to approve it. So that's what we did."
Troup said it was assumed the renewal contract for 2023 already was in place when in fact it was not.
"No one is surprised with the rates or the charges," he said. "When I asked to get a copy of the agreement, we couldn't find one in our city files. So then we asked Blue Cross Blue Shield, and the account person says, 'Gee, we never sent it to you.'"
Farha refers to Bible when talking about insurance issue
However, the Finance Committee voted 3-2 to send the renewal of the BCBS contract to the full City Council with no recommendation.
"It's just been poorly communicated," Farha said. "I just don't know. If you want to, you can go ahead and rapidly approve it. I think it sends a bad message."
Near the end of the City Council meeting, Farha said, "Something touched me tonight. Ezekiel, the 33rd chapter (of the Bible) … I love watches. Of course, Ezekiel was the watchman on the watchtower. When leaders fail to be a watchman on a watchtower, the people perish, and the blood is on the watchman's hands. But when he tells the people and warns people, then the blood was on their hands. What we have at all levels of government is a failure of the watchman."
Asked after the meeting to clarify his comments, Farha said, "It's a failure of leadership. The council has just been a rubber stamp. So while we're rubber stamping, you can do the math. … For two years, we've been fixing various problems. We don't have any fixes or anything. We just bumble along."
Troup: '(Farha) doesn't have the information I have'
Asked about Farha's comments, Troup said, "He doesn't have the information I have. I feel bad because he was stating similar opinions to what some employees have expressed to HR or to me in meetings that factually I can show they don't have all the information.
"To me, part of the frustration is Mike hasn't called me to say, 'Hey, what's going on with this, this and this?' I haven't had any aldermen call me up and say, 'Hey, we want to sit down and talk about this? Can you explain it?' Nobody's taking the time to do that. I don't know what questions they have. Then I get to the meeting like anybody else, and they start saying things. I'm not going to argue with an alderman in a public meeting."
Finance Committee members wanted the city to ask for bids on the insurance contract that would be approved to begin Jan. 1, 2024. However, aldermen could vote against the Jan. 1, 2023 renewal with Blue Cross Blue Shield at the next City Council meeting. Troup hopes that doesn't happen.
"You talk about creating a mess," he said. "My God, do you want to go through another open enrollment right now? I think that would do a disservice."
"I think the only solution will come next fiscal year," Megee said. "It seems to me that we're stuck with (the insurance plan) for now."
Miss Clipping Out Stories to Save for Later?
Click the Purchase Story button below to order a print of this story. We will print it for you on matte photo paper to keep forever.