Father of three boys killed by McBride in 2020 crash says sentence is 'disgrace to the souls who were lost that night'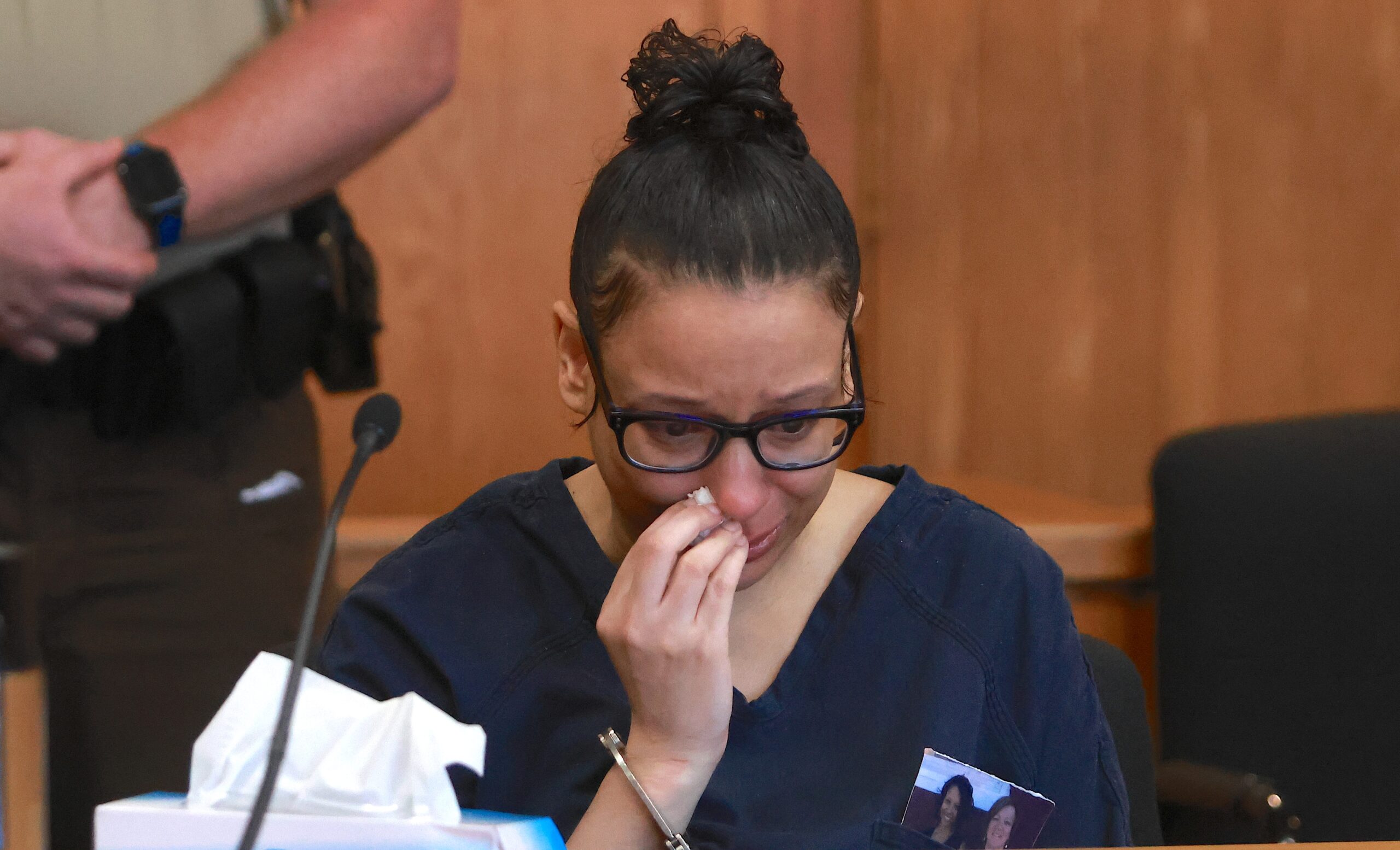 QUINCY — Molly Corrick calmly told the heartbreaking story of how she said goodbye to her children.
Her husband, Lucas Corrick, bitterly expressed his frustration. He couldn't understand why the person who killed his children in a car crash was receiving a much lighter sentence than originally expected.
Their victim impact statements on Thursday afternoon brought a packed courtroom to tears during the sentencing hearing for Natasha McBride held before Judge Tad Brenner in Adams County Circuit Court.
McBride, 39, of Quincy pled guilty to two counts of driving while license suspended as part of a plea agreement. She received two three-year sentences, to be served consecutively, in the Illinois Department of Corrections. She was driving a 2008 Chevrolet Impala at a high rate of speed on Aug. 14, 2020, and ignored a traffic light at Fourth and Broadway, crashing into another vehicle in the intersection.
She originally was charged with four counts of first-degree murder in connection with the deaths of Jenniffer Hendricks, 54, and her three grandchildren — Dakota Corrick, 6, Archer Corrick, 4, and Ransom Corrick, 21 months, all from Kirksville, Mo. McBride also was charged with four counts of leaving the scene of a personal injury accident, four counts of reckless homicide and four counts of driving while license revoked.
However, all those charges were dismissed when experts for the prosecution and the defense both determined McBride was not legally sane at the time of the crash. The only counts that were unaffected by McBride's sanity were the ones for driving while license suspended.
That news didn't set well with Lucas Corrick. After describing his children and mother-in-law in his statement, he said, "You, Miss McBride, have taken that all away from me and managed to somehow convince people you were mentally ill.
"The actions you've took on August 14 have turned our world into a living hell. Honestly, this sentence is a disgrace to the souls who were lost that night. … I don't know if you believe in God, Miss McBride, but I can assure you nothing on this earth holds a candle to the judgment you will get to face. Jenny and our boys know no pain. They're by God's side. But God has a special seat to burn in hell for you. I'd give anything to not be standing here talking (and) to be home with our sons. Thanks to you, I can't.
"I hope the judge hears these words and can keep another family from ever having to endure this hurt at your hands. You deserved to rot in a cell, not walk free."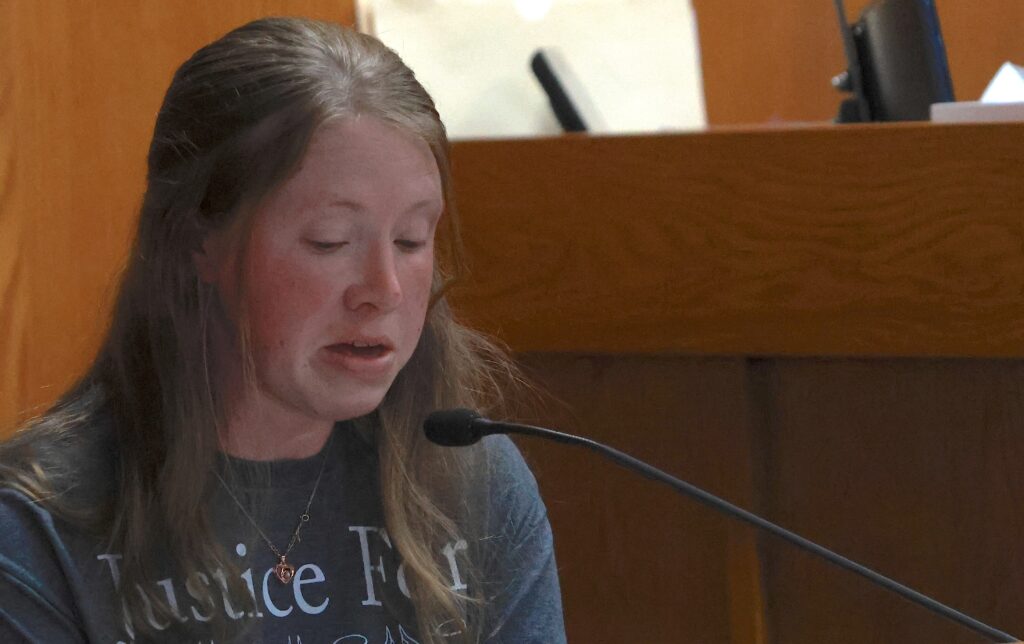 McBride already has served 1,092 days in the Adams County Jail — just shy of three years. She is eligible for day-for-day credit, but the decision about it will not be made in Quincy, according to Jones.
"That's got nothing to do with our office or the judge or anybody," he said. "That's the Department of Corrections' call."
McBride tearfully apologized during her statement of allocution, saying she never would purposely harm anyone. She said she suffers from severe mental health issues, causing her brain to function improperly. Now she is on medication and goes to therapy weekly.
"To the families of Archer, Ransom, Dakota and Jenny, I'm truly sorry for all the pain you have endured," she said. "I think about your family often, and I pray for you on every holiday. I realize nothing I can say will fill the emptiness of your hearts from the loss of your loved ones.
"My mother passed away by suicide after my arrest in 2020. The pain of losing her is indescribable. I mention this to say that I can't imagine feeling that type of pain four times in the same day as you did. Aug. 14, 2020, not only changed my life, but I know it changed yours as well. For that, I'll forever be apologetic. I'm truly sorry."
Molly Corrick said she was a stay-at-home mom to three boys, and she talked to her mother on the phone multiple times a day "for her friendship and guidance."
"(After the crash), I returned the following morning to an empty house with empty arms," she said. "My life's purpose and nearly all the people closest to me were gone. A nightmare had been perpetrated on my family."
She described identifying the body of Dakota while being cautioned not to touch him or kiss him goodbye because his body was a crime scene. She said she didn't get to see Archer because his body laid on the pavement several blocks away. Eventually, she rushed to St. Louis, but the doctors told her there was nothing they could do for Ransom. Instead, she said she held him and sang to him as he died in her arms.
"(McBride) took my mother and my motherhood, my best friend and my babies, my life as I knew it, and my family's future," Molly said.
Stephen Hendricks described how he married Jenniffer when he was 22 and she was only 15.
"A lot of people said our marriage would never last because she had married too young," he said. "What they didn't know was God had put together two people perfectly made for one another."
He said they led a simple, quiet country life in Rushville, complete with big gardens, a variety of animals and a wood-burning stove to keep the house warm. She learned to cook and how to can vegetables, and she also taught herself to knit and crochet. She made quilts for newborns for friends and family.
"She made herself a servant to the family she loved and never once complained," he said.
Stephen then said he would miss his grandchildren's games that never will be played, hunting trips that never will happen and fish that will never be caught.
"I will miss granddaughter-in-laws who I will never meet, and great-grandbabies who will never lay their sleepy heads on my chest while they take a nap," he said.
As the only person in his vehicle to survive the crash, Stephen said he deals with pain, stiffness and soreness daily.
"The physical pain is a small thing compared to the crushing loneliness that I endure every waking moment every day," he said.
Brenner concluded the hearing by saying perfect justice will never be had.
"This is a tragedy," he said. "Four lives have been taken from all of us — those who love these poor people, those who were friends with these poor people, and those of us who never had the privilege of knowing these poor people. That's a tragedy. The system is inadequate to address that situation, but it is the situation we have."
Jody Kolves, Jenniffer's sister, said after the hearing outside the Adams County Courthouse that a great injustice was done on Thursday.
"I was always taught life comes down to good choices and bad choices, and you answer for them," she said. "Natasha McBride made her choices to get in that vehicle to drive, to speed, to run that stoplight, to hit those people and kill them. So what's she going to do? She's not answering for any of those bad choices. I hope the rest of her life, every time she closes her eyes, she sees Jenny and those three babies' faces."
Asked about the determination by two legal experts that McBride was not legally sane at the time of the crash, Kolves said, "What that tells me is you can commit any crime in this state, plead 'I'm insane' and you can get away with anything. Every time she was in court, she was fine. She knew what she was doing. She made those choices. We all make choices. We all have to answer for our bad choices. So why doesn't she? That's Illinois. I think it's totally unfair."
Miss Clipping Out Stories to Save for Later?
Click the Purchase Story button below to order a print of this story. We will print it for you on matte photo paper to keep forever.