Firearm charge dropped in plea, but Quincy man could get up to five years in prison for threatening public official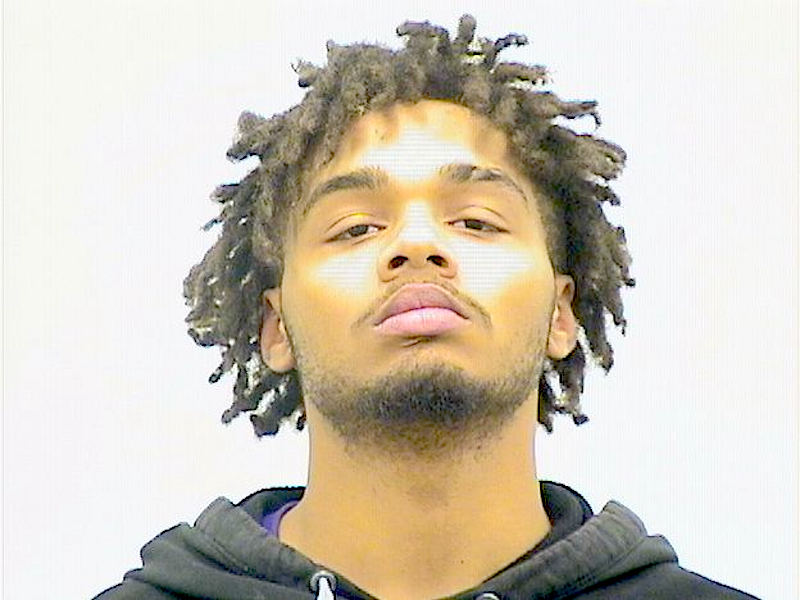 QUINCY — A Quincy man faces up to five years in prison when he gets sentenced on May 5 after agreeing to plead guilty for threatening a public official.
As part of a straight plea, Chaeto Nichols, 18, had one count of aggravated discharge of a firearm, a Class 1 felony, and a misdemeanor charge of obstructing a peace officer dropped. The charge of threatening a public official, a Class 3 felony, has a sentencing range of 2 to 5 years in the Illinois Department of Corrections. Nichols also is eligible for probation.
Nichols appeared with Public Defender Christopher Pratt on Tuesday morning in Adams County Circuit Court before Judge Tad Brenner. He was released from the Adams County Jail after his $3,000 bond was reinstated for the charge of threatening a public official. He posted 10 percent of his bond on Oct. 31.
Nichols' bond was set at $500,000 when charged with aggravated discharge of a firearm on Nov. 2, then increased to $1 million on Nov. 3.
"Mr. Nichols, let me warn you that you still have a sentencing hearing coming up," Brenner said. "You could be sentenced to up to five years in the Department of Corrections. How you behave while you're on bond is a factor that the court can consider.
"If you were to commit another crime — and I'm not saying that you would, and I certainly pray that you would not — it could be subject to consecutive sentencing, meaning you would have to serve all your time on this case before your time on a potential new case would start. So do you think you can behave yourself?"
Nichols said, "Yes, sir."
Nichols was charged with threatening a public official in an Oct. 29 incident. He posted $300 and released Oct. 31.
An Adams County grand jury indicted Nichols on Nov. 17, determining that he told Det. Kristopher Billingsley of the Quincy Police Department to wait until the handcuffs were off of him and that he would "beat the f**k out of (Billingsley)." The grand jury also determined he said to Billingsley, "Bet y'all won't take the cuffs off, take out a gun and beat the f**k out of you, nigga," and that Nichols interfered with his own arrest and refused to follow commands from Billingsley.
Officers with the Quincy Police Department responded to Sixth and Chestnut on Nov. 1 for a reported shooting. Initial witness information showed people in two vehicles were exchanging gunfire — one person was shooting through the sunroof of one vehicle — while traveling north on Sixth Street from Chestnut. Investigators estimated more than 30 rounds were fired during the incident from at least two handguns.
Nichols was arrested Nov. 2 near Ninth and Lind. An Adams County grand jury indicted Nichols on Nov. 17, determining that he knowingly discharged a firearm at a vehicle, knowing the vehicle to be occupied.
When asking for the $3,000 bond to be reinstated, Pratt said, "This is Mr. Nichols' first felony. There is no inherent violence in this case. … He already has served four months in the Adams County Jail against any potential sentence. Releasing him on bond … gives Mr. Nichols an opportunity to make everyone's job much easier when we come back in May for sentencing, if he can do what he needs to do and stay out of trouble."
Cayden Smith of Quincy, also believed to be connected to the Sixth and Chestnut shooting incident, pled not guilty in November. Drew Schnack, Smith's attorney, filed a motion of affirmative defense, in which the defendant introduces evidence which, if found to be credible, will negate criminal liability, even if it is proven that the defendant committed the alleged acts.
"At least right now, all the police reports that we have indicate the only thing Cayden was doing was driving a car trying to get away from people who were shooting at him," Schnack said after Smith's arraignment on Nov. 23. "The last time I looked, that wasn't a crime. That was just smart."
A status hearing in that case is set for May 23.
Miss Clipping Out Stories to Save for Later?
Click the Purchase Story button below to order a print of this story. We will print it for you on matte photo paper to keep forever.