Forensic pathologist says despite 14 gunshot wounds, Becky Bliefnick was alive 'for at least several minutes'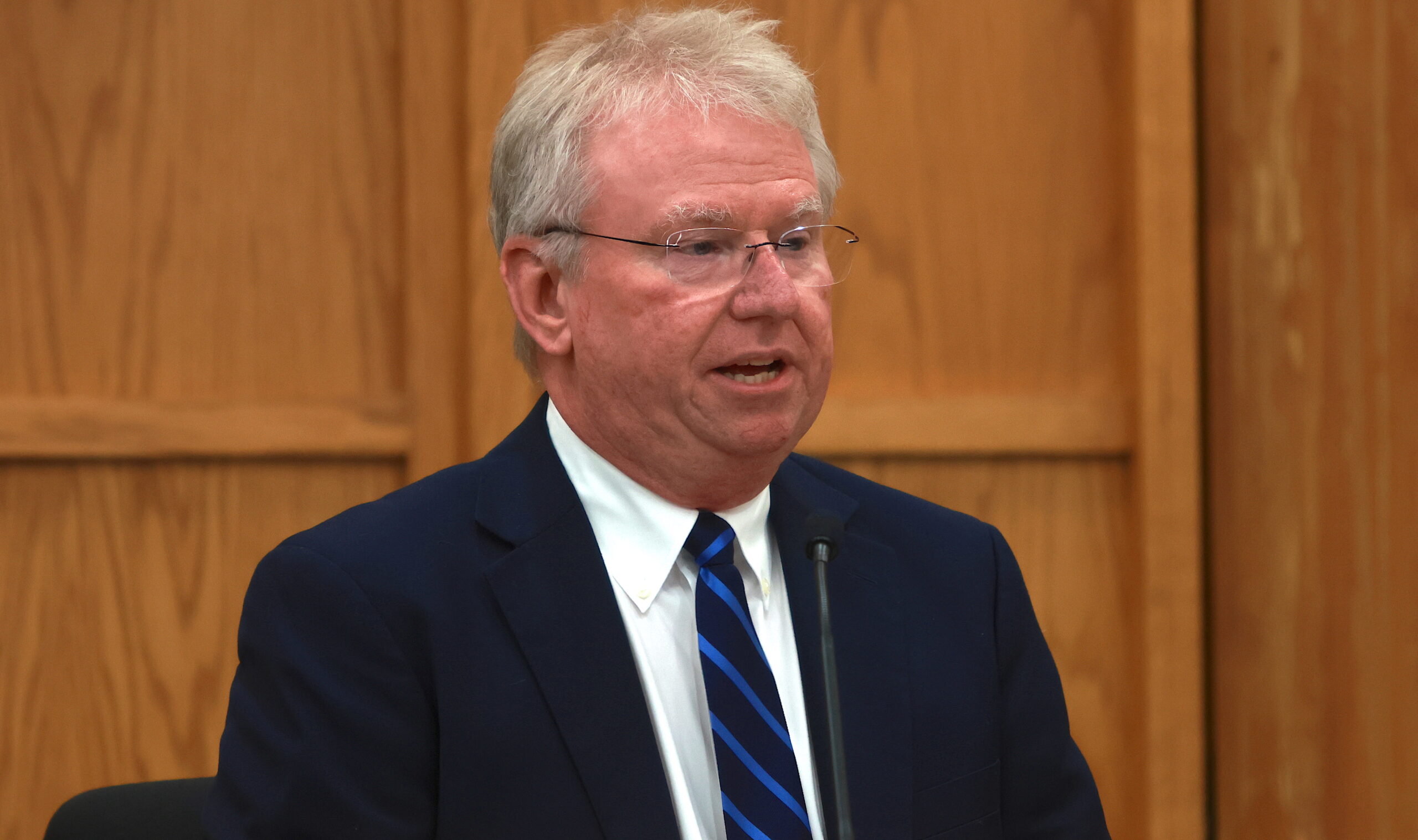 QUINCY —Becky Bliefnick was shot 14 times in the bathroom of her home on Feb. 23 but was still alive for several minutes as she bled to death, according to testimony given Friday morning during the Tim Bliefnick trial in Adams County Circuit Court.
Tim Bliefnick is accused of shooting Becky Bliefnick multiple times at her Kentucky Road home on Feb. 23. Tim was arrested on March 13 and later charged with two counts of first-degree murder and one count of home invasion. He remains in the Adams County Jail without bond.
Dr. Scott Denton, a forensic pathologist with 27 years of experience from McLean County, told the six-man, six-woman jury Becky suffered 14 wounds in the shooting. Nine were to her chest, three to her right arm and two to her left hand. Denton said one bullet hit her spinal cord, paralyzing her. She had difficulty breathing because one bullet went through her lung.
However, Denton said none of the wounds were immediately fatal.
"The gunshot wounds created defects and bleeding inside her body," he said. "The mechanism or process of her dying was internal bleeding. One (bullet) that was highest up on her chest and beneath the breast went through her right lung. That was the most serious, the most, I would say, quickly fatal.
"The rest of them are all serious because they're fatal and they're going through her intestines and her spine. But the one (bullet) through her right lung would cause shortness of breath, and then the rest of them would cause bleeding also."
"How long would it take her to bleed to death?" Assistant State's Attorney Josh Jones asked.
"None of the bullets struck her heart, she did not have any gunshot wounds to the head," Denton said. "So conservatively and fairly, she would have been alive with these gunshot wounds for at least several minutes."
"She would not have been able to move because her spinal cord was hit," Jones said. "It would be more difficult for her to breathe because one of the bullets hit a lung. Would it have been painful?"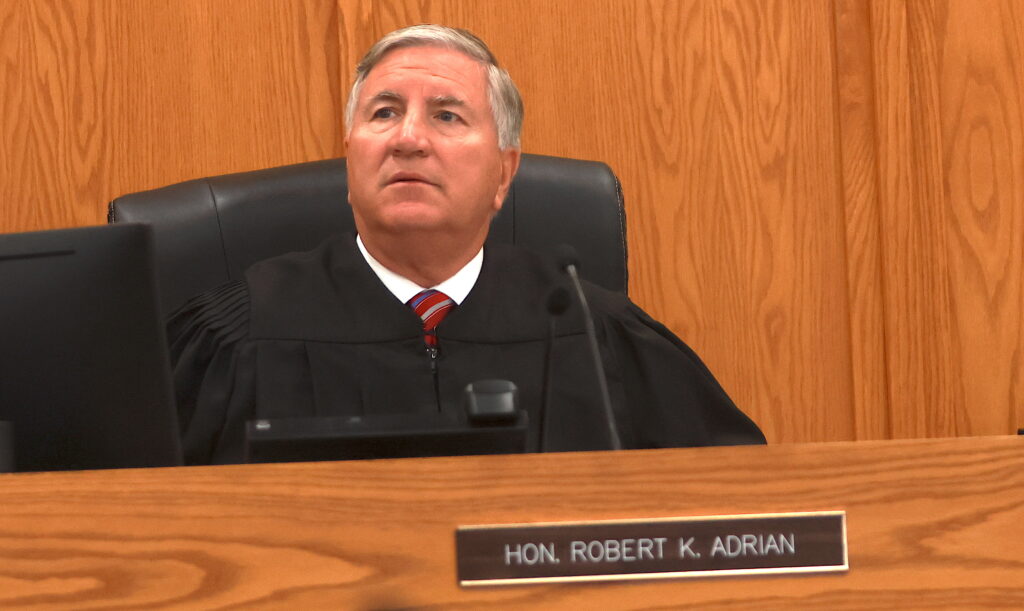 Defense attorney Casey Schnack objected, but Judge Robert Adrian overruled her objection, so Jones asked again.
"In my opinion as a medical doctor, yes, her gunshot wounds would have been painful," Denton replied.
Jones then showed the jury a photo showing trajectory rods in Becky's body, explaining where the bullet wounds entered and exited her body. The rest of the courtroom could not see the photo.
A photo shown to the jury and the people in the courtroom showed how the coroner received Becky's body. Paper trace evidence bags were on both hands to collect evidence that fell off her fingers. Denton explained the surgical compression pants Becky was wearing after her surgery three days before her death. He said the pants have a designed hole in the middle, allowing someone who is wearing them to urinate. The pants had zippers on the sides.
Another photo showed three foam compression pads on Becky's stomach that added support to the skin and the body while keeping blood inside her body. Also shown are two bullet wounds. Another photo showed an ice pack over her genitals and steristrips where she recently had surgery on her stomach. Two other photos showed Becky's underwear.
A photo of Becky's left hand showed exit and entry gunshot wounds that Denton called "defensive wounds."
"Defensive wounds are basically a term for warding off wounds or blocking wounds, like when a boxer holds up their arms to defend their head from punches," Denton explained. "A person will lift up their hands or arms, or their legs if they have an injury to lower body, trying to prevent blows for injury occurring to their body."
Denton explained why he used a sexual assault kit on Becky's body. He said he found no semen or other fluids in his examination of her body. He said he didn't find evidence of a sexual assault during his autopsy.
"Why would you perform a sexual assault kit?" Jones asked.
"Just in case someone wants to know if there was (an assault) or not, so we can say either way," Denton replied. "You can't go back. You get one chance to do it, so you just do it. If you do it and no one has a question, it's done. It's over."
Jones showed Denton a photo of the nine gunshot wounds to Becky's torso, then showed the photo to the jury (but not the audience). Denton then explained each of the bullet wounds.
Schnack's only question for Denton was if he could tell the order the shots were fired. He said no.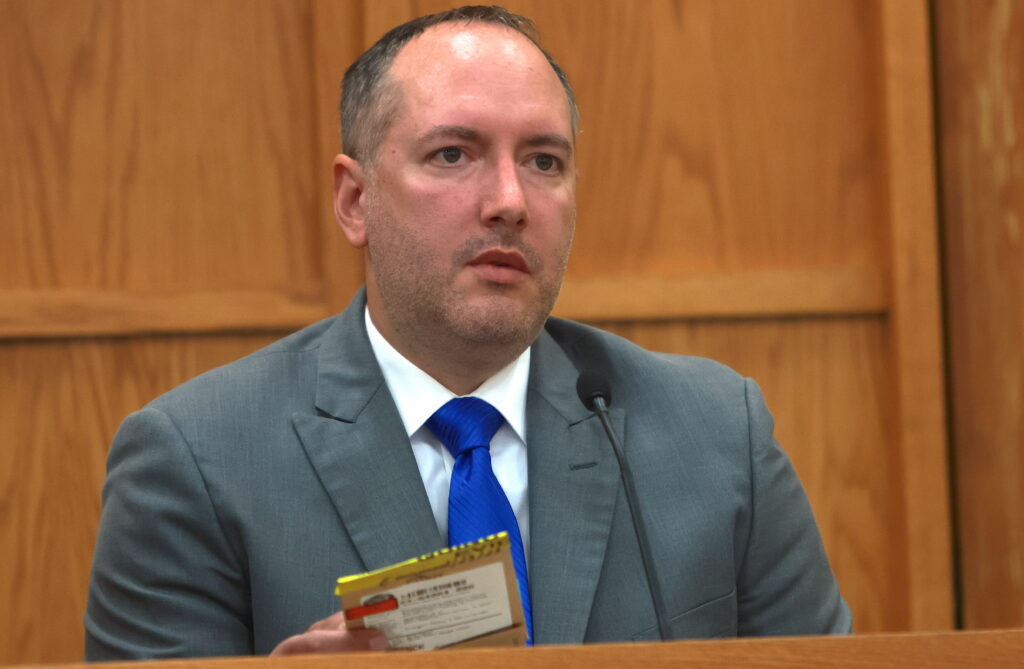 Trent Karhliker testimony
Trent Karhliker, a forensic scientist from the Illinois State Police Crime Lab, explained friction ridged skin found on hands and the soles of feet. Friction ridged skin only has sweat glands. It does not have oil glands or hair follicles. In forensics, they serve as a method of individual identification.
"Does everyone have a different fingerprint?" Jones asked.
"No two prints have ever been found to be the same," Karhliker said. "Fingerprints differ from finger to finger on a person. Even identical twins have different fingerprints."
Karhliker also explained latent fingerprints.
"A latent print is an unintentional impression that was left behind on a surface when friction or a skin come in contact with that item," he said. "Often they're unseen by the naked eye. They can be composed of anything that can coat the surface of the skin, so it can be sweat, oil, blood, or dirt, just to name a few."
Karhliker said he found no latent handprints from a gun at Tim's house or from a window at Becky's house. Schnack asked Karhliker if he found any suitable fingerprints from Tim during his investigation. He said no.
Lauryn Vunetich testimony
Lauryn Vunetich works at a forensic science laboratory in Springfield with the Illinois State Police Crime Lab, specializing in firearm examination. She explained the NIBIN (National Integrated Ballistic Information Network), a U.S. computer network containing digital images of recovered pieces of ballistic evidence, to the jury.
Jones asked Vunetich about fired shell casings and why they are so important to an investigation.
"The reason fired shell casings are so important is there are marks present on that fired shell casing from being fired by a firearm that we can use to determine how many guns or how many firearms were used on a case," she replied.
"Is it fair to say every firearm leaves different marks on the shell casings that it fires?" Jones asked.
"Yes, that is true," Vunetich replied.
"Just like every person has different fingerprints, every firearm will leave different evidence on every shell casings you fire," Jones said. "Every shell casing that's fired from the same gun would have those same marks, and no two guns will leave the same marks on a shell casing. Based on the shell casings, you can tell that they were fired by the same gun."
Vunetich agreed with every statement Jones made.
Shell casings found in Becky's home and in Tim's home were entered into the NIBIN database. Vunetich said no correlation was made from either of those casings to any other unsolved crime.
Miss Clipping Out Stories to Save for Later?
Click the Purchase Story button below to order a print of this story. We will print it for you on matte photo paper to keep forever.