Former Army Reserve Training Center demolished; property owner planning construction of strip mall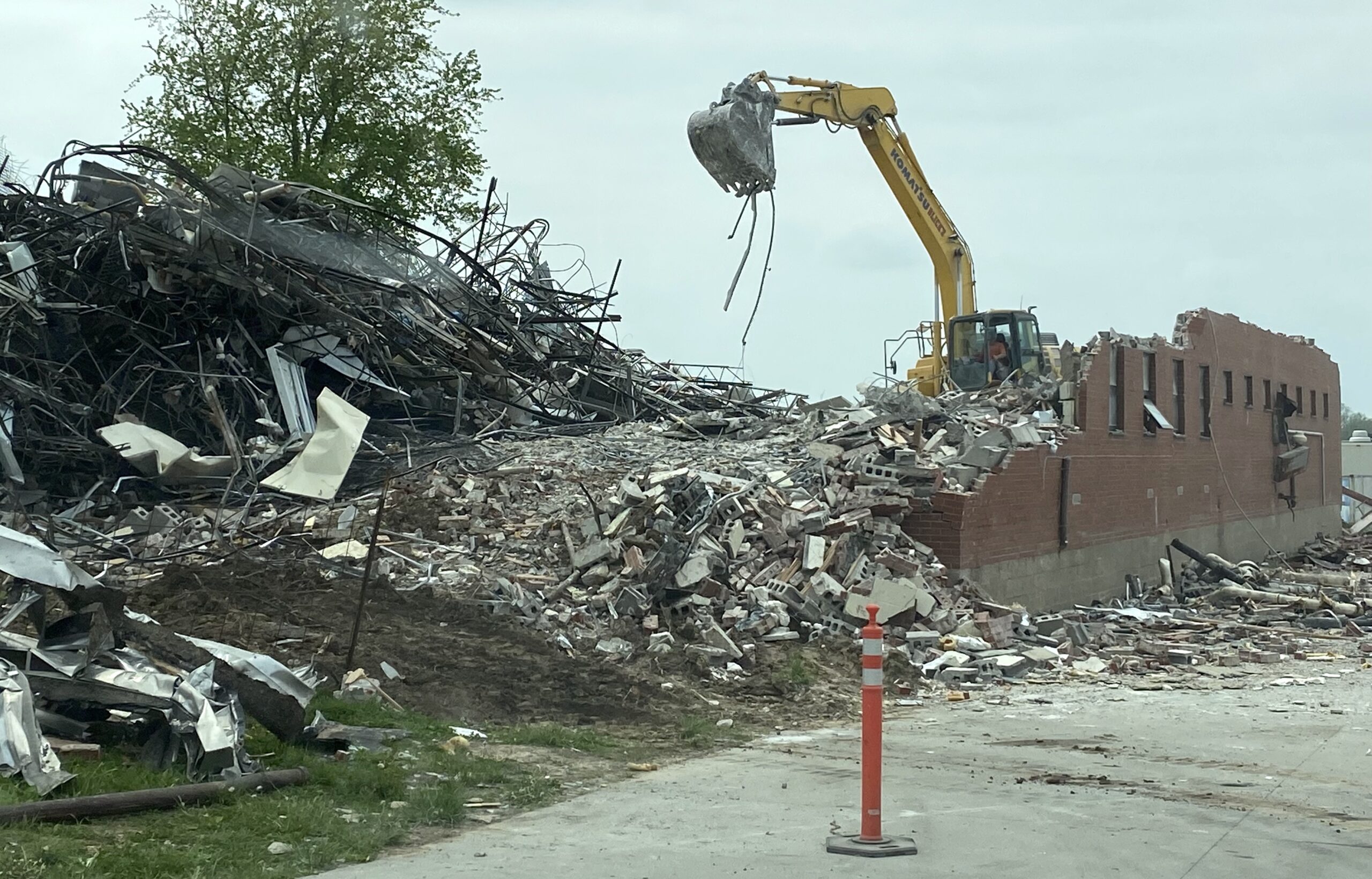 QUINCY — Call it the "Target Effect."
Demolition of the former Lincoln-Douglas U.S. Army Reserve Training Center at 601 N. 36th started last week. EJB Real Estate LLC owns the property. Owner Eric Booth hopes to turn it into a multi-tenant commercial building — more commonly known as a strip mall.
The news that the Target Real Estate Corporation has acquired the rights to develop the Quincy property that formerly housed Kmart at 36th and Broadway was one of the city's worst-kept secrets this winter. A memorandum of lease signed April 28 was filed Monday in the Adams County Recorder's office. It shows the Target Corporation, based in Minneapolis, will lease the property from Quincy Development Partners LLC.
The Reserve Center was on the west side of 36th Street, across from Kmart.
Booth: 'This is too prime real estate to let it just sit'
Booth also owns Outdoor Power, 609 N. 36th, in the same five-acre lot. When demolition is complete, he believes he will have room for 50,000 square feet of building space.
"With Target going in, this is too prime real estate to let it just sit with a building that's past its lifespan," Booth said. "The immediate future (plans are) just to clean up the site. I'll probably just put a 'build to suit' sign out saying that we're looking for tenants. I'd like to get an anchor tenant, or some tenants signed on before you go order a building."
Booth says demolishing the building and cleaning the site will take about a month. He believes that will help spur the number of people inquiring about the site.
"I've had people (show interest) throughout the last couple of years, but it's too early in the game," he said. "Part of the reason I'm tearing down the building is most people can't see past that big, massive building to realize how big this site is. People couldn't grasp where everything would fit and where everything would go.
"Once it's cleaned up and the sign is out there, I think it will be a little more clear."
Post 37 sold property for $1 to federal government in 1950s
The Reserve Center, a 15,589-square-foot building, had an assembly hall, offices, classrooms, gymnasium, lounge, showers and storage area. The lot also had an operations maintenance building with 3,710 square feet of floor space and a parking area of more than 6,000 square feet. It had been vacant for years.
American Legion Post 37 sold the property for $1 to the federal government in the 1950s. The center was built in 1958 for $279,850. The Army announced to the 100 Army Reserve soldiers of the 84th Training Battalion in 1994 that the facility would close in October 1995, but it was made available to other military units.
Post 37 hoped to move there from its current building at 116 N. Eighth. U.S. Rep. Darin LaHood introduced legislation to allow Post 37 to obtain an acre of the land on 36th Street, but it did not get out of committee to receive a vote by the full U.S. House.
Booth bought the building in July 2018 with a bid of $602,000 on the General Services Administration's auction site.
The Quincy City Council rezoned the property to commercial from planned commercial in February 2019.
Booth doesn't have a preference for the types of businesses that could build on his property.
"See what people offer, see what calls come in and go from there," Booth said. "I'd like to see a good mix of complementary businesses, but you don't know who's going to call. You don't know if some businesses follow Target nationally, and you don't know some local businesses may want to relocate closer to a higher traffic area.
"You kind of don't know until you see what people are wanting. Then you go from there."
Miss Clipping Out Stories to Save for Later?
Click the Purchase Story button below to order a print of this story. We will print it for you on matte photo paper to keep forever.