Former Golden Corral restaurant to be converted into plasma collection center by first quarter of 2024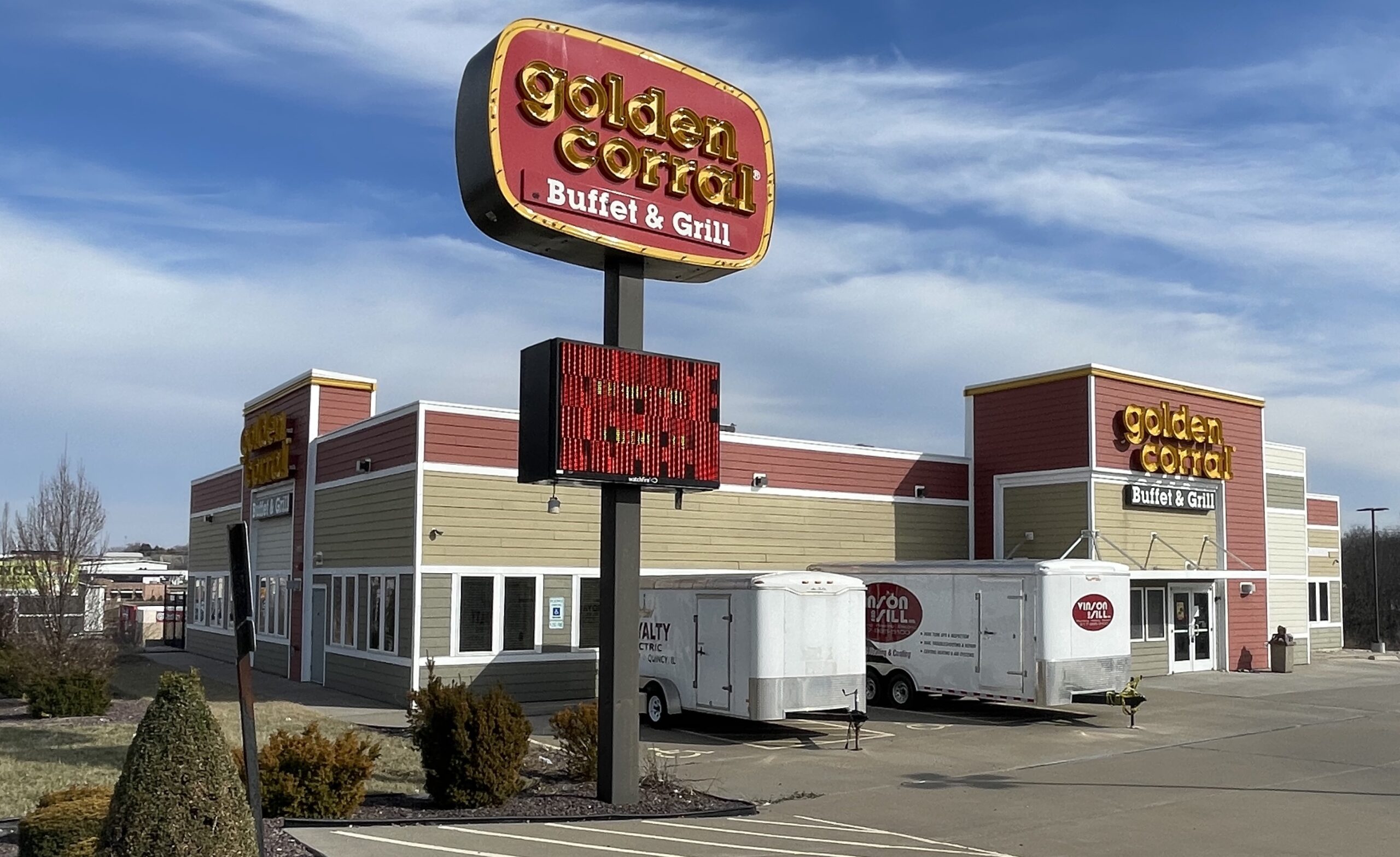 QUINCY — The former Golden Corral restaurant is going to be converted into one of the fastest growing independent plasma collection operators in the nation.
ImmunoTek, which has 30 plasma collection centers throughout the central and eastern United States, is renovating the former restaurant at 3908 Broadway.
A Stamford, Conn., corporation named 3908 Broadway Street LLC, managed by Doug Sanders and Jarret Cohen of New York, bought the two-acre lot for $1.275 million on March 17, according to property tax documents filed in the Adams County Recorder's Office.
Sandy Santo, ImmunoTek's director of marketing, expects the center to be open by the first quarter of 2024. She said the facility will have plasmapheresis machines, which are used to separate the plasma (the liquid part of the blood) from the blood cells. After the plasma is separated from the blood cells, the blood cells are mixed with a liquid to replace the plasma and are returned to the body.
"Once we collect the plasma, it's frozen and transported out to pharmaceutical organizations that will make it into plasma-based therapies," Santo said.
Anyone between the ages of 18 and 65 can be a donor. ImmunoTek will complete a physical exam and health history screening to make sure a person is healthy.
The nearest ImmunoTek locations are in Belleville, Ill., and Jefferson City, Mo. Santo said the number of employees at the Quincy site will depend on the square footage of the facility, but she expects that number to be between 10 and 20.
"We feel that Quincy is a great community, a community in need of some economic impact we can bring to the town," Santo said. "We know our donors love to help other people, and we feel like the Quincy community is going to be as giving as all the other communities that we've been involved in. We're excited about being in Quincy."
ImmunoTek pays people who donate plasma. People can donate twice per week. Santo said the fee is set depending upon the condition of the local market and will be determined closer to the center's opening.
"Donating plasma is an infusion of money into the community that is spent at local businesses," Santo said. "Donors have a way to earn instant income and support new hobbies or help make ends meet if they're in between jobs. They can also know they're helping create therapies that treat patients all over the globe."
She said shock and burn patients, people with bleeding disorders, transplant patients and people with autoimmune disorders like primary immunodeficiency all use plasma.
"We don't collect enough plasma to fill the need," Santo said. "Hopefully the community can see this and be a part of helping patients."
Plasma is the liquid portion of blood. The American Red Cross says about 55 percent of our blood is plasma, and the remaining 45 percent are red blood cells, white blood cells and platelets that are suspended in the plasma. The U.S. provides two-thirds of the world's plasma. To treat just one patient annually requires between 130 and 1,200 plasma donations from donors.
Plasma is a pale yellow liquid that is about 92 percent water. It also contains seven percent proteins such as albumin, gamma globulin and anti-hemophilic factor that help control bleeding and infections, and they can't be artificially produced. The remaining one percent comprises mineral salts, sugars, fats, hormones and vitamins.
The American Red Cross says plasma serves four important functions in the human body:
Helps maintain blood pressure and volume.
Supplies critical proteins for blood clotting and immunity.
Carries electrolytes such as sodium and potassium to our muscles.
Helps maintain a proper pH balance in the body, which supports cell function.
ImmunoTek Bio Centers LLC, which launched in 2013, is the parent company of ImmunoTek and Freedom Plasma.
3908 Broadway Street LLC bought the property from Community State Bank of Galva, which foreclosed on the property in August 2021. The Golden Corral previously was owned by CNZ Enterprises of Quincy, LLC, and William Niemet of Fulton, Mo., was the agent.
Niemet was arrested in February 2020 and charged with one count of first-degree murder in connection with the 1991 shooting death of Greg Jones. A jury trial in a Cole County courtroom in Jefferson City, Mo., is scheduled to begin July 17 in front of Judge Dan Green.
Police said new technology led to the arrest of Niemet. Prosecutors say Niemet, 15 at the time, shot and killed Jones, a 14-year-old classmate. The Jefferson City News Tribune reported authorities found Jones' decomposed body on June 8, 1991, near a branch of the Moreau River near Russellville. That ended a search which began after Jones' parents called authorities when their son was two hours late for supper on April 24, 1991. An autopsy found Jones was shot twice in the head.
Miss Clipping Out Stories to Save for Later?
Click the Purchase Story button below to order a print of this story. We will print it for you on matte photo paper to keep forever.