Former nightclub owner enters Alford plea in battery case, gets $250 fine, 12-month conditional discharge
QUINCY — The former owner of a Quincy nightclub accused of assaulting a Quincy University student in April 2021 entered an Alford plea on Tuesday morning to an amended charge of battery.
Steven W. Homan, 49, appeared with his attorney, Benedict Song, before Judge Mark Vincent in Adams County Circuit Court. A trial expected to last four days was scheduled to begin Tuesday morning, but a plea was reached last Thursday.
Homan agreed to enter the Alford plea to an amended charge of battery, a Class A misdemeanor, in exchange for the dismissal of a charge of aggravated battery in a public place, a Class 3 felony. Homan was eligible to receive up to 364 days in the Adams County Jail and be fined up to $2,500.
He instead agreed to a 12-month conditional discharge and a $250 fine. He also must not violate any criminal law of any jurisdiction before the case's discharge date of Feb. 13, 2024.
Homan also must pay restitution to the victim, Jazzpher Evans, up to $1,000 for travel costs. Evans, a former Quincy University student from Shorewood, Ill., now attends the University of Alaska-Anchorage, where she is the third-leading scorer on the women's basketball team.
By entering the Alford plea, Homan maintains his innocence but agreed the state had enough evidence to prove him guilty.
Assistant State's Attorney Josh Jones said he understood the difficulties in the case as soon as the case was charged.
"It's very important for people to remember that it's not that he has to prove that he was acting in defense of his property," Jones said after the plea hearing. "We have to disprove it. It's not who you believe more. It's not preponderance of the evidence. It's not that we believe this person, and we don't believe him. It has to be disproven beyond a reasonable doubt."
Homan and Song both declined to comment after the plea hearing. Chicago-area attorney Keenan J. Saulter, who represented Evans, also declined to comment.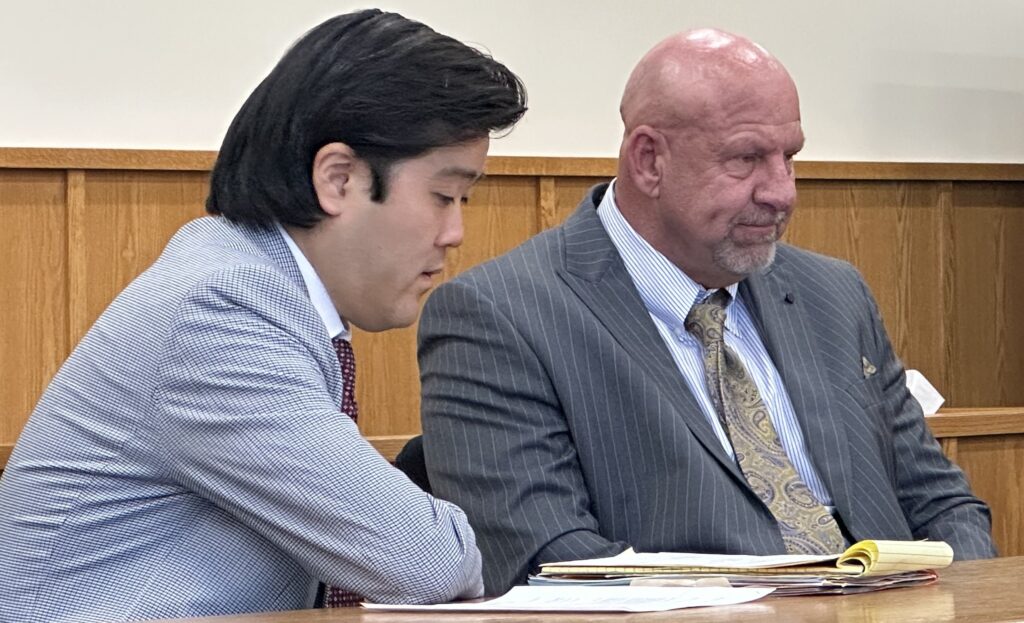 Evans was not in court Tuesday. Jones told Vincent he had contacted Saulter about the details of the plea and to offer her an opportunity to provide a victim impact statement in writing. However, she declined.
Homan was charged April 14, 2021, after a Quincy Police Department investigation of an April 4 incident at the Barn nightclub, 711 S. Front. Evans alleged she was attacked by Homan.
A statement from Saulter's law firm in April 2021 alleged Evans and another female QU student stood next to a DJ booth, requesting for a change in music, when Homan approached Evans and "violently pushed" her against a wall.
"Homan then grabbed Jazz and threw her to the ground," the statement from Saulter alleges. "Homan then placed Jazz in a full choke hold and strangled her until she lost consciousness. After rendering her unconscious, Homan then dragged her lifeless body out of his establishment and slammed her to the ground, not knowing or caring if she was dead or alive."
Homan turned himself into police on April 15, 2021. His bail was set at $25,000. He was released and has since been free on bond after posting $2,500. An Adams County grand jury indicted him on April 29, 2021.
Homan pleaded not guilty to one count of aggravated battery when he made his first appearance in Adams County Circuit Court in May 2021.
The original charging document filed in Adams County Circuit Court alleged Homan "knowingly made physical contact of an insulting or provoking nature" with Evans. It also alleges Homan placed his arm around Evans' neck and "drug her for 20 seconds."
The amended document, filed Tuesday, said Homan had committed battery because he had made physical contact "of an insulting or provoking nature" with Evans by placing his arm around her neck.
Jones said that during his initial conversations with Evans and Saulter he believed the case would likely be viewed as a misdemeanor. If the case were to proceed to trial, he said he would "definitely entertain" conversations about having Homan plead guilty to a misdemeanor.
"When the case was set for trial last summer, we did not make an offer, but the defense came to us and asked if we would be willing to do a misdemeanor and have him plead guilty to a disorderly conduct," Jones said. "We were not willing to do that. We did not think that was appropriate. We said we would only do a plea to a misdemeanor battery.
"While we were preparing for trial last week, the defense approached us again and asked us if we would still consider letting him plead guilty to a misdemeanor battery."
Jones said Evans' family wanted a conviction of a felony offense. He also said he spoke with multiple witnesses who had different versions of what happened.
"Some of them certainly supported Miss Evans' case, but the vast majority of them stated something different," Jones said.
"Our point of view on this case was as opposed to getting nothing, having (Homan) walk away, being acquitted or a hung jury, having him plead guilty to a misdemeanor was certainly better. In our experience and based on the facts of the case, it was a 95 percent certainty it was going to be either be a hung jury or an acquittal."
Miss Clipping Out Stories to Save for Later?
Click the Purchase Story button below to order a print of this story. We will print it for you on matte photo paper to keep forever.