Four Park Board commissioners show support for keeping marina open through 2025; vote could come in October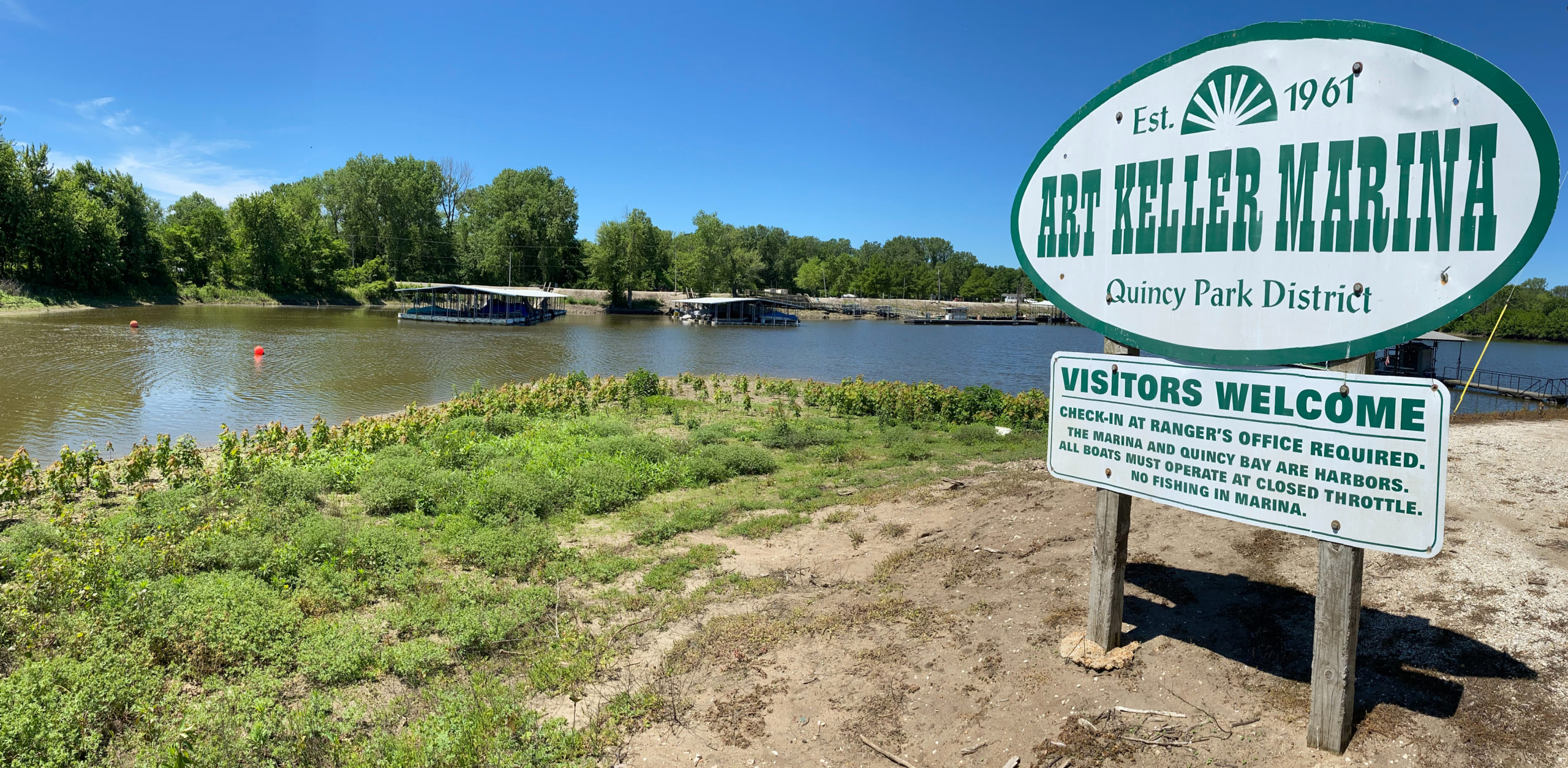 QUINCY — John Frankenhoff put his cards on the table, then challenged other Quincy Park Board commissioners to do the same.
Some showed their hand. Others chose to keep their cards close to their chest.
The future of Art Keller Marina, which has lost money in each of the past three years and is on track to lose money again this year, was debated near the end of Wednesday's Park Board meeting. Board president John Frankenhoff told local media outlets after the board's Aug. 1 planning session that keeping the marina open after 2023 wasn't likely "unless something drastic happens."
However, after multiple productive meetings with members of the boating community during August, Frankenhoff said Wednesday he was willing to pledge to keep the marina open through 2025.
"There's nothing here on the agenda to officially extend our commitment to keep the marina open," he said. "I myself am very much in favor and think it's the best decision to keep the marina open through the year 2025. I don't know if anybody else is willing to, on the record, say at this point where you stand."
Jeff VanCamp was the first commissioner to speak up. He attended an Aug. 10 meeting with Park District officials, Frankenhoff and 10 local boaters to discuss long-term and short-term goals for keeping the marina open.
"We have a group of folks who are willing to financially back up what they're saying and willing to use volunteer efforts, not just at the marina but in other ways, to increase the number of boaters," VanCamp said.
"If we say the ultimate goal is to reverse the slide (of declining boat slip rentals), we should at least give it a couple more years. Let that plan marinate in general … and give these folks a chance to sell the marina on its merits. I'm not in favor of just sort of giving a blank check carte blanche saying, 'Everything's good. Let's just keep the marina open. We need to have a time limit on it. That end of the 2025 season makes an awful lot of sense, because it's long enough to see if the efforts that we're doing are working."
Roger Leenerts offered his support — with a caveat.
"There's two things that I'm looking for, and one you're already in the process of doing," Leenerts said. "I'm looking for something that the boaters can contribute to members of the community who aren't boaters, or maybe they're interested. And I'd like to see a list of people who are committed to renting next year so I know that the list isn't going to drop even lower than it has been."
Park District officials said they would send an email to boat slip renters, asking them if they plan to rent a slip next year while also informing them about repair work on the Quinsippi Island bridge on Sept. 19-20.
Jeff Steinkamp said voting on a resolution during the October meeting is "the only fair thing to do," though an official resolution was not proposed.
"We can't leave people hanging out too long," he said. "As I see things are moving in the right direction, I'm with Roger. I would be very much in favor of going to 2025. Let's just see. Everybody's got to stay committed. The boaters need to just keep on going the right direction. I think we're going to be OK."
Commissioners Nathan Koetters, Patty McGlothlin and Barb Holthaus did not offer their opinions on the issue.
Frankenhoff thought giving the marina until 2025 was plenty of time to allow immediate changes to be made and longer-term changes to sink in.
"The impact of having Hogback Island restored, I think, means we'll see a bump in rentals next year," he said. "But it might take a year or two to build. Maybe after another year of hearing their friends talk about how much fun they've had on Hogback. You've got to allow a couple of years for the full impact of these things to take effect."
Another meeting with the boaters, Park District officials, Frankenhoff and VanCamp is scheduled for Sept. 20. Chris Griggs, spokesman for boaters, was encouraged after Wednesday's meeting.
"I feel like we're in a much better place," he said. "After next Tuesday's meeting, I imagine we're going to be able to take back a lot of good information and, and by the next Park Board meeting, I hope that we have a good resolution.
"If we're able to have better water depths in the bay in the marina, I definitely think 2025 gives us an ample amount of time to make changes."
Members of the 10-person group of boaters meeting with Park District officials are:
Lexi Reed, president of the Quincy Ski Club
Janet Steele, commodore of the Quinsippi Yacht Club
John Mungo, president of the Island Club
Keith Niewohner, member of the Quincy Ski Club and Quincy Boat Club
Steve Schutte, renter at the Art Keller Marina
Darren Smith, renter at the Art Keller Marina
Jason Ruff, renter at the Art Keller Marina
Chris Griggs, board member with the Quinsippi Yacht Club and Quincy Boat Club
Dave Grimm, board member with Quincy Boat Club
Jay Nutt, president of South Side Boat Club
Miss Clipping Out Stories to Save for Later?
Click the Purchase Story button below to order a print of this story. We will print it for you on matte photo paper to keep forever.