Hannibal Regional Development Council looks to promote Hannibal as a vibrant place to live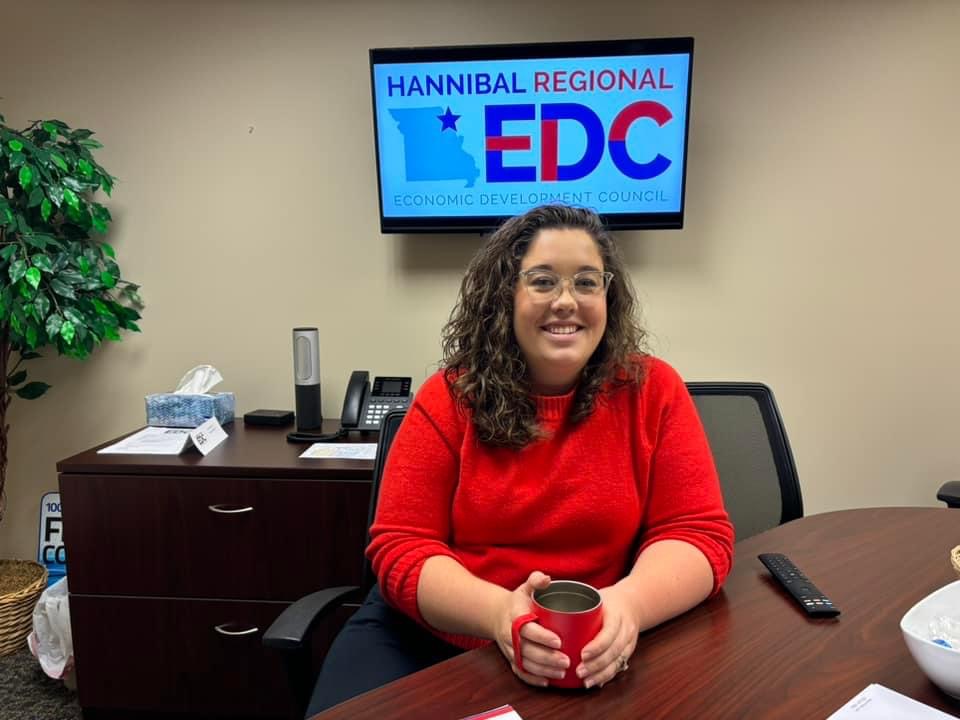 HANNIBAL, Mo. — When Maria Kuhns moved to Hannibal, she decided it was a community she wanted to invest in.
"I just saw that what we have here is special and I really wanted to contribute to that," she said.
Kuhns joined the Hannibal Regional Development Council in 2021 as an entrepreneur specialist. She was recently named the director of the Hannibal Economic Development Council, replacing Corey Mehaffy who left the position in December 2022.
With focused studies on rural economic development, Kuhns found many notable qualities when researching Hannibal as a possible place to live.
She saw recreational opportunities with Hannibal tourism, Mark Twain Lake, and parks like Sodalis Nature Park and Flower City Park in Palmyra, Mo. She saw connections from an infrastructure standpoint and access to educational resources.
After moving to Hannibal in 2019 with her husband Zach Callow, Kuhns discovered something else.
"What I see now that I am here is that the soul of Hannibal and the surrounding counties is pretty incredible. There is a lot of creativity that happens here. There is a whole body of research that talks about how rural communities that really invest in the creative classes—as they call it—really thrive," Kuhns said. "And I saw that Hannibal does that and still does. I think that is what makes it really special."
Kuhns now works with creative classes through entrepreneurship at HREC.
Kuhns, with the partnership of the Small Business Development Center and Hannibal Chamber of Commerce, helped cultivate the entrepreneurial ecosystem Ignite. Ignite brings together existing business owners and new business owners.
The idea is to create a community around risk-taking.
"We want people to feel comfortable with a certain amount of risk because that's how we see businesses grow and things like that," she said.
"At the same time, we have been focused on creating a sense of pride in our community with our young people," she said. "One thing we've done with that is bringing the CEO program here."
The CEO program, which kicked off this year, is a collaboration with the HREDC, area schools and local entrepreneurs to connect students to business owners. Students visit local businesses to learn from them.
Kuhns said nine students from Hannibal, Palmyra and Highland currently participate in the program.
"I am thrilled with that number, usually the average participants for starting a new program is six," Kuhns said. "We have had a good year and I think it will continue to grow and get more schools."
Kuhns said the entrepreneurs and the students are mutually excited about the program.
"I think what those students are doing is exciting our professionals about our youth. They are seeing these kids have a lot of potential and it's just changing the dynamic," she said.
Kuhns credited the program's facilitator, Joy Bond, for the successful community connections they have made.
"She's amazing," Kuhns commented.
The program, which is primarily funded by 35 private investors, has interacted with nearly 100 different organizations.
The program is open to all schools in the HREDC area including Marion, Ralls and Monroe counties along with Philadelphia, Mo. and Canton, Mo.
Be it graduates, retirees or anywhere in-between Kuhns said Hannibal is well poised to bring in new business owners.
A large part of what they do is marketing local sites and encouraging new businesses to Hannibal.
They also keep in touch with existing business.
"What's just as important—and I feel like maybe more important—is supporting our employers that are here," she said. "They have been taking care of their employees and providing taxes to our communities, so we need to make sure they have everything they need."
HREDC has been doing Business Retention and Expansion visits to talk about their needs, challenges, opportunities and how they can help.
Kuhns said that workforce is a topic that trends throughout the conversations.
"There are intrinsic challenges that they are facing with their existing workforce or with a certain position. Maybe it's been tough to recruit for the position because there's no training in the area for it," she said.
Although Kuhns said local training gaps in the area are being addressed.
"We have very open-minded, hardworking, career development institutions in Marion County and Ralls County. They have been excellent, even doing customized training for some of our employers," she said, mentioning Moberly Area Community College and John Wood Community College.
She also said specialized programs are helping build a strong workforce as well, such as the Hannibal Public School District at the Hannibal Career and Technical Center students and Hannibal LaGrange University's partnership with Hannibal Regional Hospital for nursing students.
Kuhns said housing is also an important part of development, and an area where Hannibal is growing.
One Hannibal housing development under construction on Stardust will have more than 50 multi family housing options.
Kuhns said other housing developments such as Clear Creek, Minnow Creek and Fette's Orchard have also contributed to increased housing in the area.
Childcare is another area that can cause challenges in the workforce.
They are working with the nonprofit group Kids Win Missouri that supports health, education, safety, and development of at-risk kids.
"There are a lot of conversations going on across the state about how to get creative in addressing this need,"
Kids Win Missouri received a small grant to do an in-depth assessment of childcare needs in communities.
Kuhns will work with them to do a needs assessment for Marion and Ralls counties.
She said there are faucets of childcare to be considered, other than just opening up more spots.
Meeting specific needs for childcare outside of the conventional work day hours, or accommodating special needs are also areas to be addressed.
The assessment will help determine what those needs are.
Another issue comes with balancing affordability for families with income needs for daycare providers.
"It's going to take multiple different providers at different price levels to satisfy the need," she said. "Something that is going on at the state level is figuring out wages and making childcare an attractive field to be in."
HREDC has already been working to strengthen existing childcare providers in Hannibal, with training on business planning and finances.
"We know that daycares and child care facilities are taking really good care of our kids but there is so much that goes into making sure the business is able to maintain and stay open," Kuhns said.
Kuhns said overall, HREDC is working to make Hannibal a good place to live and work.
"The word I use is vibrancy. I want this to be a vibrant place," she said. "Being able to provide for yourself and your family, and have a good quality of life."
For more information on HREDC visit their website or follow them on Facebook.
Miss Clipping Out Stories to Save for Later?
Click the Purchase Story button below to order a print of this story. We will print it for you on matte photo paper to keep forever.