Hannibal sunflower oil producer receives grant to pay for facility that will double production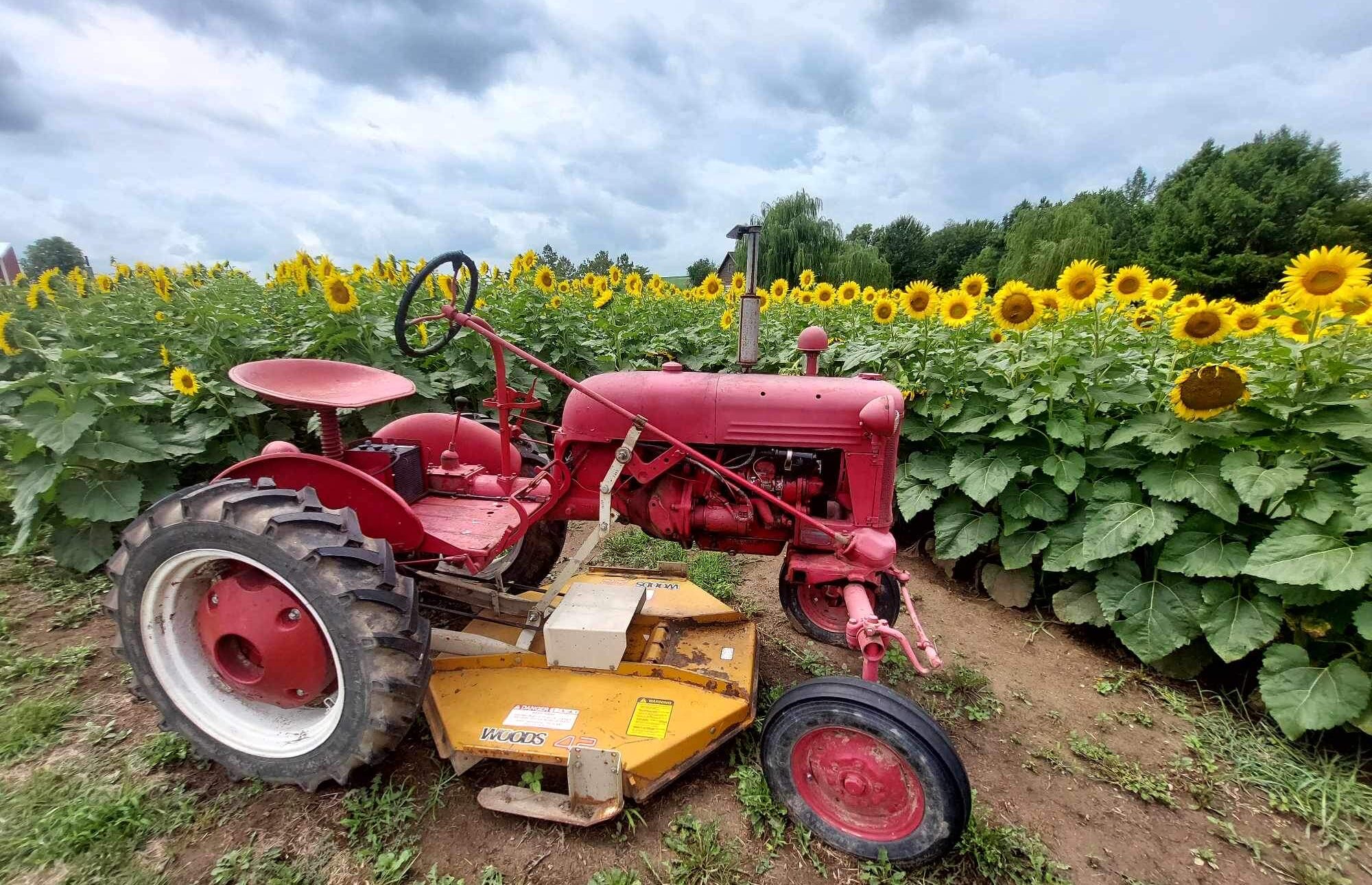 HANNIBAL, Mo. — When Show Me HH Farms first opened its then 10-acre sunflower field to the public two summers ago, a bigger goal was in mind.
Owners Kent and Kathy Brown, alongside their son and daughter-in-law Phillip and Amberlyn Brown, bought a cold press that same summer and have been producing all-natural sunflower oil since.
The oil has hit more than 10 store shelves as far as St. Louis and Kansas City, and the Brown family looks to continue expansion. The sunflower field has grown to around 15 acres with plans to continue growing next year.
The Browns recently were awarded an innovation grant through Show Me Entrepreneurial Grants for Agriculture Program for more than $100,000. The grant supports Missouri businesses adding value to agricultural products.
With the funding, the Browns are adding a 30 by 40 feet metal building with a gravel lot for trucks to come in. They will bring in additional equipment, allowing them to run two presses at a time, which could more than double their oil production.
They produce around 35 gallons a day on days they press oil. When the facility is finished, they will produce about 70 to 80 gallons a day.
Construction has started, and as a grant requirement, will be completed by Dec. 31.
Simple beginnings: A sunflower field and a cold press
The Browns harvested their first round of sunflowers In November 2021 and received a clean report from a lab in Washington, Mo. declaring them toxin-free. They got a thumbs-up the following month from the Ralls County Health Department.
The pressing began, and so did the work.
Making sunflower oil is time-consuming and, until recently, required a family member to man the station during the process, adding seeds with a five-gallon bucket every 20 minutes. It takes about 30 hours to run about 1,000 pounds of seeds, and by the time it is pumped into a filtered tank, it takes about 12 hours to process about 30 gallons of oil. The hours of planting and harvesting the sunflowers is not included.
Kent said the harrowing process dissuades many from producing sunflower oil. Show Me HH Farm is the one of two cold-press, high-oleic sunflower oil producers in the country.
They have improved and streamlined the process this year.
"It's more automated than it was the first year. I can actually go to bed and leave it to run," Kent said. "We just have to watch our time so we don't run something over."
The new process does not change the quality of the oil, which is all-natural and produced from start to finish at the farm. A cold press uses a method that does not involve high heat and preserves the nutrients and vitamins in the ingredients.
"Cold press is a big deal. Most of the oil you buy in the supermarket is extracted with oils and solvent, but we don't put anything else in that bottle," Kent said. "We don't even spray the field. That's why the weeds are such a problem."
The sunflowers in the Brown family's patch are high oleic sunflowers which produce an oil containing a significant amount of monounsaturated omega-9 fatty acids. This is known as a "healthy fat," according to Web MD.
Sunflower oil has a long list of uses, including salad dressing, pan frying and deep frying. Oil from high-oleic sunflowers can be cooked with high heat, allowing it to get hotter than refined oils like vegetable or canola oil.
Sunflower oil doesn't have to stay in the kitchen. Kent said some have bought their oil to make cosmetics, and Amberlyn uses the oil as a carrier for essential oils.
"At night, I use it with lavender oil on my legs to help calm me and help me get to sleep, and it works great. You mix it with the essential oil because you aren't supposed to put essential oil directly on your skin," she said.
Kent said he was surprised at an out-of-town farmer's market when one woman took the sample and poured it over her head to use on her hair. An article on Healthline reports that the vitamin E in sunflower oil is beneficial to hair.
Making an impression
With the sunflower oil now on shelves in 13 Missouri stores, Show Me HH Farms is growing.
The chef for Gov. Mike Parson sampled the oil at a Missouri Grown event in March. He enjoyed it so much that it was ordered to serve at the annual legislative barbecue, and the Brown family was invited to attend.
The public can visit the sunflower field from 8 a.m. to sunset this Saturday and Sunday at Show Me HH Farm at 55115 Hwy HH in Hannibal. Photos can be taken in the field with antique tractors, and people can take home a sunflower.
Admission is $10 for anyone over 12 years old.
Sunflower oil can be ordered on the farm's website for pickup or delivery or by calling 573-406-9617. For more information on ordering Show Me HH Farms Sunflower Oil, follow them on Facebook.
The sunflower oil is sold at the following businesses:
Mississippi Marketplace, Hannibal, Mo.
Ellbee's General Store, Wentzville, Mo.
New Melle Food Co-op, New Melle, Mo.
Fulton Wurst Haus, Fulton, Mo.
Local Harvest Grocery, St. Louis, Mo.
Thies Farm & Market, St. Louis, Mo.
Peace Love Coffee Bakery, St. Charles, Mo.
Grand River Marketplace, Brunswick, Mo.
Sibley Orchards & Cider Mill, Sibley, Mo.
Weston Red Barn Farm, Weston, Mo.
Missouri Made Shop & Comfort Cafe, Cole Camp, Mo.
Harvest Market, Champaign, Ill.
MO Grown Market at the MO State Fair, Sedalia, Mo.
Miss Clipping Out Stories to Save for Later?
Click the Purchase Story button below to order a print of this story. We will print it for you on matte photo paper to keep forever.