Hooking Up: Hannibal High School students enjoying benefit of certified therapy dog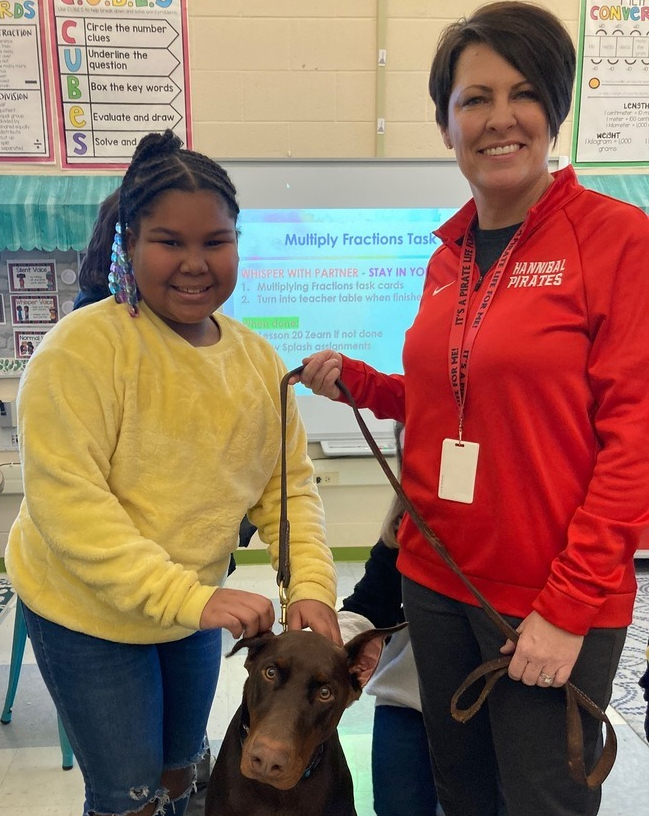 HANNIBAL, MO — Michele McCoy, the dean of students at Hannibal High School, recently began bringing her dog to school.
His name is Hook, and he offers comfort to students as a certified therapy dog, helping calm students during stressful situations.
"I just felt like with the amount of kids we have who have experienced trauma or have mental health issues that he would be a good benefit," McCoy said.
Bringing a therapy dog to school is not a new idea in Hannibal. Other schools in the district have benefited from having their own therapy dogs. McCoy saw the benefits and wanted that same help to be available to her students.
McCoy had conversations with her husband about getting a Doberman. She had grown up with them and knew them to be good, smart dogs. They had not decided on getting a Doberman that would be certified as a therapy dog, but McCoy ran with the idea.
"The Doberman sometimes has a bad name," McCoy said. "This is a great opportunity to help people see that they're not bad dogs."
McCoy had Hook trained after receiving him as a Christmas present.
Hook, a 1-year-old Doberman, went through Canine Good Citizen training to ensure he would be well-trained around people. Canine Good Citizen tests dogs on 10 skills that teach good manners, such as sitting, staying and lying down. These training sessions took place over several weeks, starting when Hook was eight weeks old.
Even with Hook's training, some parents may be nervous about having a dog around their children. The school is careful to make sure no students feel unsafe having Hook around.
An air purifier in the guidance office helps clean the air if a student is allergic to dogs. Students also are asked if the dog scares them or if they want Hook to leave the room.
"If they say yes for any reason, then he's taken to the other room," McCoy said.
Hook is kept in the guidance office. A counselor can grab Hook at any time he's there to help with a student. He is brought to school three days a week.
"I would like to bring him every day," McCoy said. "But right now, it's just a lot for him at his age."
As Hook gets older, McCoy plans to bring him daily so he can continue to help students.
Improvements already have been seen for students who have interacted with Hook. Students originally afraid of bigger dogs since have grown fond of Hook and are trusting him more. Another student having trouble going to classes successfully returned by having Hook accompany her to class for a few days.
Students are also encouraged to make friends with Hook. They can volunteer to take him for walks throughout the day. This teaches them the responsibility of taking care of a dog. Students must get permission from their teachers to do this. The students also enjoy taking Hook for a walk, which makes it a good motivator for good behavior.
"Sometimes it's used as a reward system," McCoy said.
Students dealing with behavior issues may be told that if they behave for the week, they can take Hook out for a walk. Encouraging students to do well in school both academically and behaviorally is another benefit of having Hook around.
Noah Klauser is a Quincy native and a Culver-Stockton College student serving as an intern for Muddy River News during the spring semester.
Miss Clipping Out Stories to Save for Later?
Click the Purchase Story button below to order a print of this story. We will print it for you on matte photo paper to keep forever.