Humane Society of the United States provides details from coyote killing contest in Mendon; local conservation expert says event serves purpose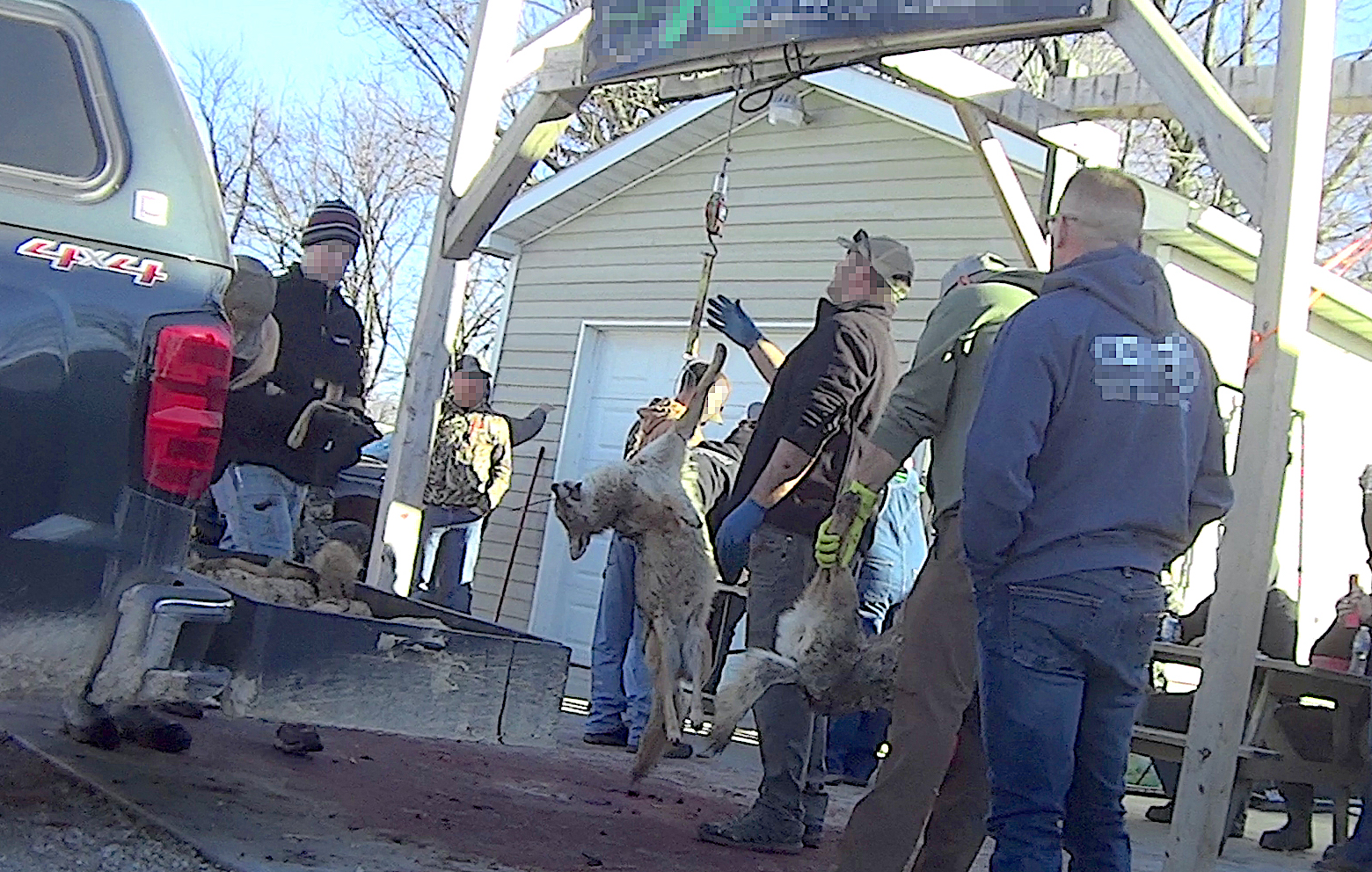 PLEASE READ THIS CAUTIONARY NOTE: Readers should understand this story also contains photos of dead animals. This may offend some readers. Muddy River News believes it is necessary to show the photos to explain what happened at the coyote hunt.
SPRINGFIELD, Ill. — The Humane Society of the United States released Wednesday the results of a February undercover investigation at the Nuggets Night Vision Coyote Hunt, a wildlife killing contest in Mendon during which roughly 86 participants killed at least 405 coyotes in a 45-hour period.
However, a retired sergeant with the Illinois Conservation Police says contests like this serve a purpose and are a benefit to local farmers.
"The Humane Society of the United States has made a nationwide priority of doing away with all wildlife contests, whether it's a coon hunt that the local FFA or the local volunteer fire department puts on," said Glenn Sanders, who now serves as president of the Mississippi Valley Hunters and Fishermen's Association. "There is no natural control of the coyote population out there. It is legal in Illinois to kill coyotes year-round. In fact, they're one of the few animals that (the Department of Natural Resources) has recognized needs no protection whatsoever.
"It's a benefit to the rural farmers who have got livestock. The coyotes are predators on newborn calves. A hunt like this is a benefit to your cattle farmers. Not only did they kill some of the coyotes that potentially could have killed the calves, but they're also scaring the heck out of the coyotes for at least a short period of time."
A press release from the Humane Society of the United States said a HSUS investigator attended the weigh-in event, where participants gathered to compete for $15,000 in prize money and celebrate among piles of dead coyotes.
The investigator revealed that prizes were awarded to teams that killed the most, the heaviest and the smallest coyotes. The three-man team crowned champion for "most coyotes" slaughtered 49 coyotes, with second place bringing in 27 coyotes. The contest was organized by Nuggets Night Vision, a manufacturer of night vision and thermal optics devices often used in these contests.
Teams brought dead coyotes across state lines from Kansas, Missouri, Arkansas and Wisconsin. The investigator reported at least one coyote from Kansas appeared to have mange — which is contagious and can spread to other wildlife, domestic dogs and people. The report said bodies were not checked for disease, and diseased animals were not disqualified from the contest.
"Wildlife killing contests are an abomination and a disgrace," Marc Ayers, Illinois state director for the Humane Society of the United States, said in the press release. "Destroying coyotes for sadistic fun, games and cash does not reflect our state's values."
When he heard Ayers' comments, Sanders noted the timing of the press release.
"(The Humane Society of the United States) would have been putting this together at the same time they were running a bill in the Illinois legislature trying to ban all these contests," he said. "Legislators were smart enough to figure out that coyotes don't need protection and that they were being played by the Humane Society. The sponsor agreed to pull the bill once some people met with her and explained to her what the real world was like out there.
"There's a number of videos out there of little kids being attacked by coyotes. So once the bill sponsor saw that and figured out she would be played by the Humane Society of the United States, she pulled the bill on her own about two weeks ago."
Ayers said Illinois is among the 10 worst states when it comes to wildlife killing contests, with at least 28 competitions targeting coyotes, foxes, raccoons and crows taking place in the state in 2022. The press release noted killing contests have been reported locally in LaHarpe, Macomb, Warsaw and Quincy.
Ayers pointed out an April 2022 survey conducted by the Remington Research Group that says 73 percent of Illinois voters support a ban on killing contests.
"The Illinois Department of Natural Resources must take a stand and make our state the first in the Midwest to ban this cruel, unnecessary treatment of coyotes who provide vital balance to our ecosystem," Ayers said.
The investigator documented participants unloading bloody coyote bodies and hanging them upside down to weigh. A young child helped load the carcasses, while other young children stood nearby and watched.
"Watching truck after truck backing into the weigh station, and coyote after coyote, dripping with blood, being weighed — it was like a factory assembly line," the undercover investigator reported. "The stench of rotting flesh was so strong that people would step back when trucks with the bodies were opened. The ground was staining purple with blood and people — including children — were walking through it with total disregard for potential disease transfer."
The press release said competitors achieve high kill numbers by using night vision, thermal imaging and electronic calling devices that mimic sounds of dependent young or prey in distress "to lure animals in for an easy kill." Animals are killed with high-powered rifles, including AR-15s.
On Dec. 22, 2022, veterinarians and 18 organizations, led by the Humane Society of the United States, submitted a petition to the Illinois Department of Natural Resources requesting that the agency prohibit wildlife killing contests. Eight states—Arizona, California, Colorado, Maryland, Massachusetts, New Mexico, Vermont and Washington—have already banned wildlife killing contests.
Sanders says local hunters and the Humane Society of the United States don't get along.
"We actually get along very well with the local Humane Society," he said. "They hate the Humane Society of the United States just about as much as we do, simply because they'll send out press releases like this. They're designed to either have a political bent or to raise money for the Humane Society of the United States. That sucks money away from the local Humane Society that actually does good by caring for the animals."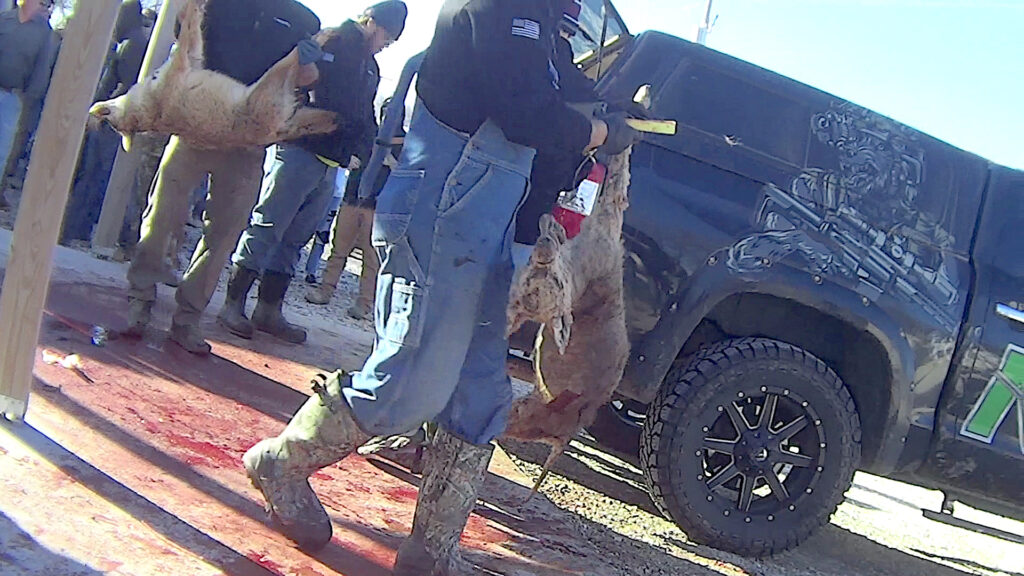 Miss Clipping Out Stories to Save for Later?
Click the Purchase Story button below to order a print of this story. We will print it for you on matte photo paper to keep forever.