'I really ask everybody in our community to pray for the kids': Troup compliments QPD's work in Bliefnick arrest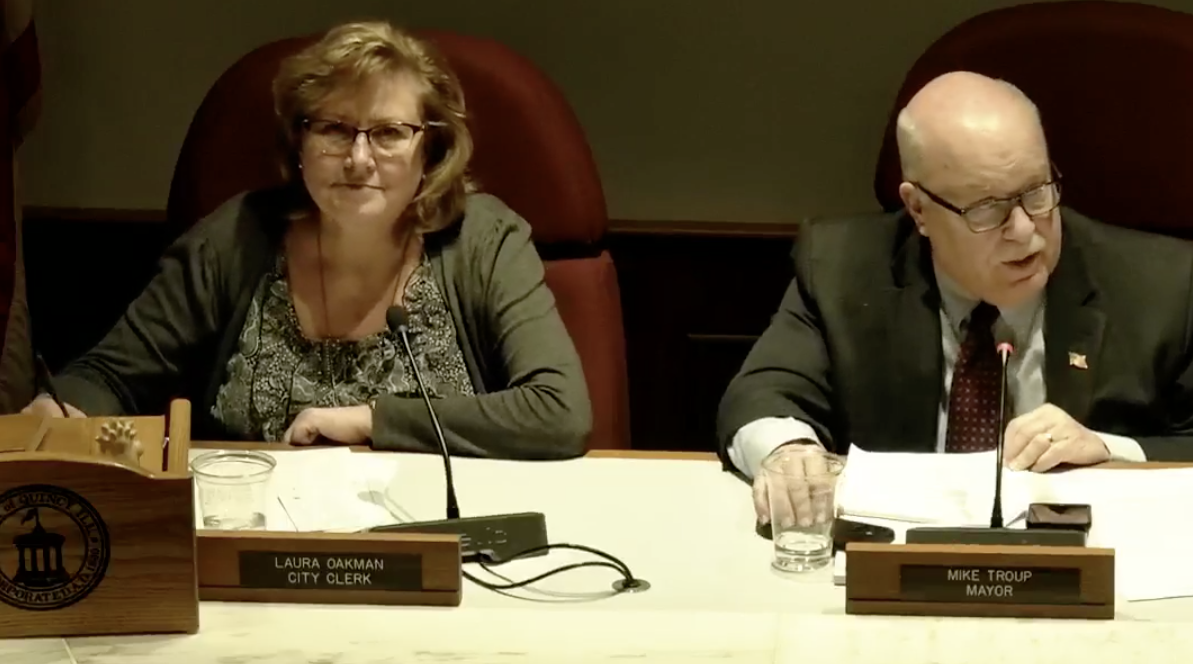 QUINCY — Quincy Mayor Mike Troup took time Monday night during the Quincy City Council meeting to thank the Quincy Police Department for its work in making an arrest Monday as part of the investigation of the death of Rebecca Bliefnick, while also asking for prayers for her family.
"It's clear that everyone here on the council is appreciative of what our police department and all the officers, not only the detectives, and what they're doing to solve crime in our community," Troup said. "I know there's been some concern by the public as to why this is taking the time that it's taking, but as Chief (Adam) Yates indicated two weeks ago, you've got to get it right."
Quincy Police Department detectives and members of the department's Emergency Response Team arrested Tim Bliefnick, 39, the estranged husband of Rebecca Bliefnick, without incident at 8:23 a.m. Monday at their family home at 2528 Kentucky Road. The Bliefnick's have been in the process of a divorce for more than two years.
Rebecca Bliefnick, 41, was found shot to death in her home at 2528 Kentucky Road on Feb. 23. Tim Bliefnick is charged with two counts of first-degree murder and one count of home invasion.
Troup said police officials "felt comfortable" with information coming back from the Illinois State Police Crime Investigation lab to make the arrest Monday.
Members of the Department of Child and Family Services and the Quincy Police Department told the Bliefnicks' three sons about their father's arrest while they were at St. Peter School on Monday morning.
"Because of the person who's arrested and the homicide victim, I really ask everybody in our community to pray for the kids … who are left out of this tragedy," he said. "They're going to need help, and I just think we have to get behind them. At the same time, we've got officers who see some pretty heinous things, and you don't hear about them complaining, either. There's a lot of people to pray for.
"I think this is a time that our community has to get together and pray for the family. Pray for justice. Pray for the support that we have in our law enforcement. You know, we don't want to go through this often, but when we do, I think Chief Yates has shown that they're going to do the right thing. I think you just need to keep that in mind. When you see the officers you know, tell them thank you."
Alderman Greg Fletcher, R-1, also complimented Yates.
"We have the best police department in the world. You know this. I know it," he said. "You guys are awesome, all of them. I know the legal system will pick up their share and run with this, and everything will work out. Like the mayor said, we've got to remember these kids, and we will."
Yates appreciated the public outpouring of appreciation.
"We live in a city that has been tremendously supportive of everything that we've done over the years," he said after Monday's meeting. "(Rebecca Bliefnick's death) was just an absolute tragedy, but it's nice to that the officers who are out there doing the hard work, day in and day out, get some recognition. They absolutely deserve it."
Miss Clipping Out Stories to Save for Later?
Click the Purchase Story button below to order a print of this story. We will print it for you on matte photo paper to keep forever.