'I was tired of Mr. Yohn': Jones says he'll ask for at least 70 years during Sept. 1 sentencing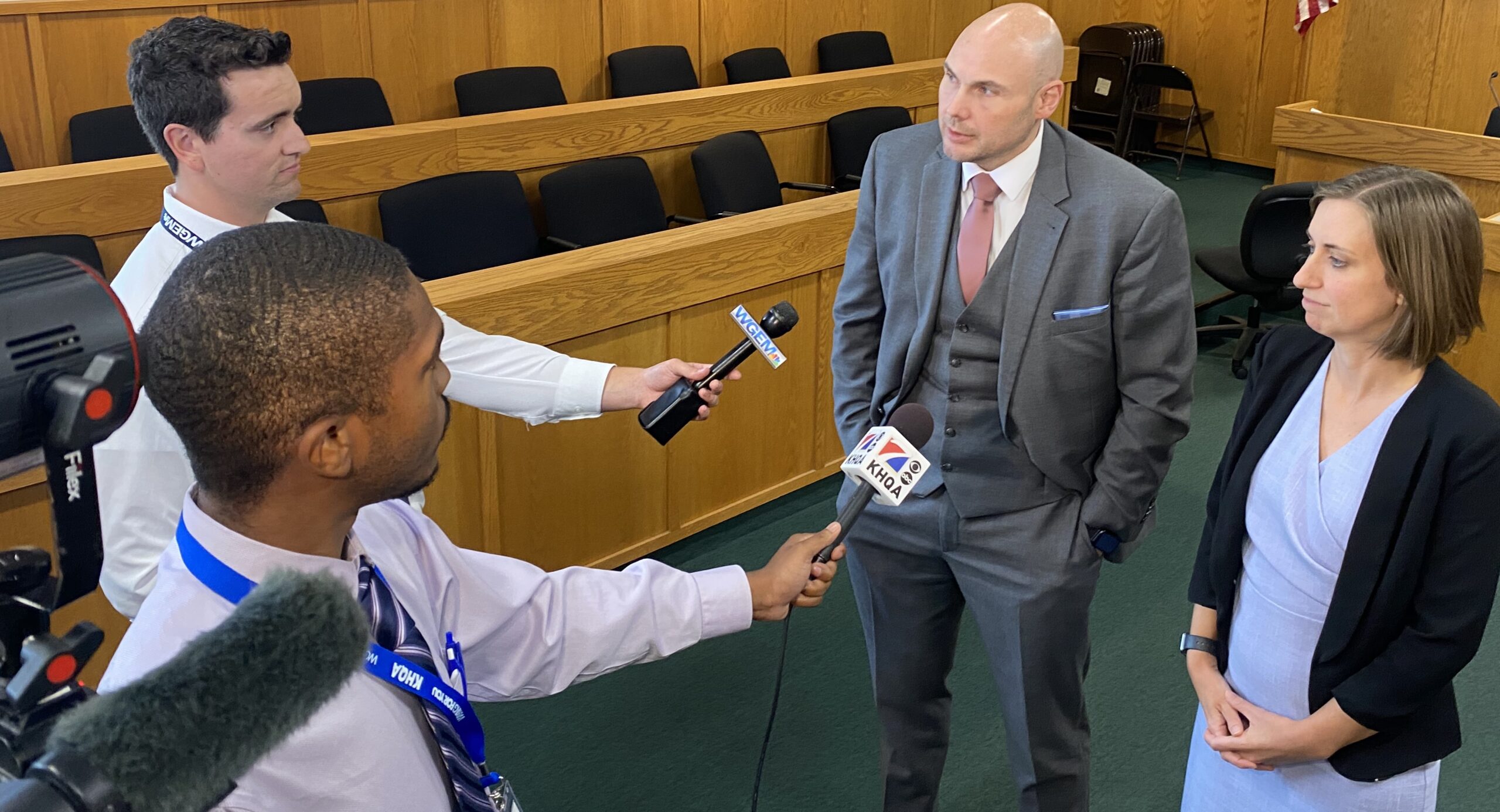 QUINCY — Josh Jones and Laura Keck were getting a little nervous.
Testimony was complete and closing arguments had been delivered in the Bradley Yohn criminal sexual assault case Monday morning in Adams County Circuit Court. The two assistant state's attorneys were awaiting the jury's verdict while relaxing in the basement of the courthouse in what Jones refers to as "The Lair" — a room Jones describes as "away from everyone and everything."
The verdict from the 10-man, two-woman jury didn't come as quickly as expected.
"After a couple of hours, you start to get a little nervous, and you're worried that something crazy is going to happen," Jones said. "I'm glad at the end, obviously, we reached the right decision. We're really pleased with the result."
After nearly 2 hours and 45 minutes of deliberation, the jury found Yohn guilty of all six counts — home invasion with a dangerous weapon, home invasion predicated on criminal sexual assault, aggravated vehicular hijacking, aggravated kidnapping, aggravated criminal sexual assault with a weapon and residential burglary.
Yohn, who defended himself in the case, allegedly committed the crimes on Nov. 9, 2021, at the home of Christine "Tina" Lohman Schmitt. She died 33 days later on Dec. 12, 2021.
Yohn will receive between 16 to 40 years in the Illinois Department of Corrections on the aggravated criminal sexual assault with a weapon count. That sentence would be served consecutively with the other counts.
Judge Roger Thomson has discretion in the other five counts to have Yohn serve them consecutively or concurrently. Yohn is eligible to receive between six and 30 years for the two home invasion counts, aggravated kidnapping or aggravated vehicular hijacking. He faces four to 15 years for residential burglary.
The sentence Yohn will receive on Sept. 1 will be the equivalent of a life sentence, Keck said.
"We're starting at 70 years and working up from there," Jones said in a post-verdict press gathering in Courtroom 2B in the Adams County Courthouse. "It may end up being somewhere in the neighborhood of 90 to 100 years. We need to sit down and add that up, but whatever it is, we'll be asking for it."
Jones and Keck were clearly relieved to see the case end. They were moments away from jury selection in June 2022 when Yohn — defending himself — announced, "I can't do this," and asked for assistance from counsel.
"I don't know what a better word than frustrated is," Jones said. "Tired. Frankly, I was tired of Mr. Yohn. We were tired of his antics. We were tired of his stupid conspiracy theories. We were tired of him getting to say whatever he wanted and whenever he wanted. Frankly, at the end of the trial, the best thing for all of us to do is forget about him and never think about him again. That's what he deserves."
"The worst part was that it was not only drug out, but it was drug out in such a terrible, heinous case," Keck said. "We have a 77-year-old woman who was sexually assaulted by a random person in her own home. (Yohn) wanted it to be all about him and how the system was out to get him. It was just incredibly troubling for those 19 months having to listen to him instead of it being about Tina Lohman."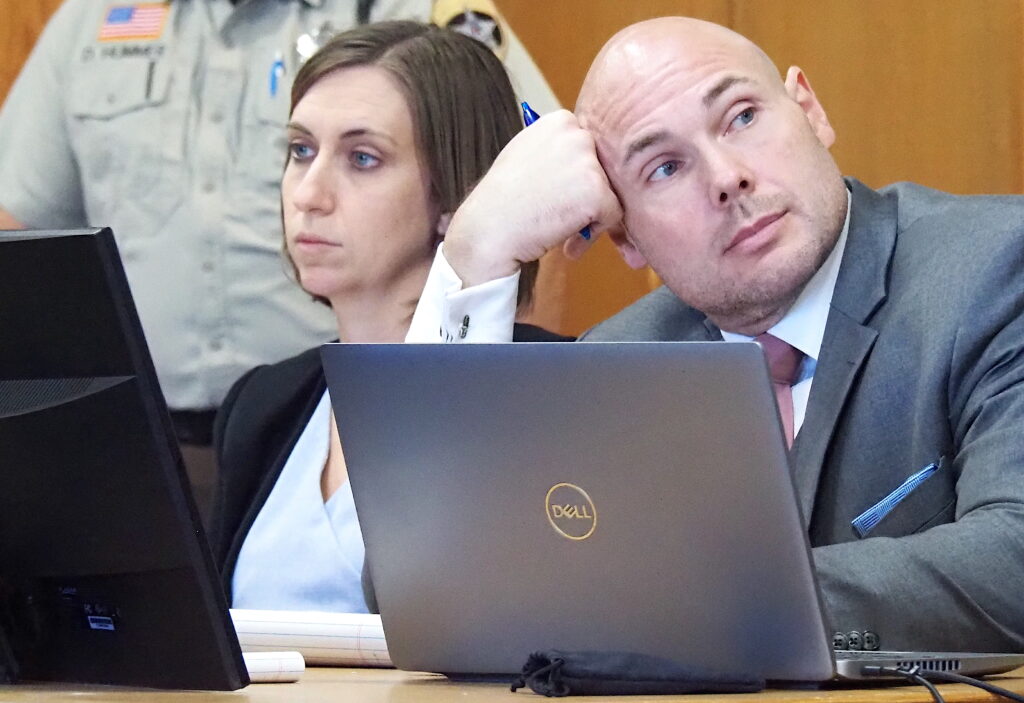 Yohn's closing argument, which lasted approximately 75 minutes, disgusted Jones.
"At no point in his irrational closing argument did he come anywhere close to coherent thought," he said. "We were all dumber for having heard it. I'm glad the jury awarded him no points. Frankly, may God have mercy on his soul."
Jones showed his frustration during the trial with multiple expressions on his face. Keck was asked what the secret is to "keeping Josh composed."
"Josh and I have a very good trial relationship, if you can't tell," she said. "We have a lot of arguments behind closed doors. But in trial, I say I give him 'the Laura look,' and it just gets into stuff."
"She's kicked me under the table a few times," Jones admitted.
"I'm the little sister he never wanted," Keck said.
The attorneys said they had prepared during the weekend for the possibility that Yohn would take the stand in his own defense on Monday. Jones said he was going to talk about the rosary that Tim Schmitt said belonged to his wife — but Yohn said it belonged to him. He thanked "Sister Mary" during his closing argument.
"We were going to talk about that rosary, and I was going to ask him a very pointed question," Jones said. "The question was simply this: What's the Hail Mary? And when he didn't know that, I was going to say, 'Hail Mary, full of …' And Miss Keck was going to say, 'Grace.'
"This defendant tried to make a complete mockery of the (judicial) system. He tried to make a complete mockery of faith. He tried to make a complete mockery of everything. Maybe it's not politically correct for me to say, but if I had a chance to make a mockery of him, I was going to take that chance."
Jones also expressed his admiration for Lohman Schmitt.
"Tina was an amazing woman. She really was sunshine personified," he said. "I've never met a person who could deal with what she dealt with and have the attitude that she had. It was remarkable. Like her daughter (Heidi Young) said, she was a survivor. When we found out she passed away, we knew it was just going to be that much harder. I'm glad we got a chance to meet her, get to know her and get to see that personality.
"I can't appreciate really just how frustrating it must have been for the family. It's frustrating for us, but here they are, having to come to court every time and listen to the lies, listen to the off-the-wall theories, hear themselves called liars and to have conspiracy theories thrown out about them in open court by this man. Not just for one month, not just for two months, but for almost two years. They've been waiting for justice for those entire two years."
Miss Clipping Out Stories to Save for Later?
Click the Purchase Story button below to order a print of this story. We will print it for you on matte photo paper to keep forever.