Illinois Judicial Inquiry Board files complaint against Adrian; case now goes before Illinois Courts Commission for formal hearings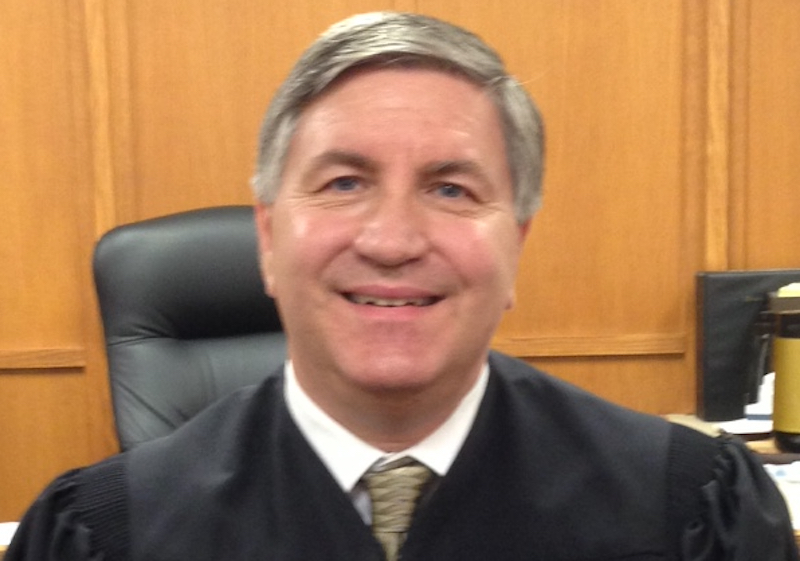 QUINCY — The Illinois Judicial Inquiry Board filed a complaint on Friday against Eighth Judicial Circuit Judge Robert K. Adrian.
Adrian found Drew Clinton, 18, guilty of felony criminal sexual assault following a bench trial in October 2021, but then on Jan. 3, Adrian vacated Clinton's conviction, resulting in Clinton being released from the Adams County Jail.
The Chicago Daily Law Bulletin reported Friday that Adrian testified under oath before the Judicial Inquiry Board in April. The JIB's complaint said Adrian explained his decision to reverse his finding of guilt in the sexual assault case was based upon the evidence and his conclusion that the prosecution had not proved beyond reasonable doubt that the victim could not give consent.
Adrian also allegedly testified that his reversal was not an effort to "thwart the law." The JIB alleged in its complaint that this testimony was false, and Adrian knew it was false when he made the statements.
The Chicago Daily Law Bulletin reported Adrian allegedly violated several rules of the Code of Judicial Conduct, including Rules 61, 62 and 63.
Rule 61 states, "A judge should uphold the integrity and independence of the judiciary."
Rule 62 states, "A judge should avoid impropriety and the appearance of impropriety in all the judge's activities."
Rule 63 states, "A judge should perform the duties of judicial office impartially and diligently."
The members of the Judicial Inquiry Board are three lawyers, two judges and four people who are not lawyers. The JIB determines if a complaint made against an active Illinois court judge should be closed or investigated, and whether a reasonable basis exists to file a public complaint against a judge with the Courts Commission.
David Sterba, a former circuit judge in Cook County and Illinois Appellate Court judge in Illinois' First District, is the chair of the JIB. Sterba retired from the bench in 2013 and co-founded Walsh, Fewkes & Sterba. Paula Gomora, a judge for the 12th Circuit Court in Joliet, is the vice chair. Other members of the JIB are Kent Delgado, Sean Nash, Elaine Johnson, Ruby Smith and Megan Applegate.
The Chicago Daily Law Bulletin also reported the JIB filed two other complaints. It accused Cook County Circuit Judge William B. Raines of making derogatory, injudicious and demeaning statements about attorneys in a case seeking to have a 1996 murder conviction thrown out. It also charged Mohammed M. Ghouse, an associate judge of the Circuit Court of Cook County, with drunk driving.
The JIB charged Raines, Ghouse and Adrian with conduct that is prejudicial to the administration of justice and brings the judicial office into disrepute. Their cases now will go before the Illinois Courts Commission for formal hearings. The Chicago Daily Law Bulletin did not specify the dates for those hearings.
All proceedings of the Judicial Inquiry Board are confidential except the filing of a complaint with the Courts Commission.
The Illinois Courts Commission is composed of 16 members. The Illinois Supreme Court appoints seven, the Appellate Court appoints five and the governor appoints four.
The commission hears the evidence against a judge at a public hearing and decides whether the allegations of the complaint were proved by clear and convincing evidence. After a public hearing, the commission can reprimand, censure, suspend without pay or remove the judge from office.
During post-trial motions at the beginning of Clinton's sentencing hearing, Adrian acknowledged he was required to impose a mandatory jail sentence. The statute under which Clinton was convicted required a minimum four-year sentence in the Department of Corrections.
However, Adrian said refused to impose the jail sentence.
"… This happened when this teenager … was two weeks past 18 years old," Adrian said, according to transcripts provided by Kim Cottrell, a court reporter for Adams County. "He has no prior record, none whatsoever. By law, the court is supposed to sentence this young man to the Department of Corrections. This court will not do that. That is not just. There is no way for what happened in this case that this teenager should go to the Department of Corrections. I will not do that."
Adrian then threw out the conviction.
Assistant State's Attorney Anita Rodriguez said the next day, "I've been prosecuting for over 40 years — first in Kansas, and for the last almost 34 and a half years in this office. I've never even seen anything close to that. Frankly, I'm without words to explain. I have no explanation for what happened."
Nine days later on Jan. 12, Adrian and Josh Jones, lead trial attorney for the Adams County State's Attorney's office, were in courtroom 1B for status hearings on a series of felony cases in Adams County Circuit Court. After Adrian entered the courtroom and was seated, he turned his attention to Jones.
"Mr. Jones, get out," he said.
Jones didn't immediately react to Adrian, so the judge continued.
"I'm not on social media, but my wife is," Adrian said. "She saw the thumbs up you gave to people attacking me (on Facebook). I can't be fair with you today. Get out."
Pittsfield judge Frank McCartney, chief judge for the Eighth Judicial Circuit, signed an administrative order the next day detailing the changes in Adrian's duties. McCartney removed Adrian from presiding over criminal cases and assigned him preside over small claims, legal matters and probate dockets.
Miss Clipping Out Stories to Save for Later?
Click the Purchase Story button below to order a print of this story. We will print it for you on matte photo paper to keep forever.