'I'm just not going to keep losing money': Owner shuts down Quincy's IHOP restaurant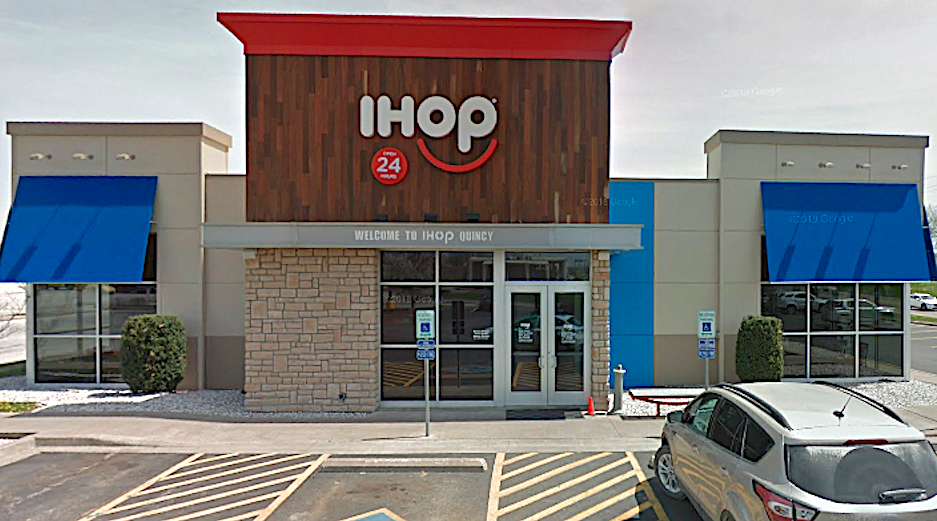 QUINCY — The owner of IHOP Restaurant, 3311 Broadway is closing because of difficulty in hiring employees and new paid leave laws.
Owner Larry McDonald posted a sign on the door at the restaurant after it closed for the last time Saturday night. It read, "Unfortunately, our local IHOP has closed its doors. We will miss all of our regular guests and hope you can forgive us. We will miss all of you. Sincerely, Larry McDonald, owner."
McDonald opened the restaurant in December 2017 in the building where TGI Friday's had been since November 2006.
"I just kept losing money and kept losing money," he said Monday afternoon. "It's just not profitable, and there are so many regulations and stuff put on by your governor. He's adding on new things for next year like paid time off, and minimum wages are going up, just making it more difficult."
McDonald was referring to Senate Bill 208, which Pritzker signed into law in March that ensures at least 40 hours of paid leave for Illinois workers. The act will become effective Jan. 1, 2024. Illinois workers previously were not guaranteed paid time off for sick leave, childcare, medical appointments or any other reason.
"After COVID, it's been harder and harder and harder," McDonald said. "We've been losing $2,000 to $5,000 a week. You can only survive for so long, depending on who you are."
McDonald said the restaurant employed "between 20 and 25" people. He said most of them were full-time employees.
"No one wants to work," he said. "It's hard to take care of the business when everybody calls to (get the day) off and they don't want to work. On top of that, when you're hiring them, you've got to hire someone for a lot more than you used to hire someone."
McDonald said he previously owned several IHOP restaurants around Illinois. However, he has closed restaurants in DeKalb and New Lenox during the pandemic, and he sold two IHOPs in Springfield in March 2020.
The Quincy IHOP was the last one he owned. McDonald said he tried to sell it, but the closing of Kmart, Bergner's and ShopKo within a few blocks of the restaurant has made it difficult.
"This day has been coming for a while," he said. "I've been losing money, and if you start losing money and you're losing more money, you try to figure out a way to stop the bleeding. So you try to sell the restaurant. Well, I can't sell the restaurant. Nobody wants to buy. Then you do a management contract. No, IHOP's not going to approve that.
"I sat down with some people, showed them the restaurant, showed them the new Target (expected to open in August at 36th and Broadway). Yeah, they opened the (Quincy Medical Group) surgery center, and they're doing new construction by CVS (at 30th and Broadway). They're trying to rebuild the area and make it to where it's valuable for some businesses to thrive, but look around. Think about it. Everything's closing around you. It doesn't help your business."
McDonald owned the business, but the property was owned by QRE LLC. Dr. Phu Van Troung, a hematologist from Wichita, Kan., is listed as the agent and manager of the property, according to records filed with the Illinois Secretary of State's office. QRE LLC bought the property for $2.17 million in November 2019 from WCT Properties, Inc., in East Peoria. William and Cheryle Torchia were the principal owners of WCT Properties, which brought TGI Friday's to Quincy.
McDonald, a Texas native, says he likely will move to Kansas City to be with family. He said he enjoyed becoming part of the community.
"I was part of the country club and met a lot of friends here," he said. "I got to know a lot of regular guests, and I'm going to miss them dearly. It hurts me to close as it does for our customers and employees. I love the area. I love the people. One of my favorite guests is a guy named Roger, and he's been coming in every morning since we opened. It just hurts me, tears me up, to even think that he's not going to have a place to go eat breakfast. He always enjoyed it.
"The bottom line is that I'm just not going to keep losing money. It was costing too much money to stay open."
IHOP, formerly known as International House of Pancakes, has more than 1,800 locations in the Americas, the Middle East and South Asia.
Miss Clipping Out Stories to Save for Later?
Click the Purchase Story button below to order a print of this story. We will print it for you on matte photo paper to keep forever.