In first meeting as Park Board commissioner, Jones elected as president; says he'll push for riverfront development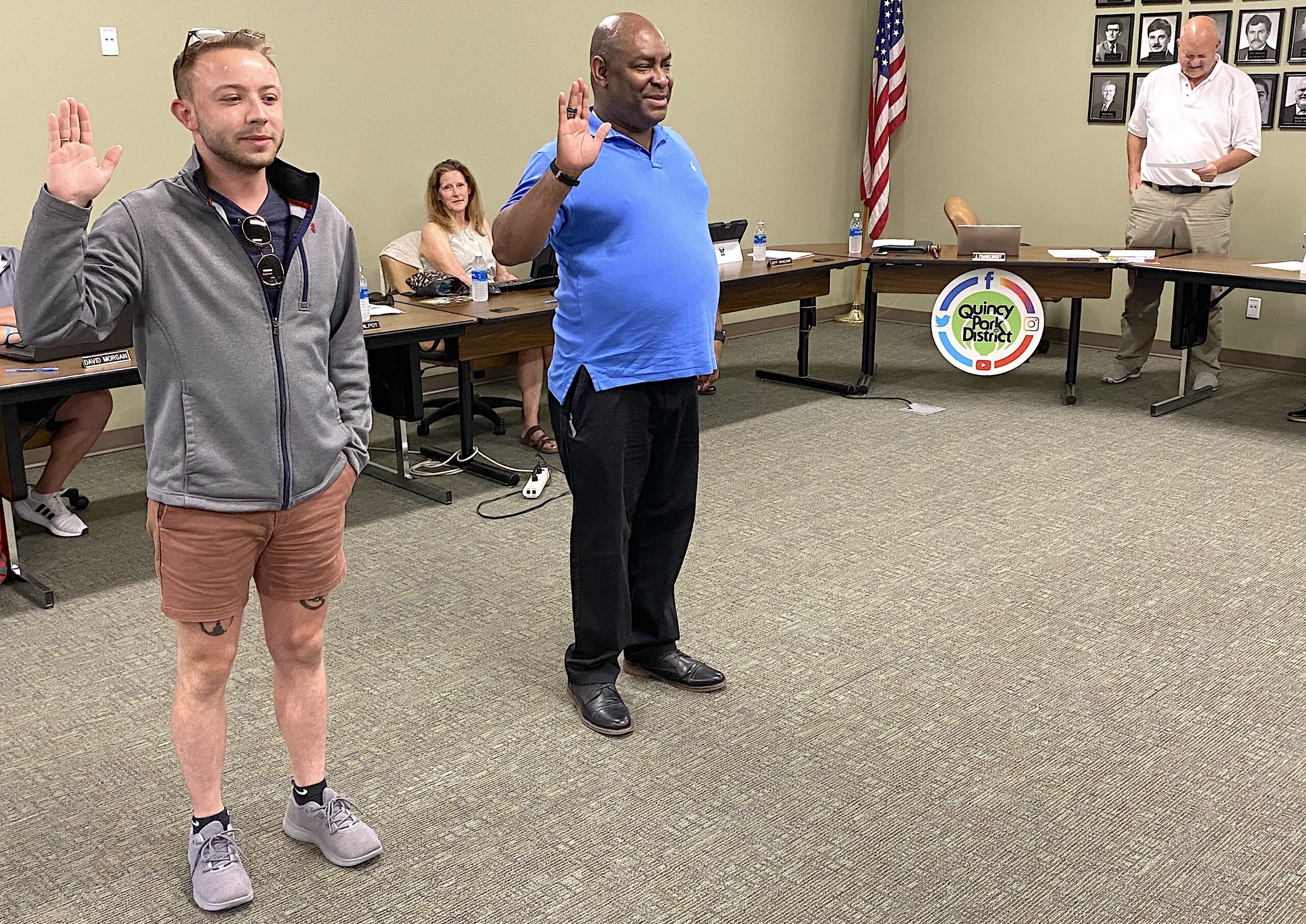 QUINCY — Saying he's ready to "uplift the staff, continue to push them and allow them to be able to do what they need to do," Jarid Jones took advantage of three votes from new commissioners to be elected president of the Quincy Park Board during Wednesday night's meeting.
Jones and Mark Philpot attended their first meeting as commissioners after running unopposed in the April election. They replace Nathan Koetters and Roger Leenerts, who opted not to run for re-election. Park Board president John Frankenhoff swore in both men before Wednesday's meeting.
One of the first duties of the new board was to elect officers. Jeff Van Camp nominated Frankenhoff, the board's longest serving commissioner who was first elected in 2001. Barb Holthaus — the board's vice president since 2019 — then nominated Jones.
When the commissioners voted, Jones voted for himself and Philpot voted for Jones, Patty McGlothlin was next, and after fidgeting for a moment, she asked, "Can I pass?"
Alan Hickman, who became a commissioner on Jan. 18, and Holthaus then voted for Jones. Frankenhoff and Van Camp voted for Frankenhoff. McGlothlin then said, "My vote doesn't matter," and voted for Jones.
The board voted for Philpot as vice president, then retained Executive Director Rome Frericks as the board secretary, Director of Business Services Brian Earnest as treasurer and David Penn as board legal counsel.
Frankenhoff served a lengthy term as president before Bob Gough took over in 2017 and served for two years. Frankenhoff returned in 2019 for a two-year stint as president before Leenerts took over in 2021. Frankenhoff was re-elected president in 2022.
Holthaus, a commissioner for six years, said after the meeting she knew Jones had an interest in serving in a leadership role.
"John has provided tremendous leadership to the Park Board, and he'll continue to be a valuable member," she said. "I've worked with Jared on community projects, and I've seen his ability to lead and his commitment to our community. It's exciting to have new members join the board who are eager to make a difference and who embrace leadership roles. So that was the basis of my nomination.
"It was evident from this evening's meeting that we have three very dedicated new members who are informed and who participate. I have no doubt of the capability of our new leadership."
Asked after the meeting if he expected to become Park Board president on Wednesday, Jones said, "I had intention to continue to support my community in any way that I could, not knowing exactly what I would walk into. … It was not necessarily a surprise, but certainly something that came out of recommendations of other members."
In another interview later Wednesday night, Jones added, "(Running for president was) definitely something that I considered just from being able to be a part of the communication from the board and being privy to that a little beforehand."
Jones, 25, owns Prestige, a social media marketing agency he started when he was 18; JusTasking, which leverages a network of "taskers" to connect users to people to complete different tasks; Quincy Axe Company, which offers axe/knife throwing sports events for multiple occasions; and Experience Quincy, a property management company.
He also is the treasurer of the Quincy Area Convention and Visitor's Bureau, vice president of the Mary Weems Barton Library Foundation and a nominee for president of the Rotary Club. Frericks is a member of the Rotary Club board.
"I will make mistakes, but I'm not the guy who's at the forefront of everything," Jones said. "My job is to be supportive and to support the board and support the staff.
"I'm sure I'll make mistakes. I'm young, and I'm learning, but I'm also a business owner. I'm an investor in the community, and I want to show people that if you want to make change or enact change, you have to be willing to get up there and help make it happen. … Every door that has been so hard to open, I've just pulled a little bit harder. I'm going to spend the rest of my life here, and I want to be able to enjoy it."
Jones said he's talked with many people who have moved to Quincy and remarked about how much they appreciate the city's trail system. As an owner of downtown businesses, Jones said he will continue to push for riverfront development.
"It's so fascinating how much that really does benefit their lifestyle and their way of life here in Quincy," he said. "The riverfront is a meaningful thing for me as a business owner as someone who wants to invest in Quincy. These seem like small things, but they're so big, and they really do keep and bring young individuals into our community. "It's another way of continually improving activities for the community and the quality of life and also contributes to the workforce in a meaningful way."
As for his age, Jones said people need to know a next generation of leadership exists.
"We have all of these young professionals here who are truly investing in the same way," he said. "People can look at me and say, 'Oh, he's 25. He doesn't know anything.' Well, I run and operate four businesses, and I have these involvements with all these organizations. Age is just a number."
In other action, the board:
Learned from Frericks that the Park District's Illinois Municipal Retirement Fund has a surplus of $1.534 million. Frericks explained the staff and the board have made six additional contributions beyond their normal contributions during the last nine years. The Park District's contribution rate was 12.55 percent in 2013. Now it is 3.47 percent.
Learned Art Keller Marina has 109 boat slip rentals so far this year. Director of Parks Matt Higley said 17 people did not renew slips from last year, and 11 new slips have been rented. Eight boathouses have been rented, the same number as last year.
Learned all commissioners, as well as Leenerts and Koetters, have been named to a committee formed as part of the Local Government Consolidation Act. The act provides an opportunity every 10 years to demonstrate ways in which governmental bodies efficiently and effectively serve residents.
Approved a temporary construction easement for the construction of electrical infrastructure to serve the Clat Adams Park and surrounding area.
Approved the Quincy Art Center to place an outdoor sculpture with a donor plaque at 1515 Jersey. The Art Center plans to complete the installation and have a public unveiling on Sept. 9.
Learned the lights at two of the Park District's four baseball/softball fields have been adjusted to provide brighter lights around home plate. Director of Program Services Mike Bruns said he believes the lights on two other fields will be adjusted within the next two weeks.
Learned 1,598 children have signed up to participate in the Park District's T-ball and youth baseball/softball leagues — an increase of more than 300 from year to year.
Learned new equipment at The Batting Cage in Moorman Park should be installed before the end of the month. New pitching machines were ordered in December, and Bruns said he expected them to be in use in April, but manufacturer delays pushed delivery back two months.
Learned the number of 18-hole rounds at Westview Golf Course through May 1 is up 92 percent (from 388 to 746) compared to last year, and the number of nine-hole rounds on holes 19-27 is up 63.6 percent (from 563 to 921) compared to last year. The total number of rounds is up 70.3 percent (from 3,851 to 6,558) compared to last year. Director of Golf David Morgan said revenue has increased about $80,000 from year to year so far.
Miss Clipping Out Stories to Save for Later?
Click the Purchase Story button below to order a print of this story. We will print it for you on matte photo paper to keep forever.