'It was all a sick game': Rokusek sentenced to 2 years in prison, 30 months probation in unauthorized taping case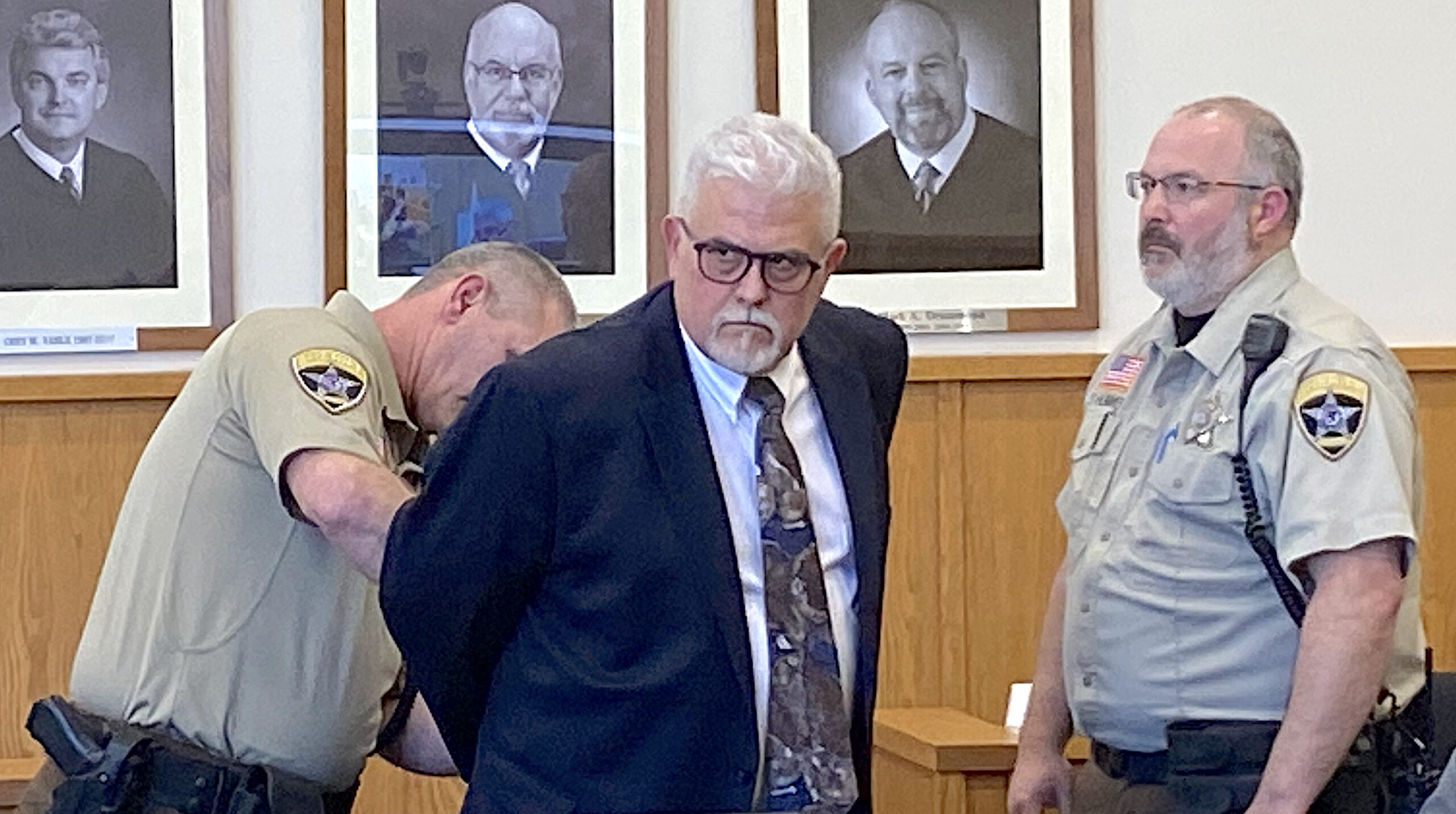 QUINCY — The prosecution wanted the maximum prison sentence allowed, and the defense wanted probation.
Judge Mark Vincent, admitting he didn't know what he was going to do before the beginning of Friday afternoon's sentencing hearing of John Rokusek, decided a little of both was in order.
Rokusek, 60, the former owner of a Quincy marketing and advertising company, received two-year sentences to run concurrently in the Illinois Department of Corrections for unauthorized taping and producing videos of multiple women at the company he owned. He also received 30 months' probation to be served after he completes his time in the Department of Corrections.
Investigators found more than 5,000 videos and photos of people in a locker room/restroom area of Rokusek Design, 519 S. 18th, without their permission while they were showering or changing clothes. Rokusek pled guilty Feb. 23 to the unauthorized recordings on Oct. 24, 2021, Nov. 1, 2021, and Nov. 4, 2021.
In negotiations with the Adams County State's Attorney's office, he pled guilty to three counts, and the state agreed to drop six other felony unauthorized videotaping charges. Each count carried a sentence of one to three years in the DOC, but the deal with prosecutors carried a cap of seven years in total.
Rokusek is eligible for truth in sentencing at the rate of 50 percent. Assistant State's Attorney Josh Jones said Rokusek likely will serve about 10 months in prison before he begins probation.
"I can tell you (the six women who gave victim impact statements) they all wished that (Rokusek) would have gotten more time in prison," Jones said. "We spoke with the victims afterward, and I think they understood the judge's ruling."
In making his ruling, Vincent credited the work of the Adams County Probation Department, which recommended probation and a jail sentence in its pre-sentence investigation.
Vincent said Rokusek has no prior criminal activity and has led a "law-abiding life for a substantial period of time." He also noted expert witnesses for the defense referred to Rokusek as a "fantasy sex offender," not a "contact sex offender," and there was no evidence that Rokusek disseminated any photos or videos.
"What the law does say … is that when it is available, probation is to be the preferred disposition in a case," Vincent said. "Just because it's preferred doesn't mean it's required."
He later said, "I do find imprisonment is necessary."
Six women gave victim impact statements to the court. One woman provided a document. The other five, all former employees of Rokusek's at Rokusek Design, read their statements aloud in the courtroom. All of them said Rokusek encouraged them to take part in daily workout routines, and he often confronted them when they didn't. They all referred to difficulties using public restrooms or dressing rooms today as they struggle to comprehend what happened.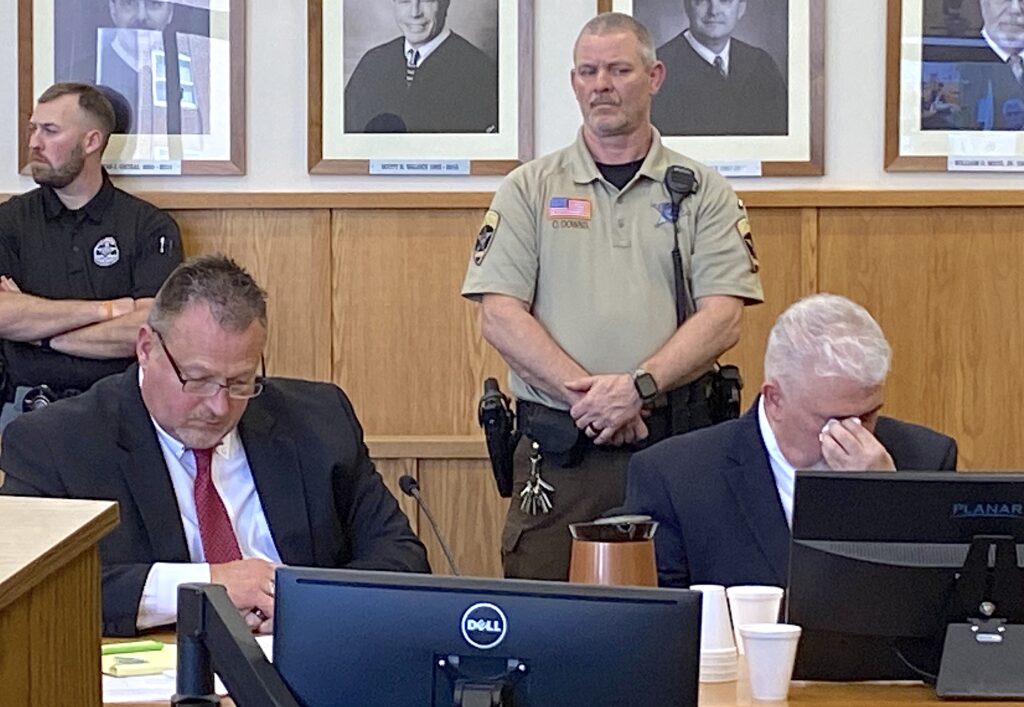 One woman, identified as E.W., said she worked for Rokusek for 10 years. She said she and her husband came to admire Rokusek and his philosophies on marriage and commitment. She said she asked him to officiate at her wedding.
"John stood in front of our families and read our vows that included parts about love, honesty and, most of all, trust," E.W. said. "He stood in front of my family, my husband's family and my new husband and spoke these words, all while knowing that he had years of inappropriate images and videos of me saved on to personal devices. One of the happiest days of my life is now damaged forever. There are photos and videos I cannot watch or look at because he is in them."
She then concluded her statement by saying, "He deserves nothing less than the maximum penalty. I know I'm strong, and I know I will overcome all of this and be a better person than I thought I was supposed to be before this happened. I will not allow (Rokusek) to define me, and I will no longer let John have control over me. John, you do not deserve leniency from the judges today. You deserve prison and a life of unhappiness, and I pray like hell that is what happens to you."
Another woman, who identified herself as T.M., said she was a 21-year-old college intern when she first started working for Rokusek. She talked about how happy she was working for his design company, taking advantage of happy hours, wine nights, daily workouts and an in-office masseuse.
"Being young and naive, I assumed all these benefits were of pure heart," T.M. said. "I didn't realize I was a member of a cult run by a power-hungry man. … Imagine working with someone for years and building a relationship that you thought was cool, having him treat you like a daughter, and then to find out it was all a sick game."
T.M. told the story of the day she found a cellphone duct-taped to the inside of a cabinet in the building where she worked.
"The worst part of that day was not finding the phone," she said. "It was later that day when John Rokusek asked me individually to come up to his office, closed the door, sat me down and looked me in the eyes. That's when he confessed to me that he had hidden that iPhone in the bathroom with the intent to film us.
"When John confessed the iPhone to me, he gave me every excuse. He said this was the only time that had happened, that it was just a thrill that he was seeking and nothing more. That the pictures meant nothing. He just wanted to see if he could get away with it. The best of all, he asked me to say nothing about this to anyone. He asked me without any hesitation to keep his dirty secret and tried to convince me that this was a common accident."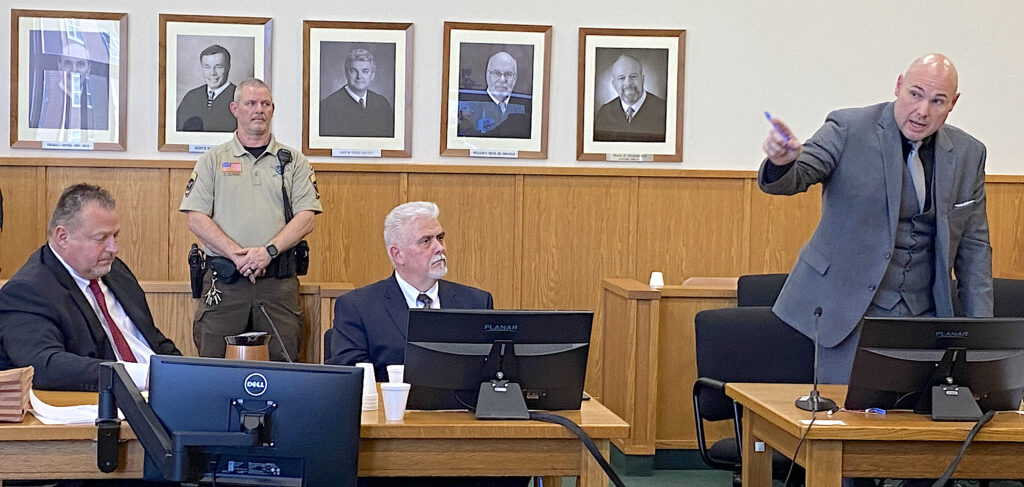 Jones said Rokusek had 3,122 photos of women in the bathroom or the shower and produced 2,000 videos.
"It boggles the mind to try to comprehend how you accidentally and secretly record an employee in the shower," he said in his closing argument.
After the sentence was imposed, Jones called the victim impact statements "some of the most powerful things that I've heard in 20 years as a lawyer."
"Those six young women are incredibly brave, incredibly strong and incredibly powerful," he said. "Nothing we did today was going to make them whole. I think them having the ability to stand up to the person who committed an offense against them and tell them how they think and how they feel … I hope it helped them."
Two people testified in Rokusek's defense.
Dean Dickson, a licensed psychologist in Pennsylvania and Vermont, said Rokusek suffered from voyeurism. Voyeurs do not seek sexual contact with the people they observe, Dickson explained, unlike fixated pedophiles like former Penn State assistant football coach Jerry Sandusky, rock star Michael Jackson or actor Kevin Spacey.
Dickson cited tools he used to evaluate Rokusek, such as a polygraph and a Static-99 test, a risk prediction instrument designed to estimate the probability of sexual and violent reconviction for adult males convicted of at least one sexual offense against a child or a non-consenting adult. He said Rokusek has a 98 percent chance of not committing a contact sexual offense, and about a 96 percent chance of not re-offending in a voyeuristic or non-contact matter.
Jones asked Dickson if it would change his opinion if he knew Rokusek had more than 5,000 videos and photos.
"Based upon my recommendations, it would not," Dickson said.
Melissa Killeen, a self-described recovery coach from Summerdale, N.J., said she has worked with Rokusek since he entered KeyStone ECU (Extended Care Unit), a Chester, Pa., health center that works with people struggling with sexual compulsivity, problematic sexual behavior and trauma, in November 2021. Rokusek stayed there for 42 days.
Killeen talked about the individual therapy sessions she had with Rokusek, along with group therapy sessions and a "12-step" classroom-type meetings he had once a day as part of his treatment.
"One of the most important aspects of recovery is service … giving back to the community," Killeen said. "We often say that it 'keeps you sober.' John has not only been an integral part of his recovery community, but he has helped others. People know when they call, John will answer it. He is there to support people in the program. He is often asked to talk to newcomers and welcome them into the program."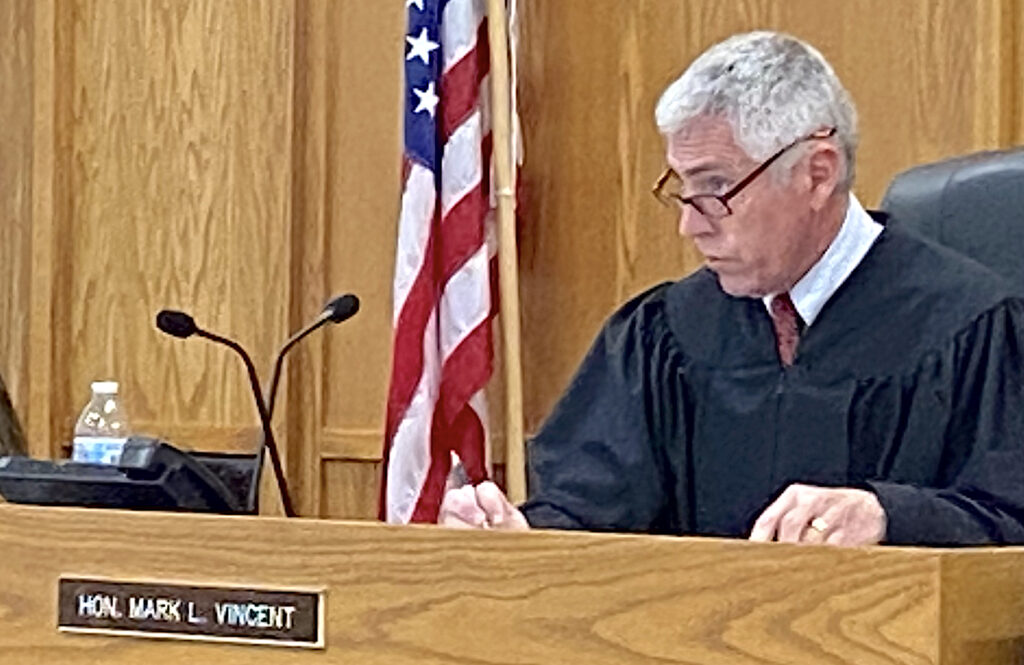 Killeen said Rokusek has reached what she called the "long-term maintenance phase of recovery."
"He's well respected by his peers, his work colleagues, the people in his 12-step community," she said. "He goes to meetings on a regular basis. He also has a very strong commitment to service in these. At these 12-step organizations, he helps others, he leads meetings. He also has found a new higher power. I'm not saying God, but a power greater than John that can guide and sustain in his recovery."
Dennis Woodworth, Rokusek's attorney, asked Killeen if she has ever seen Rokusek as unwilling to participate.
"The only potential situation is if John is sentenced to prison," she said. "That will stop his recovery."
Jones asked Killeen about types of sexual addiction, such as pornography and sex outside of a marriage. He noted that pornography (not involving underage children) and having sex outside of a marriage are not illegal.
"(Rokusek isn't) here because he's looking at pornography. He's not here because he had sex outside of marriage," Jones said. "He's here because he secretly recorded his employees over 5,000 times in various states of undress."
"And that's called voyeurism," Killeen said.
"Well, it's called a crime in Illinois," Jones said.
Woodworth said stopping Rokusek's recovery and treatment to send him to prison "makes absolutely no sense."
Rokusek, now divorced and working at a home improvement store in St. Louis, read a prepared statement. He said he betrayed the trust and friendship of the six former employees.
"I'm responsible for all of this pain," he said. "I hurt people I care about. I want you to know that it wasn't always objectifying or violating you. … I was caught up. I wanted to stop. I hated myself. I know you see me as a monster, but I hope that someday you'll be able to see me as a sick man who is working really hard to be better. I know I can't repair the damage that I've caused. I can't undo what I did. I hope you find healing for what I did.
"Because of my selfish compulsive actions, I've hurt all the people I care about most. I wish I could turn back the clock and make better choices. My life had been really good — a happy family, a loving wife, a house filled with laughter and love. I had friends and associates who respected me and enjoyed being around me, and a very profitable business. I was respected in the community. I've destroyed everything."
He concluded by saying he's "on the road" to becoming a better version of himself and committed to rebuilding a life based on integrity, without shameful secrets or addictive behavior.
"I'm responsible for my actions and the damage I've caused," he said.
Rokusek doesn't have to register as a sex offender after the conviction.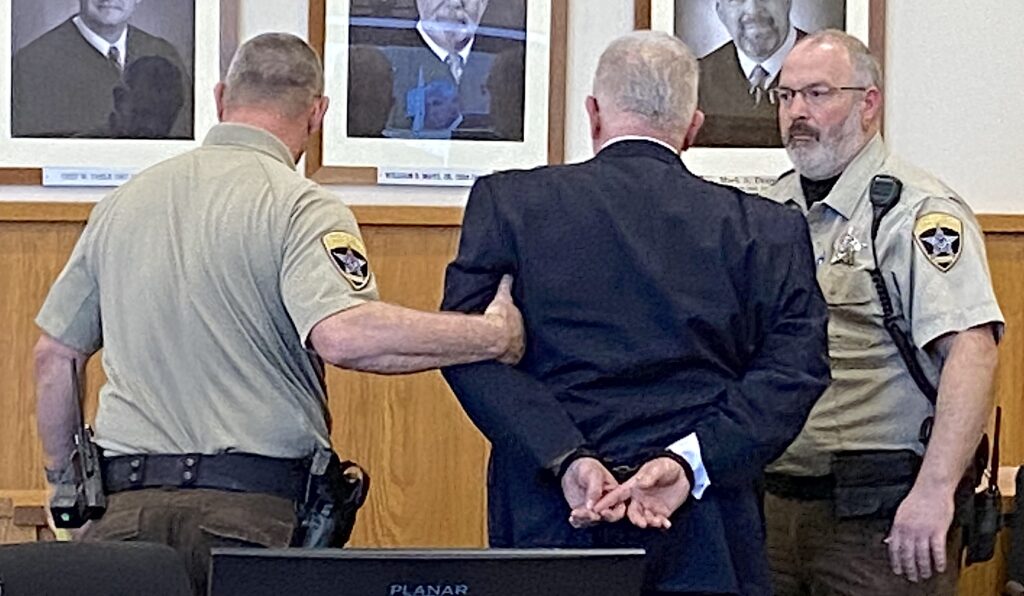 Miss Clipping Out Stories to Save for Later?
Click the Purchase Story button below to order a print of this story. We will print it for you on matte photo paper to keep forever.