'It's a gift to city and the region': Oakley family gives record-setting $6.5 million to Quincy University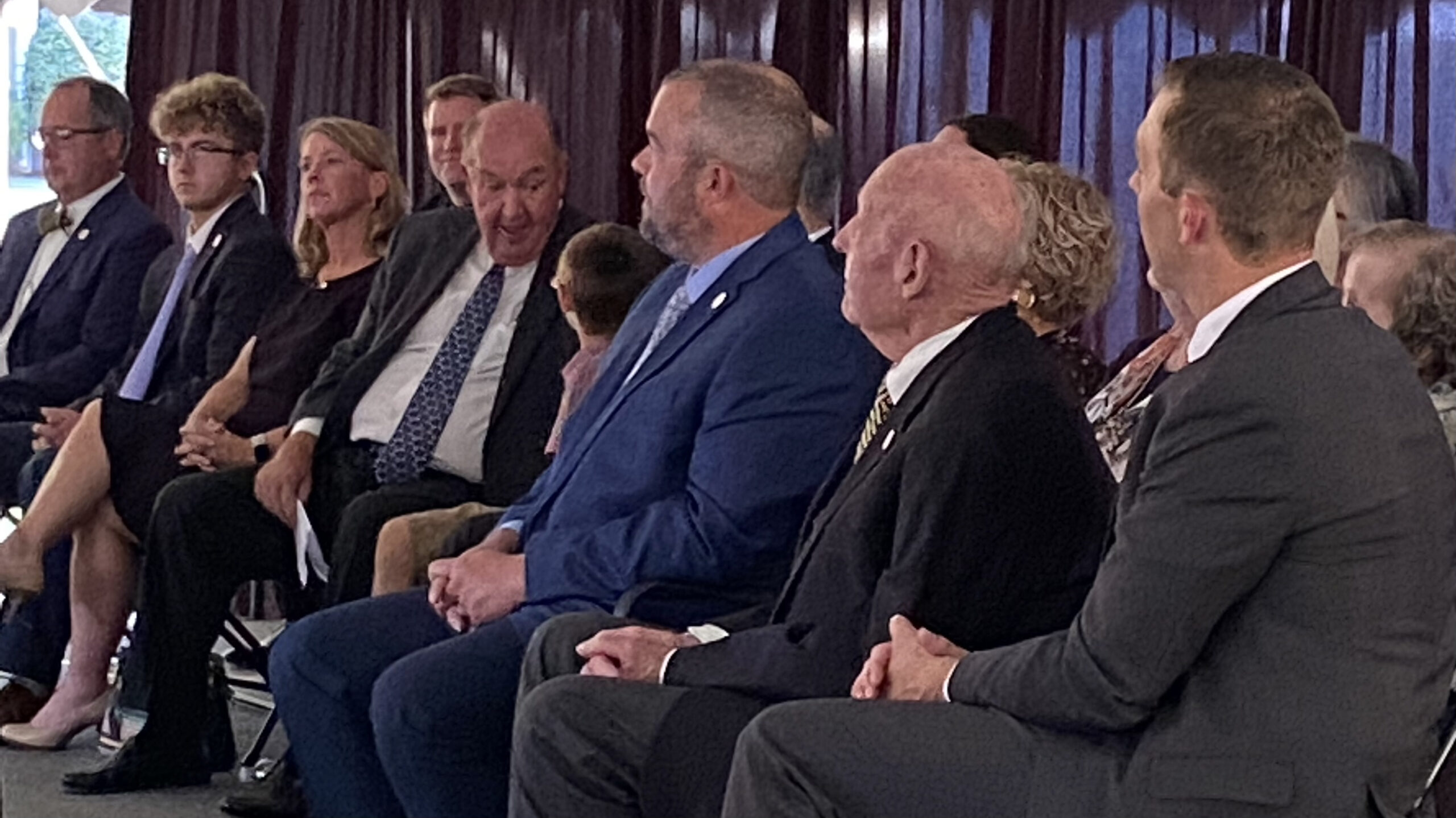 QUINCY — The Oakley family's commitment to the news business spanned more than 120 years until the sale of Quincy Media Inc.'s newspaper, television and radio properties in February.
The family's commitment to Quincy University continues to flourish.
QU announced Tuesday during a reception at Friars Field it has received a gift from the Oakleys of $6.5 million. It is the largest single philanthropic investment in the history of the school. The money represents a substantial investment in student scholarships and institutional funds, as well as an improvement for some QU academic facilities.
The university is renaming its school of business as the Oakley School of Business. 
McGee: The words 'thank you' don't cover response
The largest previous donation received by QU came from a donor who did not want to be identified but gave nearly $3 million, starting in May 2020, to establish the John Mahoney Scholarship.
'The words 'thank you' don't begin to cover our response," said Brian McGee, president of Quincy University. "This university has for generations been essential to our region's success. It has been so important to the lifeblood of Quincy. So has the Oakley family with their business acumen and success. So has their philanthropic engagement across this town, this region.
"This is an opportunity for us both to do our good work and to do it even better. We certainly are grateful for all the Oakleys have done historically for this institution. This was a way of showing what can be done philanthropically to take an institution, to take a region, to the next level. This is a gift to Quincy University, but let's be clear. It's a gift to the city and the region. It helps us better serve this region and to be one of those anchor institutions and entities that makes Quincy thrive and achieve, not just trying to survive."
Family members have supported QU in many ways
The Oakley family has supported Quincy University for many years in many ways. Family members have served on the board of trustees, taught classes and chaired campaign drives. They also have made significant philanthropic commitments to the university, such as the Oakley Family Scholarship for QU students. Family support also helped secure other gifts for QU. Contributions helped build the university's Health and Fitness Center in 2000 and the Quincy Media, Inc. Broadcast Studio in 2017.
"There are two principal reasons (for the gift)," said Ralph Oakley, a 1980 QU graduate and former chair of the board of trustees. "The first is that Quincy University is so important to this region. We have great industries, great schools, great medical facilities, and Quincy University touches every aspect of life. It's so important in this region.
"The second part is for my family, for many generations, this has been an important institution for us. We've had graduates, we've had guest lecturers, we've had members of the board, all kinds of connections. So when you put all that together, it was really a very simple decision and one our family was very proud to make."
Thomas A. Oakley, president and CEO of Quincy Media from 1969 to 2008 and a former vice-chair of the board of trustees, said the family remains committed to the university "from an educational standpoint, a religious standpoint and an economic development standpoint. The economic development that has been shown by the school over decades is amazing. There's just not one thing that's not good about the institution.
"Having a significant financial contribution being made now by our family, which we can do as a result of the sale of our company … this is a landmark for the future, for the institution, for the community and for the region."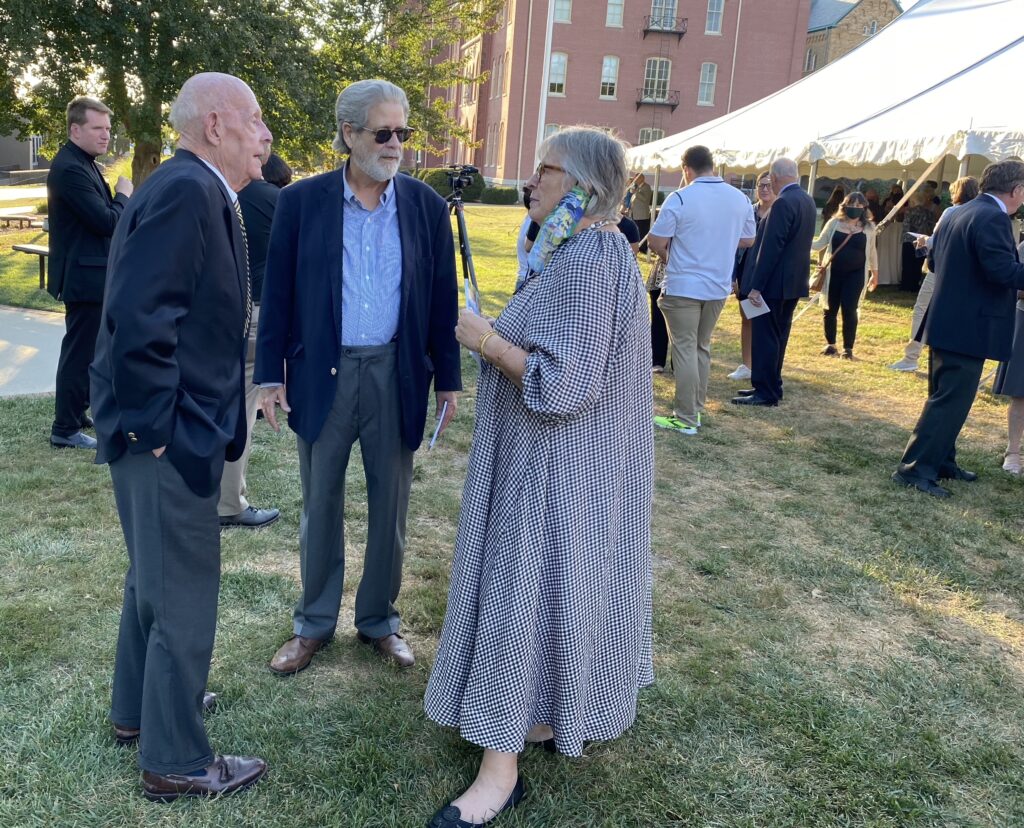 Business school now named after Oakley family
The gift comes less than two months after Gray Television completed a $925 million acquisition of Quincy Media, Inc. and its divestment of ten QMI stations in the seven Gray/QMI overlap markets to Byron Allen's Allen Media Broadcasting, LLC.
"It's always going to be about right place, right time, right opportunity," McGee said. "For the Oakleys, this was an opportunity. They were transitioning from the active role with Quincy Media to a different kind of role in this community. They saw this as a time to make an impact statement about the power of philanthropy and their commitment to this community.
"The Oakley family is committed to this institution and to this region for generations to come. They signaled that as clearly as they possibly could."
The Oakley School of Business is the first named school in the history of the university.
Business programs were first offered at the school in 1867. The mission of the Oakley School of Business is to emphasize education through critical thinking and decision-making skills, experiential learning, leadership development and exposure to diverse academic theories and practical experiences.
The university offered its first graduate degree, the masters of business administration, in 1984. QU offers undergraduate courses of study in accounting, finance, marketing and management. It recently added a degree in business analytics. The newly named school also will support one of the university's two newest academic programs, an interdisciplinary undergraduate major in arts management.
"This generous gift allows us to build upon our rich history of business education and provide students with resources needed to build successful careers," said Cynthia Haliemun, dean of the Oakley School of Business, in a prepared statement. "This is truly a historic moment for QU, its business alumni and its current and future students."
Miss Clipping Out Stories to Save for Later?
Click the Purchase Story button below to order a print of this story. We will print it for you on matte photo paper to keep forever.