'It's like losing an officer': Quincy Police Department ceremony gives canine his 'final ride'
QUINCY — Regional law enforcement agencies from around Quincy gathered on a dreary, rainy morning to say goodbye to one of their officers.
More than 50 officers from the Quincy Police Department, along with officers from the Illinois State Police, Adams County Sheriff's Department and Hancock County Sheriff's Department, lined the road leading to the Western Illinois Veterinary Clinic to pay tribute to Dioji, a canine officer with the Quincy Police Department.
Dioji, a 10-year-old Dutch Shepherd, was put down Saturday morning.
"He had been having some difficulties keeping food down," said Adam Yates, chief of the Quincy Police Department. "Sgt. (Craig) Russell wanted to take him in and get him checked out. He thought he would just go get some medicine, and that would be that. They did some testing and found he had a very aggressive form of stomach cancer."
Saturday's ceremony was what Yates called a "final ride."
"It's a tribute, just like for a fallen officer," he said. "It's a final farewell for those law enforcement officers he's worked with for the last nine years now. It's a fitting tribute for an officer who has given a lot back to this community."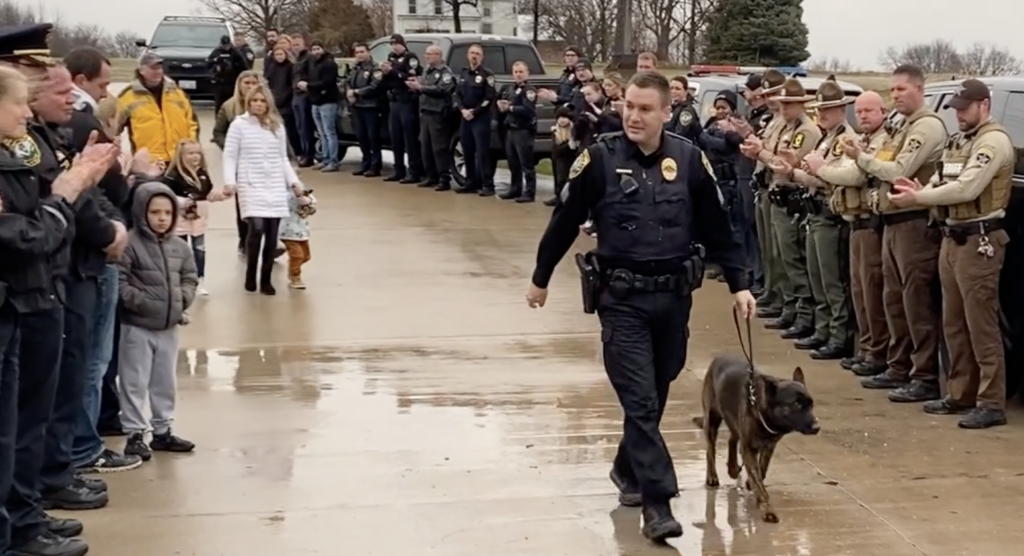 The bitter cold led to red faces and runny noses on Saturday. So did the emotion of seeing Russell lead Dioji into the clinic, followed by his family.
"It's been difficult, even for me," Yates said. "It's been a difficult 24 hours after we got the news. Putting this together and realizing what it all meant, it's tough.
"Craig was always a champ when it comes to bringing Dioji in, showing him off, letting the kids see him. At the Back the Blue festival every year, he would come out. A canine is great tool, and the work that goes into training a canine is, well, unless you do it, you'd never understand it."
Yates said Dioji was involved in too many cases for him to count them all.
"It's the cases, the sniffs, the finds, the searches, the apprehensions … I mean, it's just that constant presence that he's always there," Yates said. "They're also trained in tracking. If we have to search for a suspect, (canines are) trained in apprehension. If we have a felon that's fleeing from us, we can send the dog to apprehend them. They also building searches. If we respond to a burglar alarm late at night, and there's an open door, instead of the officers going in and potentially getting ambushed by a suspect, the dog's used as a tool to go in, search and see who's in there or whatnot. He's always available, and bad guys know it. It's a crime deterrent.
"As police officers, we're willing to put our lives on the line for the citizens. The canines are willing to put their lives on the line for us. When you've worked with a canine for so long, and they just become part of the law enforcement family, it's tough. This is pretty devastating. It's like losing an officer."
Dioji joined the Quincy Police Department in 2013. Russell and Dioji graduated from the Illinois State Academy Canine Training Unit on Nov. 1, 2013. Dioji worked most of his career with QPD's Street Crimes Unit. His most recent assignment was on night shift patrol.
Quincy Police Officers will wear mourning bands in his honor.
The department has one active canine team — Kelby Rescinito and his partner, Roy. Yates said the department had been anticipating Dioji's retirement in December, but "we were going to let Dioji come to work as long as he wanted to come to work."
Miss Clipping Out Stories to Save for Later?
Click the Purchase Story button below to order a print of this story. We will print it for you on matte photo paper to keep forever.