'It's not about the guilt, it's the sentence': Adrian hearing in Chicago wraps up, but wait for ruling begins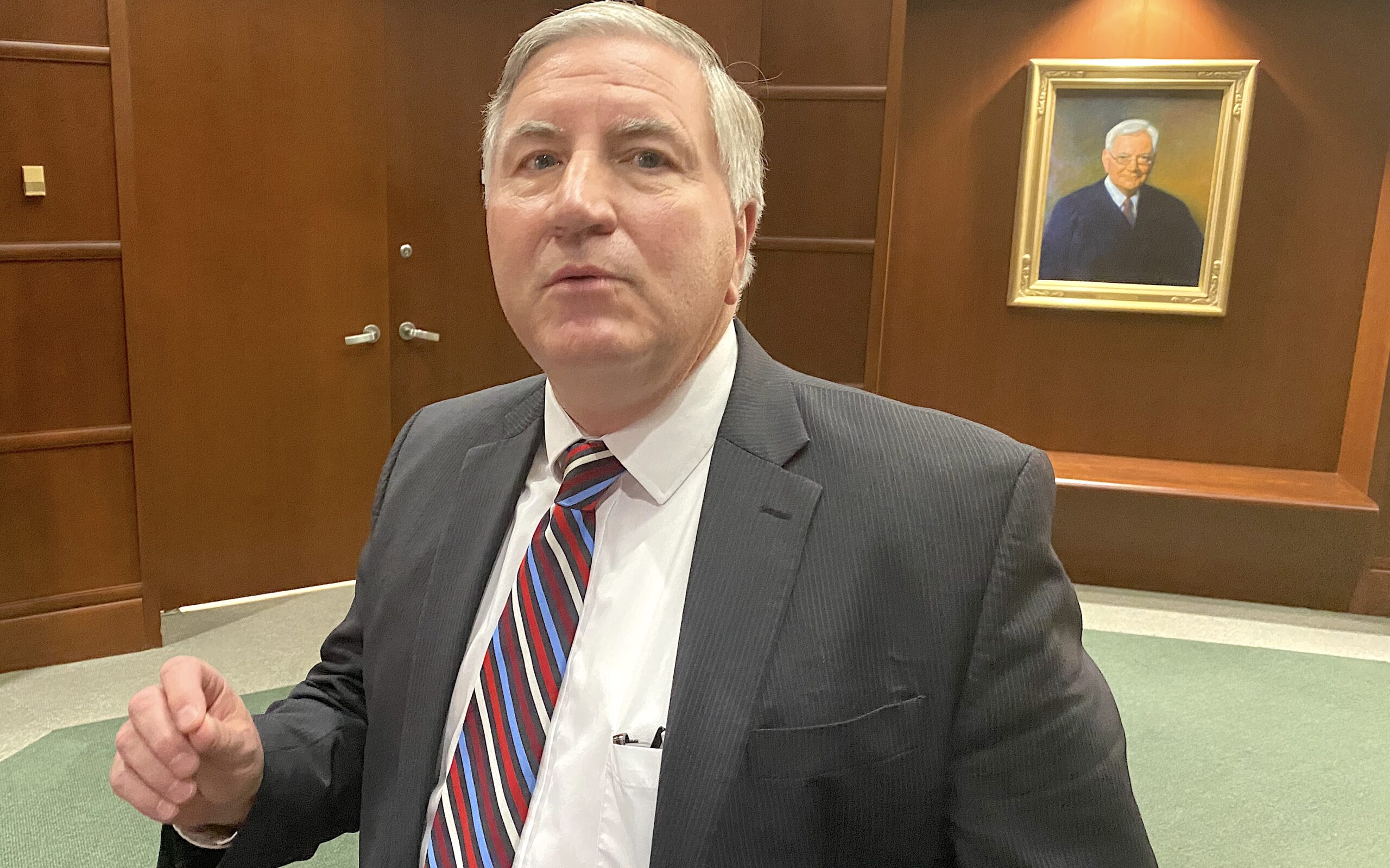 CHICAGO — Mike Deno called Eighth Circuit Judge Robert Adrian's explanation for why he reversed his guilty verdict in the Drew Clinton sexual assault trial "not believable," refuting Adrian's claim he changed his mind because Clinton wasn't guilty and instead said Adrian tried to circumvent the law to avoid giving him a mandatory prison sentence.
"It's not about the guilt," Deno said. "The 'rookie mistake' he wants you to believe is not about the guilt. It's the sentence."
Deno and Daniel Konicek, the attorneys representing the Illinois Judicial Inquiry Board and Adrian, respectively, gave their closing arguments in the two-day hearing that ended Wednesday afternoon in the Bilandic Building downtown.
Elizabeth Rochford, the Illinois Supreme Court justice appointed to the Courts Commission in this case, said after the closing arguments that the seven-member commission would take the information from the hearing "under advisement." She did not indicate when or how a ruling would be issued.
Adrian found Clinton, 18 at the time, guilty of felony criminal sexual assault following a three-day bench trial in October 2021. However, on Jan. 3, 2022, Adrian vacated Clinton's conviction, resulting in Clinton being released from the Adams County Jail.
Deno noted multiple times in his closing statement that when Adrian explained his reversal, he provided no analysis of why he made his decision — while claiming he had studied and reviewed the case for 2½ months. Instead, Deno said Adrian's statement concentrated on why he couldn't sentence Clinton to the Illinois Department of Corrections and why 148 days served in the Adams County Jail was "plenty of punishment."
"Every single word, up to where he says, 'But what the court can do,' Judge Adrian is talking about the sentence," Deno said. "After the two-and-a-half-month deliberation that he says he labored over and all that analysis he supposedly did, he doesn't say one word about the facts or his analysis. Not a single word.
"After supposedly putting in all that time and effort (to review the case), he went up to that bench without a single note. Isn't that the least bit curious? He made the biggest mistake a judge can make and found a man guilty of a crime he believes he did not commit. That man had to sit in jail because of that mistake. But before taking the bench, he didn't write anything down and had no outline. Not a single word."
Deno said the "reconsideration of the evidence" that Adrian claimed was "a lie."
"He never spent a minute rethinking his decision or about the total failure of the prosecution to prove that the victim was unable to give consent," Deno said. "All of his labored thought came after he was asked to explain his decision."
Deno concluded his closing argument by saying, "If he's going to lie to you about something like that, what can you believe?"
Konicek opened his statement with a reference to a quote from Mark Twain: "If you tell the truth, you don't have to remember anything."
He said Adrian was consistent throughout his testimony to the Judicial Inquiry Board and to the Illinois Courts Commission. He bristled when addressing Deno, who called Adrian a liar when Adrian explained it was "a few days" before the Jan. 3 sentencing hearing when met with Adams County State's Attorney Gary Farha.
Konicek also said the fact Adrian didn't have notes when he made his reversal and he didn't order a transcript of the Jan. 3 testimony doesn't make him a liar.
"They're hanging their hat on that?" Konicek said. "The word 'few' doesn't condemn a person's truthful testimony. I apologize that I get all riled up."
Konicek said the testimony from three DNA experts helped make it easy for Adrian to conclude that Clinton did not without consent — or with the victim unable to consent — digitally penetrate the victim. He said the testimony from the victim, at first, was she clearly said Clinton's penis was inside her. No mention was made of digital penetration. When the victim was called back as a witness later in the trial, Konicek said she said, "I thought it was his penis."
Konicek also noted the DNA experts did not find "one shred of evidence" of seminal fluid.
"Their case fell completely flat on its face," he said. "(Assistant State's Attorney Anita Rodriguez) had to fall back on Plan B."
Adrian's conversation with Farha on Oct. 18, during which he asked if Farha would amend the charges to something that would be subject to probation, showed that "(Adrian) made a mistake, and it had to be undone. … He had an obligation to undo what he did."
By choosing to focus on the sentence on Jan. 3, 2022, and not the reasons for his reversal of the guilty verdict, Konicek said Adrian used his position to begin discussion about the unconstitutionality of the mandatory sentence in the case.
"If he goes into the hearing, and he's decided (Clinton is not guilty), as he's already explained, why wouldn't he want to talk about what he perceives to be in this state the problem with the automatic non-discretionary sentence?" Konicek said. "There is nothing that obligates the trial court to take notes beforehand, to have the decision written out beforehand.
"(Instead Adrian) wants to explain and talk about a system that he thinks is problematic. Why not? We live in a democracy. A court has a right to discuss what it thinks is problematic. That's how civil discussions are created — not arguments, not fighting, not on social media. (These) arguments start at the very ground level by trial judges who have the courage to say what the legislature is doing is wrong."
Konicek concluded by asking why Adrian would put his own career at risk by allegedly making a judgment to circumvent the law and put his own career in peril.
"Why would a person who's lived in Quincy all his life, where he knows he must be elected by the people, make a reversal under these circumstances that he knows is going to be an incredible thunderstorm against him?" Konicek asked. "Why would he put himself out like that? It's not about transcripts, and it's not about notes. It's about the evidence. Why would someone in Judge Adrian's position logically put himself out there to be subjected to the criticism and to the comments about letting a rapist go (free)?
"Unless he's a true servant. That's what you do. When you hold positions that you do as judges, you're there to serve. … There's nothing to suggest he's been anything other than dutiful."
Miss Clipping Out Stories to Save for Later?
Click the Purchase Story button below to order a print of this story. We will print it for you on matte photo paper to keep forever.