'I've never seen anything like it … I'm appalled that it got passed': Panel pleads for changes to be made to SAFE-T Act before Jan. 1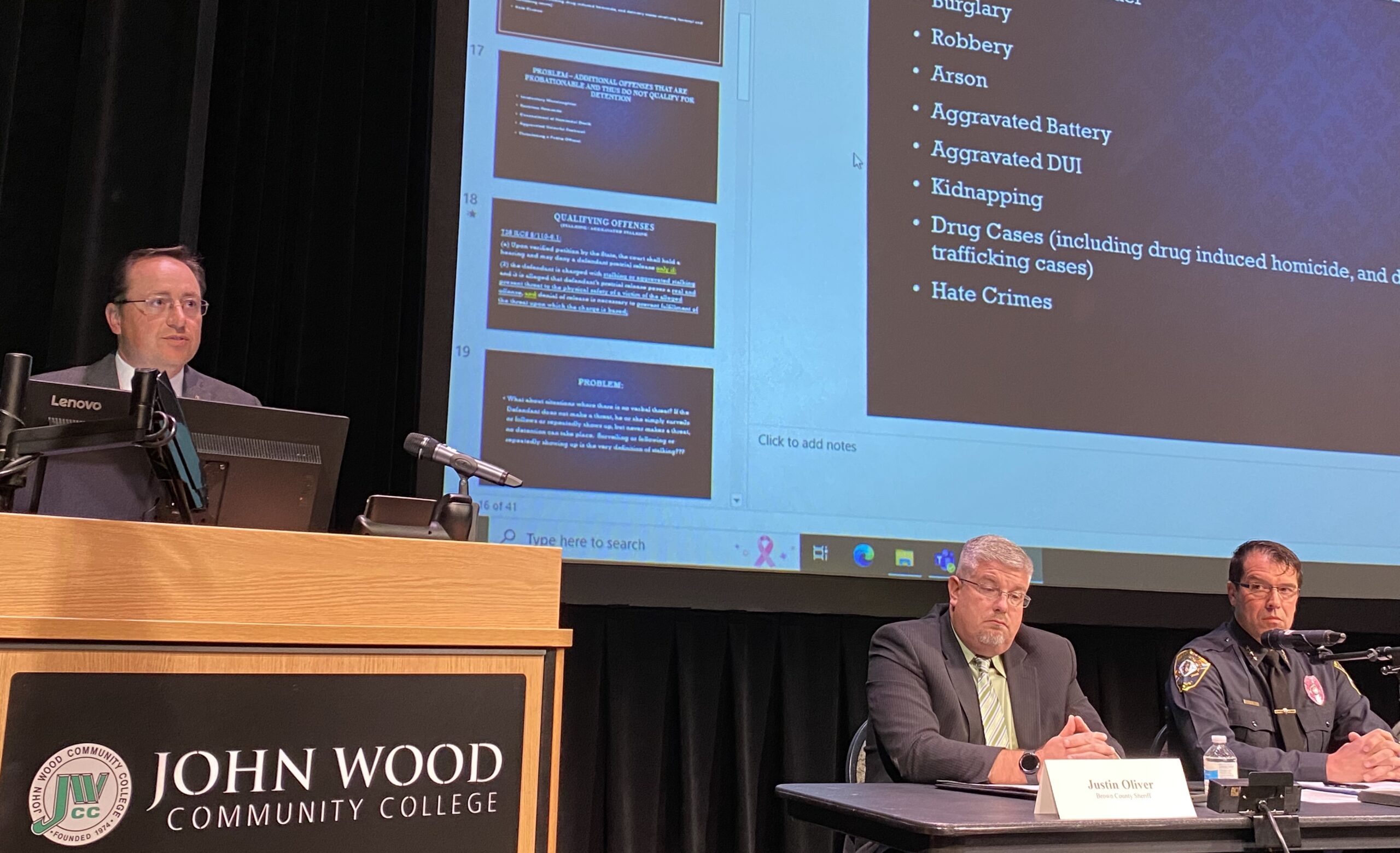 QUINCY — Adam Yates, chief of the Quincy Police Department, offered a story about a homeowner with a pool to help illustrate the flaws of the Safety, Accountability, Fairness and Equity-Today (SAFE-T) criminal justice reform act.
"It's summertime, you're out in your backyard, and there's someone in your swimming pool who you don't recognize," he told the crowd of about 100 people during a town hall meeting Wednesday night in the auditorium at John Wood Community College.
"You go out in your backyard. You ask them what they're doing. They say, 'I'm just taking a dip.' You tell him he needs to leave, because he's trespassing on your property, and you no longer want them to be there. They refuse to leave. … You call the police. The officer shows up, walks up to the individual and says, 'This is not your property. You've been asked to leave. You need to leave.' The individual says, 'I'm not going to leave.' The officer says, 'Well, then you're going to be arrested for trespassing.'
"Next summer, the officer is going to say, 'Do you have your driver's license on you?' If the person says yes, then the officer will take that driver's license, write that individual a ticket, hand it to him, walk back out to the street, get in their car and leave … because we are not able to take that individual into custody come Jan. 1."
Yates joined Gary Farha and Todd Eyler from the Adams County State's Attorney's office, Brown County Sheriff Justin Oliver and State Sen. Jil Tracy, host of the event, for a discussion about the act, a nearly 800-page law which passed the Illinois Legislature on Jan. 13, 2021. Gov. JB Pritzker has signed it into law.
Tracy said the act did not go through the normal vetting process that bills passed in the Illinois legislature typically go through.
"It did not involve input from the concerned parties such as law enforcement agencies," she said. "It didn't have the regular committee hearings in the House and the Senate to be vetted to let people know what was happening and have people give input as it was appropriate. That was certainly a big issue from the get-go."
Law enforcement officials will no longer be allowed to take individuals into custody if they commit Class B or Class C misdemeanors, such as trespassing, when the SAFE-T Act goes into effect. A provision of the act called the Pretrial Fairness Act will abolish cash bail in Illinois for people charged with forcible felonies — such second-degree murder, arson, drug-induced homicide, robbery, kidnapping, aggravated battery, burglary, intimidation and aggravated driving under the influence — for which probation is an option.
For these crimes, a defendant may not be jailed before a trial unless, within 48 hours of the arrest, the prosecutor proves to a judge by "clear and convincing evidence" that the defendant is a flight risk or "poses a specific, real and present threat to any person or the community." In making that determination, the judge must "consider whether to detain (defendants) based on the severity of their offense, the risk of (them) not appearing for court and the danger (they) pose to an individual or community if they were to be released."
A Loyola University study estimated that a judge could not have detained the defendant in 56 percent of arrests that occurred statewide in 2020 and 2021 had the Pretrial Fairness Act been in place.
Farha, who said publicly for the first time he doesn't plan to run for re-election, called the bill "terrible." He said only two state's attorneys — Cook County's Kim Foxx and Lake County's Eric Rinehart — have spoken out in favor.
He also said Adams County recently joined 54 of the 102 counties in Illinois in a lawsuit against Pritzker, Attorney General Kwame Raoul, Speaker of the House Chris Welch and Senate President Donald F. Harmon.
"This should never have been passed," Farha said. "If you came in here thinking this was a bad thing, it's worse than you even thought. In my 38 years of being in the criminal justice system. I've never seen anything like it. I'm appalled that it got passed."
Each of the panelists offered reasons they believe the legislation is flawed. Eyler mentioned instances within the bill that have conflicting information. He also the statute doesn't clarify if it's retroactive for people currently incarcerated.
"For everybody sitting in jail right now, come January 1, does this law apply to them?" he said. "There's absolutely no statement in here that says whether it does or doesn't. State's attorneys are assuming that it does, because we assume for the worst and hope for the best."
Farha said he believes the law is unconstitutional and believes the Illinois Supreme Court will agree. Yates said the law infers that all police officers are "heavy handed and that police officers can't be trusted."
"To fix that, they had to write a 700-plus page bill to put our law enforcement agencies and those hard-working men and women into check," Yates said.
Everyone from Pritzker to Raoul to the bill's most ardent supporters have said a follow-up measure is likely to be passed after lawmakers return to the Capitol on Nov. 15 for their regular fall veto session.
However, the JWCC panelists said afterward they don't believe the legislation as it is written can be fixed or tweaked.
"Some spots where the wording conflicts could have been taken care of if (legislators) had (created the bill) in a manner that they normally do," Eyler said. "But it didn't go through the process."
"You have to wipe it out, and you have to start anew," Yates said. "There's a 700-plus page bill with too many issues in it to go fix individual parts through trailer bills. The best course of action would be to just start from scratch and have all the affected parties, persons, law enforcement, whoever, come to the table and draft a bill that makes sense."
"There's lots of people who agree with that bill," Farha said. "Just no sane ones."
Miss Clipping Out Stories to Save for Later?
Click the Purchase Story button below to order a print of this story. We will print it for you on matte photo paper to keep forever.