Judge denies Alford plea, sentences Camp Point woman to 48 months probation, 180 days in jail in criminal sexual abuse case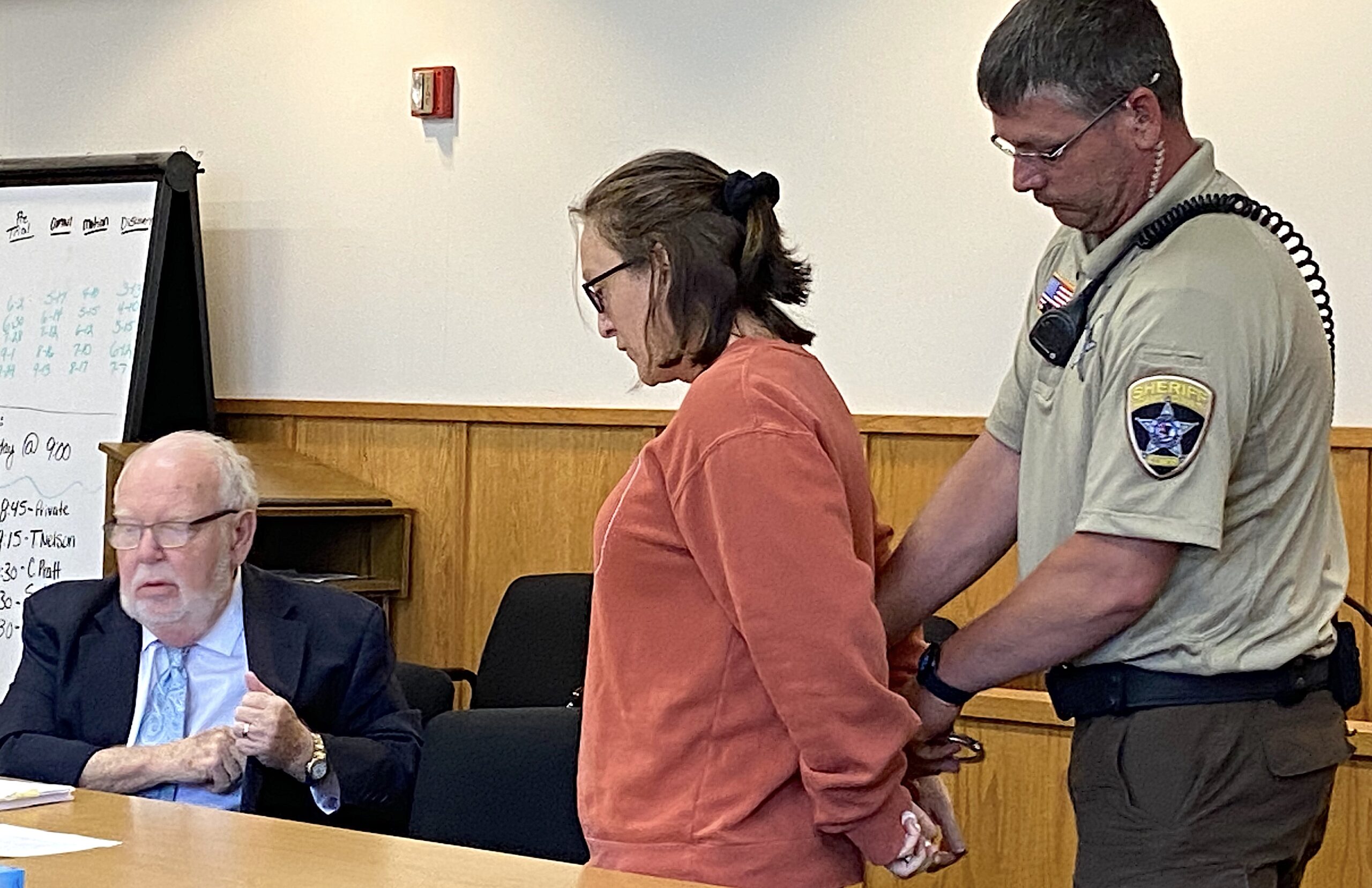 QUINCY — A Camp Point woman was sentenced Friday morning to 48 months of probation and 180 days in the Adams County Jail for her involvement in a February 2022 criminal sexual assault case. Judge Tad Brenner said he had lost sleep while determining what to do with the case and made his ruling with "extreme reluctance."
Janelle M. Sparrow, 36, appeared in Adams County Circuit Court with her attorney, Don Heck, before Brenner. She originally was charged with one count of criminal sexual assault, a Class 1 felony, and two counts of aggravated criminal sexual abuse, both Class 1 felonies. Had she been found guilty, the sentencing range for all three charges is between 4 and 15 years in the Illinois Department of Corrections.
Sparrow told Brenner on April 21 that she planned to enter an Alford plea to an amended charge of aggravated criminal sexual abuse, a Class 2 felony. It has a sentencing range of 3 to 7 years in the Illinois Department of Corrections. The three Class 1 felonies were dismissed as part of the plea agreement.
By entering an Alford plea, Sparrow would have maintained her innocence but agreed the state had enough evidence to prove her guilty. However, Brenner said Friday he had reviewed a 67-page pre-sentence investigation report and could not accept the Alford plea.
"The court is seriously questioning whether it can concur in this particular negotiation for probation for this offense," Brenner said.
Assistant State's Attorney Laura Keck said she met with the victim to discuss Sparrow's punishment.
"He wanted (Sparrow) to be held accountable, wanted her to have a felony conviction, wanted her to have to register (as a sex offender) for life," Keck said. "At the same time, he did not want to testify in this case. He asked for us to try to work out a negotiation where he would not have to testify but would ensure that she would be convicted and would have to register for life. He also was concerned — which I found incredibly admirable for a teenager — about the defendant's minor child. That is why we made the negotiation to probation."
Keck said she wanted Brenner to agree to the 48 months of probation but also to add time in the Adams County Jail.
"I do believe there should be significant jail time so the seriousness of the offense is not deprecated," she said. "I do believe jail time is appropriate. I do believe there should be significant punishment if she is receiving probation."
Brenner asked Heck if Sparrow would agree to entering the plea to the Class 2 felony.
"I have discussed that with my client and her husband, who is here in court," Heck replied. "And we have decided, after some serious consideration, that she will plead guilty."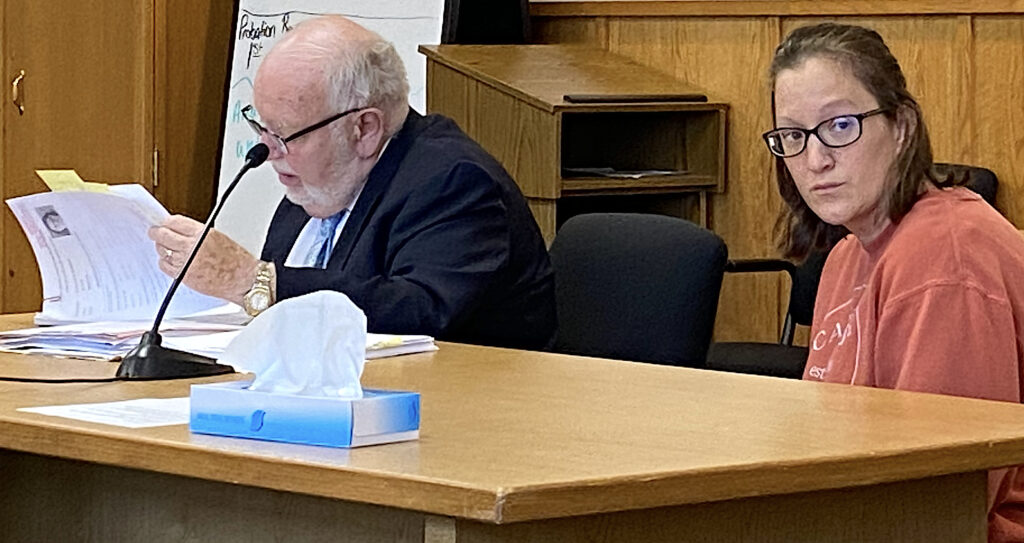 The amended charge says between Jan. 16 and Feb. 16, 2022, Sparrow committed an act of sexual penetration with a male at least 16 years of age but under 17 years of age by placing the victim's penis in her vagina. Sparrow is more than five years older than the victim, making it a Class 2 felony.
Had the case gone to trial, Keck said she would have presented evidence that the victim was living at Sparrow's residence. She said Sparrow and her husband had agreed to take guardianship of the victim.
"Then she started to have different sexual acts with him to the point where she told him that if he did not do these things with her, he would not allow him to have cannabis and she wouldn't buy him things," Keck said.
Keck said Sparrow easily could have been sentenced to the Department of Corrections. She said probation will allow the victim to have closure and ensure that Sparrow gets needed counseling. However, she also thought jail time was necessary.
"I recognize that she may lose her job for that period of time, but quite frankly, there needs to be punishment," Keck said. "If she was going to the Department of Corrections, she would be losing her job. … I would ask for 180 days (in the county jail). That ensures there is punishment for this offense, which she needs. There needs to be a message sent that even if she receives probation, there is going to be actual incarceration time."
Heck noted the only previous criminal history on Sparrow's record is a seatbelt violation and a speeding ticket. He didn't want her to be separated from her 12-year-old son.
"It's not like he was taken advantage of as a young and indefensible child," he said. "Miss Keck argues that, well, he was being manipulated. He probably was by many things. One of which is he's 16 years old. Many, many years ago, I was 16 years old, and I know the kind of thoughts and things that went through my mind.
"This lady is going to have some severe results of this. Now to some of these people, and I've represented some of them over the years, (jail time is) not going to make a whole lot of difference. With her, it's going to be life changing. … She has been honest, and she was honest about being sexually abused as a child. We're here to admit the guilt and ask for mercy."
Heck also said the Adams County State's Attorney's Office knows there "probably will be" court proceedings to deport Sparrow to Canada because she is not a U.S. citizen.
"She could lose either her family, or they're all going to have to leave the area," Keck said.
Given a chance to make a statement in allocution, Sparrow said, "I think Mr. Heck said it pretty well, other than I apologize for everything. I feel really guilty about what I did."
Brenner said he spent more time reviewing Sparrow's pre-sentence investigation report than any other.
"I'll tell you that I have lost sleep over what to do with your case," he said. "I am going to give final concurrence to this negotiation, but it is with extreme reluctance."
After announcing the 180 days in jail, Brenner said, "I appreciate the fact that (this) will cause you to lose your job. I appreciate the fact that (this) will put a burden on your husband and your children."
As part of her probation, Sparrow cannot enter any establishment for which its primary purpose is the sale of alcohol. She also can't have any contact with any minor children except her son. Brenner specifically noted she couldn't attend her son's baseball games when she is released from the jail.
Brenner denied Heck's request to give Sparrow a week to report to jail so she could contact her son, see her grandchild and let her employer know of her status.
"We need to go ahead and get on with this and deal with it," Brenner said. "She can make some phone calls from the jail."
Sparrow will receive day-for-day credit while in jail.
Miss Clipping Out Stories to Save for Later?
Click the Purchase Story button below to order a print of this story. We will print it for you on matte photo paper to keep forever.